If you follow trends in barbecue you know that one of the hot new recipes everyone is trying is smoked cream cheese.
I think the reason it has become so popular is that it is so unbelievably easy to make and it tastes incredibly delicious. Two factors that make this a perfect appetizer dip for game days!
So if you're looking for a great smoked cream cheese recipe, you've come to the right place. We're sharing our sweet and savory recipes and we've even added a list of 9 more variations of this delicious and simple appetizer.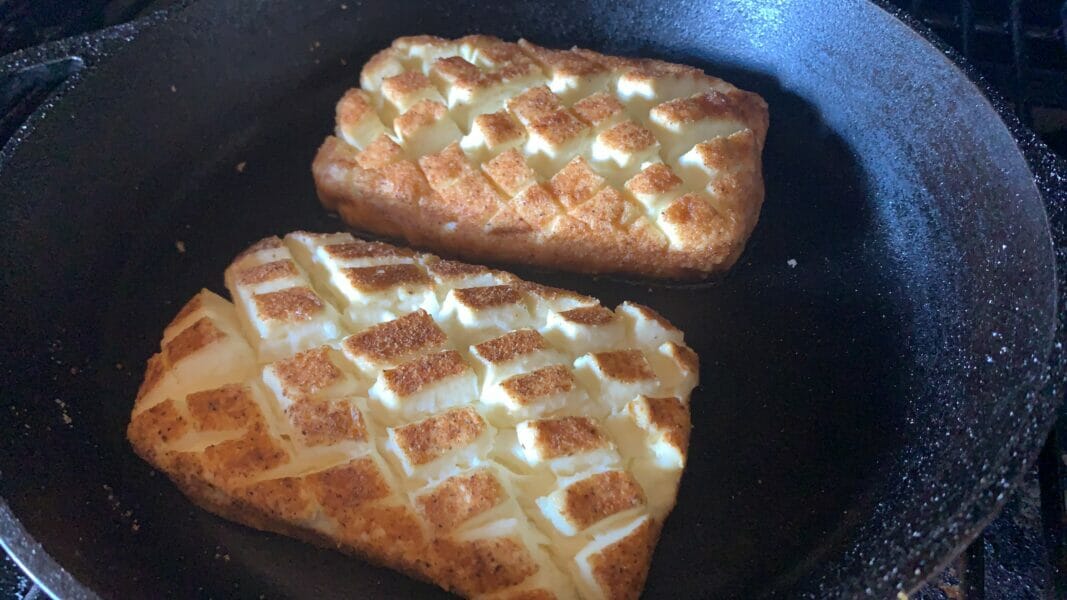 Whether you've been backyard smoking enthusiasts for years or you have a pellet grill you don't even know how to use yet, you can make smoked cream cheese dip that will make anyone's mouth water. This creamy goodness brings a perfect balance of flavor to every bite.
Note: Some of the links in this article may be affiliate links. This doesn't cost you any more than normal. Read our disclaimer for more info.
How to smoke cream cheese
Have I mentioned yet how easy smoking cream cheese is?
First things first, prepare your smoker to a temperature of 225°. We used our Traeger Ironwood 885 pellet smoker.
Next, prepare the dry seasonings that you will rub on the outside of the block of cream cheese. We're sharing 11 different smoked cream cheese recipes today, which you can find down below. Each recipe calls for a slightly different option for dry seasonings.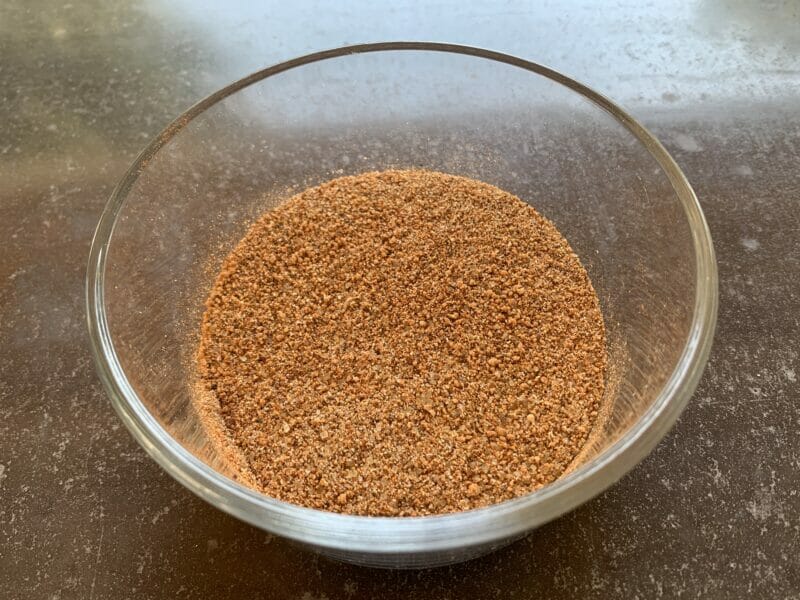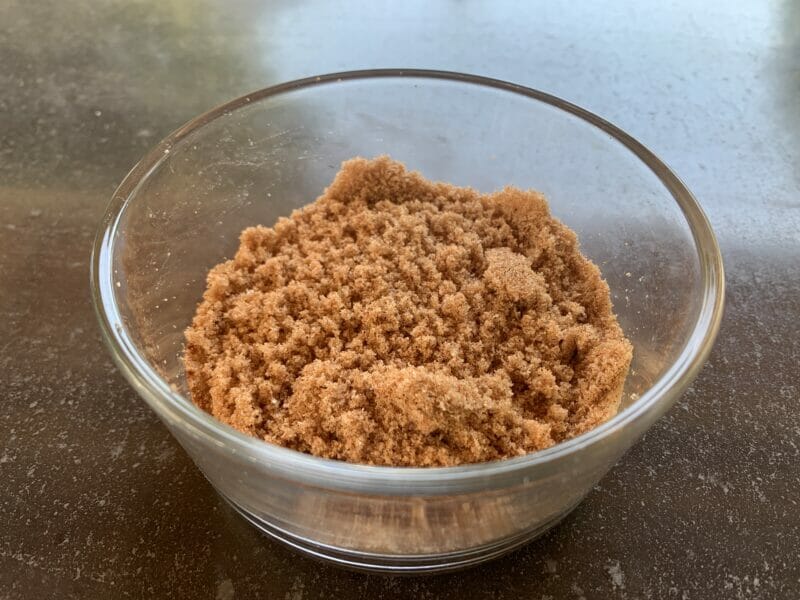 Pull the block of cream cheese out of the refrigerator and unwrap it. We highly recommend using full fat cream cheese for this recipe. Immediately begin covering all 6 sides of the entire block with the dry seasoning. (Don't take the cream cheese block out before this step or it will be too soft to work with). Some recipes will call for a light coat of olive oil before adding the seasoning, but I think that to be generally unnecessary.
Take a good knife and gently score the top of the cream cheese block in a diamond pattern. Honestly, this step isn't critical but it makes for a more attractive presentation. It doesn't impact the flavor of the smoked cream cheese recipe in any way.
Place the seasoned cream cheese in a disposable aluminum foil pan or cast iron skillet and move it to the pellet smoker. Leave it alone for about 2 hours.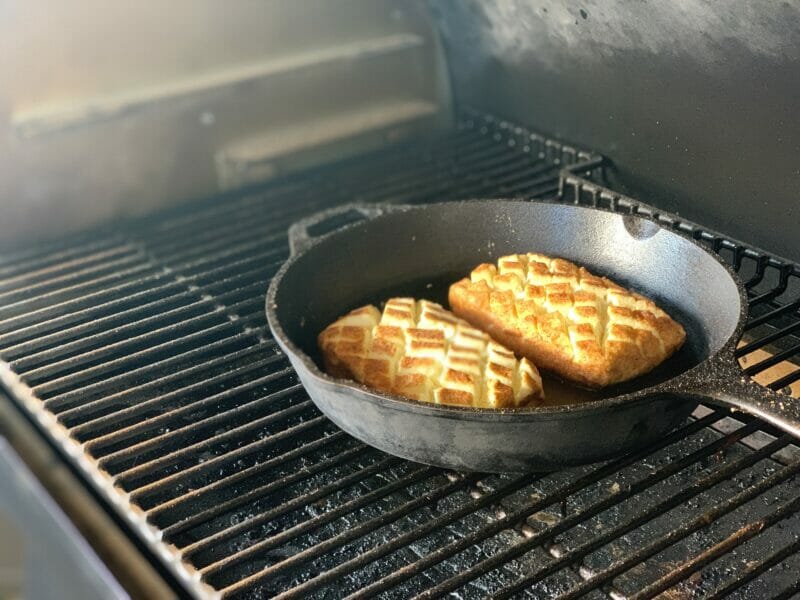 The Finishing Touches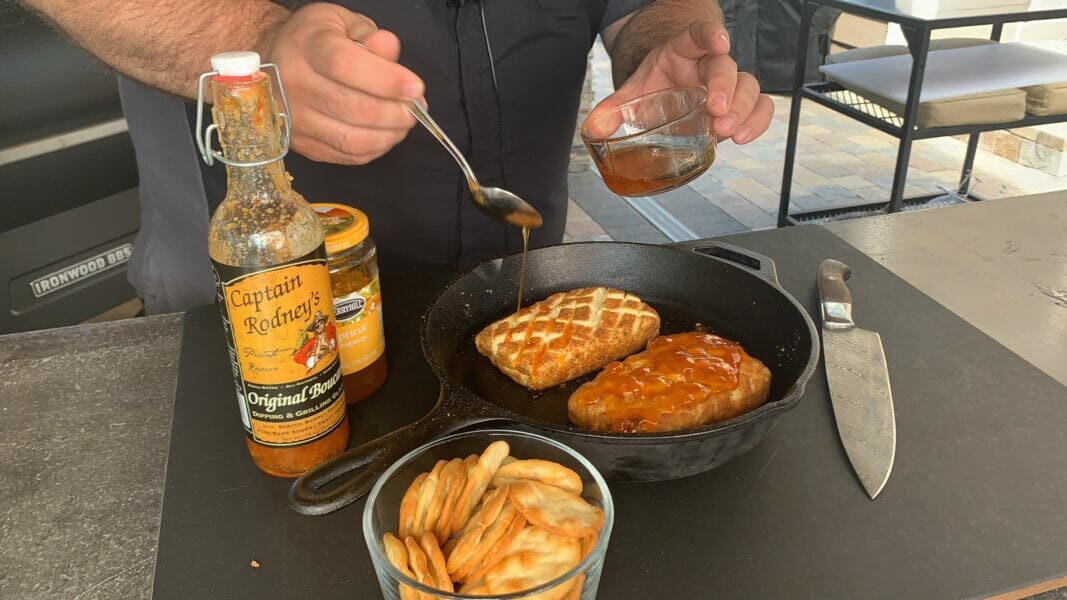 Once the cream cheese comes out of the smoker, allow it to rest for about 5 minutes as it will be very hot. This gives you the perfect opportunity to prepare your finishing touches.
Our sweet smoked cream cheese dip calls for apricot preserves and our savory calls for Captain Rodney's Boucan Glaze, both of which will need to be warmed up slightly in the microwave. In other recipes, there may be a little more preparation required, such as steaming and chopping shrimp or preparing scallions or herbs for garnish.
Smoked cream cheese is delicious alone, but we find that adding in different flavors and even textures really enhance the overall experience.
How long does it take to smoke cream cheese?
We typically smoke cream cheese for about 2 hours at 225°.
Does smoked cream cheese melt when you smoke it?
If smoking at a low enough temperature (we recommend 225°) the cream cheese will not melt in your smoker. It will become soft and slightly gooey, but not melt. That being said, you still need to place your cream cheese on a piece of aluminum foil or a cast iron skillet to prevent it from making a mess of your grill grates.
How long does smoked cream cheese last?
If you find yourself with a supernatural amount of willpower and self-control and actually have some smoked cream cheese left over, feel free to transfer it to an airtight container and keep it in the fridge for a few days.
However, I honestly don't think you'll ever have leftovers of this appetizer dip. In my experience, those who taste it once are physically and emotionally unable to stop eating it until it's all gone.
Should you freeze cream cheese before smoking it?
We do find it to be helpful to place the block of cream cheese in the freezer for 15-30 minutes before preparing it. This simply makes it easier to handle when adding the seasoning to the outside. If the cream cheese is too soft it will end up sticking to your hands and knife and can affect the overall presentation.
What dippers are best for smoked cream cheese?
We typically provide multiple different options for dipping in our smoked cream cheese but we feel that certain recipes work better with specific dippers. Pita chips, pretzel slims, bagel chips, tortilla chips, corn chip scoops, club crackers, Ritz crackers, graham crackers, and vanilla wafers are the go-to options we usually use.
What kind of cream cheese should I smoke?
We recommend only using full fat cream cheese for smoking.
Smoked Cream Cheese Recipes:
The fun thing about smoking cream cheese is that there are endless possibilities for how it can be made. There are so many ways you can make smoked cream cheese dip, we're constantly adding new ideas to this list!
1. Sweet Smoked Cream Cheese
Smoked Cream Cheese (sweet)
This sweet variation of smoked cream cheese will be a fan favorite every time you serve it!
Check out this recipe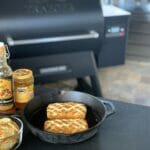 2. Savory Smoked Cream Cheese
Smoked Cream Cheese (Savory)
Just about the easiest appetizer you can make, this smoked cream cheese will be a smash wherever you serve it!
Check out this recipe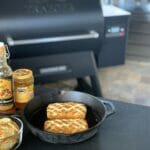 3. Everything Bagel
Use Everything Bagel seasoning. I mean we already know that cream cheese and Everything bagel seasoning taste great together on bagels. This variation was already a slam dunk.
Everything Bagel Smoked Cream Cheese
The perfect appetizer for brunch or really any time of day! Super simple and super tasty!
Check out this recipe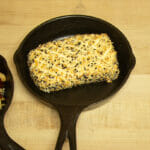 4. Taco
Instead of the BBQ rub, season the cream cheese with taco seasoning. After it's done smoking, top it with some salsa and dip tortilla chips in it.
Taco Smoked Cream Cheese
This fun twist on smoked cream cheese is a great appetizer for any party!
Check out this recipe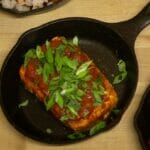 5. Chili Cheese
Sprinkle some chili seasoning on the brick of cream cheese. While the cream cheese is smoking, also cook up a few slices of bacon to crumble on top with some chopped green onions. Corn chip dippers would go perfectly with this variation of smoked cream cheese dip.
6. Barbecue
Season the cream cheese with your favorite BBQ rub before smoking (check out our BBQ rub recipe), and after it comes out drizzle it with some warm BBQ sauce (check out our BBQ sauce recipe). Have any leftover brisket or pulled pork? Throw that on top with it! Top it off with some crispy fried onions and you've got yourself a delicious winner. Corn chips or tortilla chips would make great dippers for this recipe.
BBQ Smoked Cream Cheese
Kick up the classic smoked cream cheese with your favorite BBQ rub, barbecue sauce and crispy fried onions. It's the perfect blend of sweet and savory, cream and crunch!
Check out this recipe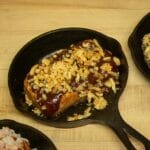 7. Buffalo Chicken
Sprinkle a little dry ranch seasoning on the cream cheese and put it in the smoker for about 2 hours. When it's done, top it with some warmed-up shredded chicken mixed with Frank's buffalo wing sauce and some blue cheese crumbles and serve with pita crisps.
8. Cherry Cheesecake
Cover the cream cheese with cinnamon sugar, put it in the smoker for a couple of hours, and when it comes out top it with some warm cherry pie filling. Use graham crackers or vanilla wafers for dipping in this dessert version.
Cherry Cheesecake Smoked Cream Cheese
This dessert appetizer is perfect for any holiday party. Warm and sweet and delicious!
Check out this recipe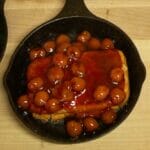 9. Pizza
Drizzle some olive oil over the cream cheese. Blend some parmesan cheese, bread crumbs, and Italian seasoning to sprinkle on the cream cheese before smoking. After smoking, top the smoked cream cheese with warm marinara sauce and some crumbled Italian sausage.
10. Seafood cocktail dip
Lightly season the cream cheese with Old Bay or creole seasoning before smoking. After smoking, top it with chopped-up crab or shrimp and cocktail sauce. Ritz crackers go great with this.
Shrimp Cocktail Smoked Cream Cheese
If you love shrimp cocktail, you'll love this twist on smoked cream cheese!
Check out this recipe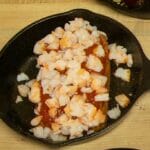 11. Crab Rangoon
This one I think would be best with a little extra preparation. Unlike the others, soften the cream cheese and blend it together with some lump crab meat, soy sauce, green onions, and minced garlic and then wrap it up in plastic wrap to form it back into the brick shape. Chill in the fridge until the cream cheese has set back up. Smoke the now-modified block of cream cheese for 2 hours. After removing from the heat, drizzle the top with a little bit of sweet chili sauce. Crispy wonton chips would be perfect with this.
Can you think of any other delicious smoked cream cheese variations we haven't included? Drop a comment down below to tell us about your smoked cream cheese creation!
Looking for more recipes?
These are some of our favorite dip recipes that we make around here.