We discovered this Huli Huli Chicken recipe when we were first married and have been using it and tweaking it ever since. It's one recipe that both of our kids enjoy every time we make it.
What does Huli Huli mean?
Huli is a Hawaiian word that means to turn over. This is a recipe that we prepare on the grill where we turn, or flip the chicken over frequently to keep the chicken moist and preven heavy charring.
What is Huli Huli Chicken made of?
Our huli huli chicken recipe includes soy sauce, apple juice, sugar, ginger, and garlic. We typically use this marinade with filleted chicken breasts but also use boneless skinless chicken thighs on occasion as well.
Looking for gift ideas for yourself or someone special in your life? We've got you covered.
What goes well with Huli Huli chicken?
We usually serve our huli huli chicken recipe with a side of sticky rice and grilled pineapple slices.
How to Make Huli Huli Chicken
There are two phases to making Huli Huli Chicken. Marinating and grilling.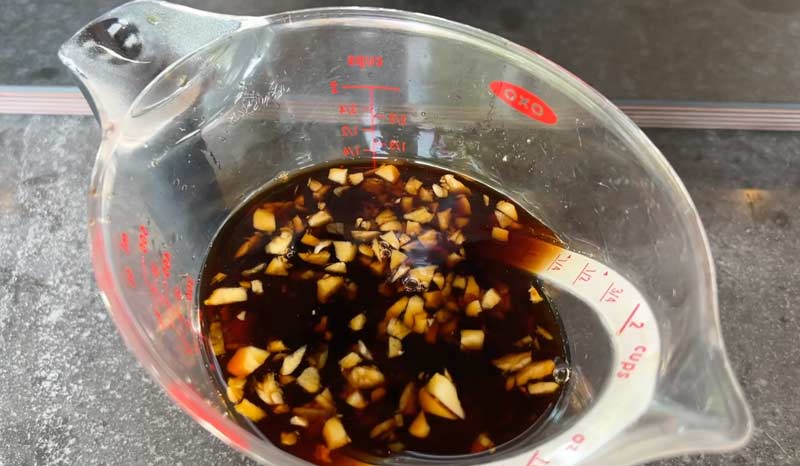 Marinade
Prepare the marinade of apple juice, soy sauce, sugar, garlic and ginger. Trim the chicken and place both together in a gallon zip-top bag for at least 4 hours. We typically make it the night before and let it refrigerate overnight and through the work day.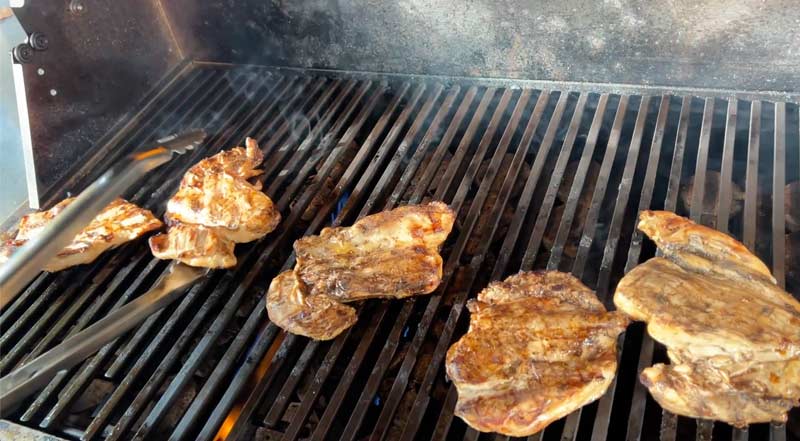 Grilling
This recipe can be grilled on any grill that is able to reach around 450° in temperature. We've made it on a kamado grill, gas grill, charcoal grill, and even some pellet grills. We love to use our ARG 36″ gas grill that we have built into our outdoor kitchen. Once the grill has reached the target temperature we turn the burners down to a medium heat before we transfer chicken to the hot grill grates. We flip the chicken about every 90 seconds until we can read 160° internal temperature using a meat thermometer.
Grilled Chicken tips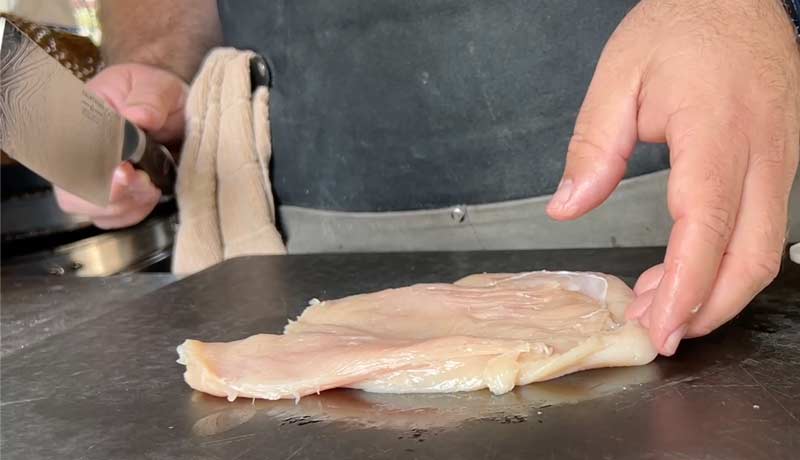 Filet for even thickness
Chicken breasts have a thick side and a thin side. If grilled as-is, the thick side may be under-cooked and the thin side will often end up over cooked and dry. When we grill chicken breasts we almost always filet the breast and spread it open so that it lays flat like a book and will be roughly the same thickness across. This trick ensures evenly cooked chicken every time.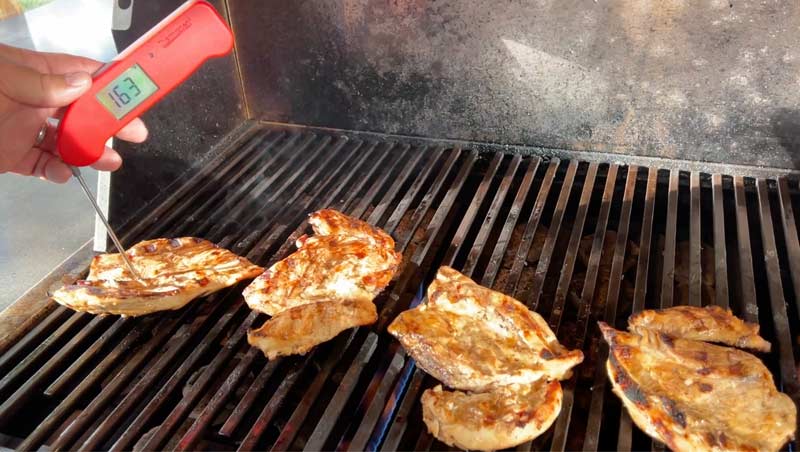 Use an instant-read thermometer
Pretty much any time I try to guess whether my grilled chicken is cooked through, I've either completely overshot my target temperature or undercooked it. Having a good instant read thermometer in your grilling toolbox will help you cook your chicken perfectly every single time. And since you'll be reading that temperature while holding your hand over an extremely hot grill, a thermometer that will read the temperature quickly is a must. We recommend the Thermapen One from Thermoworks.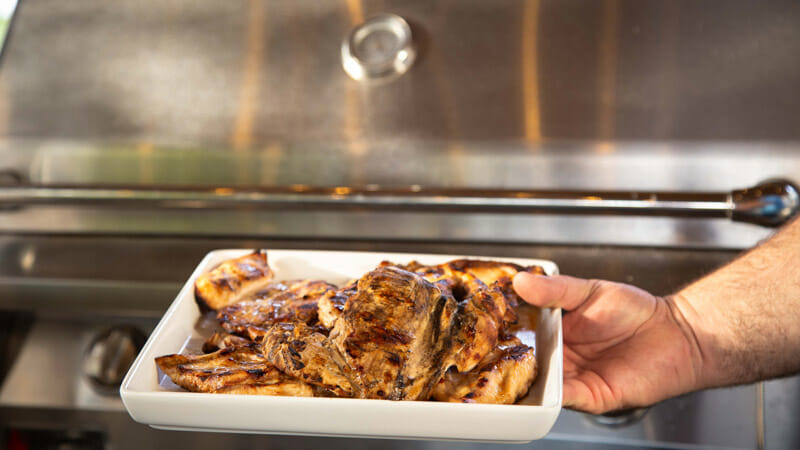 Rest is best
We always pull our meat about 5° shy of our target temperature, knowing that carryover cooking will close in that gap after it's been removed from the grill. Simply remove the chicken thighs or breasts from the grill to a baking pan or platter and cover loosely with foil and set the timer for 10 minutes. Just leave it be and the juices will have the opportunity to redistribute throughout the meat.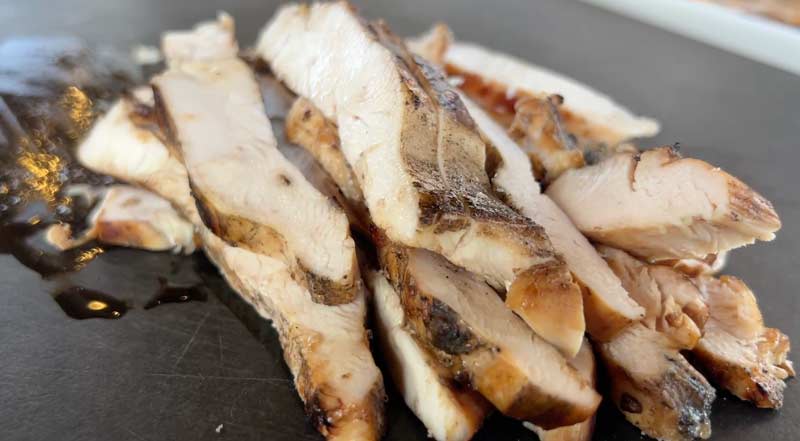 Our Huli Huli Chicken Recipe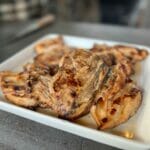 Print Recipe
Huli Huli Chicken
This easy sweet and salty chicken marinade will quickly become a family favorite! Our family has been using it regularly for 20 years and now we share it with you.
Ingredients
⅓

cup

apple juice

⅔

cup

soy sauce

2

Tb

sugar

2

cloves

fresh garlic

minced

1.5

tsp

fresh ginger

grated

6

chicken breasts
Instructions
Prepare the marinade by combining the apple juice, soy sauce, sugar, garlic, and ginger.

Use a sharp knife to trim and filet the chicken open so that it will lay flat with even thickness across.

Place the trimmed chicken in a zip top bag and add the marinade. Push out as much air as you can, and place the bag in the fridge for at least 4 hours or as much as overnight.

When ready to cook, preheat your grill on high, reaching around 450°. Once it has reached that target temperature, turn your burners down to medium high heat.

Place the chicken "presentation side" down on the grill. Set a timer for 90 seconds.

Continue cooking and flipping chicken every 90 seconds until it reads 160° internal using an instant read thermometer.

Remove chicken from the grill, cover with foil, and allow them to "rest" for 5-10 minutes. This will allow time for the juices to settle as well as the carryover cook to raise the internal temperature an additional 5°.
Notes
*White wine or white grape juice can be substituted for the apple juice.
*Dark soy sauce can be used to give a deeper color.
* Reserved marinade can be used to baste occasionally during the cook.
We have also used this marinade with boneless skinless chicken thighs and it's been absolutely delicious!