Our smoked Mexican queso fundido recipe is the perfect game day appetizer.
I believe I've mentioned before that I love Mexican food. It is one of my all-time favorite genres of food.
Besides barbecue.
And that's why I try to barbecue my Mexican food whenever humanly possible.
Looking for gift ideas for yourself or someone special in your life? We've got you covered.
Note: Some of the links in this article may be affiliate links. This doesn't cost you any more than normal. Read our disclaimer for more info.
What Type of Cheese Goes in Queso Fundido?
In our particular recipe, we've used two varieties of melting cheeses: queso quesadilla and queso chihuahua.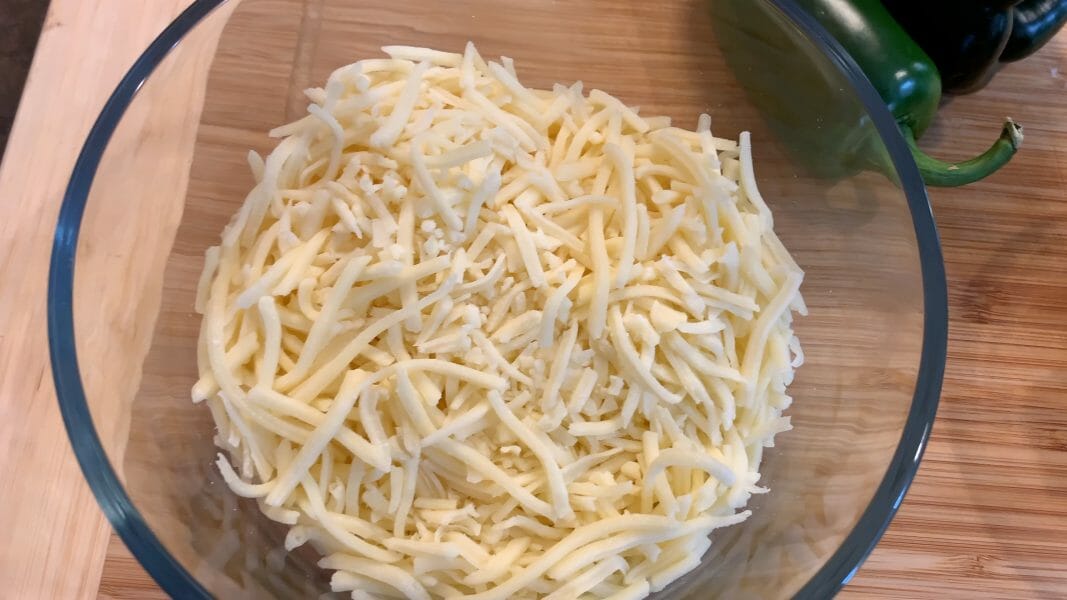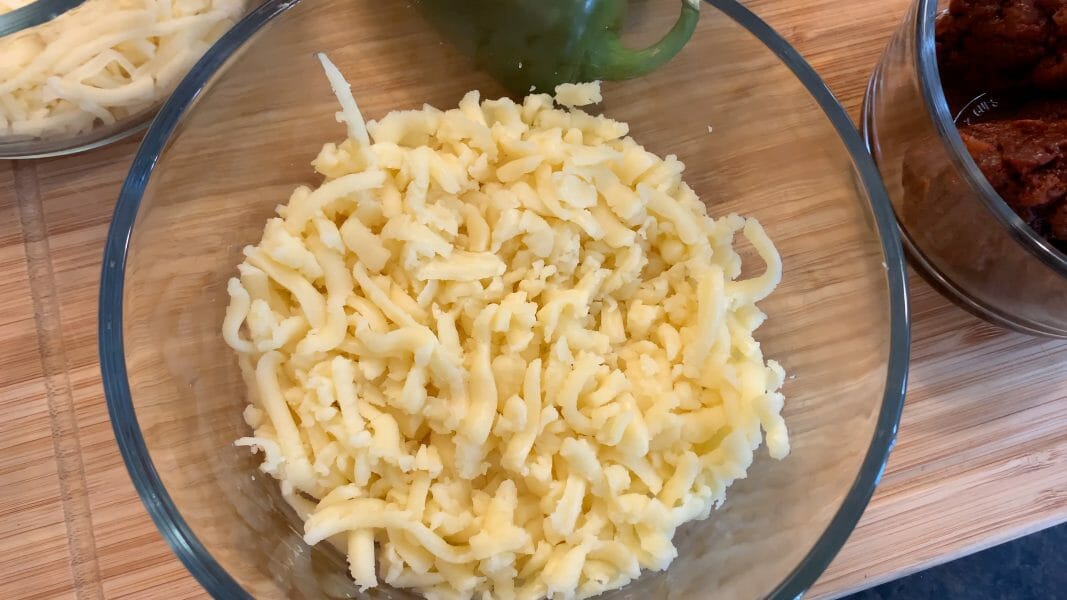 In our grocery store, we found these in a specialty cheese case in a totally different part of the store than the standard variety of cheeses.
Sometimes the more authentic Mexican cheeses like the ones we used, as well as oaxaca cheeses can be difficult to find depending on where you live, so you may have to consider using a more readily available cheese.
Sharp cheddar cheese, pepper jack cheese, monterey jack cheese, and even mozzarella cheese would all be great substitutions should you need one for your Mexican queso.
Here's a helpful tip: If at all possible, shred blocks of cheese yourself rather than buying pre-shredded cheese. It will always melt better.
How to Make Queso Fundido with Chorizo
While you certainly could bake your queso fundido in the oven, here at the Barbecue Lab we like to add smoke to our queso whenever we can.
We heated our Vision Kamado grill up to about 400 degrees and added a chunk of pecan wood to add flavor.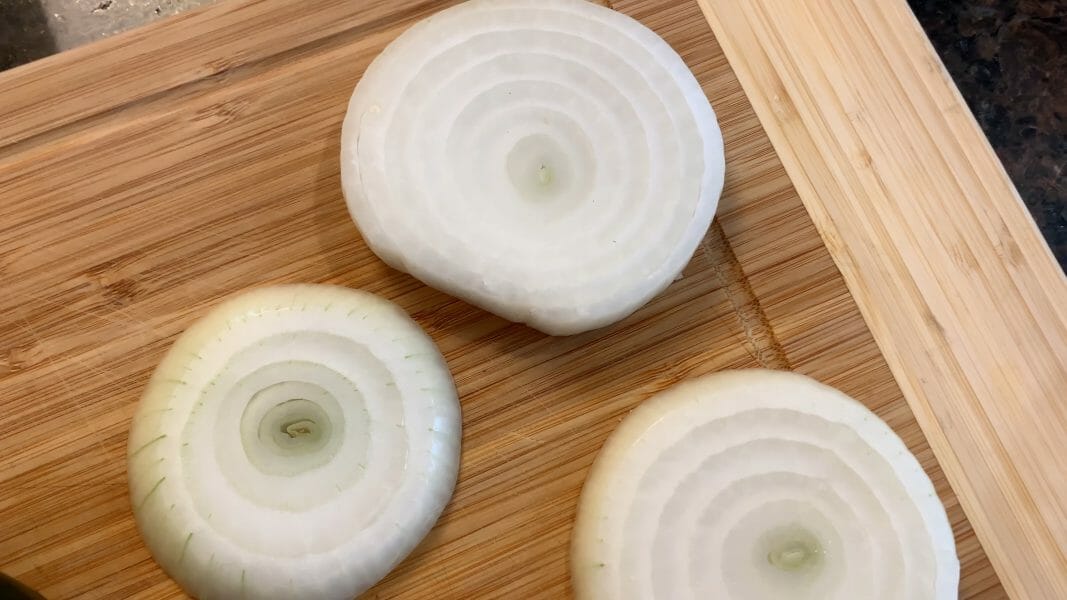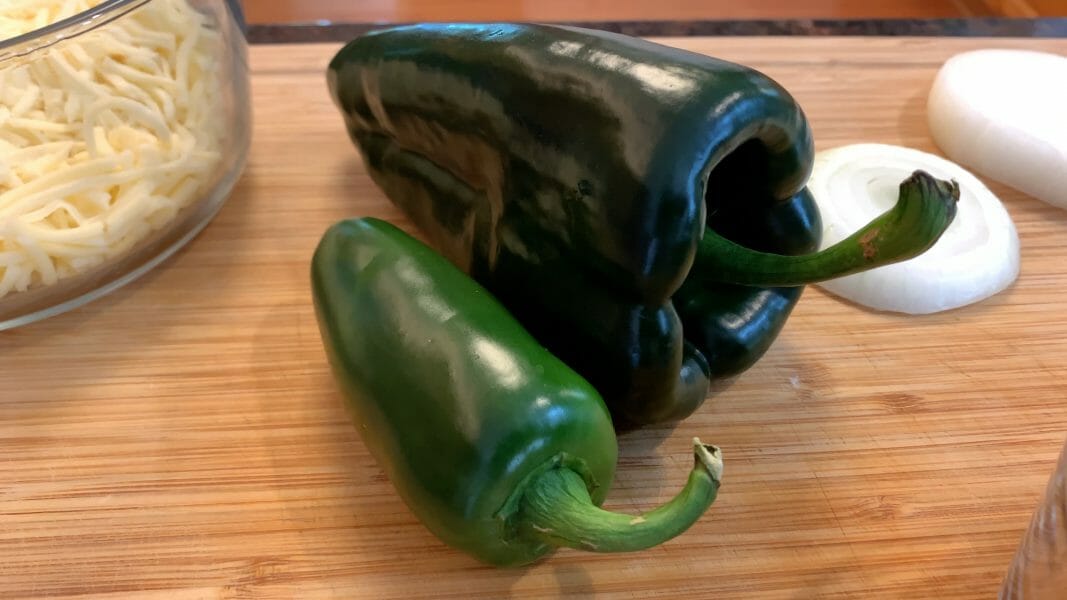 Rather than simply sauteeing our vegetables on the stove, we roasted them on the grill to give them a bit of smoky charred flavor.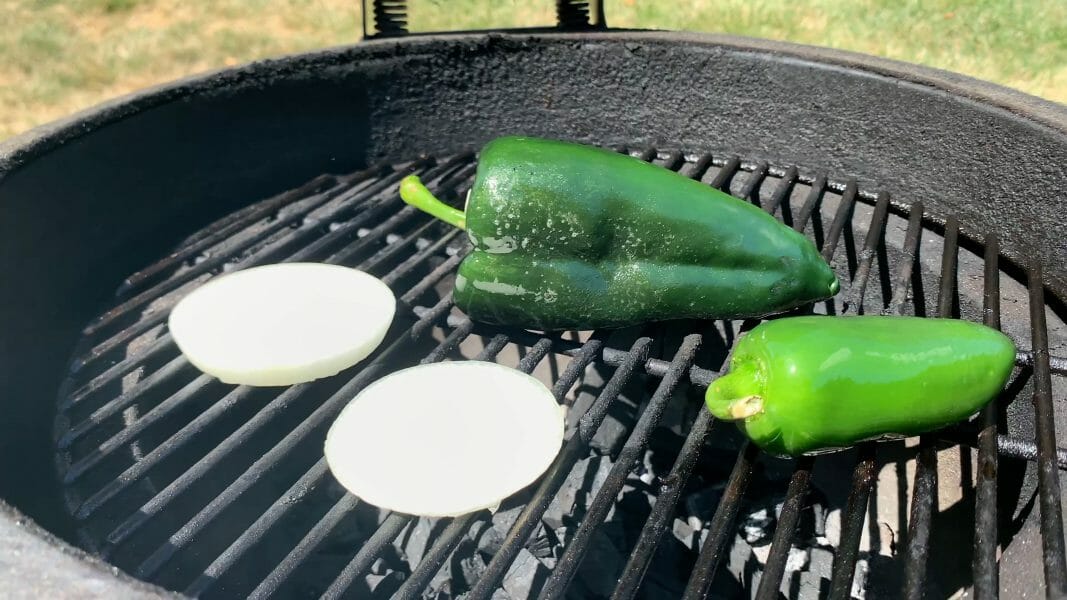 We sprayed them with cooking oil and set them directly on the grill grates for about 3-4 minutes per side. Once they were nicely charred we removed them from the grill and threw the peppers in a paper lunch bag to steam.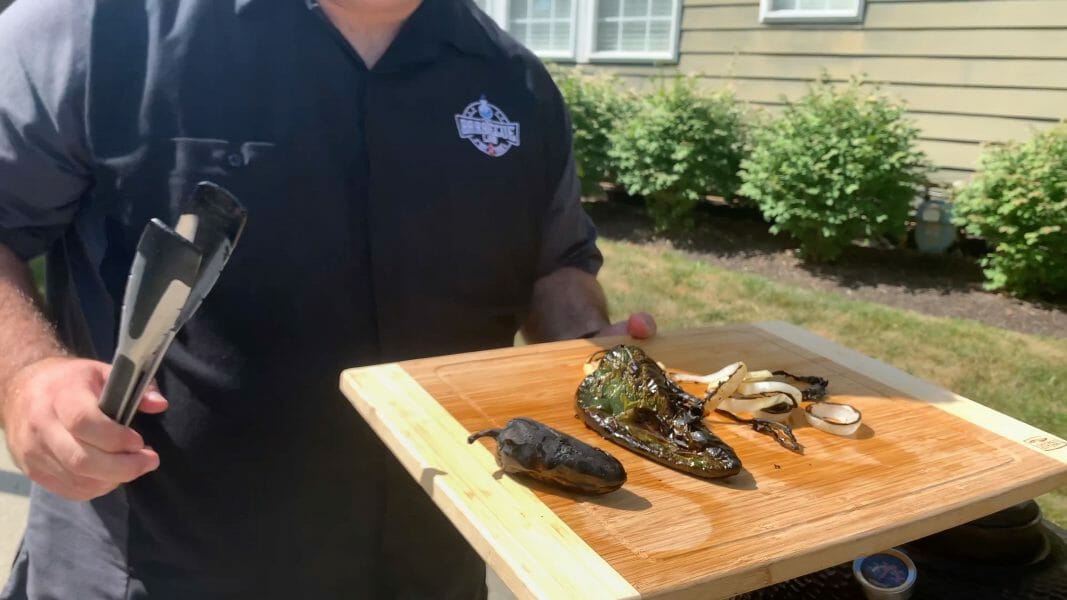 After the peppers steamed for a couple of minutes, we were able to remove the charred skin and seeds.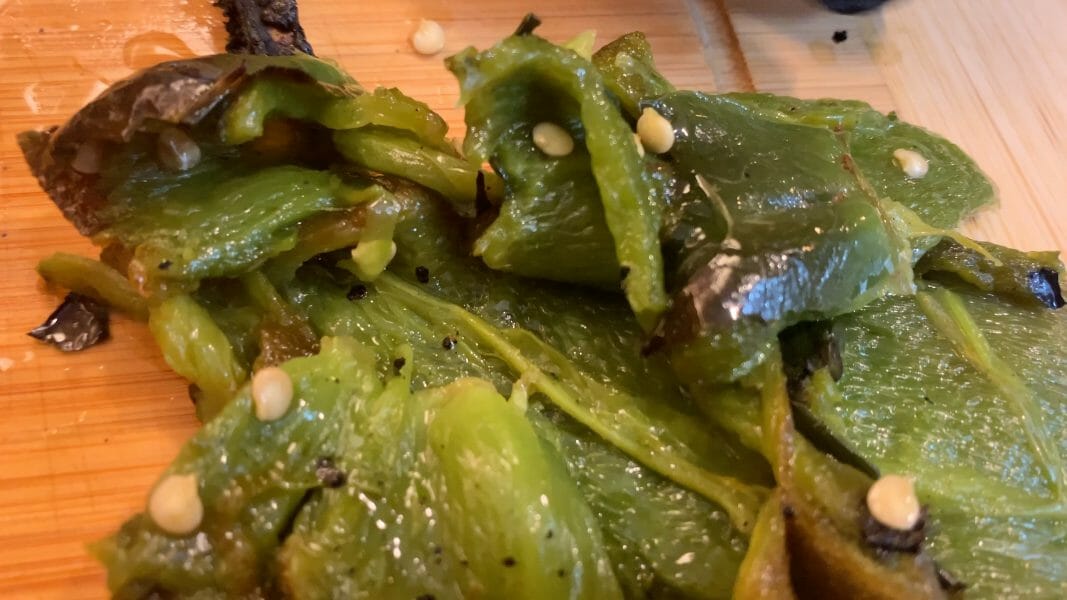 This recipe is going to be fairly spicy as it is, but if you like things REALLY spicy feel free to leave the seeds in. But you've been warned. I like spice and this was plenty spicy without the seeds.
We finely chopped up the onion and pepper and set them aside while we cooked the chorizo.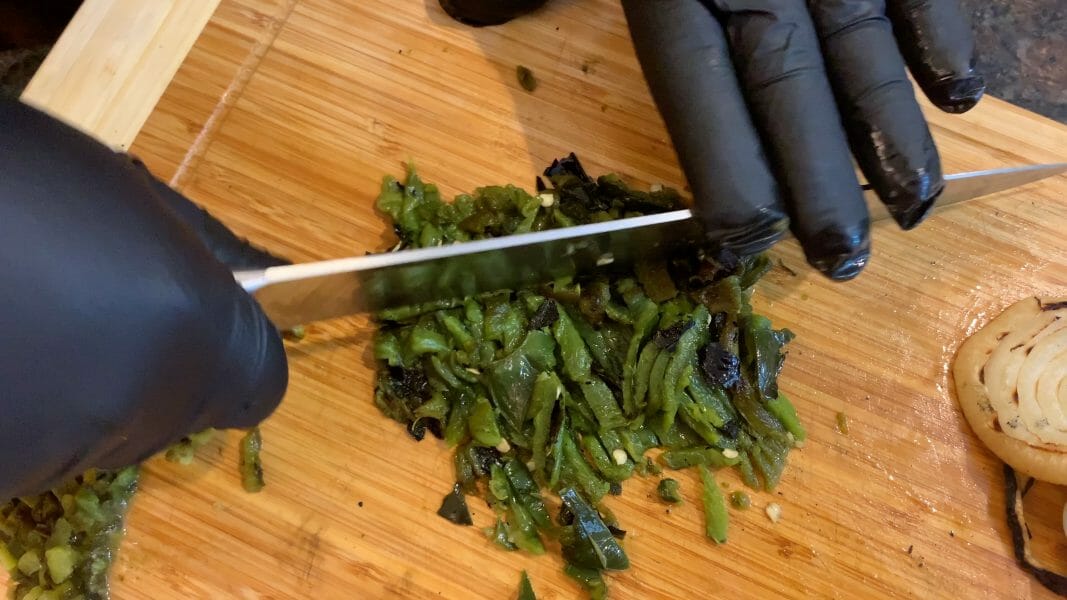 We usually cook chorizo in a skillet over medium heat. But since we'll be using the cast iron skillet on the grill anyway, we went ahead and cooked it right in there.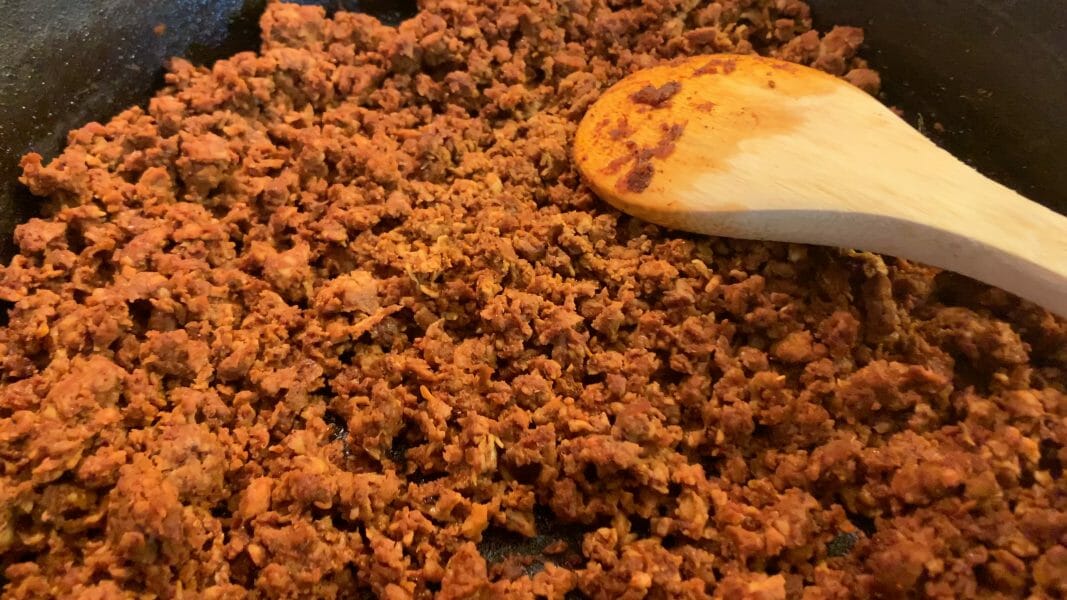 Typically chorizo is very greasy, so if you'd like to get rid of the excess fat, you can dab the cooked meat with paper towels to absorb the grease.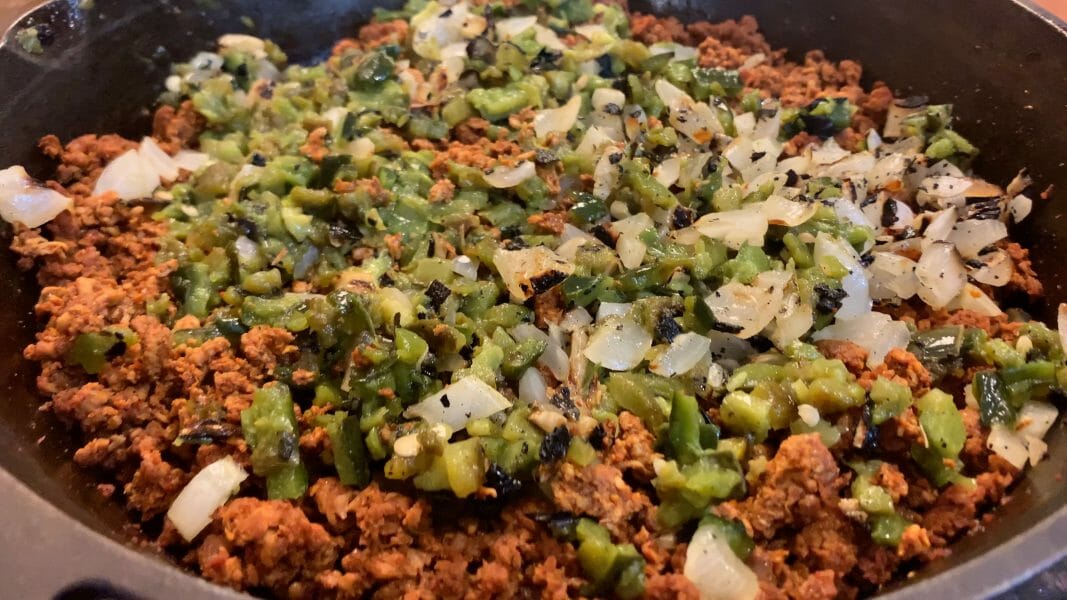 After the chorizo was cooked, we added the diced peppers and onion back to the pan and topped that with our two types of shredded cheese.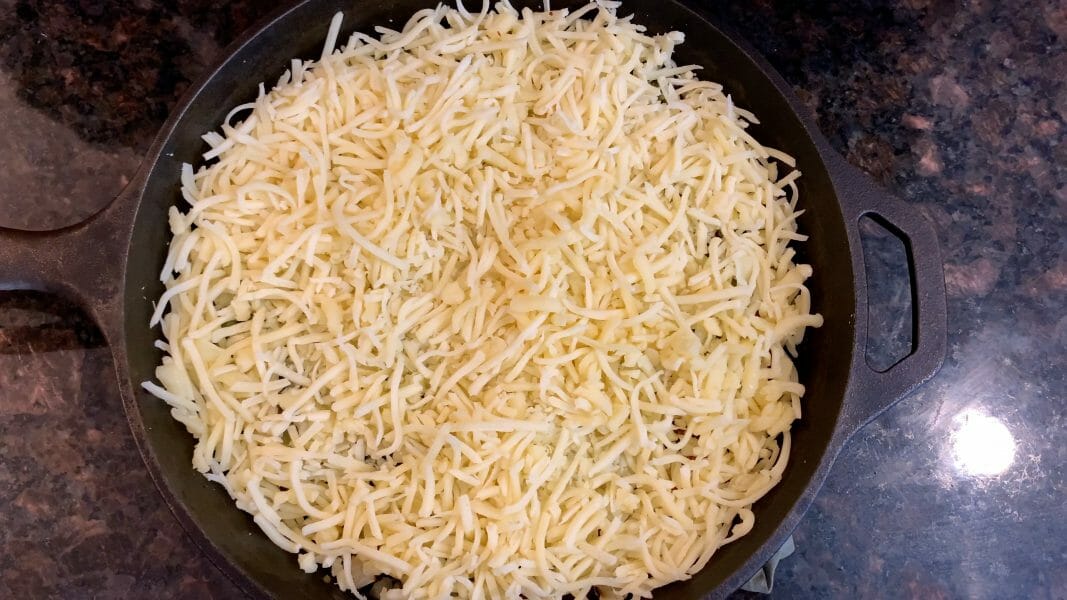 Then we used a fork to lightly mix the ingredients.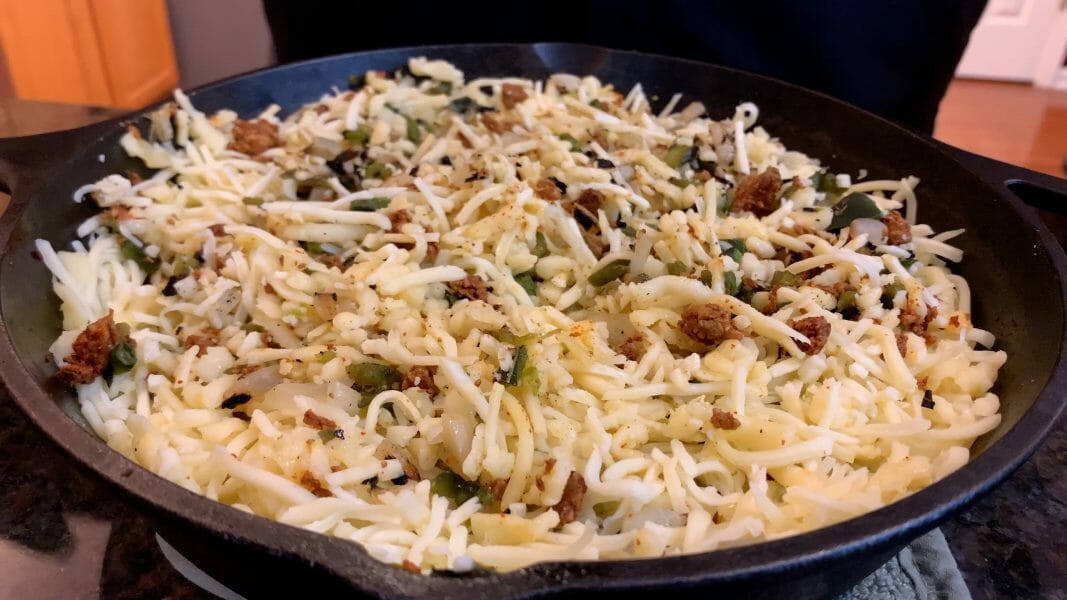 We put the cast iron pan on the kamado using indirect heat for about 15 minutes.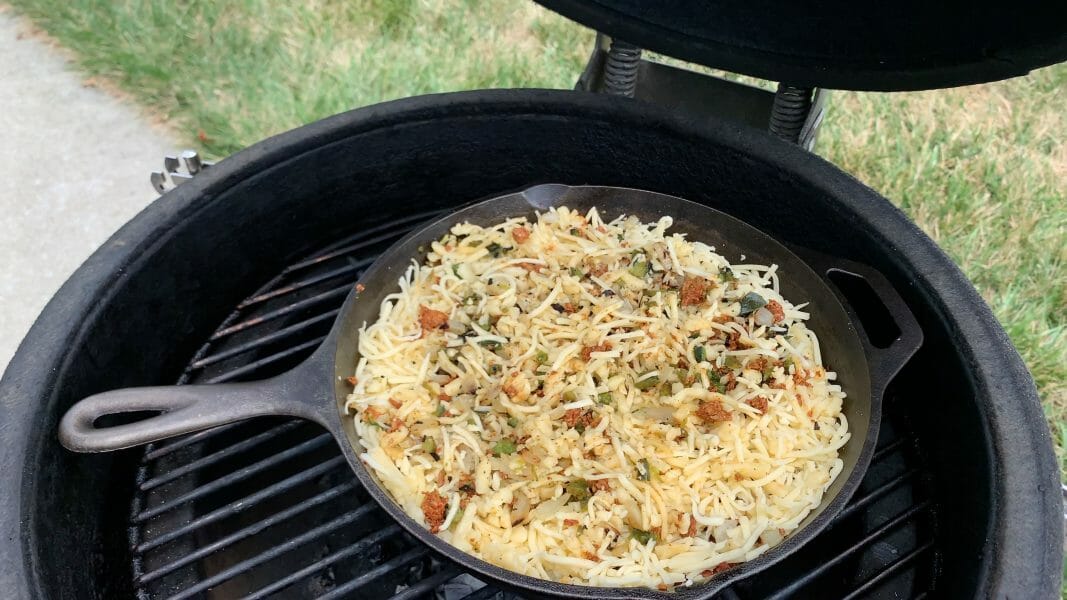 As soon as the cheese is melted and bubbly and golden brown along the edges, you know that it's ready to come off the grill.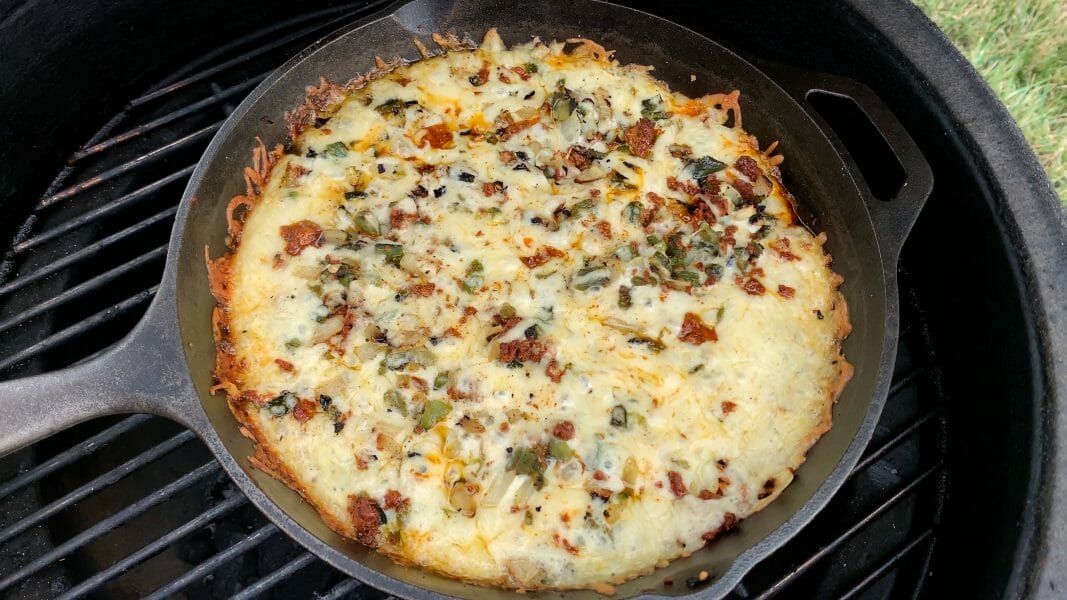 Though it looks amazing, it won't be ready to serve immediately because it is piping hot and the molten cheese will burn your mouth. So please exercise caution.
What is Chorizo?
Chorizo is a heavily seasoned ground sausage traditionally made with pork.
There are two types of chorizo: Mexican and Spanish
Mexican chorizo is made with raw pork and usually seasoned with vinegar, chile pepper and a whole host of other delicious spices. The red chili peppers and seasoning give this sausage a very distinct red color you won't find in any other type of sausage. This is the type of chorizo we're using in this recipe.
Spanish chorizo sausage is usually smoked and seasoned with garlic, salt, and a smoked paprika called pimentón.
While most chorizo is made from pork, you may also find chicken or beef chorizo options in your grocery meat case.
In fact, I'll let you in on a little secret. For this recipe we used chicken chorizo because it was on sale. (And it still tasted amazing even though it was chicken).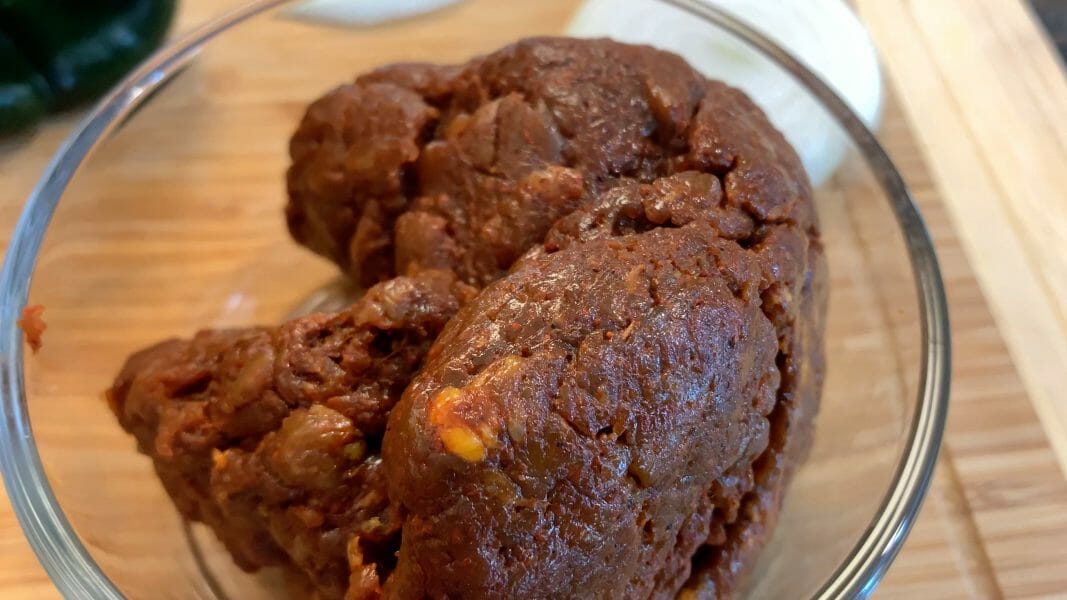 How to Serve Queso Fundido with Chorizo
Queso fundido is one of those ooey gooey party dips that usually disappears quickly!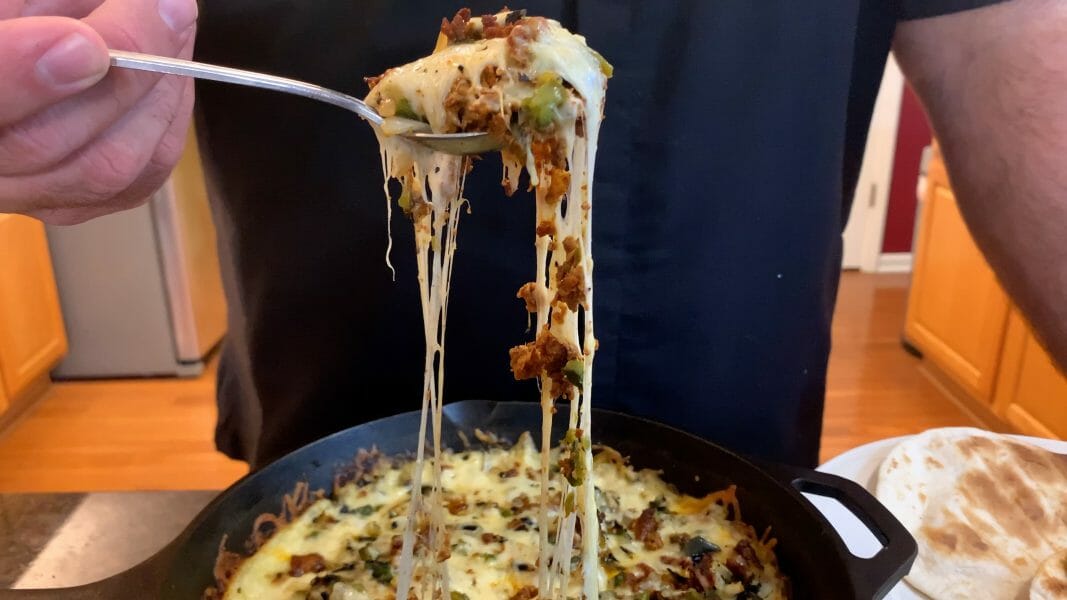 Our first preference is to serve this with some nice warm, lightly grilled flour tortillas. Cut the tortillas in half or even fourths, depending on the size.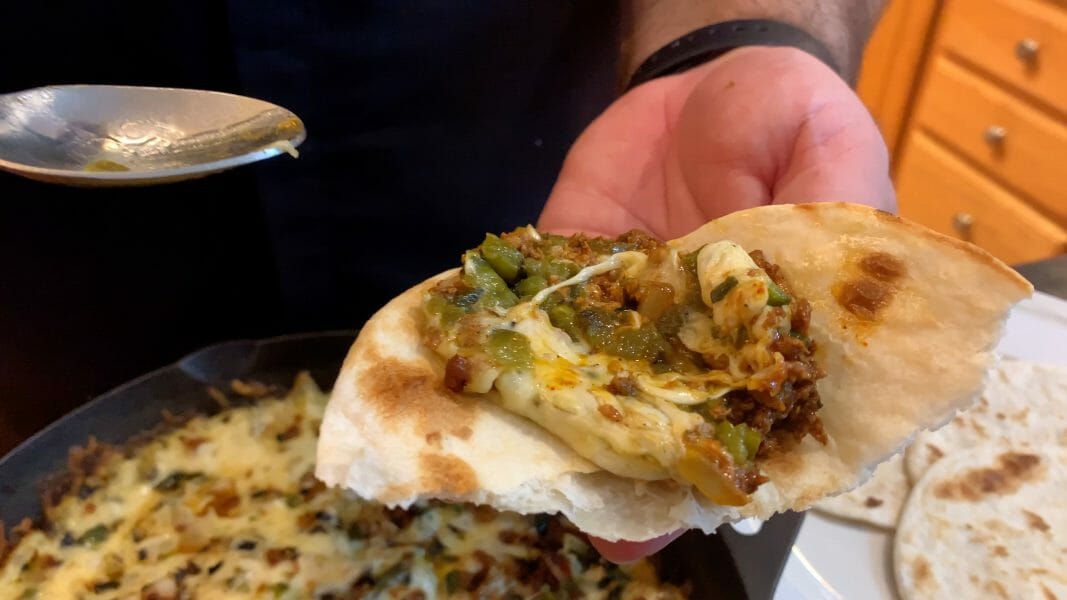 Tortilla chips also go great with queso fundido chorizo. However, we find that our particular recipe is a little hearty for delicate tortilla chips and we prefer the durability of the soft flour tortillas.
This would also taste amazing on some nice warm crusty bread if you don't mind straying a little from the Mexican theme of this queso dip.
As an added pop of fresh flavor, you could also top the cooked queso fundido with some diced tomato and chopped cilantro as garnish.
Whether you're looking for a Mexican appetizer to bring to a Cinco de Mayo party, or simply need a reason to eat cheese, we hope you give this queso fundido with chorizo recipe a try!
If you do, be sure to leave us a comment and let us know how it went!
If you're like me and Mexican food is your jam, give these other Mexican recipes a try!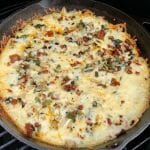 Print Recipe
Queso Fundido with Chorizo
This smoked queso fundido recipe is the perfect game day appetizer to share with your friends.
Ingredients
10

oz.

chorizo

½

onion

thickly sliced

1

jalapeno pepper

1

poblano pepper

8

oz

queso chihuahua cheese

shredded

6

oz

queso quesadilla cheese

shredded
Instructions
Prepare and fire up your grill to a temp of around 400° with some pecan wood chunks.

Cut thick slices of about 1/2 of an onion. Spray each slice as well as the jalapeno and poblano peppers with non-stick cooking spray.

Place the vegetables directly on the grill grate for about 3-4 minutes on each side, until the skin is looking black and charred as though it will easily peel off.

Place the jalapeno and poblano peppers into a paper bag and seal it up to allow the skins to steam for a few minutes.

Remove the peppers from the bag and peel off as much of the charred skin as you can. Also remove the seeds as much as possible (or preferred) as the seeds will amplify the spiciness of this recipe greatly.

Chop up the cooked peppers and onions into a fine dice.

Heat a cast iron skillet on your stovetop to a medium high heat. Add a couple teaspoons of oil and brown the chorizo in the pan, breaking it up into small pieces as it cooks.

Once the chorizo is fully cooked, add the chopped veggies to the cast iron pan as well.

Add both types of cheese to the pan and then lightly "disturb" or mix the ingredients within the pan. (It doesn't need to be a full mix).

Place the cast iron skillet on your grill over indirect heat for about 15-20 minutes.

Remove from the grill and allow to cool for a few minutes before attempting to eat. It will be hot!
Video
Notes
We recommend serving this Queso Fundido with Chorizo with lightly grilled flour tortillas or tortilla chips.
Nutrition
Calories:
181
kcal
|
Carbohydrates:
2
g
|
Protein:
11
g
|
Fat:
14
g
|
Saturated Fat:
7
g
|
Cholesterol:
40
mg
|
Sodium:
501
mg
|
Potassium:
60
mg
|
Fiber:
1
g
|
Sugar:
1
g
|
Vitamin A:
395
IU
|
Vitamin C:
10
mg
|
Calcium:
215
mg
|
Iron:
1
mg