This easy guacamole recipe is a family favorite and a perfect companion to so many of our favorite Mexican themed barbecue recipes.
I have often told people that if you cut me, I bleed hot sauce. Mexican foods are my absolute favorite.
Fajitas, burritos, quesadillas, tacos, you name it.
Any day of the week. Any meal of the day.
I will eat it in a box. I will eat it with a fox.
I love all Mexican recipes.
But there is one thing that really makes every Mexican dish taste fresh. And that is guacamole.
We want to share this simple guacamole recipe with you so that you too can enjoy this family loved appetizer or condiment.
How to Make Easy Homemade Guacamole
Making homemade guacamole really is quite easy to do.
The hardest part is getting the ripeness of the avocado right and not getting jalapeno oils into painful places after dicing them.
First, we cut the avocados in half, running a sharp knife around the center of the avocado around the pit. Then we gently twist the two halves of avocado apart.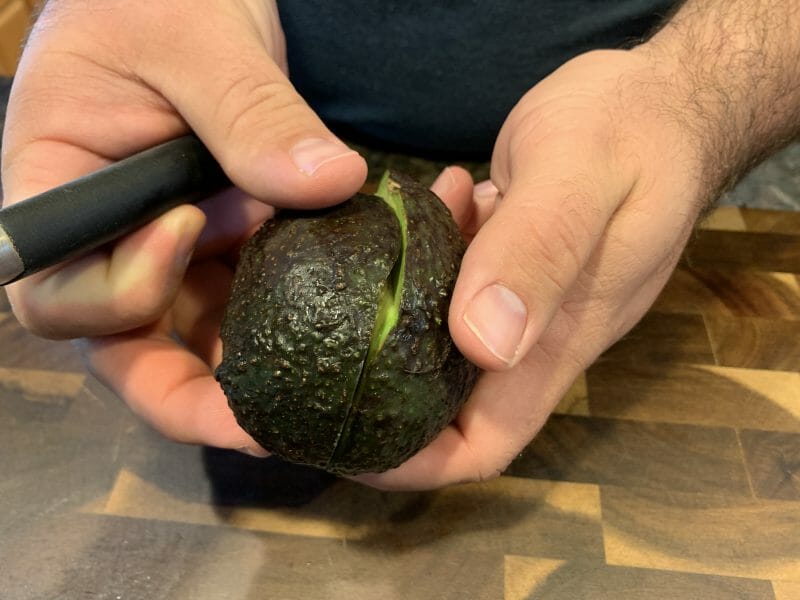 There are several strategies I've seen to remove the pit from an avocado, but the one we always use is to gently but firmly wedge a chef's knife into the side of the pit and then rotate the knife slightly to loosen the pit from the fruit.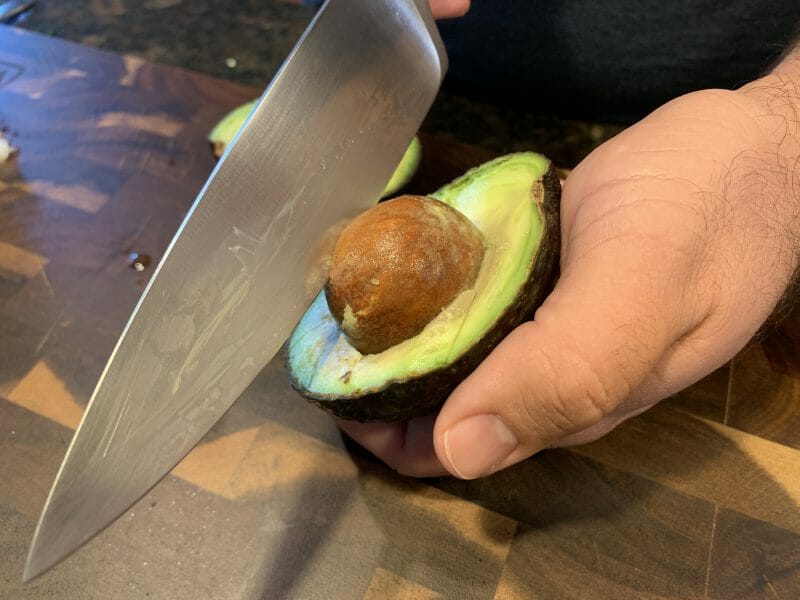 The pit will come right out, still clinging to the blade of your knife. I usually let it just sit on the knife while I scoop the fruit out with a large spoon and then use the skin to grab the pit and remove it from the knife.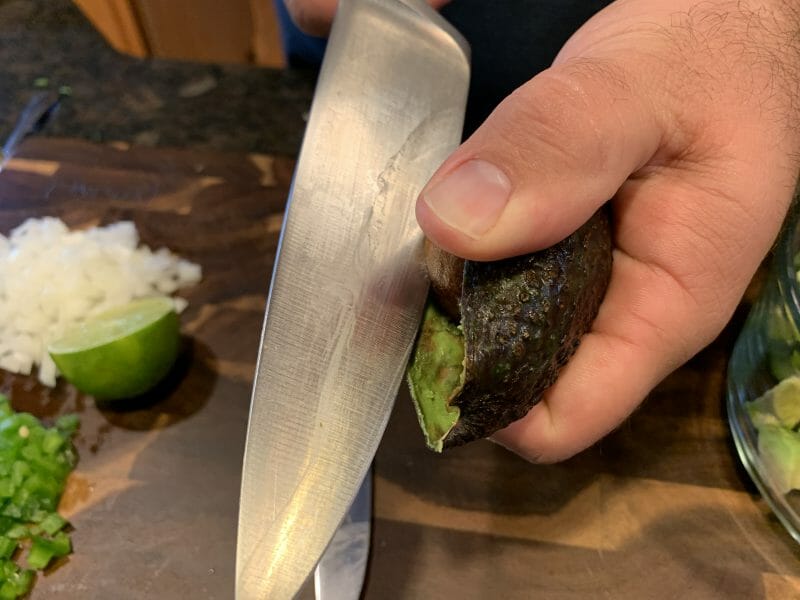 Once you've scooped all 3 avocados out into a mixing bowl, add the fresh lime juice and salt and then mash it with a fork or potato masher.
Now it's up to you how smooth or chunky you want your guacamole dip. We usually go for somewhere in between.
Once you've got the base of your guacamole to your desired consistency, then it's time to add the remaining ingredients: jalapeno, onion, and cilantro.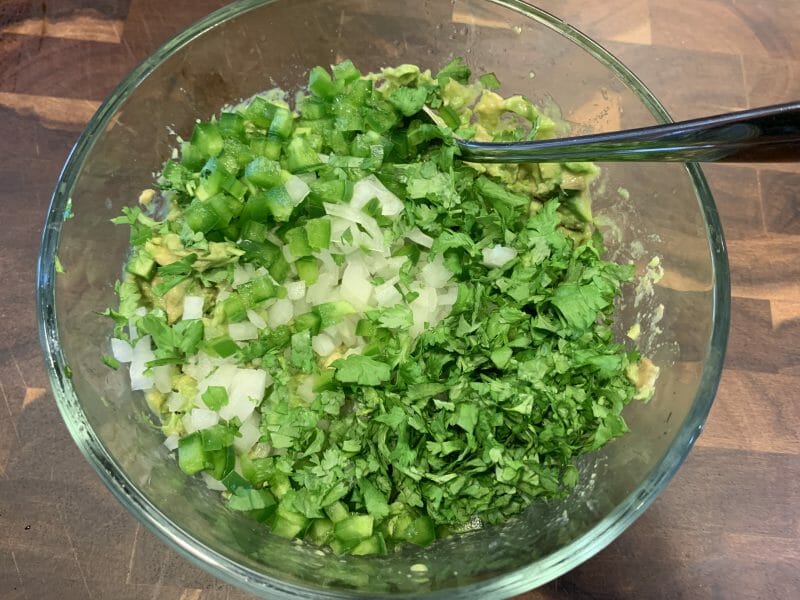 We typically use white onions but you could definitely use a red onion instead.
Use a spoon to stir and combine.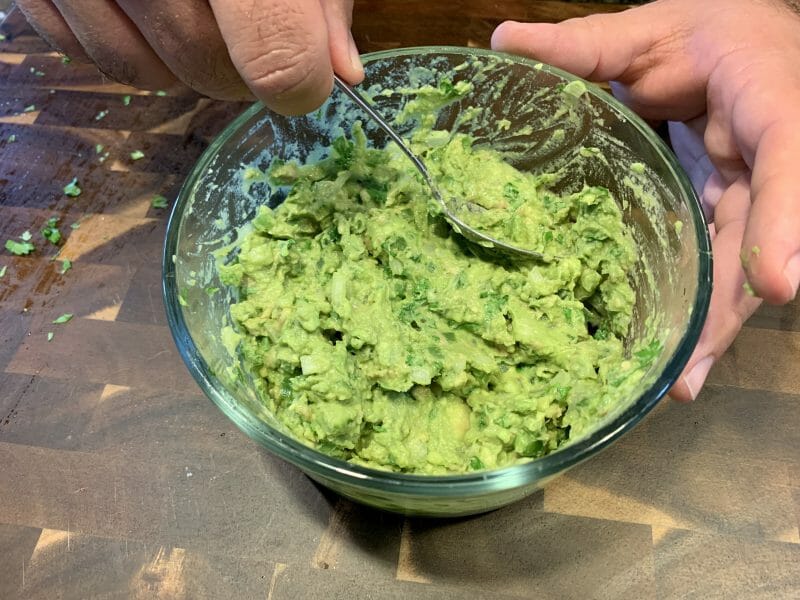 You'll definitely want to break out the tortilla chips and give it a taste.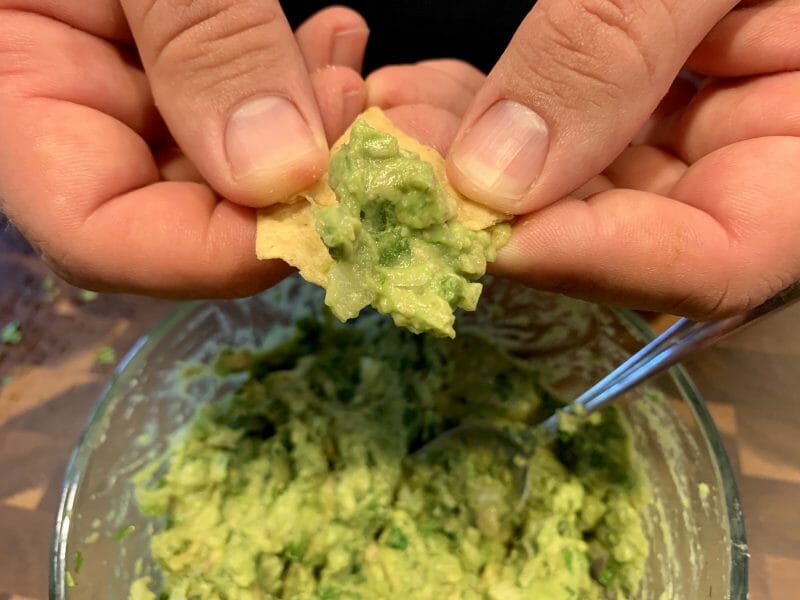 And then you'll want to get another chip and taste it again.
And then you'll consider not telling anyone else that you made guacamole because you may just want to eat the whole bowl yourself.
But in all seriousness, we do always give it a taste because sometimes it needs more salt or lime juice depending on the status of the avocados that day.
Choosing the Perfect Avocados for Guacamole
We live in the midwest so finding one perfectly ripe avocado in the grocery store is typically impossible, let alone 3.
They are almost always rock hard. Every now and then they're total mush. But they are never, and I mean never ready to use that day.
Planning ahead is a necessity. We try to pick out our rock hard avocados at least 2 days in advance.
But if you live in an area that has a better selection of avocados, here are some things to look for: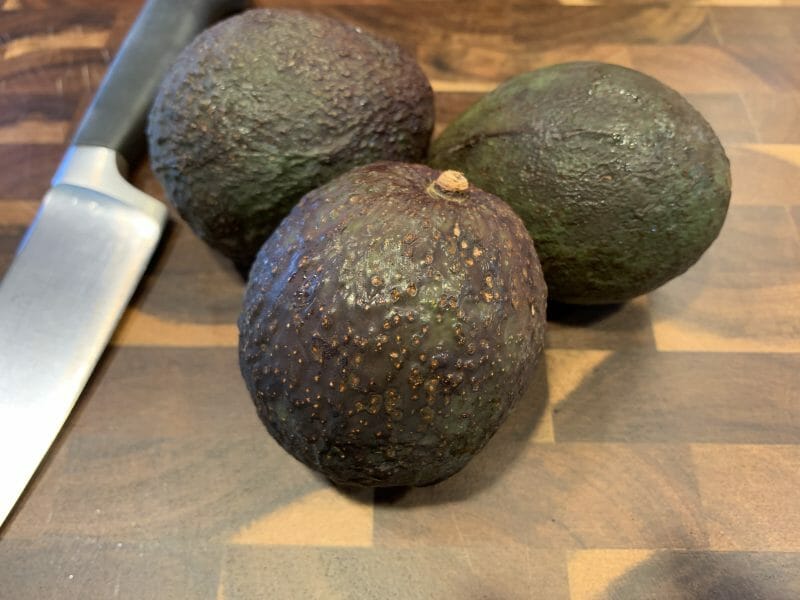 Pop the stem off. If you see green underneath, that's a great sign. If it's brown, put it back down. If the stem doesn't want to come off at all, then the avocado is not ripe yet.
Take a good look at the color of the avocado's skin. A lighter color of green means that the avocado is not yet ripe. It will darken as it ripens. A perfect avocado will have a dark green, almost black skin.
Gently squeeze the avocado. How does it feel? If it's rock hard like the ones we find around here, it's going to need a few more days. A ripe avocado should yield to firm gentle pressure but not feel mushy.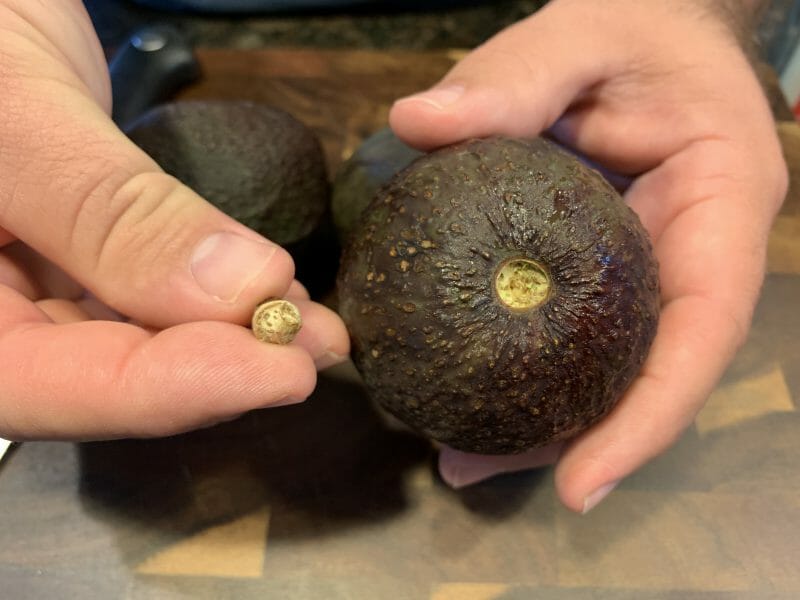 When we bring our under ripe avocados home from the grocery store, they go directly into a brown paper bag on the counter for 1-2 days. I always take a peek at them everyday to monitor their ripening process. If they appear to be ripe before we're ready to use them, we simply remove them from the bag and place them in the refrigerator to slow down the ripening process.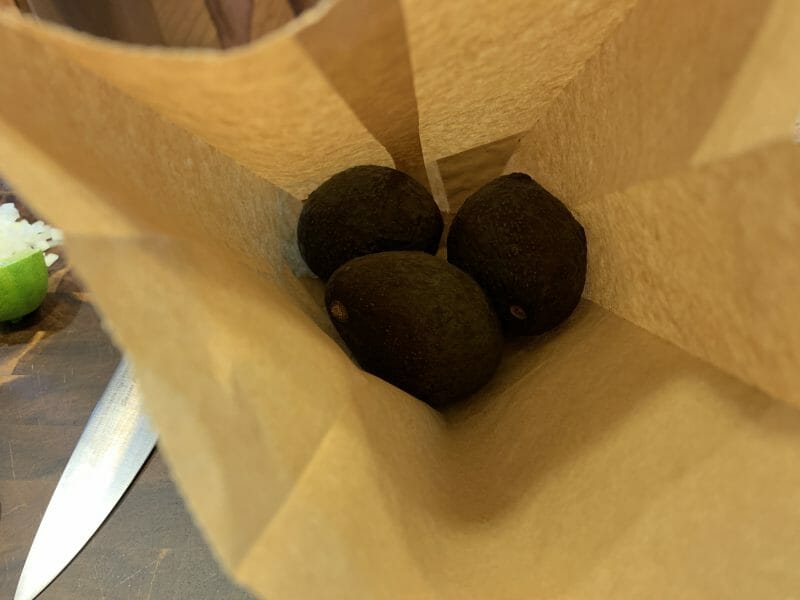 How to Store Your Leftover Guacamole
I'll be honest, we don't often have leftover guacamole.
But on the off chance we do, it is mission critical to eliminate all exposure to air to keep your guacamole from browning.
We've done it two different ways and I'm not even sure what thought process determines which way we go and why, honestly.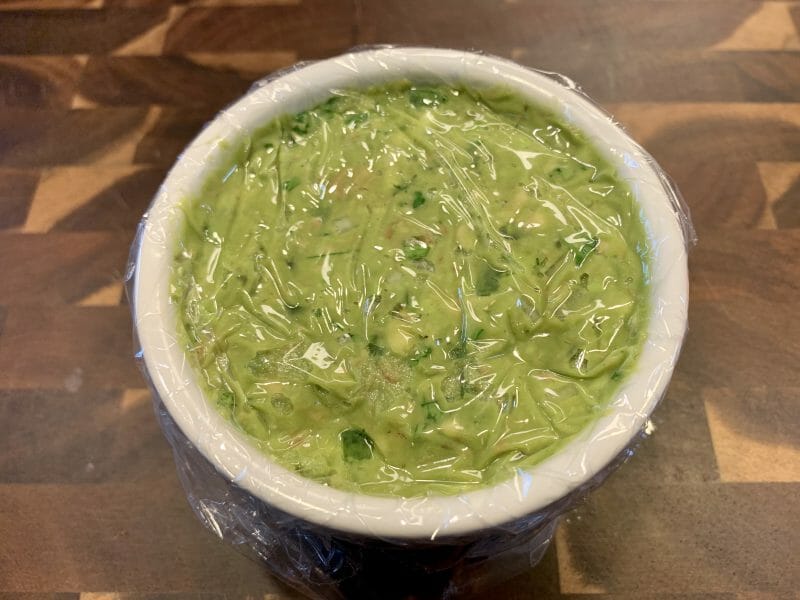 Transfer the guacamole into the smallest storage container you can find that will fit it all in. The less air that is inside the container the better. Smooth the top of the guacamole with a spoon and make sure there are no air pockets in the guac. Take a piece of plastic wrap and press it directly against the surface of the guacamole going clear to the edges. Lastly, seal the container with the appropriate accompanying lid. Store in the refrigerator and it may last a couple of days.
Transfer the guacamole into the bottom corner of a zip top plastic bag. Press all the guacamole into 1 area of the bag, being sure to eliminate any air pockets. Remove as much air as possible from the bag before sealing. When you're ready to use this leftover guacamole, you'll use scissors to snip the corner of the bag and you'll squeeze it out like you're icing a cake with a piping bag. Store in the refrigerator. I think we usually save this method for when there's only a little bit of guac leftover.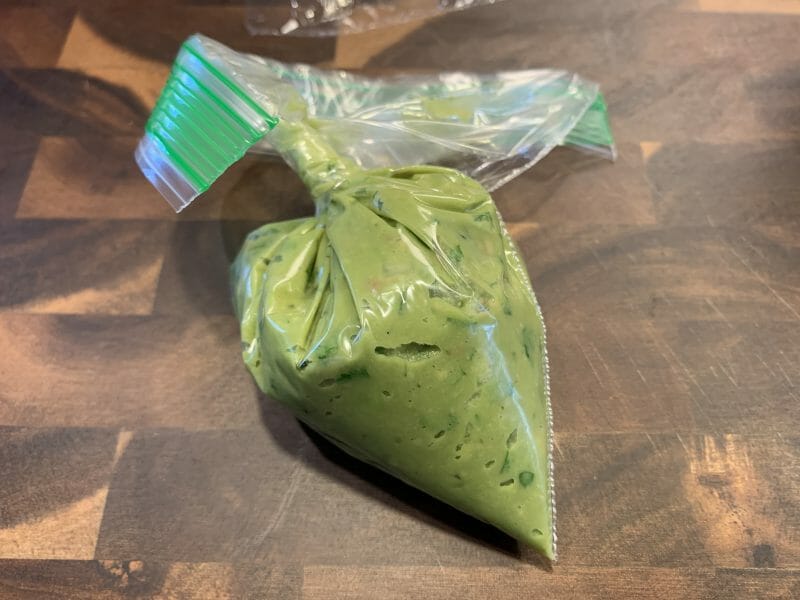 If you want a super easy recipe made with fresh ingredients that can be served from game day to Cinco de Mayo to Valentines Day, you've got to give this guac recipe a try.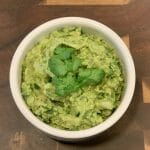 Print Recipe
Guacamole
This quick and easy guacamole dip recipe is one of our favorite accents to any Mexican dish we prepare. It's the perfect finishing touch for our grilled steak quesadillas!
Ingredients
3

large

avocados

½

lime

juiced

¼

tsp.

sea salt

1

jalapeno pepper

seeded and finely minced

2

Tb.

onion

finely diced

¼

cup

fresh cilantro

finely chopped
Instructions
Carefully cut the avocados in half, remove the avocado pits and scoop out the flesh.

Squeeze in the juice from half of a lime and add salt.

Mash the avocado with a fork or potato masher until it reaches your desired consistency (lumpy vs. smooth)

Add in the diced jalapeno, onion and cilantro

Stir with a spoon to blend thoroughly.

If you're not serving immediately, press plastic wrap directly against the top of the guacamole to eliminate air exposure and help it stay fresh and prevent browning.
Video
Notes
For a slightly different take on guacamole, you could try adding a little bit of diced tomato along with your cilantro onions and jalapeno.
Nutrition
Serving:
0.25
cup
|
Calories:
165
kcal
|
Carbohydrates:
10
g
|
Protein:
2
g
|
Fat:
15
g
|
Saturated Fat:
2
g
|
Sodium:
87
mg
|
Potassium:
495
mg
|
Fiber:
7
g
|
Sugar:
1
g
|
Vitamin A:
217
IU
|
Vitamin C:
15
mg
|
Calcium:
14
mg
|
Iron:
1
mg
If you liked this quick recipe for somewhat low carb guacamole, be sure to check out our other recipe videos here.
Some of our favorite recipes to serve with our easy guacamole recipe include: