My wife and I had a hankering for some nice burrito bowls recently. Usually we grab a pork butt to make carnitas but this time we were feeling like trying a beef recipe instead. An entire beef brisket for just our little family would have been overkill so we would require a different cut of beef for this particular meal. We decided to branch out and try a stab at a smoked pulled beef chuck roast recipe for our burrito bowls.

Note: Some of the links in this article may be affiliate links. This doesn't cost you any more than normal. Read our disclaimer for more info.
Smoked beef chuck roast is a simply amazing pulled beef dish for a delicious pot roast, pulled beef sandwich or burrito. Today we smoked a 3lb chuck roast on the Lone Star Grillz 24×48 offset smoker and cooked it until it was good, tender and falling apart in our mouths.

I could have used my pellet grill or propane smoker to cook this recipe, but my Lone Star really brings the heat and I like smelling good and wood-fired at the end of the day.
Looking for gift ideas for yourself or someone special in your life? We've got you covered.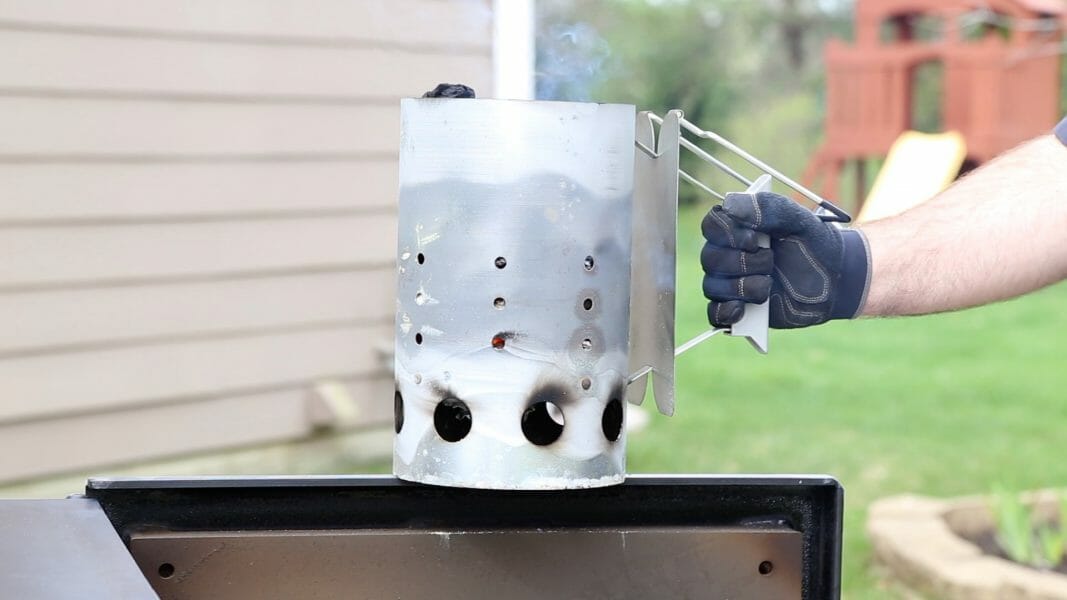 First we started our charcoal in a chimney, which gave us a nice hot bed on which to throw our hickory wood splits, which we bought at Walmart. We went ahead and set the dry wood on the opposite side of the firebox for a minute to let it warm up. That way when we rolled it over across the fire it ignited instantly.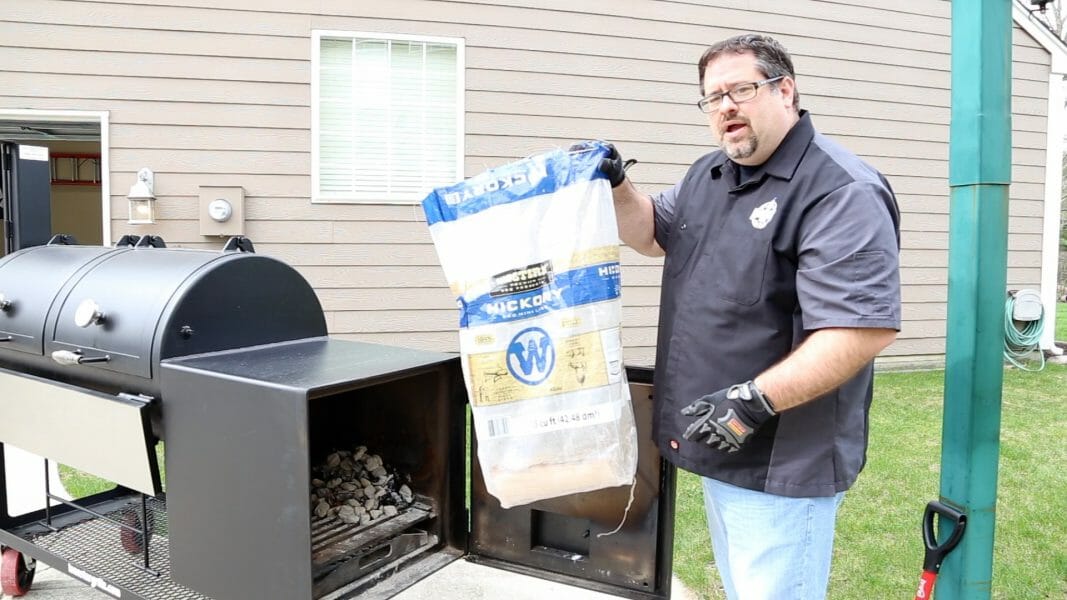 We picked up a 3 lb. chuck roast for smoking from our local Fresh Thyme to be the star ingredient of our dinner burrito bowls.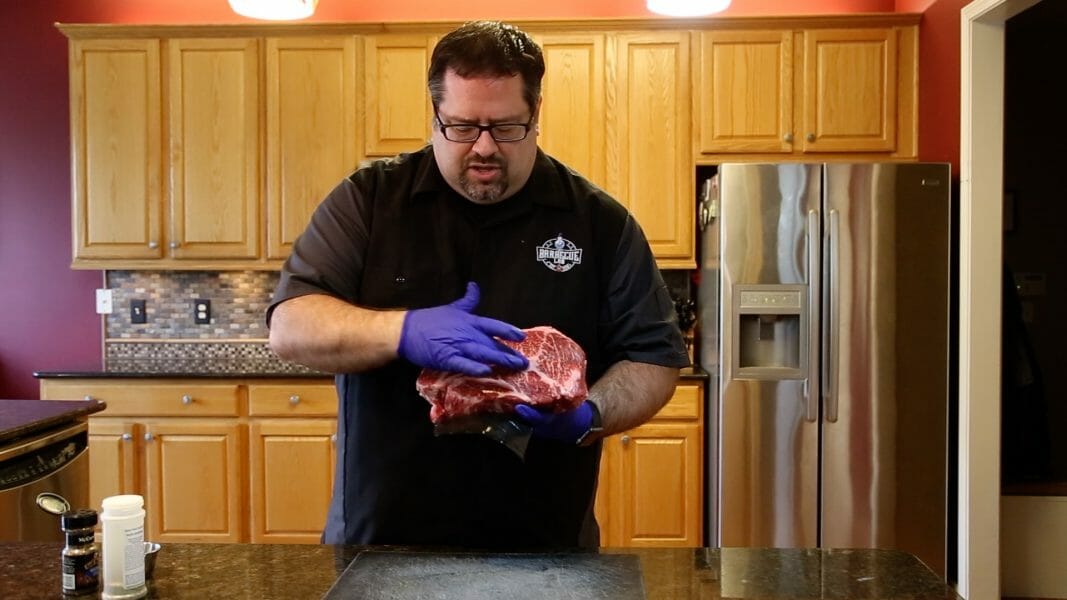 We didn't need to use any kind of binder to keep the dry rubs on the roast. All we did was begin with a pretty liberal application of salt and garlic powder in the form of some Fiesta Fajita Seasoning followed by some coarse ground black pepper to help create a nice bark during the smoking process.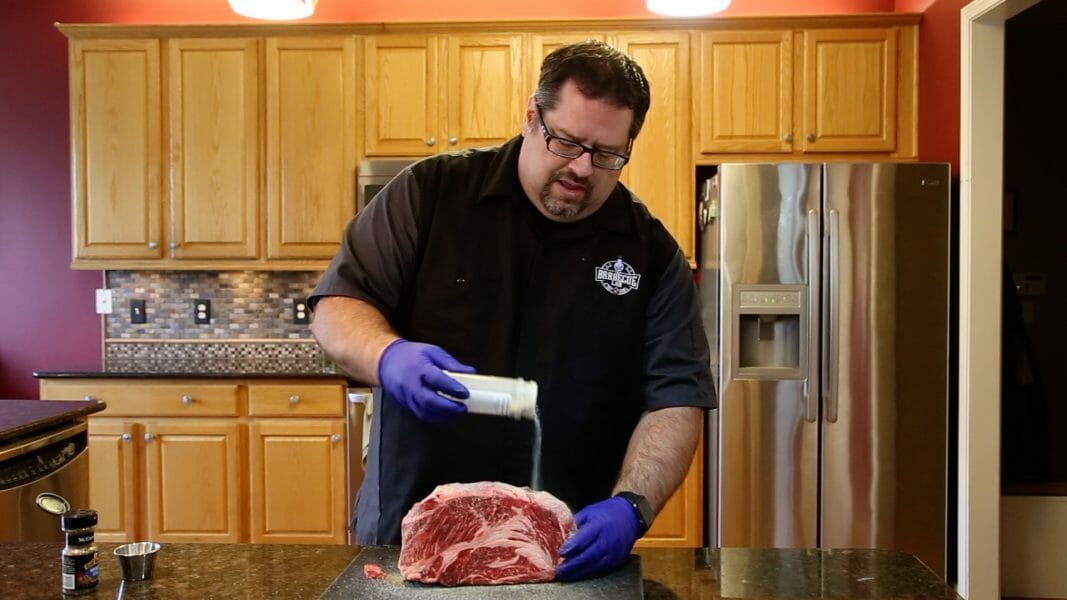 For a little bit of rough texture on top we used Montreal steak seasoning. This gave us some bigger chunks of all those seasonings we've already put on there. (Not exactly a Texas style chuck roast we're cooking here.)
We let the Lone Star heat up to a nice steady 275 and then transitioned to using B&B cherry wood splits that we picked up from Academy Sports. We like that this product is kiln dried which means you have a consistent moisture point throughout the whole entire bag.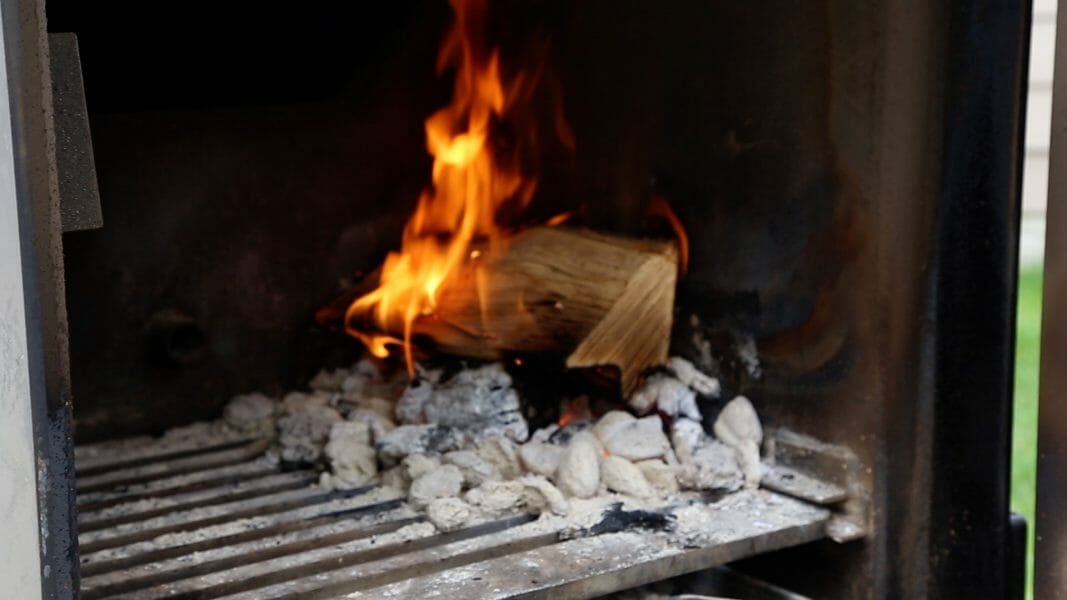 We put the seasoned chuck roast on the hot grill and let it sit and smoke for about 3.5 hours.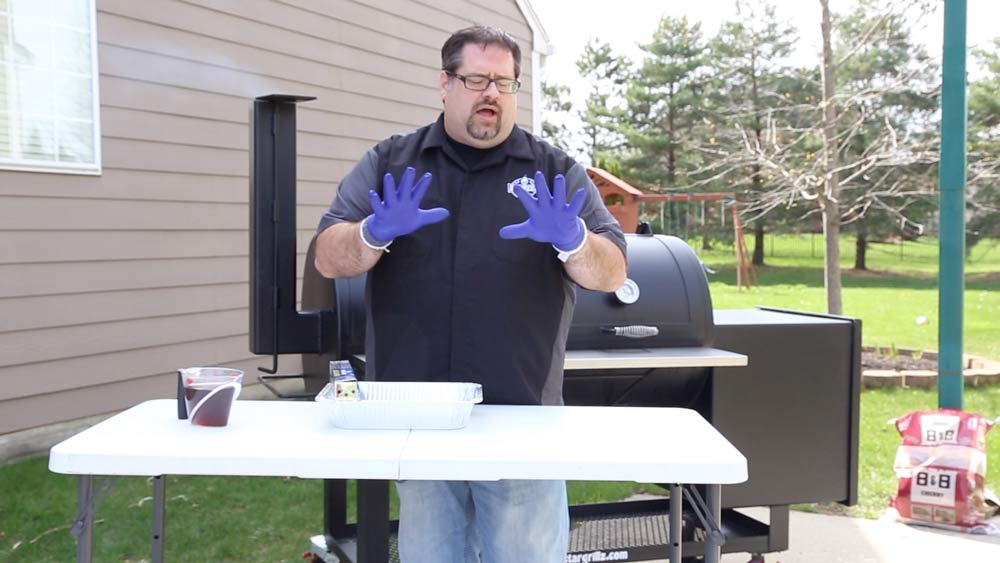 Next it was about time to pull it off and put it in the pan so we could braise it the rest of the way. I like to use nitrile gloves with cotton glove liners underneath so I can just grab the meat with my hands.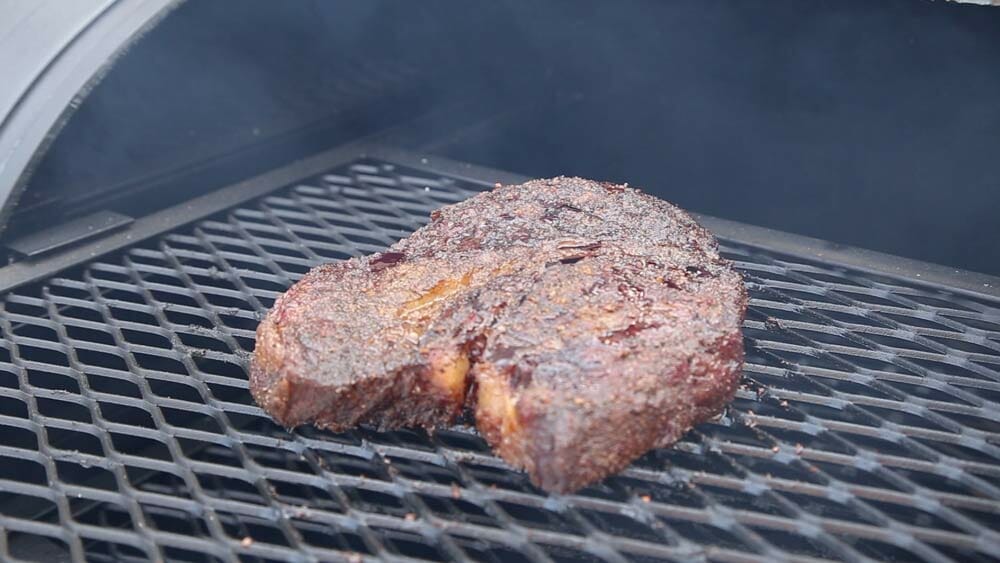 We could see that the beef rub was nice and set and the roast itself had reduced in size some due to the fat and connective tissue rendering during the cook. We placed the roast in an aluminum pan and poured about 16 ounces of beef stock or broth over top. We covered the pan with aluminum foil and placed it back on the grill for a few more hours.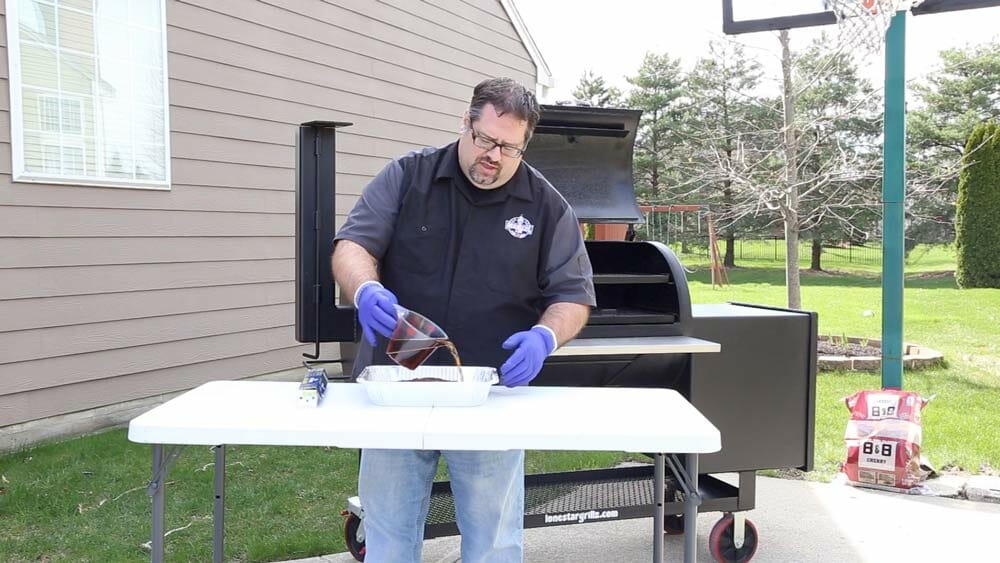 The purpose of the first 3 hours of the cook was for the meat to take on that nice smoke flavor and develop a tasty bark on the outside. This second half of the cook is less about smoking and more about braising the roast in that beef broth.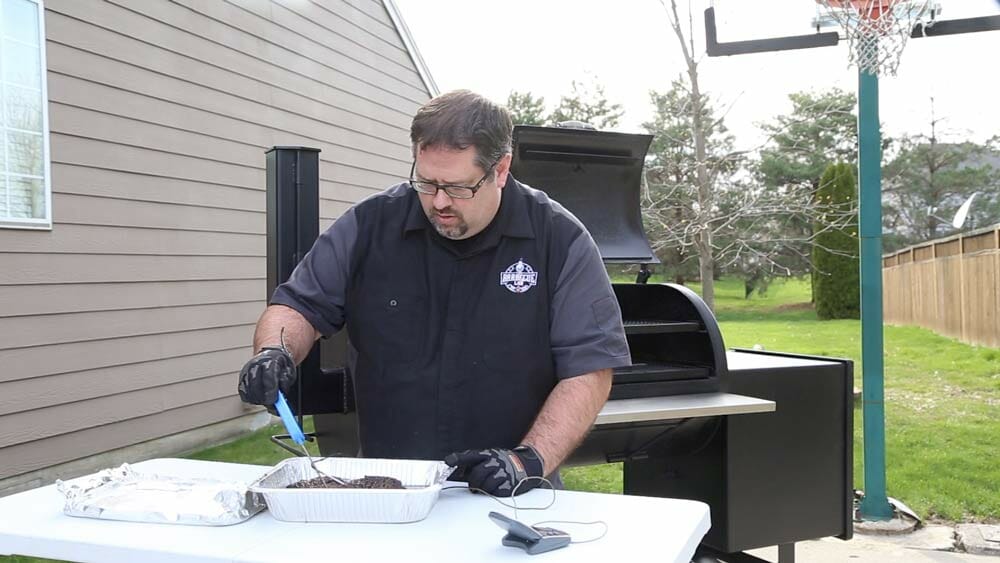 Our target internal temperature for this piece of meat is between 206-210 degrees. But sometimes more than the numbers on a thermometer, you need to really pay attention to the feel of the meat when you probe it.
Does the instantread thermometer go in and out of the roast without any pushback from the meat? Does the probe stick in the meat but still claim you've hit the target internal temp?
Maybe just let it sit a while longer and keep cooking. Smoking times can really vary from one cut of meat to another so really pay attention to the feel of the meat when it's probed.
However, if your meat thermometer is able to probe in and out like butter and feels tender then it's time to go ahead and remove the roast from the grill.
We rested the smoked chuck roast in a dry cooler for one to two hours to allow some of those juices to go back into the meat to help it stay nice, moist and tender.
After resting the meat, we used the best kitchen tool we have, our hands. Again, I used the cotton glove liners covered with the nitrile gloves because even after resting in the cooler for 90 minutes that meat was still piping hot. The meat pulled apart perfectly.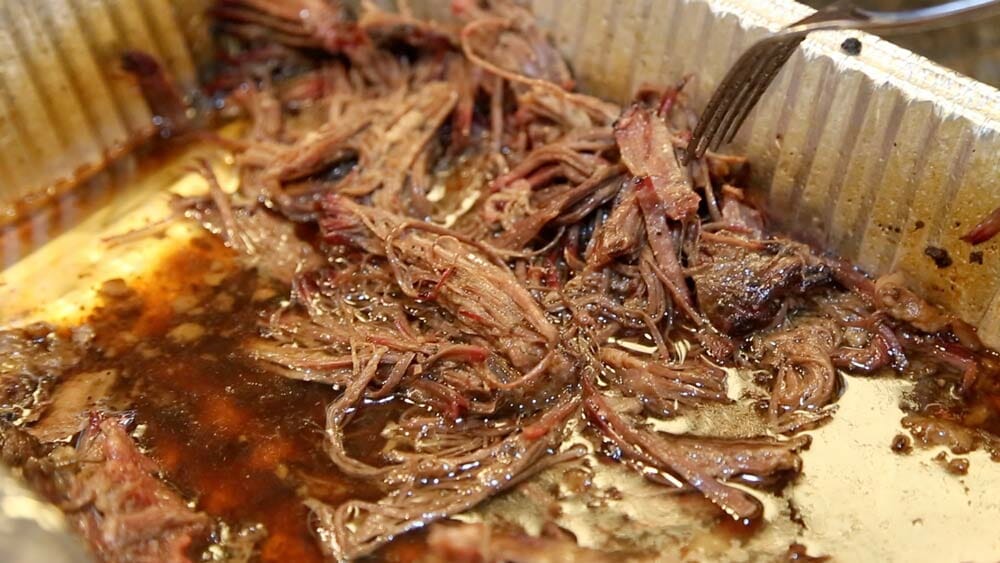 The total time it took to prepare, smoke and rest this smoked pulled beef was about 9 hours. But like I said earlier, cooking time can really vary so you may need less or more time.
Now at this point we could have added barbecue sauce and made some delicious pulled beef sandwiches but we've been trying to cut back on the carbs lately so we made burrito bowls instead.
The fun thing about burrito bowls is that they can easily be customized to everyone's personal preferences. I mean my wife and I go to Chipotle and order two burrito bowls with the same meat and our two dishes will taste completely different because I load up on every spicy option available and she keeps it light and fresh (and not spicy).
In addition to our smoked chuck roast, tonight's burrito bowls included lettuce, sauteed onions and sweet peppers, diced tomatoes, guacamole, sour cream, and a squeeze of lime. We also drizzled a little bit of the au jus from the pan because why wouldn't you?
It seems like chuck roast for pulled beef is often overlooked when home cooks are considering their options for smoked meats. However, if it's not for competition BBQ but you're craving some barbecue beef, go ahead and smoke the chuck roast! It can be a really tasty alternative to some of the more traditional (and more expensive) cuts of beef.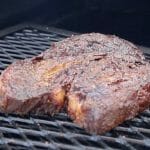 Print Recipe
Smoked Chuck Roast
We smoke a chuck roast on our offset smoker to shred and top our burrito bowls.
Equipment
Smoker

Charcoal

Hickory wood splits

Cherry wood splits
Ingredients
3

lb

Chuck Roast

2

Tb

Fiesta fajita seasoning

1

Tb

Coarse ground black pepper

2

Tb

Montreal Steak Seasoning

16

oz

Beef stock or broth
Instructions
Prepare smoker for indirect cooking at 275°. When your smoker reaches optimal temperature, place splits of hickory and cherry wood directly on the hot coals for smoke flavor.

Generously season the outside of the roast with layers of Fiesta fajita seasoning, coarse black pepper, and Montreal Steak Seasoning.

Place the chuck roast on the cooking grate and maintain a 275° fire for about 3.5 hours.

Transfer the roast into the aluminum pan and pour beef stock or broth over top. Cover the pan with aluminum foil to seal. Return to the grill and continue maintaining 275° for a few more hours.

Once the roast has reached an internal temperature between 206-210° and is probing tender, transfer the aluminum pan to a dry cooler for one hour to rest.

To serve: shred the chuck roast by hand
Video
Nutrition
Calories:
318
kcal
|
Carbohydrates:
2
g
|
Protein:
34
g
|
Fat:
20
g
|
Saturated Fat:
9
g
|
Cholesterol:
117
mg
|
Sodium:
264
mg
|
Potassium:
686
mg
|
Fiber:
1
g
|
Sugar:
1
g
|
Vitamin A:
48
IU
|
Vitamin C:
1
mg
|
Calcium:
47
mg
|
Iron:
4
mg