The Lone Star Grillz 24×48 Offset Smoker is a behemoth of a smoker that's built like a tank. Weighing in at right around 1,100 pounds, this is one serious smoker.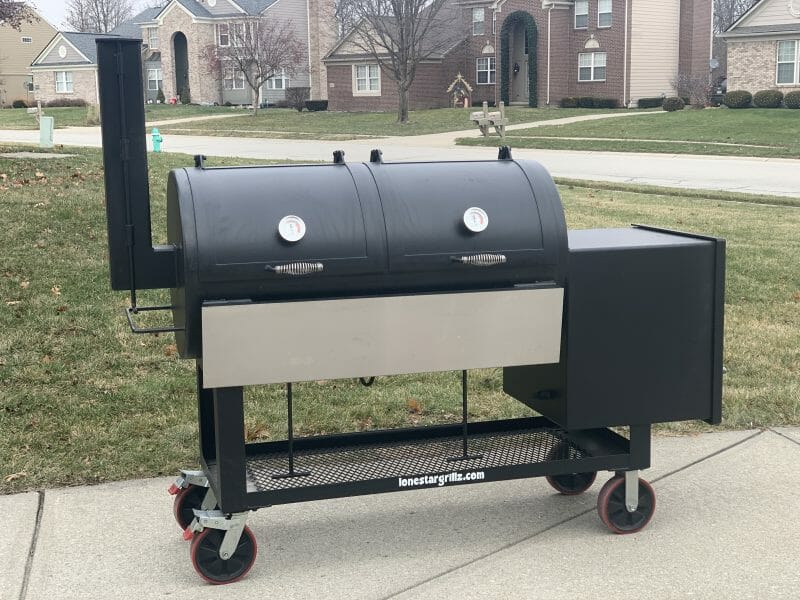 We picked up the Lone Star to be our primary offset smoker here at the barbecue lab. We were looking for a sizeable grill that we could cook multiple recipes on at a time, and found this 6 mo. old Lone Star for sale on Facebook.
Purchasing a grill of this size means that you can't exactly throw it in the back of a truck to take it home though. We grabbed a trailer to make the 4 hour trip to pick it up, and loaded up the truck with muscle. Bringing a trailer with a roll up ramp turned out to be one of the best decisions we made that day, because this 24×48 has the upgraded 8" casters, which made rolling it onto the ramp incredibly easy.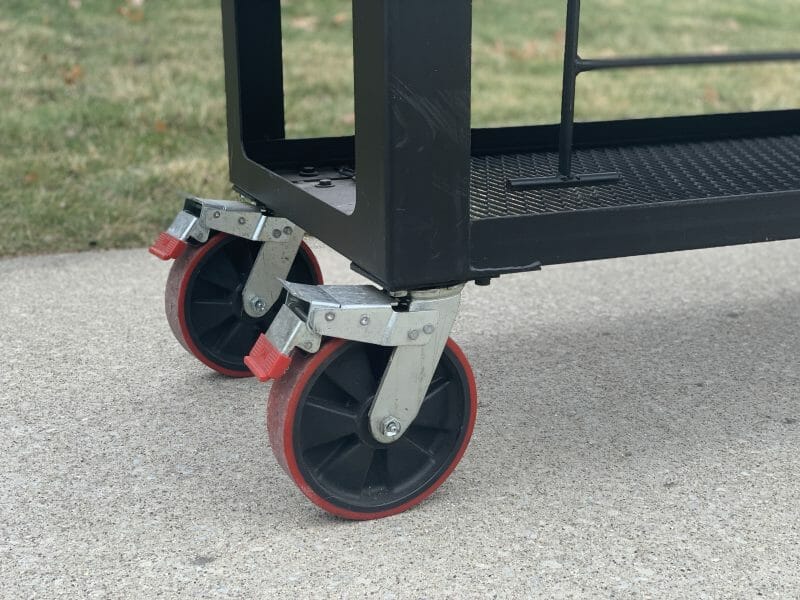 The sheer weight of the grill made it easy to offload as well, and the size of the casters surprisingly makes a grill of this size easy to maneuver around in spite of its weight.
Note: Some of the links in this article may be affiliate links. This doesn't cost you any more than normal. Read our disclaimer for more info.
Lone Star Grillz 24 x 48 Offset Smoker
Main Cooking Chamber
This unit is called the 24×48 model because the main cooking chamber of the grill is 48 inches long by 24 inches deep.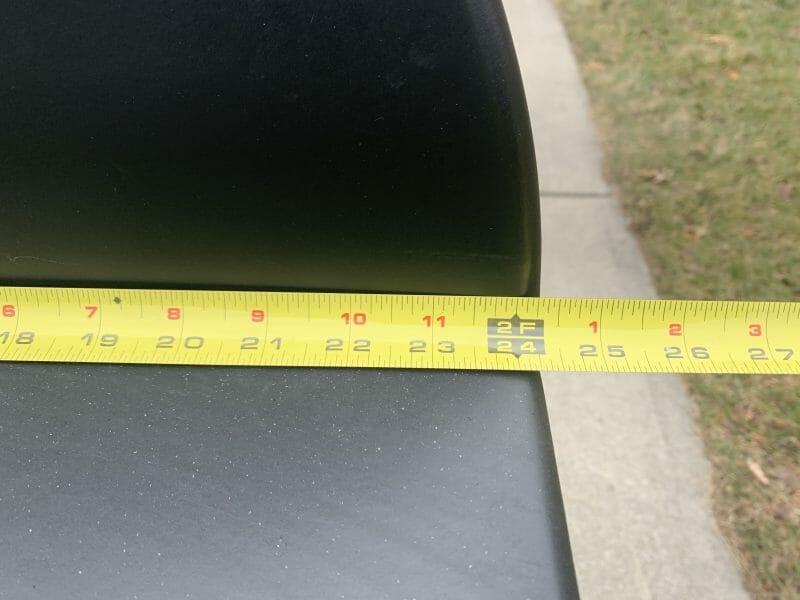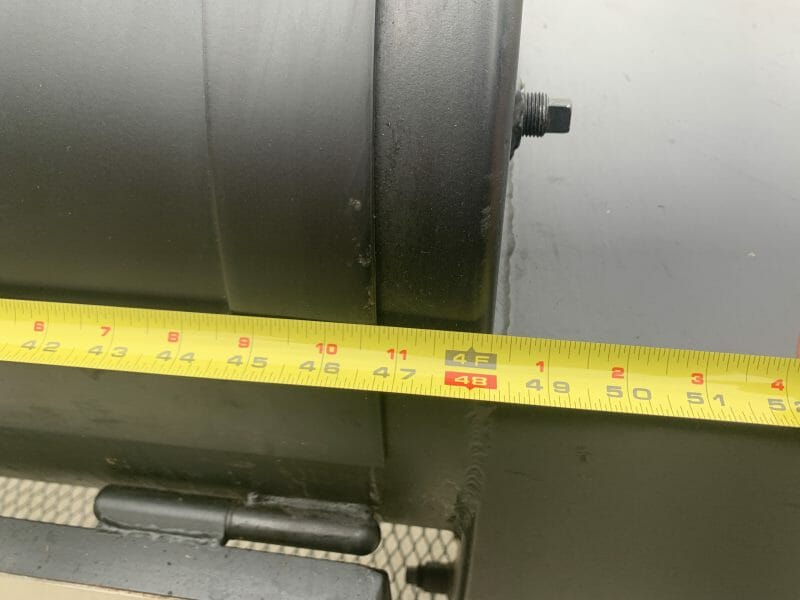 There are a total of 4 shelves on the grill, and each shelf slides out completely to make things easy. Whether you're pulling out a brisket to spray down or completely pulling the rack out to clean, these shelves are easy to work with. Loading and unloading food is made easy due to the shelf system that comes standard on this unit.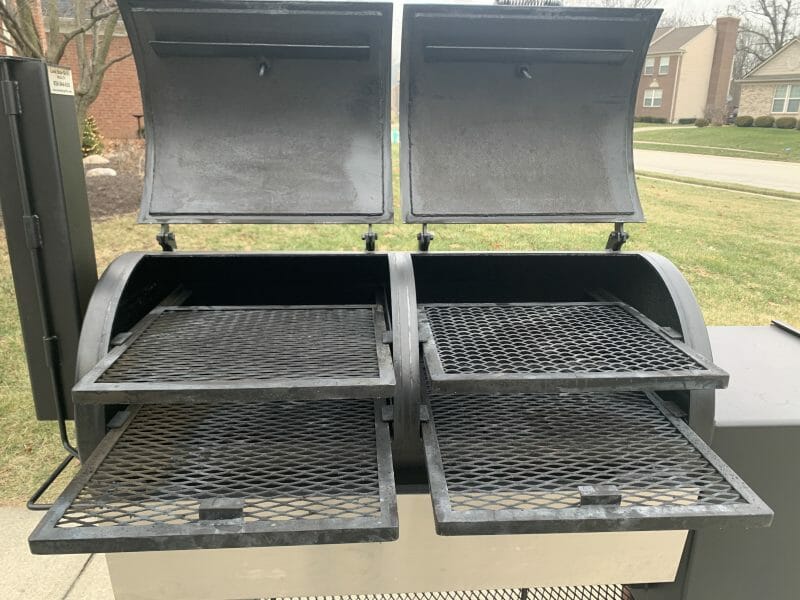 Firebox
The Lone Star Grillz 24×48 is an offset smoker, which means that the fire and heat source is removed from direct exposure to the primary cooking area.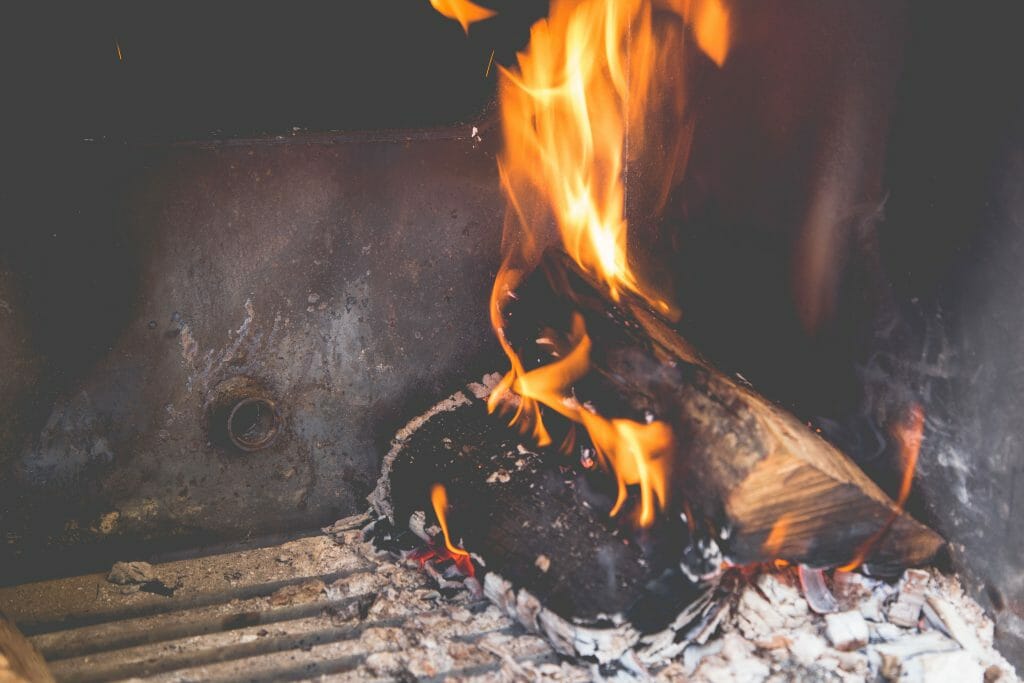 The firebox on the Lone Star is huge, and that's a great thing. Our model has been upgraded with the insulated firebox option. On a LoneStar, they take their traditional firebox, wrap it in 2" of high heat insulation and then build a second firebox around that insulation. We have a double walled and insulated firebox on this unit, and it's crazy efficient.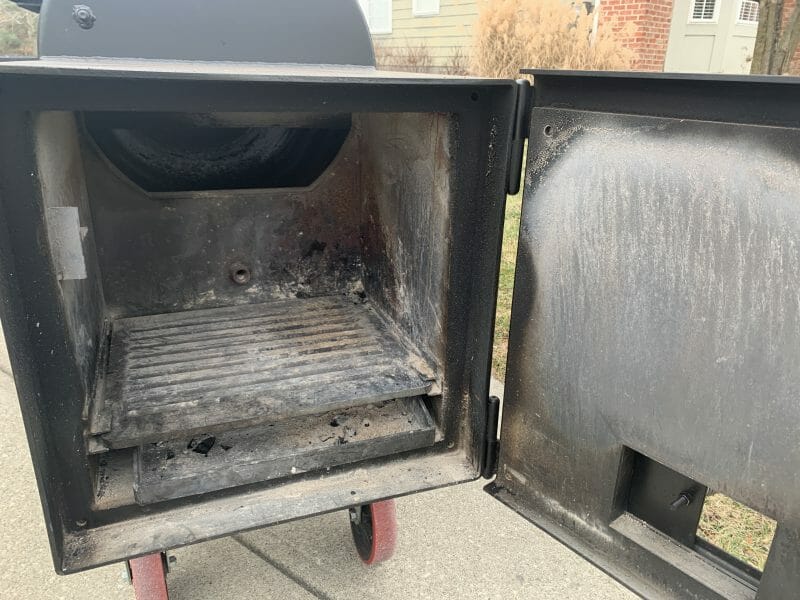 On the Lone Star website, they reference that their smokers are used to a new split of wood every 45 minutes or so to hold temperatures steady. We've found that we can keep the temperature steady at 250 degrees on only a half split of wood every 45 minutes. We've never experienced an offset smoker that uses so little fuel once it's up to temp.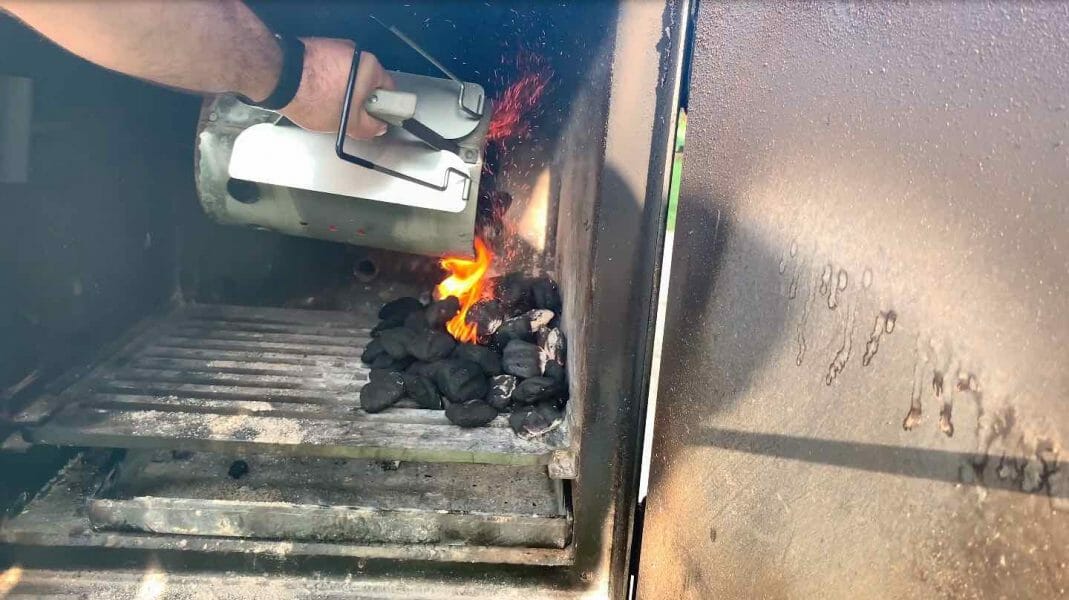 We found that getting the LoneStar up to temperature initially is easily accomplished with two chimneys of lump charcoal. This grill is a massive amount of metal to get up to temperature, and it takes a good amount of heat to get it done quickly. Once this grill is up to your desired temperature though, we found it easy to maintain a consistent temperature.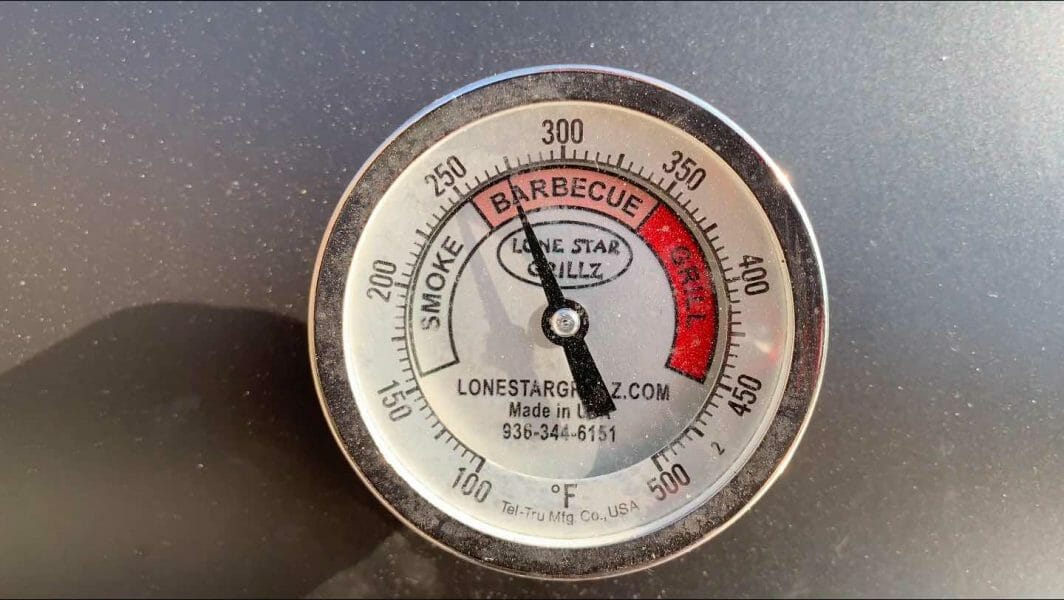 Dampers
The grill comes with an air intake damper on the firebox door as well as an exhaust damper on the smokestack. We found that we like running this smoker wide open instead of setting the dampers to control our fire. We set the firebox damper and the exhaust damper to completely open to start the grill and left them there for the duration of the cook. We would control the heat on the grill by the size of fire that we built in the firebox, which allows for the thin blue smoke that we love. One of the things that we rarely saw with this grill was dirty or black smoke. As long as we made sure the charcoal was well lit before we added it to the firebox, we didn't have dirty smoke.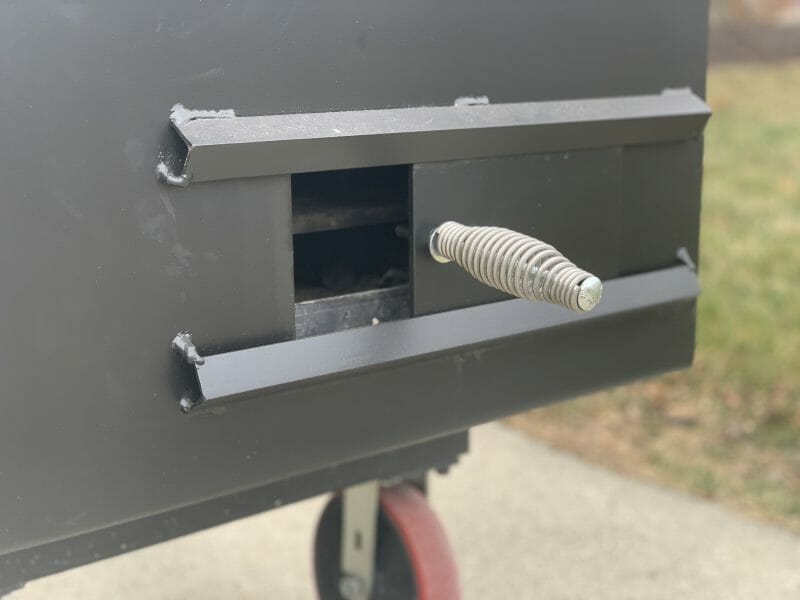 The same goes for the wood that we switched to after the grill was up to temperature. We would load an unlit split of wood to the left side of the firebox and build our fire on the right side of the firebox for each cook. This setup allowed each new split of wood to warm up to the point where it was ready to combust as soon as we rolled it onto the fire as the log before it needed replaced. By using logs that lit almost immediately, we never ended up with the dirty smoke that comes from a log trying to ignite.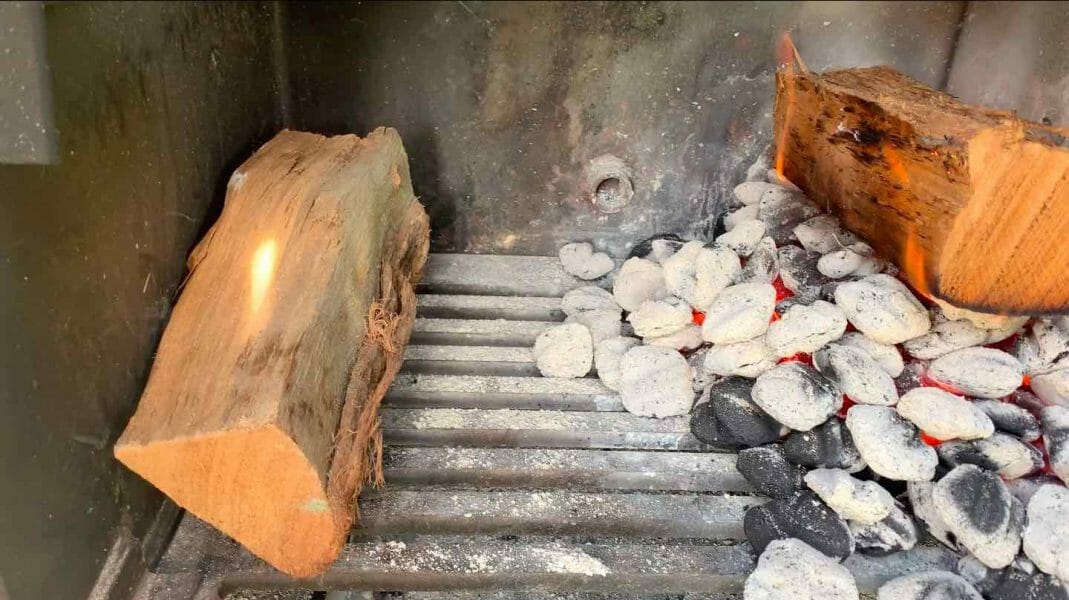 Wheels
The cooking chamber has two doors, and they are heavy. I'm about 6 feet tall, and it's a stretch for me to grab ahold of the door handle with the upgraded 8 inch wheel package. The standard wheels are only 3 inches tall, so there's a 5 inch height difference with this unit, just be aware as you decide which wheel package is right for you.
Door Seal
The doors are the same ¼ inch steel that is found throughout the entire unit, so while heavy, also have a great seal during each cook. The only time we've ever had smoke leaking out a door was when we failed to push the cooking grate back in far enough and it left a gap. If we ever saw smoke coming out the door, we knew that we needed to push the grate back in, but a few times the door actually took care of that for us because of the weight.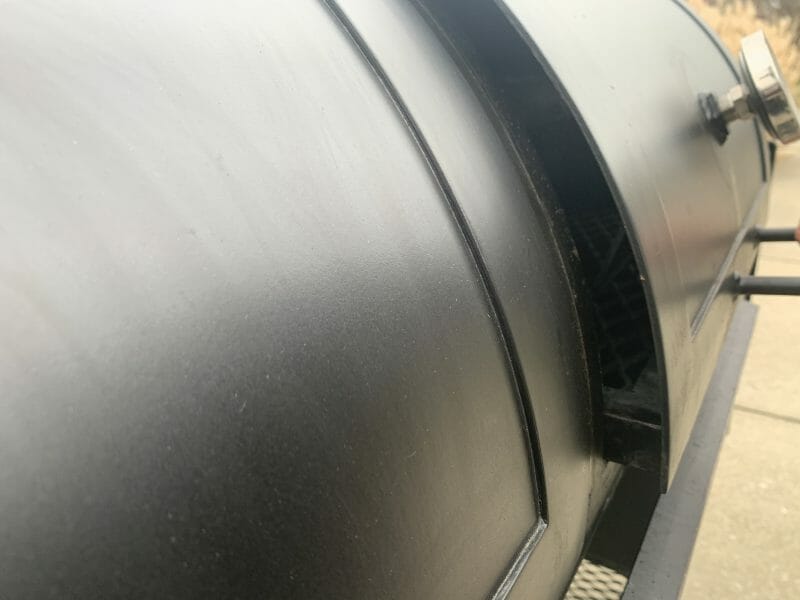 Handles
There's a solid handle welded to the grill that allows for easy movement around flat surfaces. Without the off road package that's available through the Lone Star website, we haven't ventured into the yard with this unit because of the sheer weight of the grill. 1,100 pounds is hard to push around on anything other than a patio or paved surface, so we can't recommend that this unit is ready for the yard without the off road package that upgrades the casters to golf cart tires.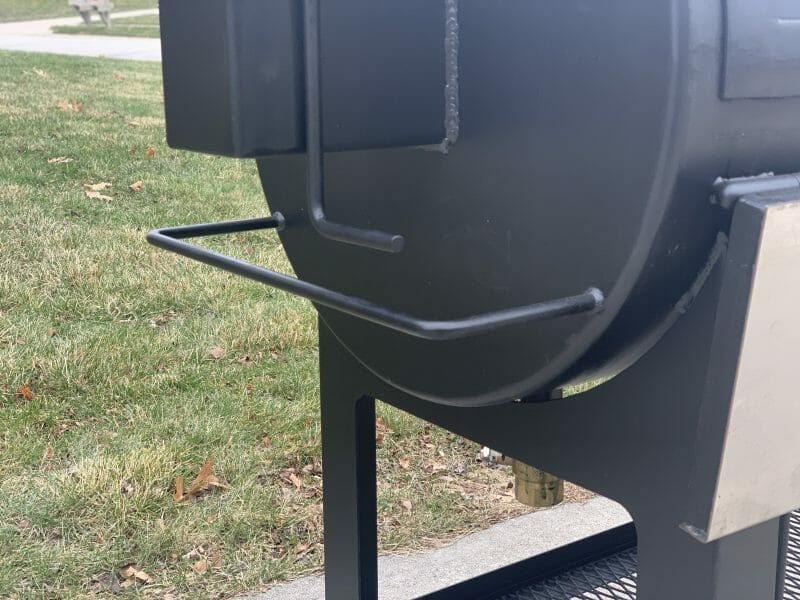 Cleaning the Lone Star Offset Smoker
One of the features on the 24×48 that we love is the easy to use ball valve for cleaning. When it comes time to drain the grease, just push the lever and the grill empties. When we clean the grill with a hose or a pressure washer, we can set the ball valve to open and all of the water flows out the drain and into a bucket for disposal.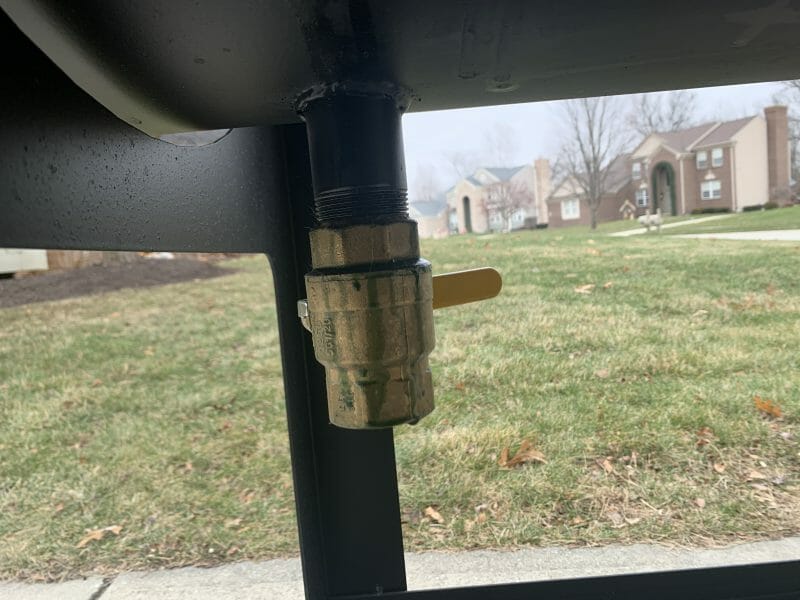 Cooking on the Lone Star 24×48 Offset Smoker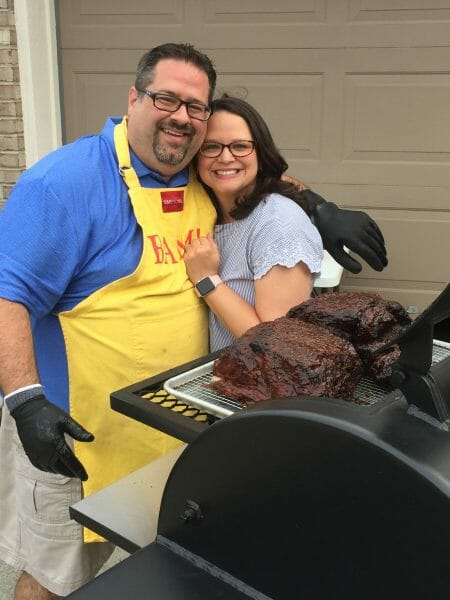 We've cooked everything from brisket to pork butt to turkey on the Lone Star 24×48, and it produces a great product. Being a stick burner type of pit, we get an incredibly deep smoke ring that we find hard to reproduce on many other types of smokers. If you've never cooked on an offset smoker, it's worth pointing out that this isn't a set it and forget it type of smoker. Like almost any offset, this grill needs fed every 45 minutes to an hour to keep temperatures consistent. With this kind of grill, it's hard to get very far away from the unit during a cook, but it's all the more reason to grab a few cold ones and a lawn chair and make a day of it.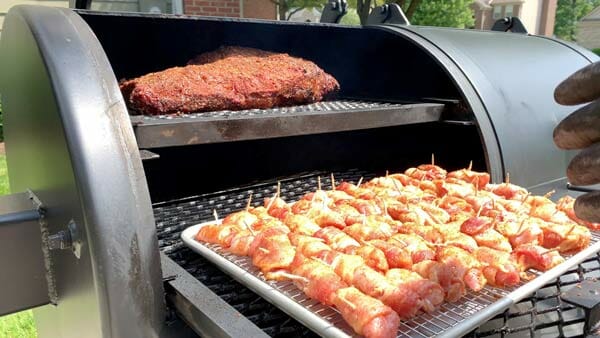 If you're looking for a grill that you can dial in like a pellet grill and leave for the day, this probably isn't the unit for you. If you're looking for one of the most solid offset smokers on the market that's built like an absolute tank, you should consider giving Lone Star Grillz a look. We've been constantly impressed by the quality of the smoker, and we can't argue with the results we've had with the food we've cooked, and we've cooked a lot. Check out our YouTube channel if you want to see some of the food that we've cooked on this grill with everything from smoked potatoes, brisket chili, smoked mac and cheese, pork butt, chuck roast, appetizers and all of the competition meats we all love.