In the barbecue world we typically have meat on the brain at all times and everything else is just an afterthought. At least that's the case for me.
What's for dinner? Meat.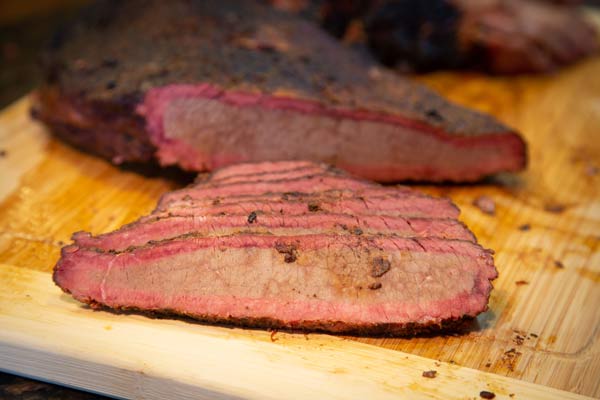 Doesn't really matter… could be pork recipes, chicken recipes, beef recipes, hot dog, whatever. I'm not picky.
I'll find myself at the cutting board slicing up a perfect specimen from my smoker, ready to plate it up, and if it weren't for my wife, that would be the only thing on our plates for dinner because my brain tends to only think about meat.
But also cheese.
And bacon. Oh wait, we're back to meat again.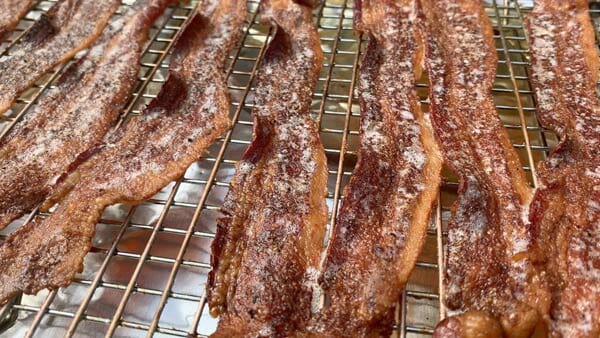 As we were planning for a recent barbecue for friends, I had picked out what meat I would be smoking that day and my wife then followed up with the typical, "and what will we have with it?"
Oh yeah! Most people like more than just meat on their plates.
After some discussion we decided on an old favorite that we seldom think to make. Twice baked potatoes.
Then that got us thinking. We'll already have the smoker going for the brisket I'd be cooking all day. What if we did phase 2 of our bake on the smoker?
Ooh, better yet, what if we cook the bacon for the twice baked potatoes on the smoker as well for some double smokey goodness!
Now my meat-loving brain was starting to come around to this idea of side dishes and I found myself getting as excited for these twice smoked potatoes as I was the brisket.
Brisket, people! The anticipation I felt for my brisket was now matched with my anticipation for a potato recipe.
It's a new day. Anything is possible.
Note: Some of the links in this article may be affiliate links. This doesn't cost you any more than normal. Read our disclaimer for more info.
How to Make Twice Smoked Potatoes
Before starting on the potatoes, I laid a pound of bacon across a wire cooking rack. We rested the cooking rack on an old cookie sheet lined with aluminum foil to catch the dripping bacon fat during the cook. We sprinkled some of our favorite BBQ rub on top for an added kick.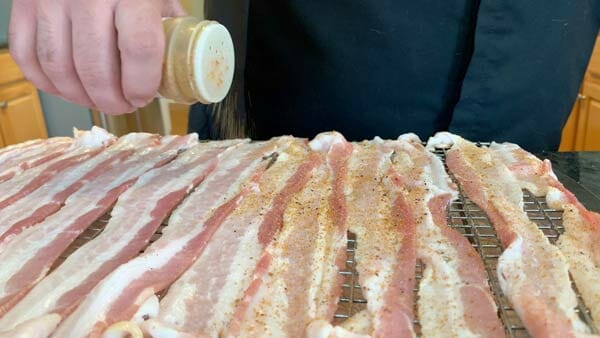 That went into our offset smoker (already working on a brisket) at 300 degrees for about 60 minutes.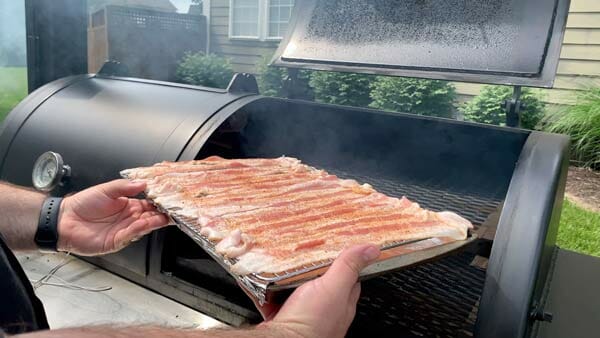 Smoking vegetables is a lot like meat smoking, and can also be done using indirect heat on a charcoal grill.
Using a pellet grill is also an option and is referred to by many as an easy smoker. A pellet grill uses actual wood pellets as the fuel, so the smokey flavor comes through. You can achieve the same "smoke meat" flavor on a gas grill by using a smoker box full of wood chips or pellets.
In the meantime, we had some potatoes to cook.
We decided to bake the potatoes in the oven for the first phase of this recipe. I've heard of smoked baked potatoes and have seen others do that with great success. However, the potatoes we were working with were gargantuan so we were a little worried that they might end up tasting a little too smokey considering the amount of time it would take to cook them sufficiently.
We didn't do a whole lot to prep the potatoes beforehand. Just scrubbed them really well to make them nice and clean. We didn't wrap them in aluminum foil or coat them with olive oil or anything.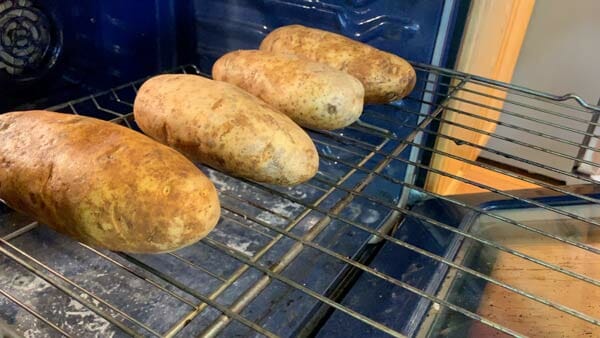 We just stabbed the potatoes in a few places with a fork to let out steam, and stuck them directly on the oven shelf at 350 degrees.
Cooking time really varies for potatoes depending on size and variety. These weren't no baby potatoes or yukon golds we were working with. We were baking russet potatoes the size of a football (only slightly exaggerating), so ours took a good 90 minutes in the oven before they were fork tender.
Side note, if I was only cooking for my family and was cooking smaller potatoes, I might have even done the first bake in our air fryer. If you've never used an air fryer to bake potatoes, it really cuts down on the cook time and doesn't heat up your house like the oven does.
(That being said, I would not recommend cooking your potatoes in an Instant Pot because the skins would likely be too soft and tender for the scooping out step coming up next.)
After the initial bake, just set the potatoes out to cool for a bit. But not too long. Just long enough for you to be able to handle them for the next steps of this recipe.
As soon as the potatoes had cooled enough to handle, we cut them in half the long way. Then we used a large spoon to scoop out the insides, being extra careful to not destroy the skin in the process.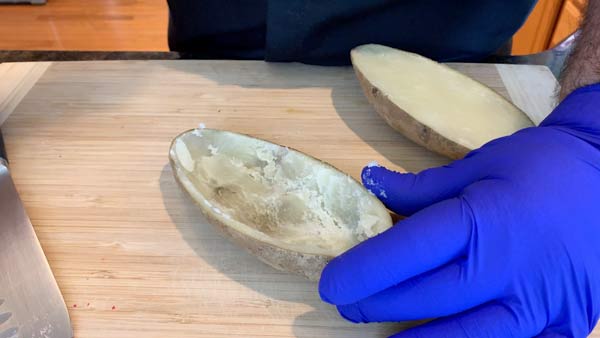 We laid the potato skin boats into some disposable aluminum pans and set them aside while we prepared the filling.
We used our Kitchen Aid stand mixer to whip the potatoes up with all the additional ingredients.
Now I admit, I got a little over-zealous and dumped all the ingredients in at once and quickly realized that there could have been a better way to do this.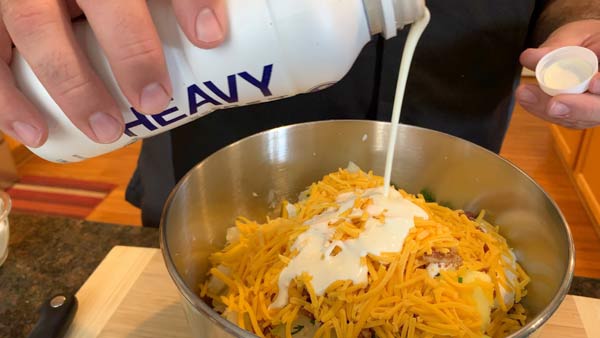 Hindsight being 20/20, what I would recommend is whipping up the potatoes, butter, sour cream and heavy whipping cream first until you get the texture you want. Also, add in some salt and pepper to your liking.
Then you can go nuts and dump in all the chives, scallions, shredded cheese and crispy smoked bacon bits and stir it all together.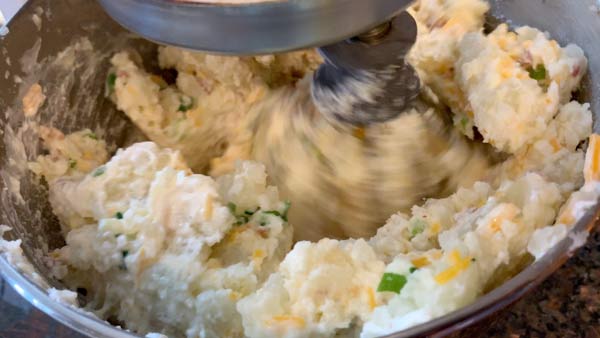 Taste it and you'll wonder why you can't just sit down and eat it from the bowl now because it already tastes fabulous.
But I promise you, it's about to get EVEN BETTER!
We spooned it back into our potato skin boats and topped it with some additional shredded cheese.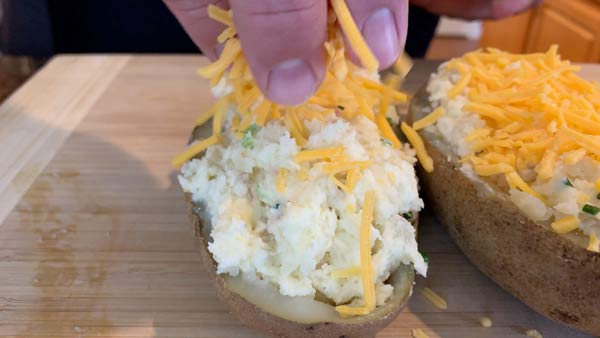 Then those pans of cheesy potatoes went onto the smoker at 300 degrees for another 60-90 minutes.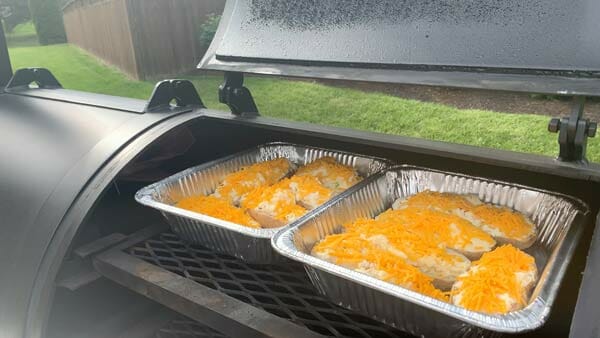 A Smoked Potato Recipe We Will Be Repeating
These twice smoked potatoes were amazing. I can't even tell you how good they were, but they may have even outshined the brisket that night. I'm just saying. They were that good.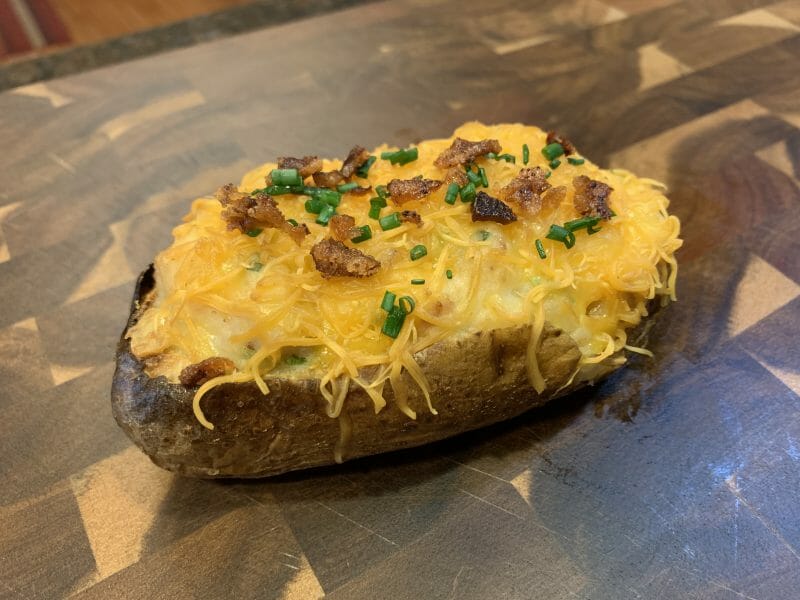 The delicious smoke flavor from the pecan wood really came out in the potato and then again with each bite of bacon inside.
I know I've confessed that I mostly stick to cooking meats so maybe this isn't saying much, but this is one of the most mouth watering vegetable recipes I've ever made.
You don't have to be a grill master to win your weekend with this smoker recipe. This is going to become a regular recipe for us and we sure hope you give it a try.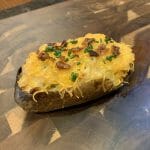 Print Recipe
Twice Smoked Potatoes
Here is our smokey spin on your traditional twiced baked potatoes.
Ingredients
4

large russet potatoes

2/3

cup

heavy whipping cream

2

Tb.

butter

2/3

cup

sour cream

2

Tb.

fresh chives

chopped

3

scallions

sliced

1

lb.

bacon

2

cup

sharp cheddar cheese

shredded

salt

to taste

pepper

to taste
Instructions
Lay bacon on a wire cooking rack placed on a foil wrapped cookie sheet and smoke at 300 degrees for about 60-90 minutes, until desired crispiness.

Bake potatoes unwrapped in a 350 degree oven for 60-90 minutes depending on the size of the potato. Test for doneness by poking a fork into it.

Allow potatoes to cool just long enough to be comfortably handled, but no more.

Slice potatoes in half the long way. Scoop the insides of the potato out into a mixing bowl, being careful to leave the skins in tact. Place the potato skin "boats" in an aluminum foil pan and set aside.

Using a whisk attachment in a stand mixer, whip the potatoes along with the butter, heavy whipping cream, sour cream, salt and pepper.

Once you've reached your desired texture (whether you like them more whipped or lumpy), stir in remaining ingredients of chives, scallions, crumbled smoked bacon, and 1 cup shredded cheese until blended thoroughly.

Spoon potato mixture back into the potato skin boats. Top with remaining shredded cheese.

Place the pans of potatoes into your 300 degree smoker for about 45 minutes to an hour.

(optional) Top potatoes with additional smoked bacon.
Video
Notes
We recommend smoking the bacon and potatoes with pecan wood or apple wood.
Nutrition
Calories:
569
kcal
|
Carbohydrates:
22
g
|
Protein:
18
g
|
Fat:
46
g
|
Saturated Fat:
22
g
|
Cholesterol:
112
mg
|
Sodium:
606
mg
|
Potassium:
649
mg
|
Fiber:
2
g
|
Sugar:
2
g
|
Vitamin A:
1013
IU
|
Vitamin C:
9
mg
|
Calcium:
261
mg
|
Iron:
1
mg