These Candy Bacon Wrapped Chicken Bites are the Perfect Appetizer!
I love appetizers and finger foods. Sometimes when my family eats out, we just order a bunch of appetizers and skip the entrees altogether.
We also do a lot of entertaining around here, and there's little I love more than filling my house with friends and loved ones, and my countertops with a buffet of appetizers.
And finger foods, like these little brown sugar baconwrapped chicken bites, are perfect because they require no utensil to eat, and guests can eat them while standing, unlike many of the other barbecue recipes I like to make for friends.
Note: Some of the links in this article may be affiliate links. This doesn't cost you any more than normal. Read our disclaimer for more info.
Candy bacon wrapped chicken bites work well for any time of year.
Game day tailgate food? Yes, please.
Super Bowl party foods? Uh, yes.
Holiday season appetizer? But of course!
Summer barbecue out back with friends? Heck yeah!
Bring on all the brown sugar chicken bacon bites because they are wrapped in bacon and taste like candy!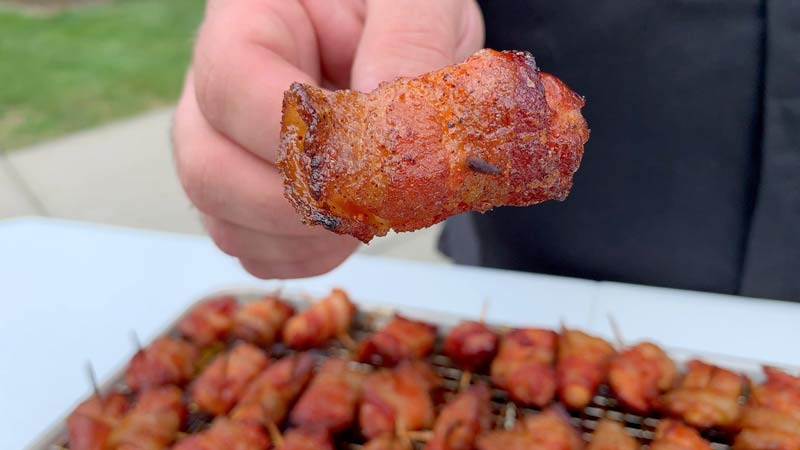 How to Make Bacon Wrapped Chicken Bites
To begin, the first step is preparing the chicken.
If you're like me you may favor lowest price over less work. For that reason I started with bone-in/skin-on chicken thighs at $.99/lb as opposed to boneless/skinless thighs for twice that price. What can I say, I'm frugal. And I don't mind getting my hands a little messy.
We picked up our chicken thighs at Costco. Not only were they a great price, but they're nicely packaged individually, making it really easy to get the exact amount you want and then stick the rest in the freezer for another day.
At first it might seem daunting to have to debone and remove the skin from a chicken thigh, but it's not really as hard as you might imagine.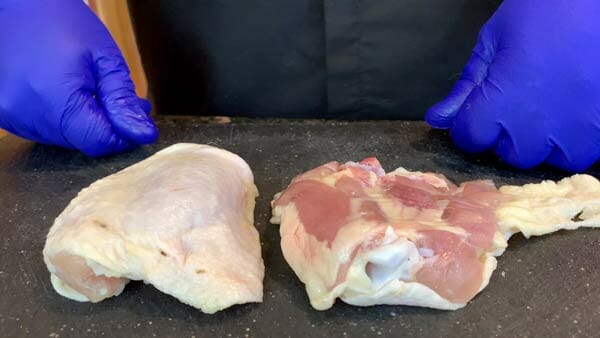 Lay the thigh down on a cutting board, bone side up. Take your knife and cut through and trace the bone along either side. Then you should be able to poke your knife through under the bone and cut through wherever the bone is still attached on the top and bottom.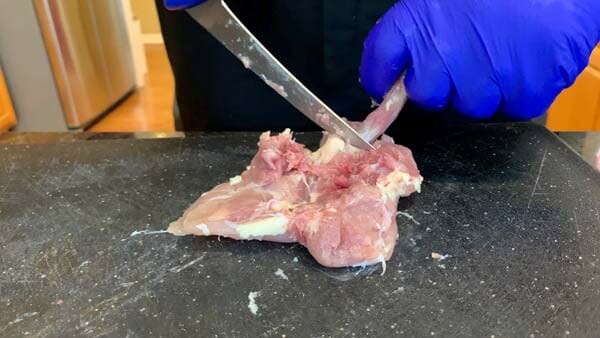 It may take a little practice, but you'll eventually get the hang of it. And remember, we're cutting this thigh into bite sized pieces anyway, so it's ok if you kind of make a mess of it on your first try. It doesn't have to look perfect.
The skin can usually be peeled off with very little effort. You may want to use your knife to trim away any excess fat that is hiding under the skin. That's not good eats.
Once you've removed the bone and skin, cut the chicken thigh into bite sized pieces. We can usually get about 8 pieces out of one thigh.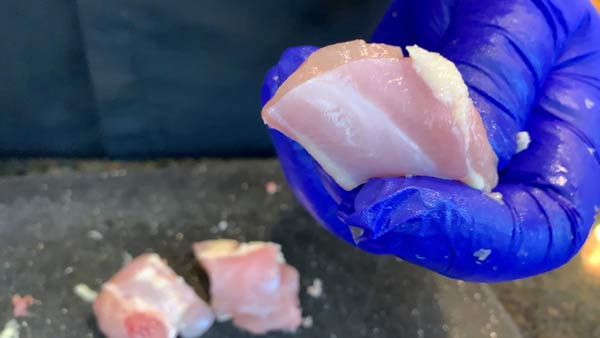 If you prefer white meat over dark, feel free to use boneless skinless chicken breasts or chicken tenders instead.
Now that your chicken is prepared, bring on the bacon!
Choose whatever thickness of bacon you prefer. Thick cut bacon will likely take a little longer to reach your desired crispiness. But whatever you do, don't use turkey bacon. Blech!
(I kid. If for some reason you want to use turkey bacon, please do so at your own risk of being somewhat disappointed in the finished product.)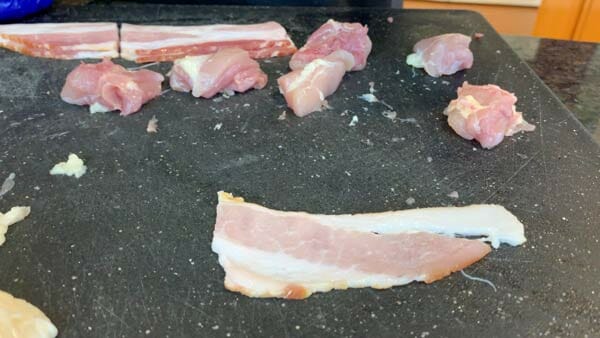 We have found that ⅓ of a slice of bacon is the perfect size to wrap around one piece of chicken.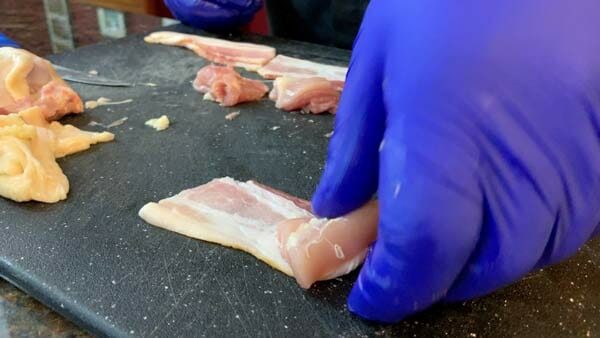 Be sure to have a pile of toothpicks ready to grab easily before your hands get messy.
Wrap each piece of chicken with ⅓ slice of bacon and secure it in place with a toothpick. Set it aside until all of your chicken pieces have been swaddled in bacon.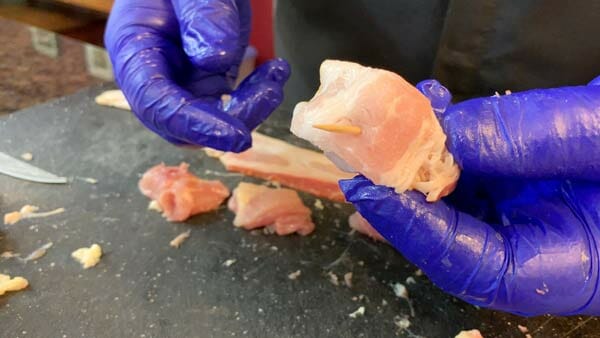 Can you imagine being swaddled in bacon?
How to Season Candy Bacon Chicken Bites
This next part is very important as it is the whole reason these bacon bites taste like candy.
Get out a bowl and stick about 2 cups of brown sugar in it.
Now take each bacon wrapped piece of chicken and roll it around to coat it nicely with the sugar. Make sure to get all sides.
Then take some barbecue rub and sprinkle it over top of the brown sugar, again making sure to season all sides. Today we decided to use Malcom Reed's Killer Hogs "The Barbecue Rub".
Set the finished chicken bites on a sheet pan lined with aluminum foil topped with a  wire baking rack. This will make it super easy to transfer to the smoker and keep any of these delicious treasures from falling through your grill grates.
How to Smoke Candy Bacon Wrapped Chicken Bites
We started out with our grill rolling around 250 with some hickory wood splits in the firebox. Apple wood or pecan wood would also be great options to use here.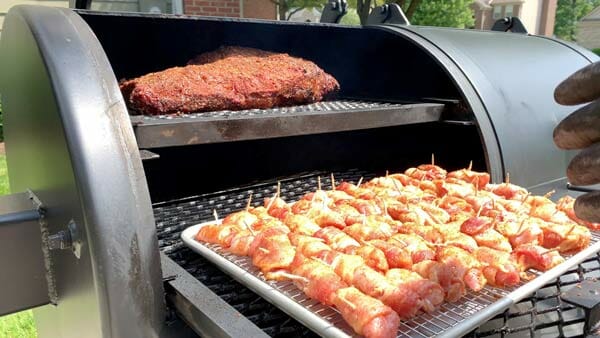 We placed the baking rack of chicken bites on the smoker for about 40-45 minutes.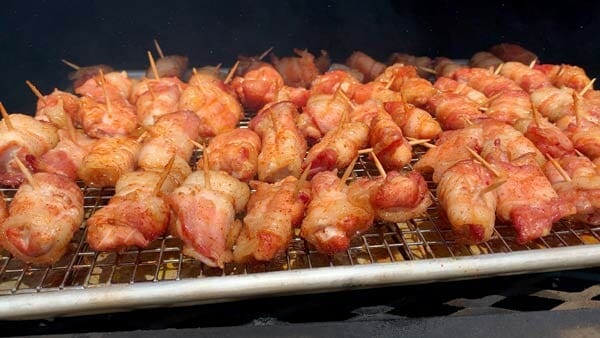 At that point we checked on them and they looked delicious and smelled amazing already. We flipped each bite over and then returned the rack to the grill for another hour but increased our heat to around 350 to help the brown sugar glazed sweet and spicy bacon get nice and crispy.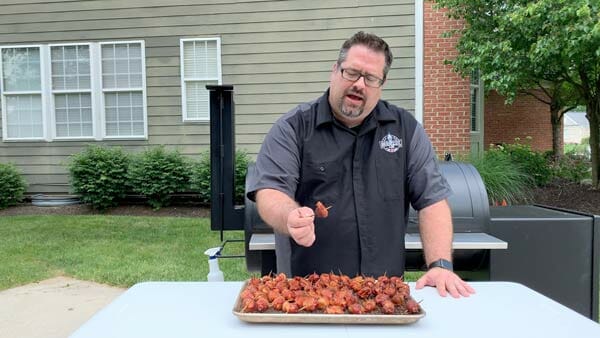 Are There Other Ways to Cook Bacon Chicken Bites?
As with most things, there is more than one way to fix this chicken bites recipe. It's one of those kid friendly easy appetizers that quickly becomes a family favorite. So if you're not up for smoking these on a grill, have no fear, there are other options.
We have made a similar chicken recipe before in our slow cooker. And while it was certainly delicious at the time, it lacked the crispiness and smokey flavor we've grown to enjoy smoking them on the grill.
You can also bake bacon wrapped chicken bites in a preheated oven on a baking sheet. Be sure to line it with aluminum foil or parchment paper or the cleanup will be a nightmare. The oven baked chicken bites will likely achieve the sweet and savory crispy bacon we enjoy but will also be missing the smokey flavor.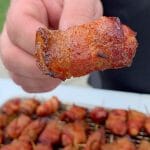 Print Recipe
Candy Bacon Wrapped Chicken Bites
Whether they're Superbowl appetizers, Christmas appetizers, or all around party appetizers, this candy bacon wrapped chicken bites recipe is a hit.
Equipment
Smoker

Wire Cooking Rack

sheet pan

aluminum foil

toothpicks
Ingredients
1

lb

chicken thighs

boneless, skinless

1

lb

bacon

2

cups

light brown sugar

1/4

cup

barbecue rub
Instructions
If your chicken thighs have bones and skin, remove both with a knife.

Cut chicken thighs into bite sized pieces (roughly 8 bites per thigh).

Cut bacon slices into thirds.

Grab a piece of bacon and wrap it around the chicken thigh pieces, securing it in place with a toothpick.

Sprinkle and roll the bacon wrapped chicken bites in brown sugar until they are thoroughly covered.

Sprinkle barbecue rub on all sides of the chicken bites. We used Killer Hogs "The Barbecue Rub"

Place the chicken bites on a sheet pan lined with aluminum foil topped with a grilling rack.

Smoke for about 45 minutes at 250 degrees

Check on your brown sugar bacon wrapped chicken bites and flip them all over to their back sides. Return to the smoker for another hour, increasing the heat to 350 degrees.

Remove from the grill once the candy bacon has reached your desired level of crispiness.
Video
Notes
Killer Hogs The BBQ Rub can be ordered here.
Nutrition
Serving:
3
bites
|
Calories:
592
kcal
|
Carbohydrates:
60
g
|
Protein:
17
g
|
Fat:
32
g
|
Saturated Fat:
10
g
|
Cholesterol:
93
mg
|
Sodium:
436
mg
|
Potassium:
352
mg
|
Fiber:
1
g
|
Sugar:
54
g
|
Vitamin A:
260
IU
|
Vitamin C:
1
mg
|
Calcium:
127
mg
|
Iron:
4
mg
Be sure to head on over here for more appetizer recipes you might like!