This sweet and spicy bbq rub recipe is equal parts heat, sweet and savory and it works beautifully with pork, chicken, and even veggies.
If you know me at all, you know that I love to barbecue. I have been on a life-long quest to mastering the art of smoking and grilling meat.
Not only has this quest been to gain the necessary skills, but it's also been to find the perfect flavors to highlight with my amazing barbecue talent. (Please read the sarcasm here).
For years (decades really) I've been collecting various containers of dry rubs. I have a whole cupboard of them. Many have been in there for longer than I care to admit.
But the main reason that they're all still in there, only partially used, is because they were just so-so. Not quite what I was looking for in flavor.
So I set out on a new quest. To boldly go where I had never gone before. It was time for me to create my own bbq rub recipe.
How to make a BBQ Rub
Why in the world had I gone so many years without making my own barbecue rub?
The ingredients were all things I already had in my pantry, and it took less than 10 minutes to measure it out and blend it together. (The research phase was much longer, but enjoy the end result of that work.)
To make this incredibly easy spice rub, simply measure out the following ingredients into a medium sized bowl: sea salt, turbinado sugar, garlic powder, onion powder, Hungarian paprika, black pepper, brown sugar, cumin, chili powder, chipotle chili powder, dry ground mustard, and cayenne pepper. (See recipe below for exact amounts).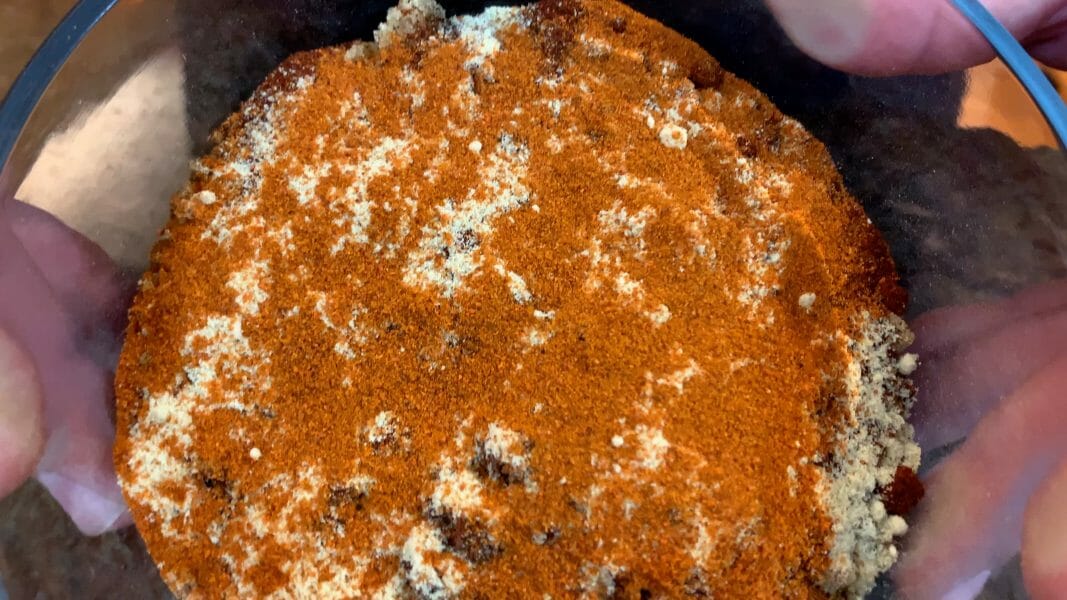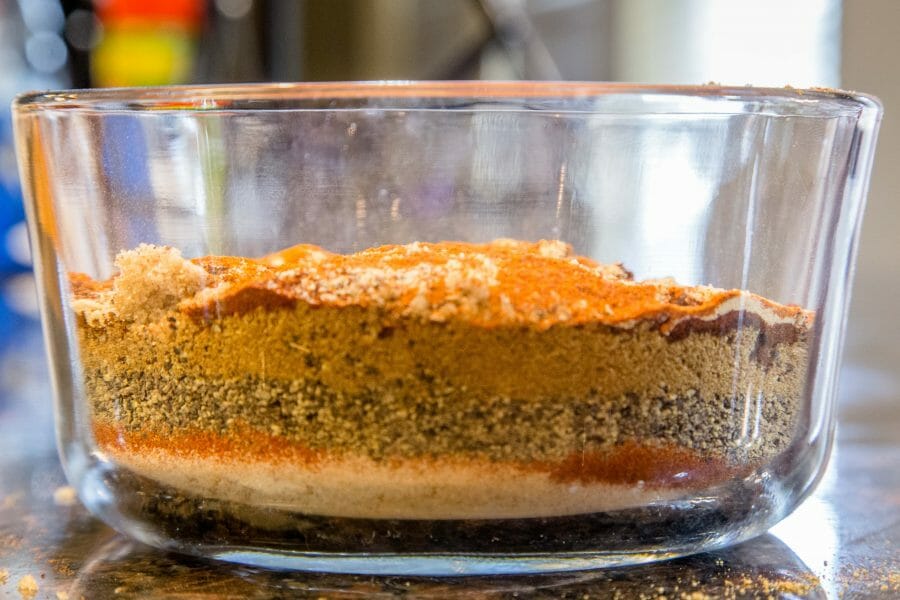 I used a metal whisk to stir it up and break up the brown sugar clumps. I'm sure there are a variety of different strategies one could use to mix these ingredients.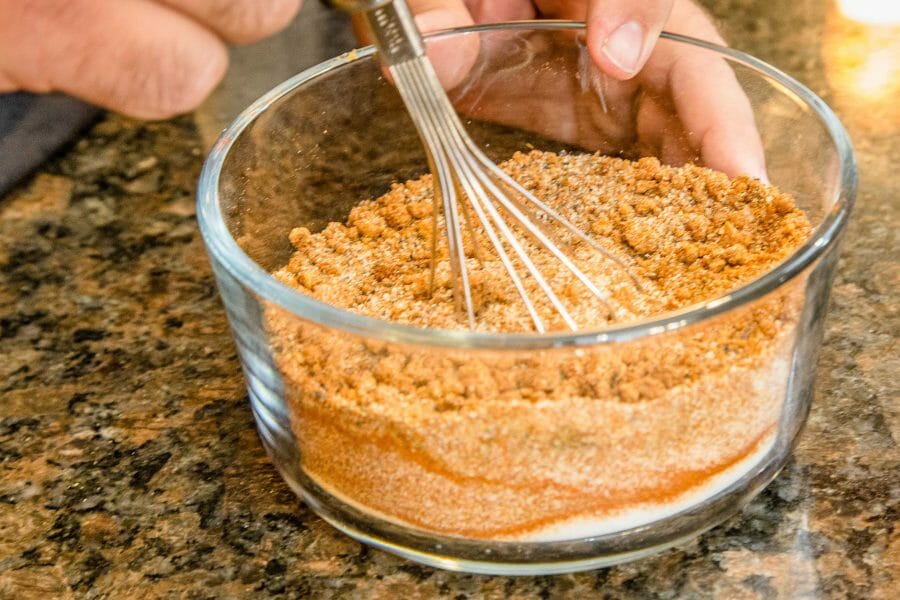 Put it in a bowl with a lid and shake it.
Put it in a food processor or counter top mixer.
Seal it in a zip top bag and toss it around for a while.
But I kept it simple with the old whisk. Call me old fashioned.
BBQ Rub Recipe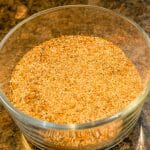 Print Recipe
Sweet and Spicy BBQ Rub Recipe
A great barbecue rub has three primary components. Sweet, heat and salty are the three primary flavors we look for in a great bbq rub, and this dry bbq rub recipe has all three components and is ready for the smoker or grill.
Ingredients
¼

cup

sea salt

¼

cup

turbinado sugar

¼

cup

garlic powder

¼

cup

onion powder

¼

cup

Hungarian paprika

3

Tb.

black pepper

2

Tb.

brown sugar

2

Tb.

cumin

1

Tb.

chili powder

1

Tb.

chipotle chili powder

1

Tb.

ground mustard

1

tsp.

cayenne pepper
Instructions
Combine all ingredients in a medium bowl and blend thoroughly.

Store in an airtight container for up to a year.
Video
Notes
This recipe is designed to be a great all around barbeque rub. It goes great as a pork or chicken barbecue rub. We wouldn't recommend this as a brisket rub primarily because it has two kinds of sugars in it, and sugars can easily burn in a 12-14 hour cook. 
This rub is great for almost anything else you'd throw on the grill or smoker though, and we use it for everything from meatloaf to dips and sauces besides the traditional competition meats of pork shoulder, pork ribs and chicken thighs or chicken legs. 
If veggies are more your style, this bbq dry rub is perfect for everything from asparagus, zucchini, onion, peppers and more. 
Nutrition
Serving:
0.25
tsp
|
Calories:
2
kcal
|
Carbohydrates:
1
g
|
Protein:
1
g
|
Fat:
1
g
|
Saturated Fat:
1
g
|
Sodium:
75
mg
|
Potassium:
7
mg
|
Fiber:
1
g
|
Sugar:
1
g
|
Vitamin A:
64
IU
|
Vitamin C:
1
mg
|
Calcium:
2
mg
|
Iron:
1
mg
How to use a BBQ Rub
This is the fun part. This little sweet and savory rub goes so well with just about any smoked meats.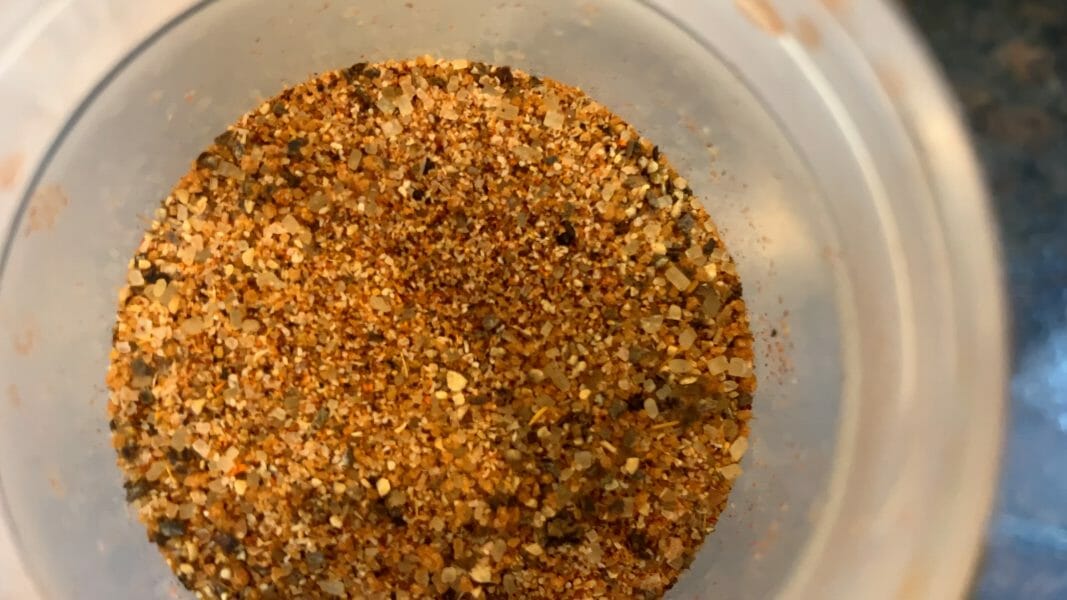 However, I will say, I would not recommend this rub for a beef brisket as the long cook in combination with the sugars from the rub would likely result in a not very tasty char.
For BBQ rib recipes and when I smoke a pork butt, I like to start with a light layer of yellow mustard first (as a binder), followed by a generous coat of this sweet and spicy rub.
For my barbecue chicken thigh recipe, I like to peel back the skin and sprinkle rub under the skin and then over it as well, after pulling it back in place.
Pork chops, pulled pork and chicken breasts all taste amazing with a little bit of this seasoning blend.
Be sure to check out our homemade bbq sauce recipe for a great companion to this rub recipe.
BBQ Rub Variations
In our recipe we use light brown sugar. If you're looking for a more deep, complex flavor of molasses you could try using dark brown sugar instead.
We've been on a bit of a sea salt kick lately in our house so that's what we've used for our rub, however kosher salt would be a perfectly fine substitution.
While we used Hungarian paprika in our recipe, feel free to try smoked paprika, or sweet paprika if you'd like.
It doesn't matter if you're at a bbq competition or at home cooking on a Weber kettle charcoal grill, this rub is ready to take your barbecue dishes to the next level.
Other Recipes For Homemade Seasoning Blends
Chicken Rub Recipe
Whether you're seasoning whole chicken, chicken quarters, wings, or breasts, this easy chicken dry rub uses ingredients you probably already have in your pantry. Why buy a bottle when you can make it yourself?
Check out this recipe