Our easy homemade chicken dry rub recipe is the perfect seasoning blend for everything from smoked chicken breasts to grilled chicken thighs and BBQ chicken drumsticks.
It's one of those super easy recipes that your pantry is probably already prepared to make, even without a trip to the grocery store.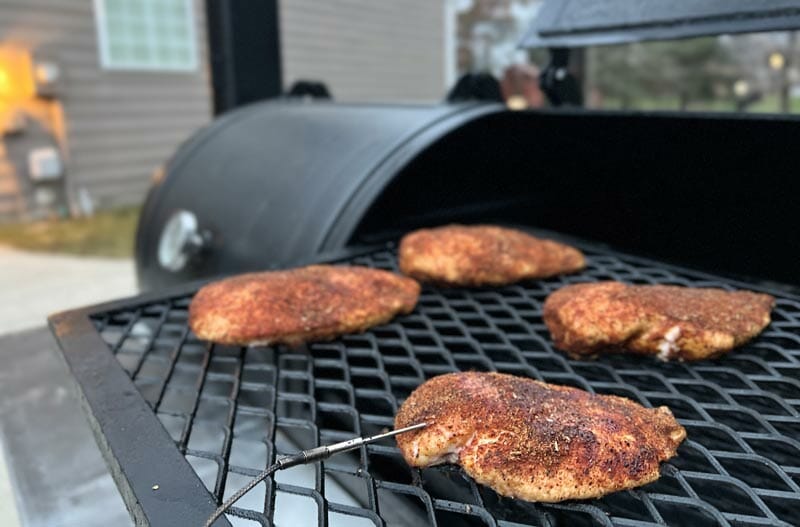 Pro tip: Once you've tried it and know that you love it, you can use the servings slider on the recipe card below to make adjustments so that you can make a huge batch for next time!
What Goes In This Dry Rub?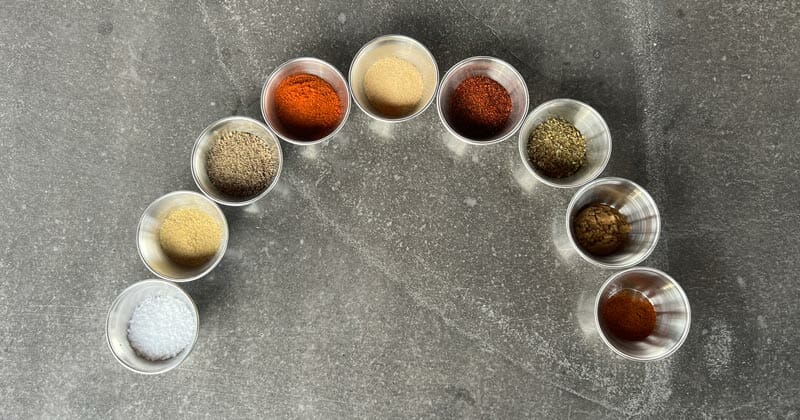 The best part about this homemade chicken rub is that you probably already have all of the necessary ingredients in your pantry. In our recipe, we have included a combination of table salt and seasoned salt, fresh ground black pepper, smoked paprika, chili powder, granulated garlic, oregano, ground cumin, and cayenne pepper.
We've chosen to use table salt rather than kosher salt for this chicken rub. When I'm smoking a big beef brisket or a pork butt I'm all for breaking out the kosher salt, but personally, I feel that kosher salt is too coarse for this application.
On that same note, we also prefer granulated garlic over garlic powder. Garlic powder has a very fine consistency, almost like cornstarch or powdered sugar and when I'm coating a piece of chicken I like the size of the granulated garlic over the powder. That being said, if all you've got in the pantry is powder, don't let that stand in your way of trying this recipe. Go ahead and give it a shot with the powder.
While our recipe calls for smoked paprika if you don't have any on hand you could certainly make this with a different variety, though you'll be missing out on the smokey flavor that it brings to the recipe. You know what, go ahead and just add smoked paprika to your shopping list and you'll thank me later.
And lastly, I'd like to give a shout-out to the pepper cannon from MÄNNKITCHEN. I never used to have the patience to freshly grind pepper for recipes like this because I felt like it would give me carpal tunnel before I ever was able to grind the amount I needed. But the pepper cannon gives you tons more output with far fewer twists of the wrist. If you're a fan of pepper like I am, you should check it out.
How To Customize Your Own Chicken Rub
I think the best part about making your own homemade chicken rub is that you can customize it so easily to your own tastes.
For instance, personally, this recipe is quite mild on the spice spectrum for me, but that's because my kids (and frankly my wife) have a low threshold for spice. So I would consider this base recipe "safe" for all users.
However, if the people who will be eating your grilled chicken or smoked chicken breasts like their food spicy, by all means, BOOST UP THE CAYENNE!
Also, if you're trying to watch your sodium intake, by all means, reduce the table salt in this recipe. (I wouldn't touch the seasoned salt though since that brings other flavors to the mix).
If you're a big fan of onion flavor, toss in some onion powder to match the garlic.
If you prefer your rub to have a little sweetness, add a little brown sugar.
Pro Tip: Personally, I find it really fun to experiment with my homemade spice blends, however,take really good notes along the way. There's nothing like feeling like you finally achieved the exact flavor you prefer and not remembering how you tweaked it.
How to Use this Chicken Rub
Whether you're using this chicken seasoning on boneless or bone-in, skinless or skin-on, the process will basically be the same. Pat the outside of the chicken with paper towels until it's nice and dry. Then I like to spray the chicken with either canola oil or olive oil cooking spray before sprinkling the dry rub over the poultry. The oil will help the chicken seasoning stick to the surface.
Pro Tip: When seasoning your poultry with a dry rub, season the presentation side last so as not to disturb all the spices on your chicken when you flip it over to prepare the other side.
What Kind of Chicken Recipes Is This Dry Rub Best For?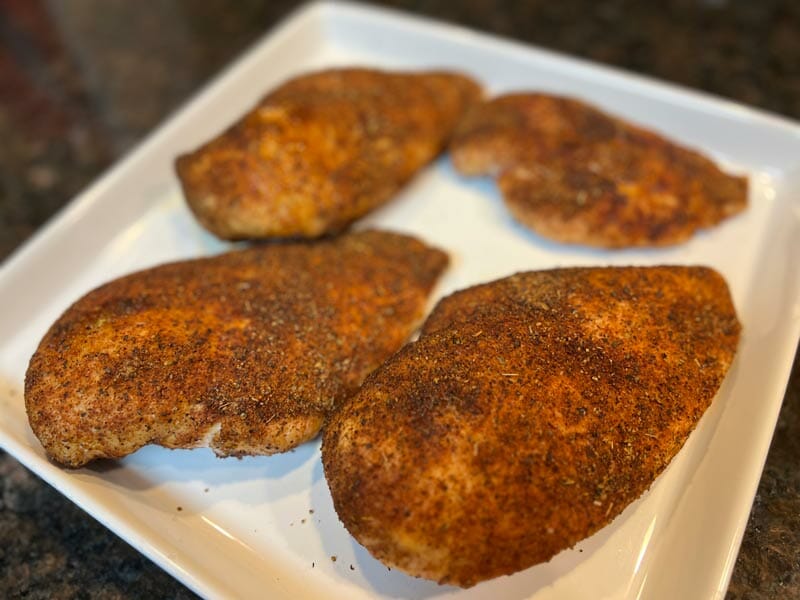 You can use this smoked chicken rub recipe on all things poultry. Grilled chicken, smoked chicken, chicken thighs, chicken legs, chicken tenders, whole chicken, chicken wings, BBQ chicken (and now I'm suddenly getting Forrest Gump flashbacks to Bubba talking about shrimp recipes).
But in all seriousness, this homemade chicken rub will create the most flavorful chicken, no matter how you're cooking it.
How to Store This Recipe
After mixing your dry rub for chicken in a small bowl, you'll probably want to transfer it to another container for storage. We typically keep used shaker bottles from dry rubs that we've previously used up and just reuse them for our homemade spice rubs.
Pro Tip: If you're reusing an old bottle that has a label adhered to it, blow warm air on the sticker with a hair dryer and that will release the label enough to peel it off without leaving adhesive behind.
We also have a 10 oz. clear plastic dredge spice shaker with course-size holes that are fantastic for shaking large amounts of dry rub when I'm preparing a lot of meat or poultry, however, I don't usually store rubs inside that for long-term since it's not an airtight container.
How Long Will This Chicken Dry Rub Last?
Depending on the age of your herbs and spices prior to being made into this chicken rub, it should last one to two years in your pantry when stored in an airtight container.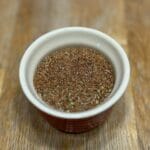 Print Recipe
Chicken Rub Recipe
Whether you're seasoning whole chicken, chicken quarters, wings, or breasts, this easy chicken dry rub uses ingredients you probably already have in your pantry. Why buy a bottle when you can make it yourself?
Ingredients
1

Tb

table salt

½

Tb

seasoned salt

1

Tb

black pepper

fresh ground

1

Tb

smoked paprika

2

tsp

chili powder

2

tsp

granulated garlic

1½

tsp

oregano

1

tsp

ground cumin

¼

tsp

cayenne pepper
Instructions
Measure and pour all of the ingredients into an empty spice shaker or bowl.

Close the lid and shake vigorously to completely blend the ingredients together.
Video
Notes
We prefer using granulated garlic over garlic powder simply due to the size difference of the granules. Garlic powder has a much finer consistency than granulated. However, if garlic powder is what you have on hand, feel free to use that if you wish.
Nutrition
Calories:
2
kcal
|
Carbohydrates:
0.4
g
|
Protein:
0.1
g
|
Fat:
0.05
g
|
Saturated Fat:
0.01
g
|
Polyunsaturated Fat:
0.02
g
|
Monounsaturated Fat:
0.01
g
|
Sodium:
220
mg
|
Potassium:
10
mg
|
Fiber:
0.2
g
|
Sugar:
0.03
g
|
Vitamin A:
103
IU
|
Vitamin C:
0.02
mg
|
Calcium:
3
mg
|
Iron:
0.1
mg
Other Recipes For Homemade Seasoning Blends
Sweet and Spicy BBQ Rub
A great barbecue rub has three primary components. Sweet, heat and salty are the three primary flavors we look for in a great bbq rub, and this dry bbq rub has all three components and is ready for the smoker or grill.
Check out this recipe