This sweet and tangy bbq sauce recipe is the perfect addition to your favorite backyard barbecue recipes.
I have to confess something.
I got lazy and frugal and allowed a great sale to sway my barbecue supply.
It happened at my local grocery store and it was another one of those famous 10 for $10 deals and this time it was for Sweet Baby Ray's barbecue sauces. So I did it. I bought about 6 bottles of the stuff.
It's decent barbecue sauce and it served a purpose. We added it in recipes like baked beans and served it with pulled pork, bbq chicken breasts and brisket. And it was a nice accent to whatever we were having if we didn't have anything to compare it to.
Until the day my wife Melissa suggested we try to create our own homemade bbq sauce recipe.
And I have to say, she kind of ruined my $1 store bought barbecue sauce for me.
It turns out, not only was it a quick and easy recipe to make, it still could satisfy my frugal side since pretty much all the ingredients were staples we regularly have on hand in our pantry.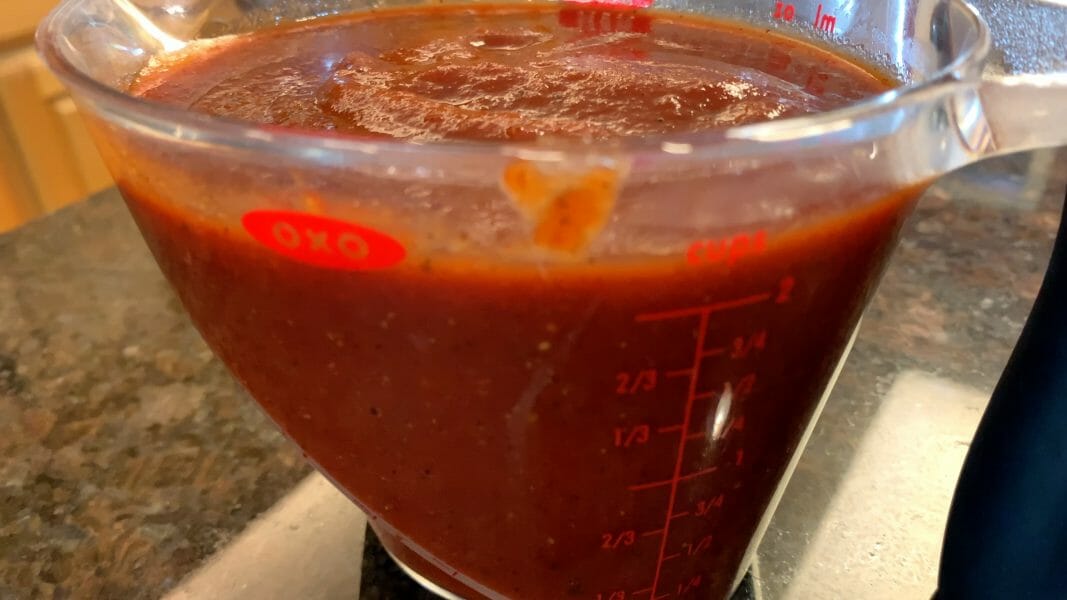 In all honesty, I suspect one batch of this easy homemade bbq sauce probably only cost me about $1 to make. Maybe $1.50 if I bought the ingredients at an upscale grocery store.
But I'm not here to do math for you.
I'm here to tell you how we make a barbecue sauce recipe with the perfect balance of sweet, spice, and tang.
We hope you enjoy it as much as we do.
How to Make Homemade BBQ Sauce
Homemade bbq sauce recipes are not difficult to make, and now that I've done it, it's a bit of a mystery to me why more people don't make their own sauce at home!
A lot of homemade bbq sauce recipes begin with ketchup as the base. We wanted to create a recipe where we had more control over the ingredients. So many ketchups on the market have high fructose corn syrup and other ingredients we can't even pronounce, so we decided to take a step backwards and begin with only the ingredients we DID want out of the ketchup bottle.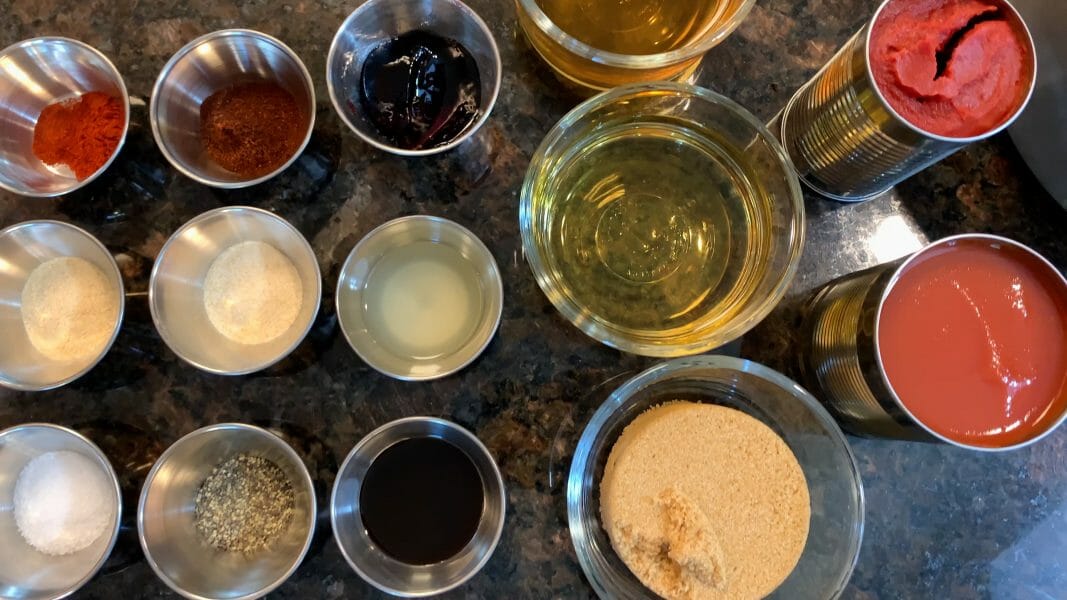 We first combined tomato sauce, tomato paste, apple juice, apple cider vinegar, lemon juice, worcestershire sauce, brown sugar and grape jelly in a medium saucepan. Stir to combine.
Next we added all of the spices, including smoked paprika, chili powder, garlic powder, onion powder, salt and pepper.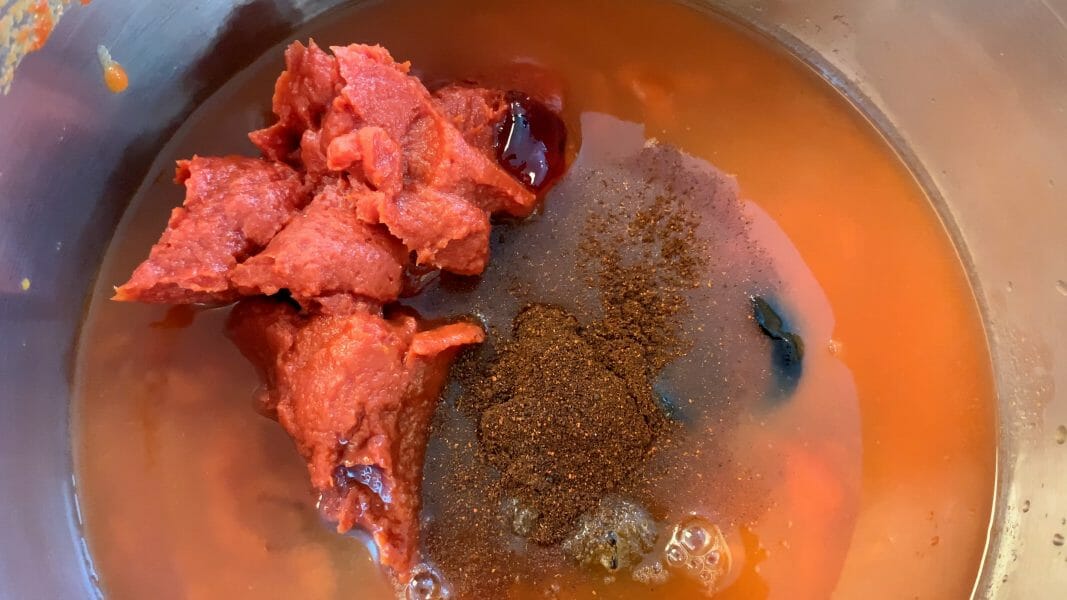 We set the saucepan over medium heat, whisking continuously until it was thoroughly blended and starting to bubble.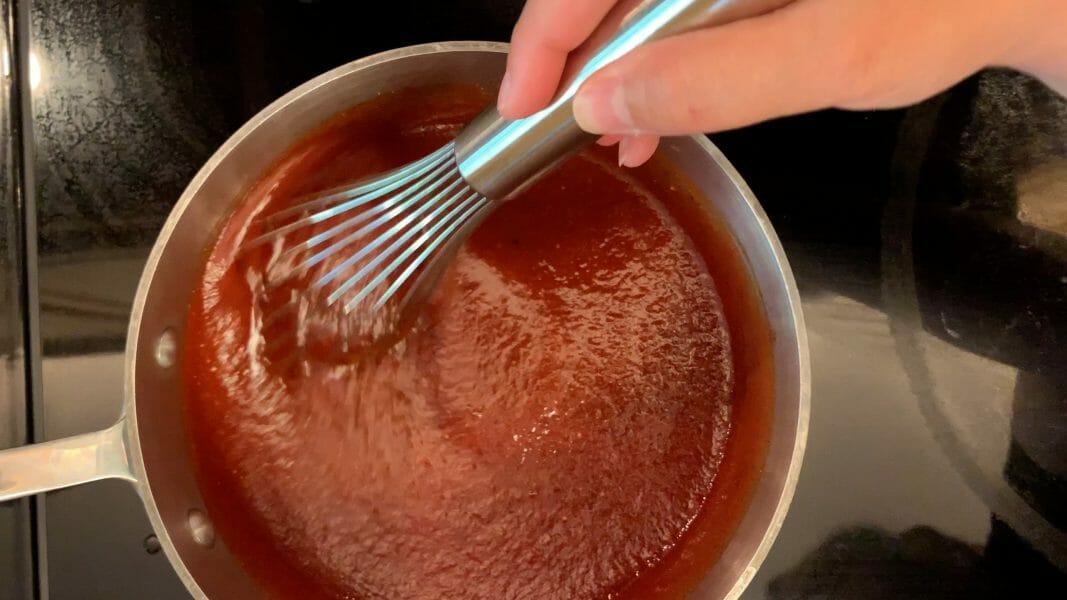 Then we turned the heat to low and allowed it to simmer for about 10 minutes, being sure to stir frequently (but not constantly).
Remove the saucepan from the heat and allow to cool for a little bit before transferring it to an airtight container in the refrigerator. You may notice the sauce thickens a little bit as it cools.
Homemade BBQ Sauce recipe
Just follow the recipe below to make your own batch of our delicious sweet and tangy homemade bbq sauce. Be sure to check out our other great bbq recipes and videos.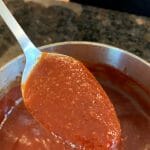 Print Recipe
Our Favorite Homemade BBQ Sauce
This is our go-to barbecue sauce for just about any recipe.
Ingredients
6

oz

tomato paste

10

oz

tomato sauce

½

cup

apple juice

½

cup

apple cider vinegar

1

Tb.

lemon juice

½

cup

brown sugar

2

Tb.

grape jelly

1

Tb.

Worcestershire sauce

1

tsp.

smoked paprika

1½

tsp.

chili powder

1

tsp

garlic powder

1

tsp

onion powder

1

tsp

salt

½

tsp

black pepper
Instructions
Combine all ingredients in a medium saucepan. Whisk to blend ingredients thoroughly.

Simmer sauce on low heat for about 15 minutes, stirring frequently.

Allow to cool before transferring to a glass jar or bowl. Store in an airtight container in the refrigerator.
Video
Notes
One batch makes a about 18 ounces, or roughly the equivalent of 1 bottle of store-bought sauce.
Nutrition
Serving:
2
Tb
|
Calories:
61
kcal
|
Carbohydrates:
15
g
|
Protein:
1
g
|
Fat:
1
g
|
Saturated Fat:
1
g
|
Sodium:
391
mg
|
Potassium:
245
mg
|
Fiber:
1
g
|
Sugar:
12
g
|
Vitamin A:
603
IU
|
Vitamin C:
5
mg
|
Calcium:
17
mg
|
Iron:
1
mg
BBQ Sauce Modifications
Feeling brave? Are you adventurous in the kitchen?
Maybe you've now tried this recipe and like me, you're thinking "Hey, this wasn't complicated at all! I've got this!" and you want to play around with the recipe to see where else you can take it.
To make this wonderful recipe a more authentic Kansas City style bbq sauce, you might try using ingredients like molasses, liquid smoke, and soy sauce. Other ingredients commonly found in homemade bbq sauce recipes include dry mustard, hot sauce, red pepper flakes, cayenne pepper, and even maple syrup.
Or maybe you're a kitchen counter appliance junkie and want to break out the instant pot or crock pot slow cooker to make your sauce. Rock on with your bad self. Leave us a comment and let us know how it went!
Homemade BBQ Sauce for any occasion
We've tried this BBQ sauce on and in a variety of different dishes.
It truly took our smoked pulled pork baked beans to the next level.
It tasted amazing on top of our smoked meatloaf.
It was a perfect finish for our St. Louis style ribs.
We also love to glaze our grilled chicken thighs with this sauce.
Whether you're celebrating Memorial Day, the 4th of July, Labor Day, Valentine's Day, or Saturday, there will always be an occasion for homemade BBQ sauce.