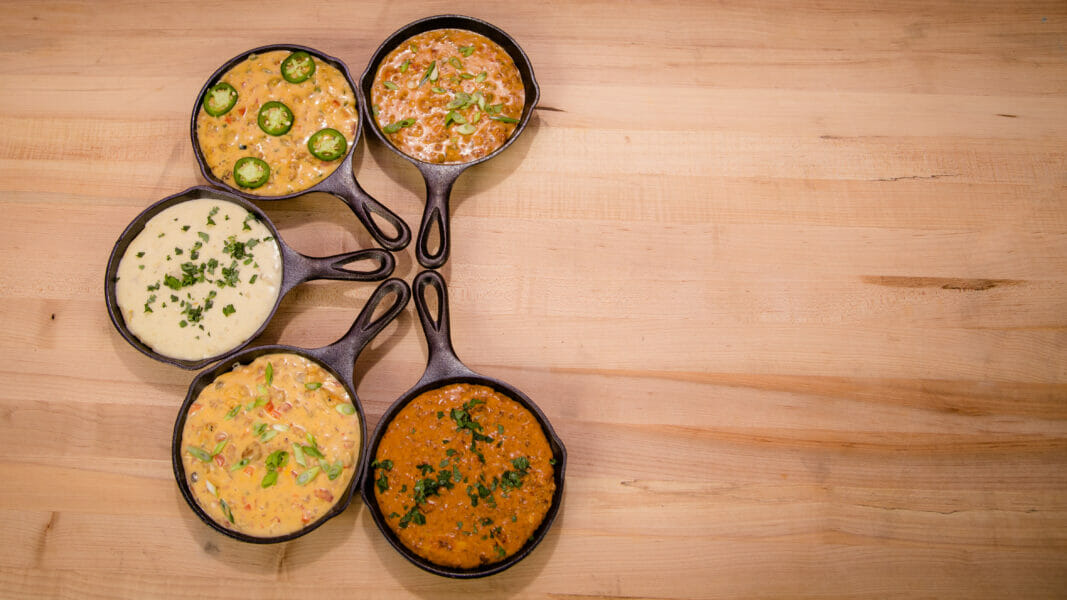 I've shared several times before about my love for Mexican food. Queso has always ranked among my top favorites within this category, but when smoked queso hit the scene back in 2020, it admittedly bumped up my queso game.
We've been making different variations of queso dip for years but always fixed it in our slow cooker and never even thought to try it in the smoker. I've come to realize that there are probably a lot of the old standard recipes that we've been making a certain way for so long that could be adapted for the smoker if I would only think outside the box occasionally!
Smoking queso on the grill adds a very subtle delicious smoky flavor to this appetizer.
We've previously published a video on our classic smoked queso dip, but recently decided since we personally tweak that recipe nearly every time we fix it, it might be fun to show you 5 different ways to make smoked queso dip.
And as an added bonus, we've invited some guest judges to taste test and provide feedback on which versions they preferred and why.
Note: Some of the links in this article may be affiliate links. This doesn't cost you any more than normal. Read our disclaimer for more info.
How to Make Smoked Queso Dip
No matter the ingredients you're using, the cooking process will pretty much be the same.
Step 1:
Cook the meat and raw vegetables on the stove and drain the grease. Cube and/or shred the cheese. Combine all the ingredients into a disposable aluminum pan. You can stir it up first, but that really isn't necessary. It will be a lot easier to stir once the cheese has begun to melt.

Step 2:
Place the pan of ingredients on the smoker or grill over indirect heat at about 300°.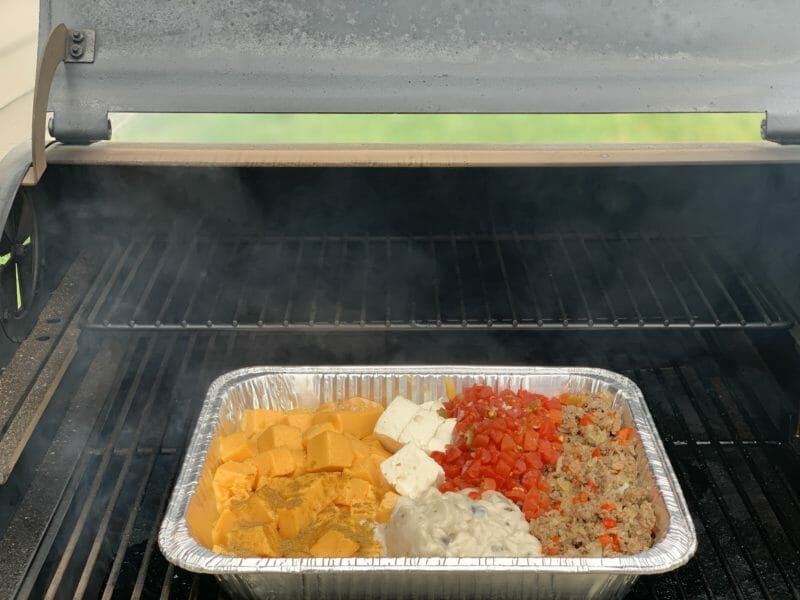 Step 3:
Stir the ingredients every 15 minutes or so. By 45 minutes all the cheese should be fully melted and bubbly.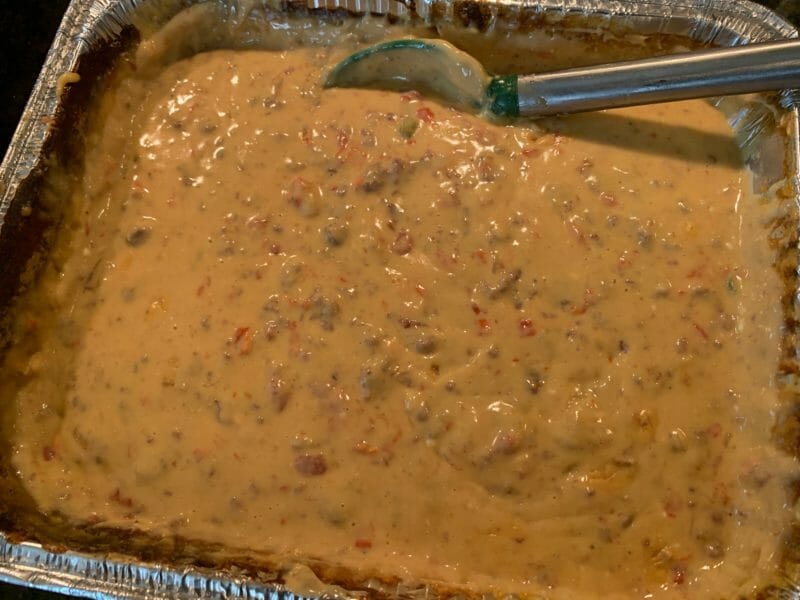 Smoked Queso Dip Modifications
There are so many ways you can adapt smoked queso to your own liking. The sky is truly the limit. Here is a list of potential queso ingredients we typically work with when we're coming up with a new smoked cheese dip recipe.
Cheese Options
Velveeta cheese (traditional yellow or white)
Monterey jack cheese
Pepper jack cheese
Sharp cheddar cheese
Meat Options
Taco meat
cooked ground beef
pork sausage
chorizo sausage
Leftover smoked brisket
Extra Flavor Options
fresh jalapeno
pickled jalapeno
canned green chilis
Rotel canned tomatoes
black beans (drained)
spicy chili beans
poblano peppers
chipotles in adobo sauce
minced garlic
cayenne pepper
cumin
taco seasoning
liquid smoke
Garnish Options
Sliced jalapeno
diced tomatoes
chopped cilantro
sliced scallions
Dipper Options
tortilla chips
flour tortillas
corn tortillas
corn chips
fingers (kidding)
Cooking Vessels
disposable aluminum pan
dutch oven
cast iron pan
Five Ways: Smoked Queso Dip Recipes
Whether you're using your electric smoker, Big Green Egg, Traeger grill, or charcoal grill, we've got easy recipes for you to try this grilling season.
1. David's Smoked Queso Dip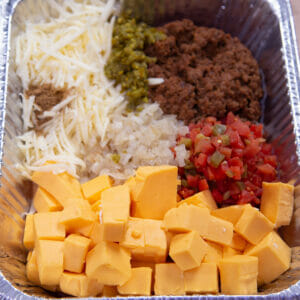 As I mentioned before, we often tweak the classic recipe, and 9 times out of 10, this is the way I make it. So naturally, I named it after myself. Taco meat… Velveeta cheese… and a few other tasty ingredients; what could go wrong?
2. Smoked Queso Blanco Dip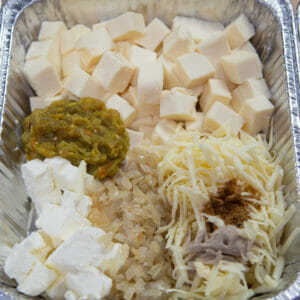 Honestly, we made this recipe with our kids in mind. And the results of the judges definitely supported that. This dip is straight cheese and no meat. We included some green chiles to enhance the flavor, but as we've been enjoying this leftover queso dip throughout the week, I've been adding in a lot more to make it more to my liking as a spice-loving adult.
3. Spicy Smoked Queso Dip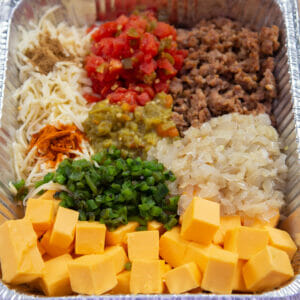 This variation was one of the favorites among our adult guest judges. All agreed that the spicy was a little delayed and really waited to show up on the back end of each bite. The fact that I removed all the seeds of the peppers beforehand really kept the spice level present, but more reserved. There's a lot of room to make this even spicier if that's how you and your crew prefer. Leave the seeds in or even tap into some peppers higher on the Scoville scale if you're really brave.
4. Classic Smoked Queso Dip
Nearly 20 years ago, my wife Melissa brought this recipe home from a work pot luck where a coworker had prepared it for the school staff where she taught.
Over the years we've fixed this both exactly as written and also with modifications. But each and every time we made it, we used the slow cooker.
It was cool to taste the difference between the way we've been preparing this for years and the smoked version. We all loved the extra layer of flavor that came with preparing this on the grill.
This particular time we used some sweet bourbon sausage rather than the standard breakfast sausage we've used in the past, and all the judges enjoyed the surprising sweetness it brought to this recipe.
5. Chipotle Chorizo Smoked Queso Dip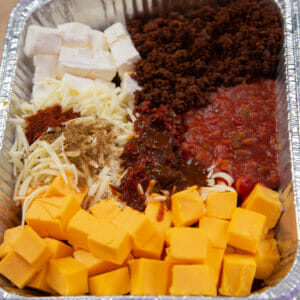 Probably the biggest surprise of this video shoot was that my wife Melissa actually liked this recipe and even ranked it #2 out of 5. I say this because she has never liked chorizo sausage or chipotle in adobo sauce. So I put 2 of her least favorite ingredients in this recipe and we both expected her to equally dislike the recipe as a whole. Surprisingly, she really enjoyed it. Apparently, the blend of cheeses was just what she needed to pull those 2 ingredients together in a way she actually liked.