This BBQ Baked Beans recipe is the perfect side dish for your next barbecue. Slow cooking it on your smoker gives this dish an amazing flavor you just won't find any other way.
Baked beans is just about the most stereotypical barbecue side dish known to man.
You're grilling burgers and hot dogs for your neighbors. What else will you serve?
Probably baked beans. And maybe potato salad.
The classic all-American barbecue.
It's so overdone, yet so under-delivered if you know what I mean.
Mad props to Bush's and all the other baked beans manufacturers for taking boring dry beans and developing them to the point where they have.
However in my opinion, I prefer baked beans that have been taken a bit further than what I have ever found in a can.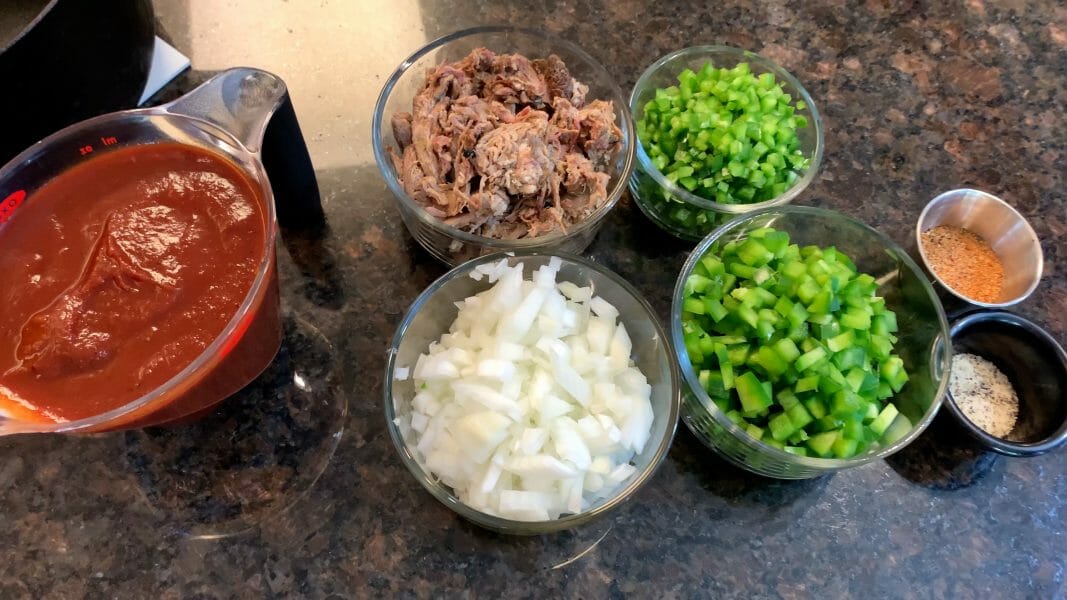 We've discovered that by adding some additional ingredients (specifically leftover smoked pork butt) to canned baked beans and cooking it on the smoker, we can have a barbecue side dish that just might give the main dish a run for its money.
Note: Some of the links in this article may be affiliate links. This doesn't cost you any more than normal. Read our disclaimer for more info.

How to Make BBQ Baked Beans
Because we're using canned beans, this recipe really is quite easy to put together.
We prepare and cook the whole recipe in our cast iron Dutch oven.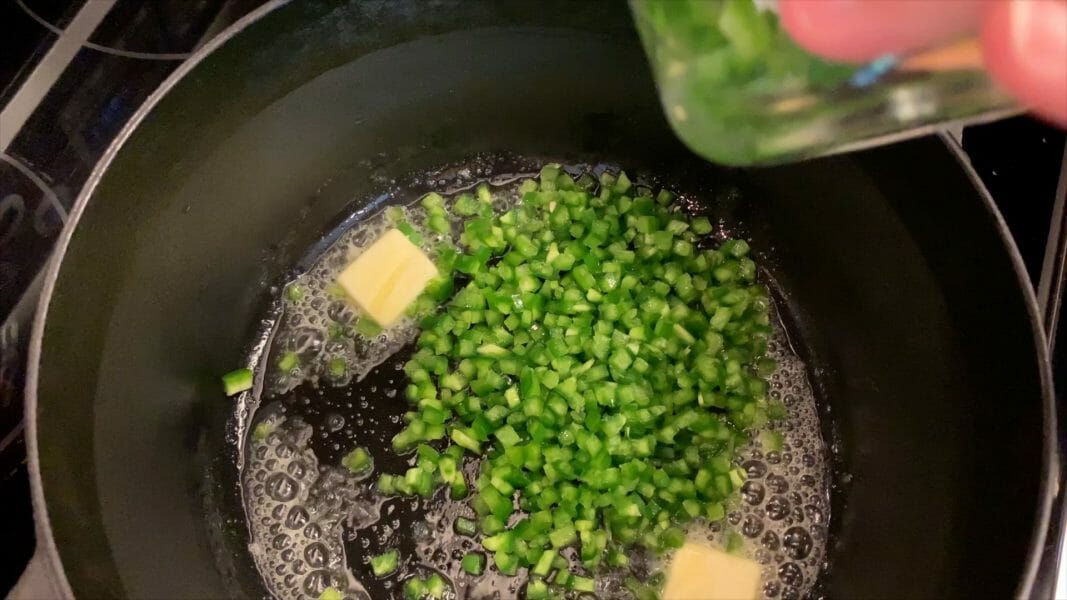 First we sauté the onion, green bell pepper, and jalapeños in a couple tablespoons of butter on the stove.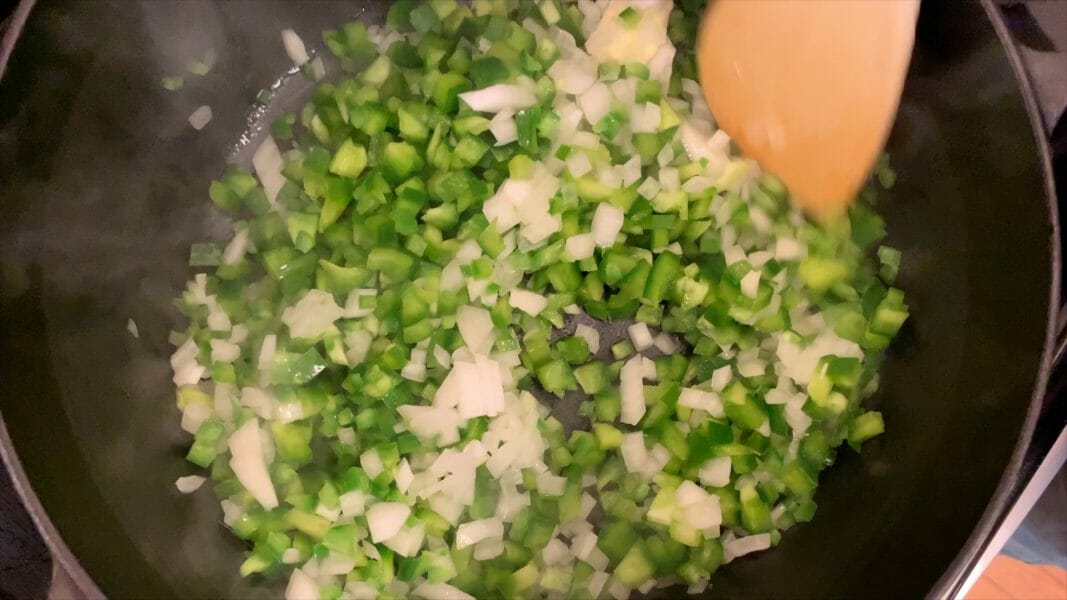 As the vegetables release their moisture and begin to get tender, we stir in the dry seasonings. At this point we add in 1/2 of the BBQ rub and 1/2 tablespoon of our all-purpose rub (or 1/2 tsp. each of salt, pepper, and garlic powder). Stir the seasoning into the vegetables to evenly distribute the flavor.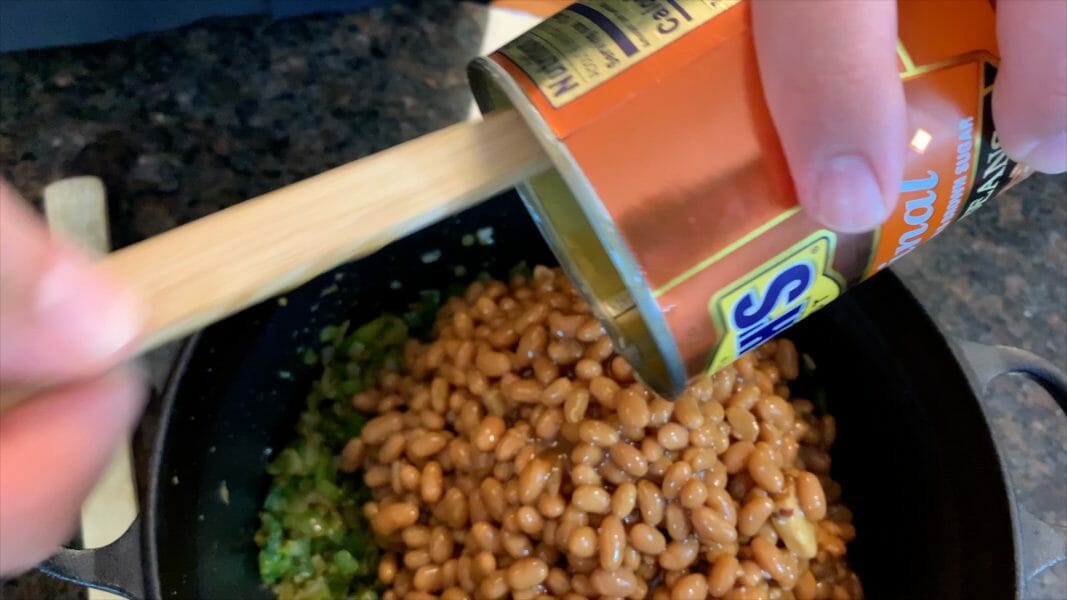 Then add in the rest of the ingredients: 2 large cans of baked beans (one with liquid and one without the liquid), leftover smoked pork butt, barbecue sauce and the remaining BBQ rub. Stir it all together to thoroughly combine.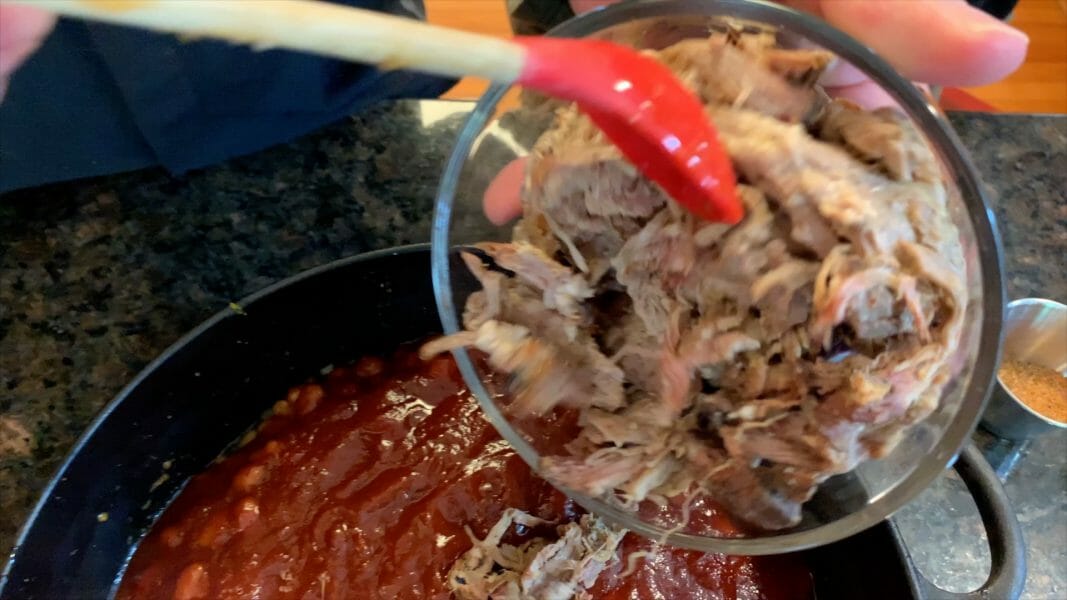 Now it's ready to put it on your smoker for a couple of hours.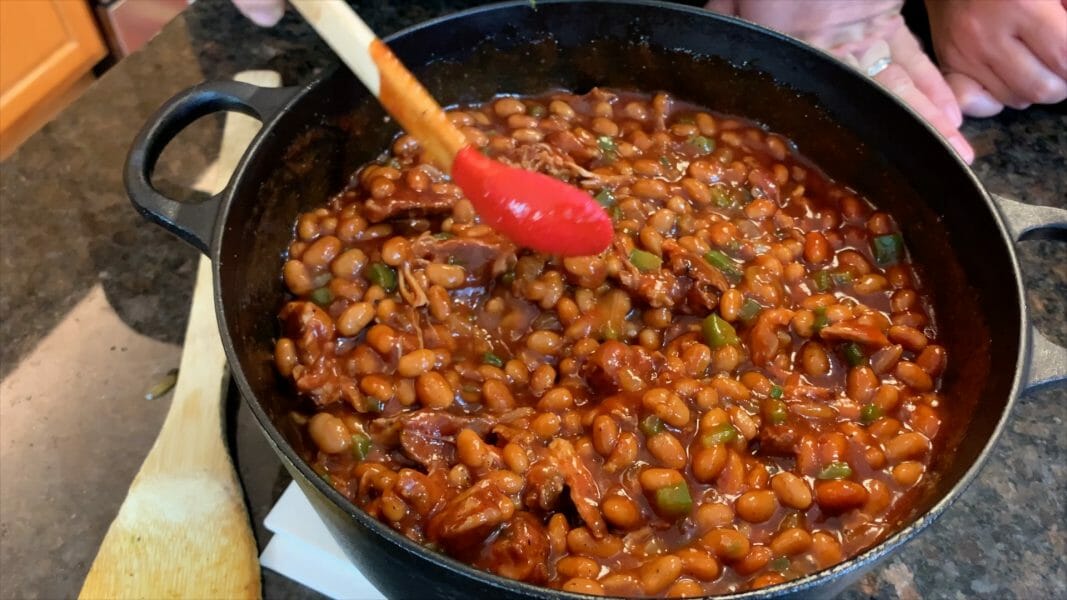 How to Smoke BBQ Baked Beans
While you certainly could bake this bean recipe or fix it in your crock pot slow cooker, you would be missing out on its full flavor potential. What makes this recipe more awesome than the rest is the very fact that it slow cooks on your smoker.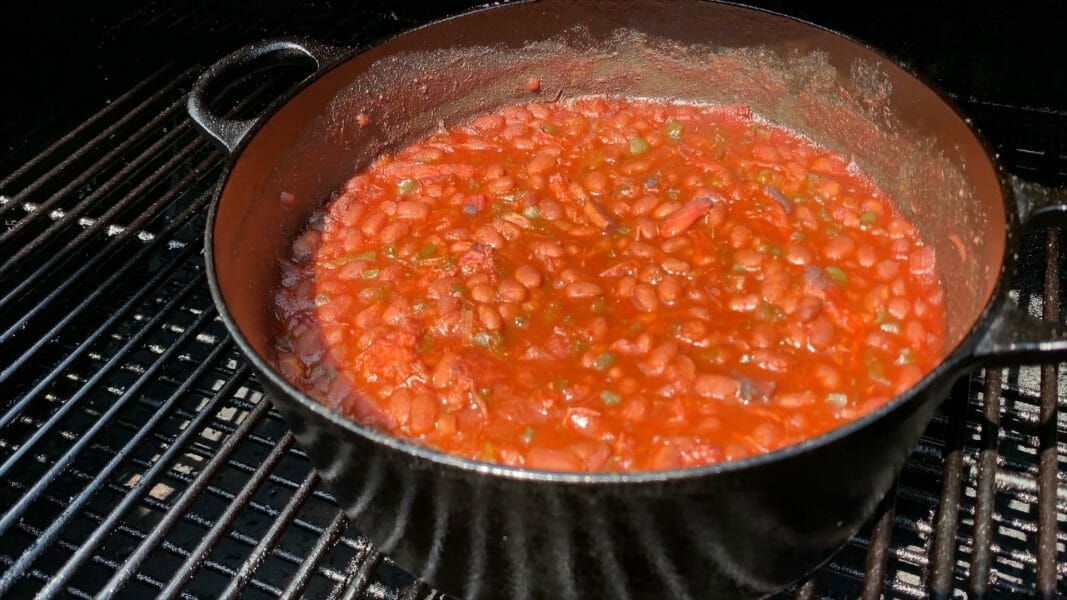 For the purpose of our video, we smoked our pot of beans on our Oklahoma Joe's Highland offset smoker using pecan wood splits.
But we've also cooked these baked beans on nearly every grill we've owned. And since reviewing grills is kind of our thing, we've seen our fair share of grills and smokers.
Regardless of the grill you're using, the only thing that you must remember is that you must be using indirect heat.
Typically we fix these beans when we're already doing a long cook on one of our offset smokers.
We first get the brisket, pork butt, or ribs (or whatever the case might be that particular day) going in the smoker and then turn our attention to the baked beans.
We find this smoked baked beans recipe tastes best when it's been on the smoker for about 4 hours. But like I said, that makes sense if you've already got the smoker rolling for the main dish.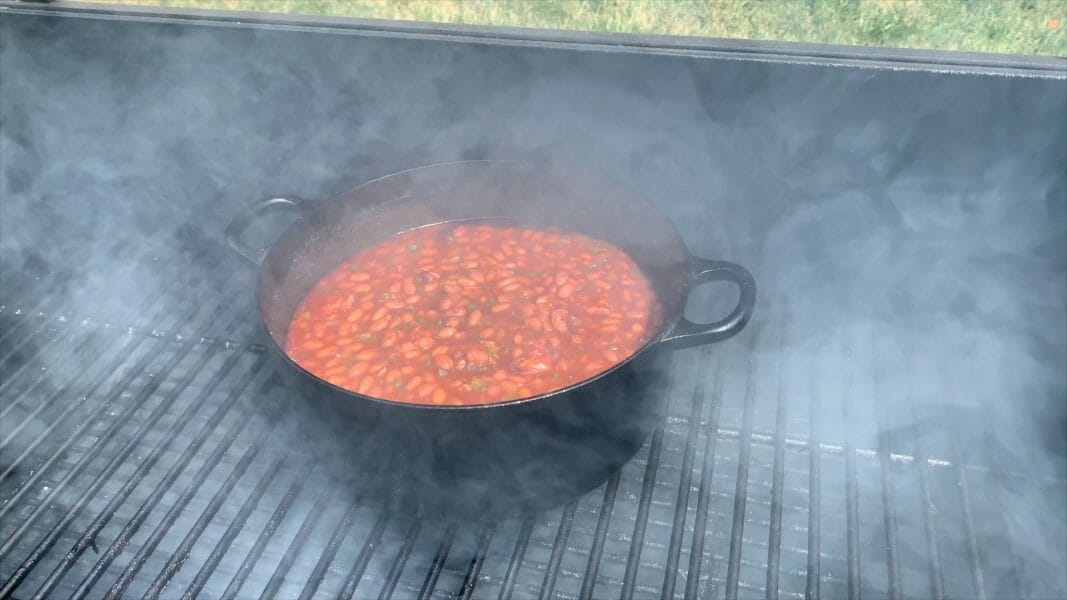 If you're doing a shorter cook you could pull the beans sooner, but you may want to drain both cans of beans (rather than just one) since it won't have as long for the liquid to evaporate.
Tips for Amazing Smoked Baked Beans
Drain the liquid from at least one can of baked beans prior to adding them to the pot. For a shorter cook, drain both cans. If you have time for a longer cook, only drain one can.
Our homemade BBQ sauce recipe and homemade BBQ rub recipe really take this BBQ baked beans dish to the next level. It's worth the extra time if you can afford it to prepare these homemade ingredients.
Be sure to stir your pot of beans every 45 minutes to an hour. This will help prevent the beans from burning and sticking to the bottom of the pot, as well as give all the beans equal opportunities to take in some smoke throughout the cook.
We've used leftover smoked pork butt in our recipe. But you could easily substitute your other BBQ leftovers as well. We've included bacon, brisket, smoked sausages, and even steak in our BBQ smoked beans before.
What to Eat With Baked Beans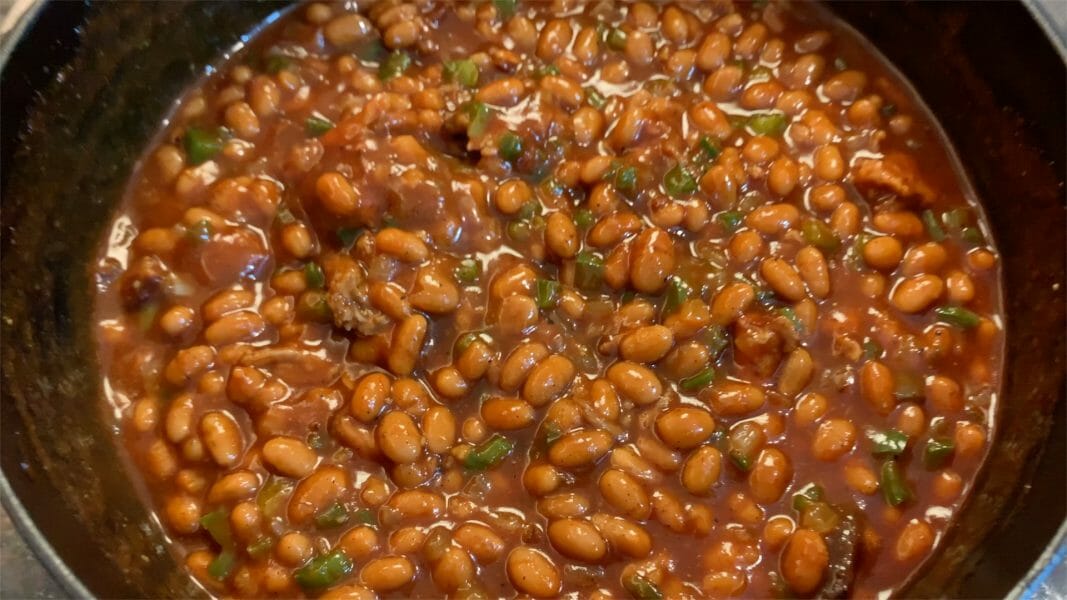 Honestly this "side dish" is like a meal all in itself. However, here are some of our favorite recipes that we've paired with our baked beans.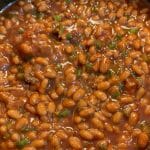 Print Recipe
BBQ Baked Beans Recipe
This BBQ Baked Beans recipe is the perfect side dish for those days you've already got the smoke rolling for a long cook. Just mix it up and set it and forget it. The longer it cooks, the more delicious it will be.
Ingredients
1

Tb

Butter

3

jalapeno

diced

1

green bell pepper

diced

1

yellow onion

diced

56

oz

Bush's Baked Beans

8

oz

pulled pork

2

Tb.

BBQ Rub

½

tsp

salt

½

tsp

pepper

½

tsp

garlic powder

18

oz

BBQ sauce
Instructions
Prepare grill for indirect heat around 250-275°

Saute the onion, green pepper and jalapeno in butter right in your cast iron pot or dutch oven over medium heat. Cook until the moisture has released and reduced and the vegetables begin to become tender.

Reserving 1 Tb. of the BBQ rub for later, add the dry seasonings to the vegetables and stir to combine.

Next, add the two large cans of baked beans to the pot of vegetables. Be sure to drain and discard the liquid from one can of beans before adding it.

Add a full bottle of BBQ sauce (or full batch of homemade BBQ sauce), the leftover pulled pork, and the reserved tablespoon of BBQ rub to the pot. Stir to combine thoroughly.

Place pot of beans on the smoker uncovered for about 2-4 hours, stirring about every hour.
Video
Notes
We recommend smoking pecan wood for this recipe.
If you don't have time for a very long cook, go ahead and drain the liquid from both cans of beans before adding them.
Nutrition
Calories:
272
kcal
|
Carbohydrates:
50
g
|
Protein:
10
g
|
Fat:
5
g
|
Saturated Fat:
2
g
|
Cholesterol:
20
mg
|
Sodium:
1204
mg
|
Potassium:
564
mg
|
Fiber:
8
g
|
Sugar:
18
g
|
Vitamin A:
292
IU
|
Vitamin C:
16
mg
|
Calcium:
121
mg
|
Iron:
4
mg