Our recipe for big mac sliders is like no other. Skip the sesame seed bun and go for the pretzel roll instead. You won't want it any other way!
Note: Some of the links in this article may be affiliate links. This doesn't cost you any more than normal. Read our disclaimer for more info.
Hey, remember the Big Mac song from the mid-70's and 80's?
"Two all-beef patties, special sauce, lettuce, cheese, pickles, onions, and a sesame seed bun."
It was pretty catchy. I can remember trying to recite it with my friends on the playground during recess in elementary school.
Yeah, I was pretty cool stuff in grade school, as you can obviously tell.
My point being, everyone in that era knew exactly what went into a Big Mac but for the longest time no one really knew what was in McDonald's Big Mac sauce.
Many would assume it was just Thousand Island dressing. Similar, yes. Same, no.
We've done some of our own research here in the Barbecue Lab and have come to what we believe is a pretty close match to the famous secret sauce.
What is Big Mac Sauce Made of?
Raise your hand if some of the ingredients you typically put on a hamburger include: mayo, ketchup, mustard, onion, pickle?
Well guess what. McDonald's must have realized that and had the most genius idea of combining all of those ingredients into one sauce.
So the base of our homemade copycat big mac sauce includes mayo, yellow mustard, ketchup, sweet pickle relish, and finely chopped onion.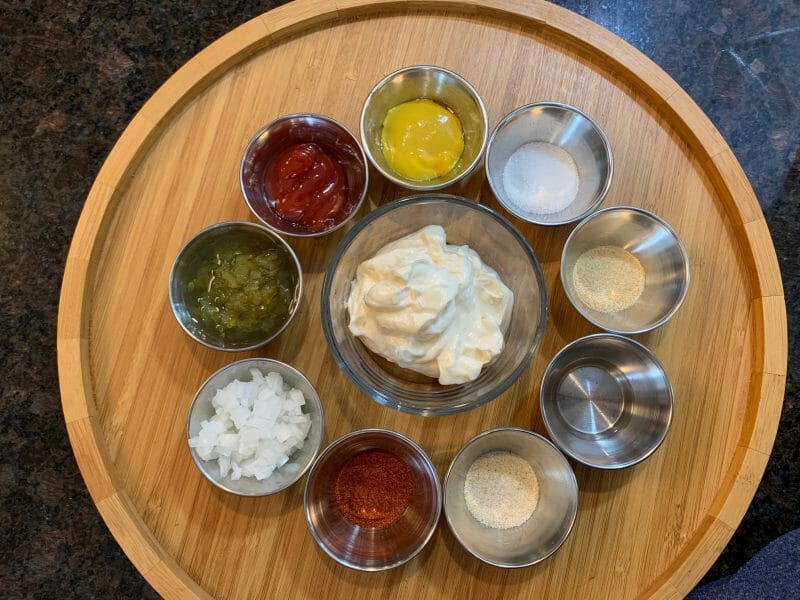 To that we add a few not-so-traditional ingredients: sugar, paprika, garlic powder, onion powder, and white vinegar.
Mix these 10 sauce ingredients together thoroughly and store it in the fridge until you're ready to use it. It should keep nicely for up to a couple of weeks.
Why the Pretzel Roll Bun?
Yes, sesame seed buns are the traditional bread for most copycat big macs.
However, have you eaten a burger on a pretzel bun? They're amazing!
We've actually made our own pretzel buns from scratch before and they turned out really delicious.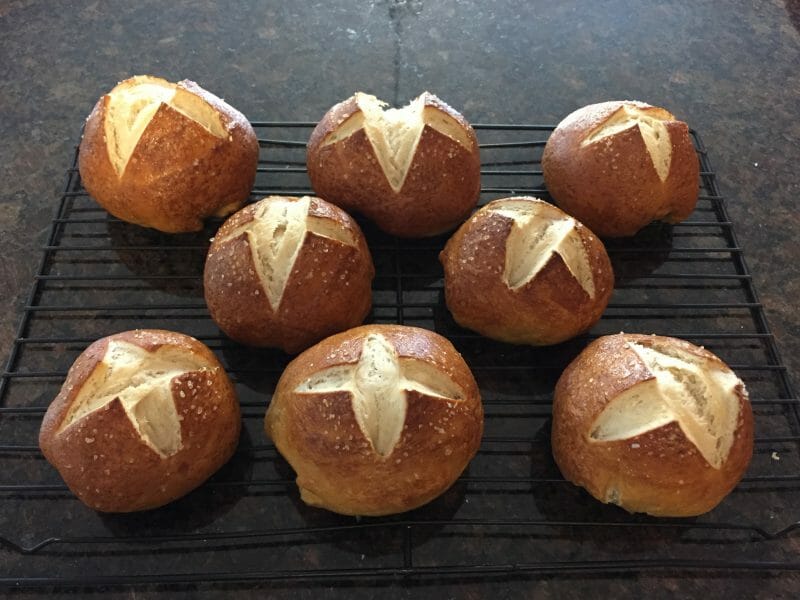 However, you can buy them in most grocery stores near the bakery. We can usually find them in a standard hamburger bun size as well as a mini-slider size. The slider buns are what we've used for today's recipe.
In fact, the slider sized pretzel buns were the original ingredient we built this recipe around.
We saw them in the store and decided that we just had to make a mini burger recipe to go with them.
Our pretzel roll cheeseburger sliders gradually morphed into what we all know and love as the Big Mac. But this time without the sesame seed bun.
How to Make Big Mac Sliders
Our copycat big mac sliders are an easy appetizer recipe filled with beef, cheese, lettuce, pickle, sautéed onion, a special sauce and a pretzel roll bun.
The first step to making your own copycat big macs, (or mini mac as the size would suggest), is making the special sauce.
This is as simple as measuring out and combining the following ten ingredients: mayo, yellow mustard, ketchup, minced onion, sweet pickle relish, sugar, garlic powder, onion powder, paprika, and white vinegar.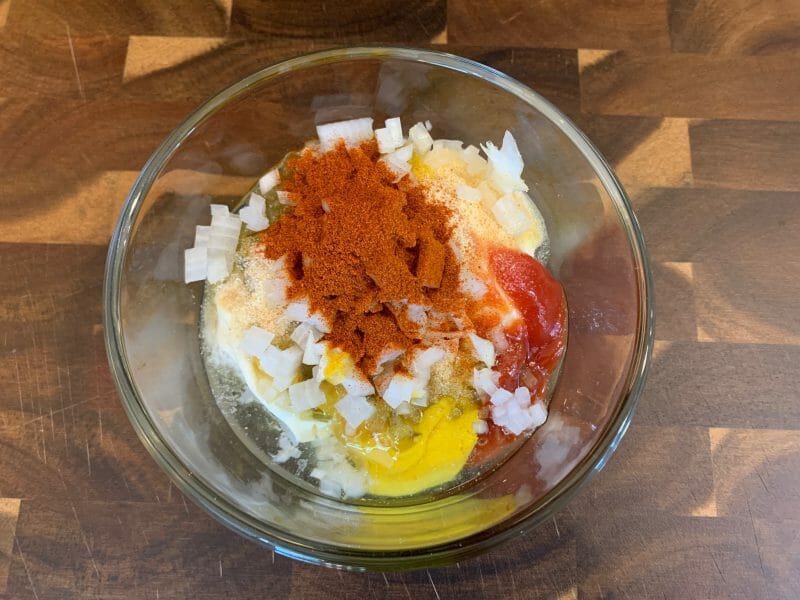 Stir it to blend thoroughly and set aside in the fridge while you prepare the rest of the burger ingredients.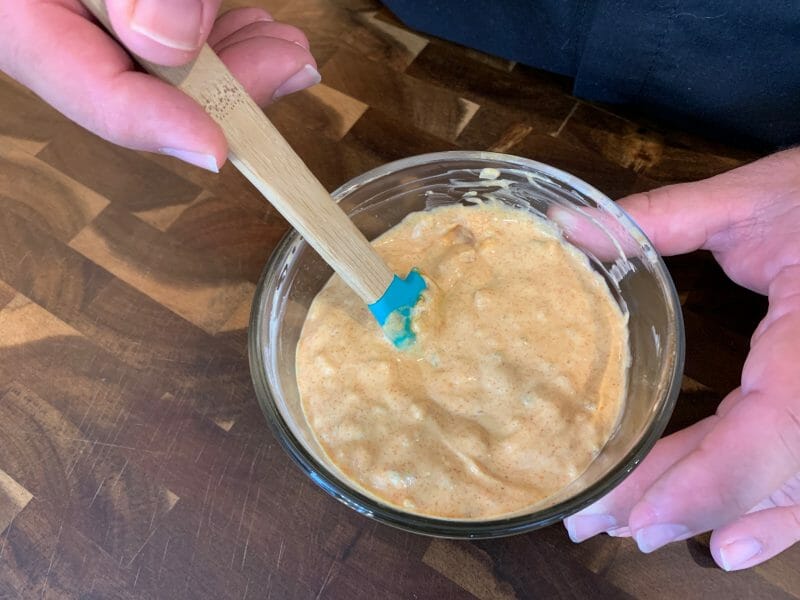 Your next job is to sauté the sliced onion in butter in a skillet over medium heat until they are tender and lightly browned.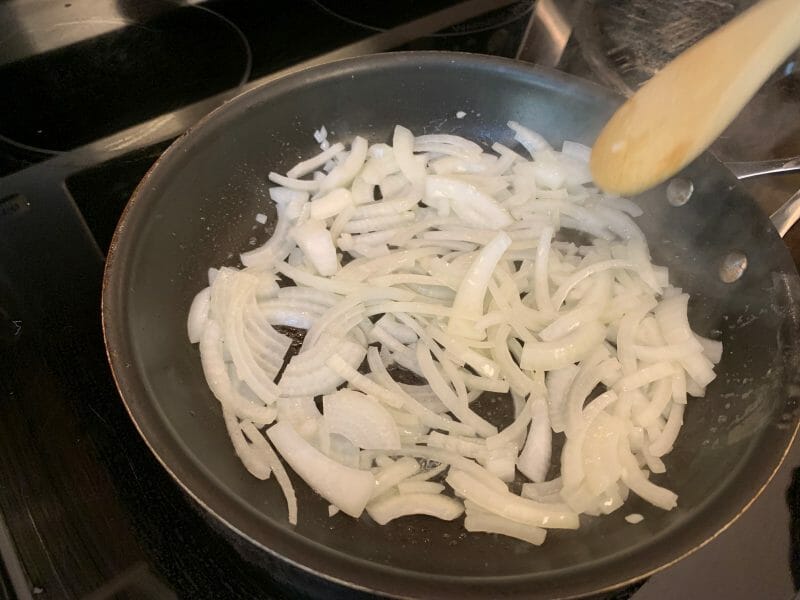 This is actually another difference between our version and the original recipe. The McDonald's Big Mac features raw diced onions, while we prefer cooked slices.
These slider patties need to be thin since we will be stacking two of them on each bun. And thin burgers do two things: fall apart easily, and cook fast.
So, since we are The Barbecue Lab and like to cook everything we can using one of our grills, we determined the best way to cook our slider patties was on a cast iron skillet on our Vision Kamado grill.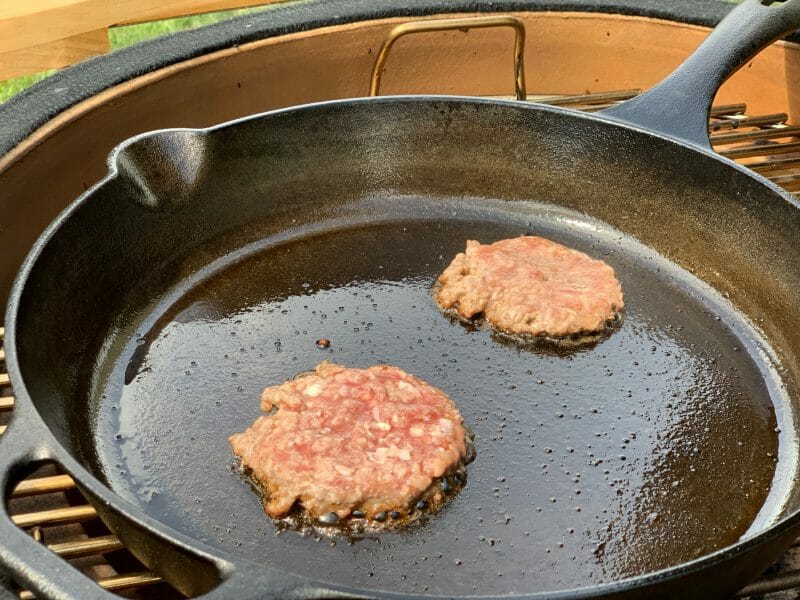 Can you cook them on your stovetop? Of course.
However, we did find that even in the short amount of time these patties were in the skillet on the grill, they did pick up some extra layers of flavor from the charcoal and wood chunks that we wouldn't have gotten cooking these inside.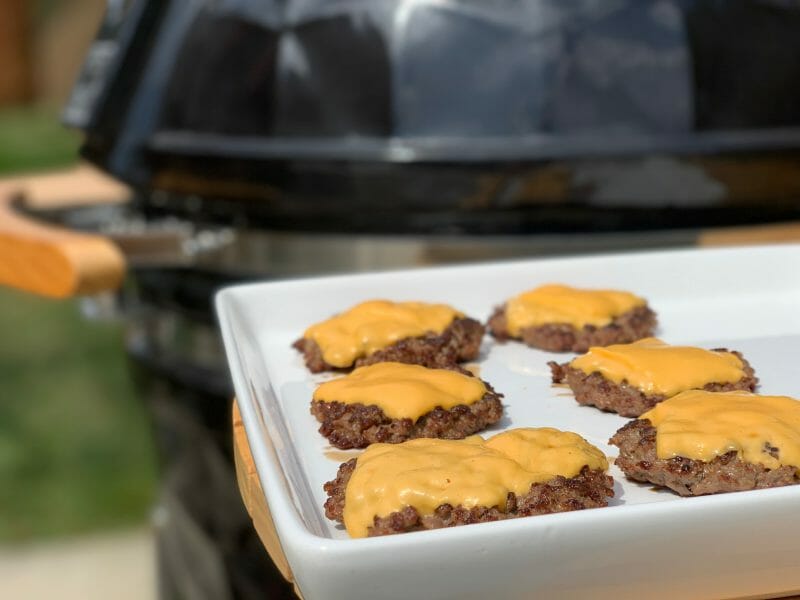 We cooked them for about 90 seconds on each side before adding the slices of cheese.
The anatomy of a Big Mac Slider on a pretzel roll bun
The bottom bun of your pretzel roll will be the foundation on which you build your delicious slider.
On top of that, place a dollop of special sauce, followed by one hamburger patty with cheese.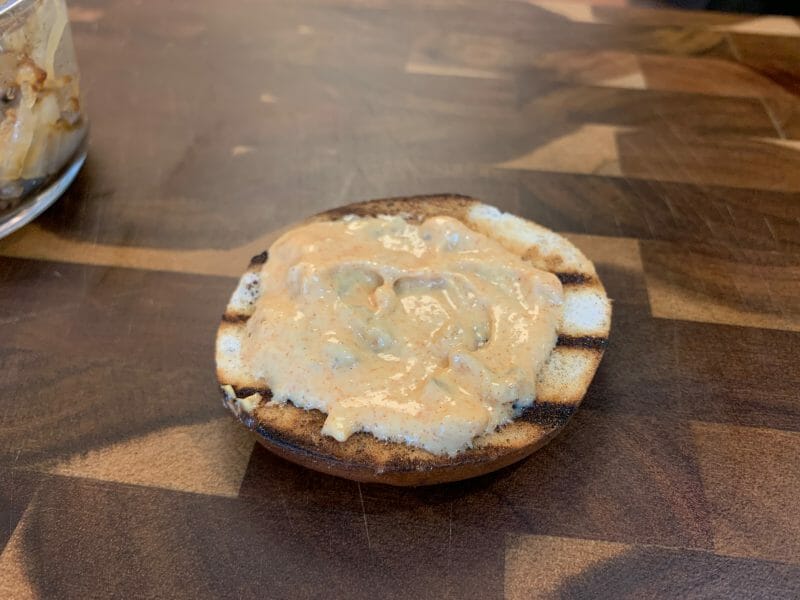 Next, place a pickle slice, some onion, and top with shredded lettuce.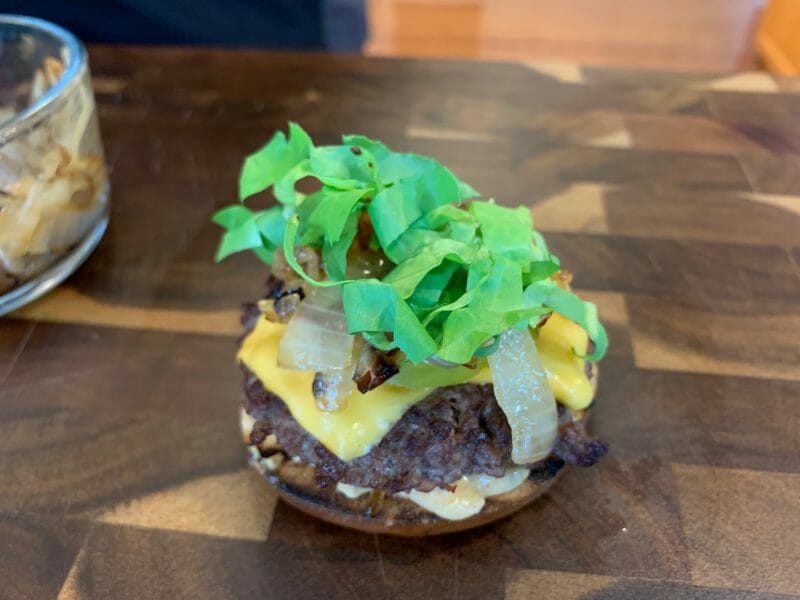 Now it's time to repeat.
Add a hamburger patty with cheese. Now the special sauce, pickle, onion, lettuce, and finish it off with the top half of your pretzel roll bun.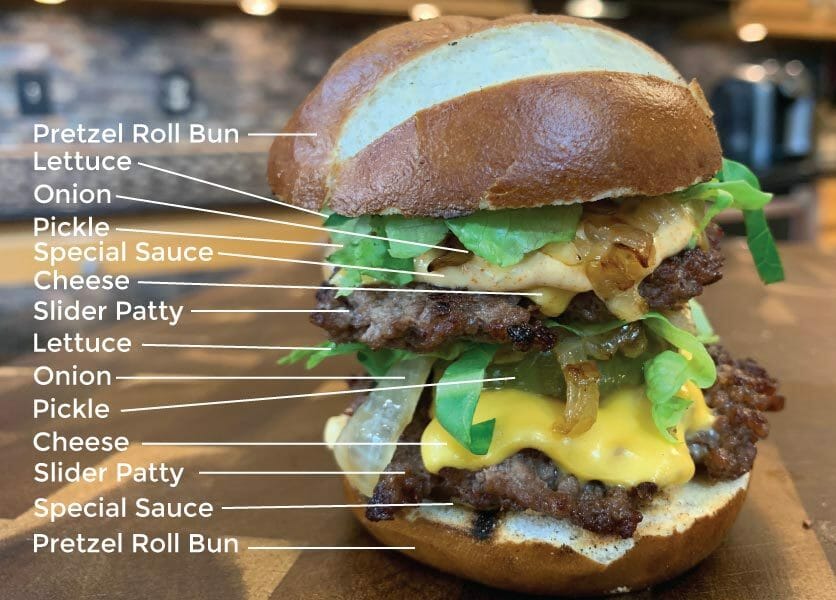 Tada! You've just built yourself a masterpiece!
If you are so die hard that you have to have sesame seeds on your Big Mac, go nuts. Paint your pretzel bun tops with melted butter and sprinkle with sesame seeds. But I honestly don't think you'll miss them.
These pretzel roll big mac sliders are the perfect game day food. We hope you give it a try and be sure to let us know in the comments how it went!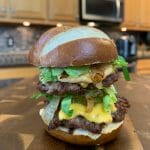 Print Recipe
Big Mac Sliders on Pretzel Roll Buns
These hamburger sliders have two key ingredients that just take it to a whole new level of flavor: this delicious big mac sauce, and a pretzel roll bun. You won't want to eat burgers any other way after you try this tasty combination.
Ingredients
½

cup

mayo

2

Tb

sweet pickle relish

1

Tb

yellow mustard

1

Tb

ketchup

1

tsp

white vinegar

1

tsp

Hungarian paprika

1

tsp

sugar

½

tsp

garlic powder

½

tsp

onion powder

1

Tb

minced onion

1.5

lb

ground beef

6

small pretzel rolls

6

slices

American cheese

halved

12

dill pickle chips

1/2

sweet onion

sliced

1

Tb

butter

1

cup

lettuce
Instructions
To make the Big Mac sauce, combine the first 10 ingredients in a bowl. Use a small whisk to blend fully.

Saute onion slices in a frying pan with butter. Set it aside with other prepared burger toppings.

Heat up your grill to approximately 350°. Set a cast iron pan in the grill to preheat.

While the cast iron is heating up, prepare the slider patties. They should be quite thin, so we recommend forming them on a small square of parchment paper that can be used to help transfer the burgers to the pan. Simply salt the top of the patty.

Spray the cast iron pan with non-stick cooking spray and flip the burger patties onto the pan. Sprinkle salt on the now exposed unseasoned side. Close the grill for about 90 seconds.

Flip the burgers over using a spatula and close the grill for about 45 seconds.

Add American cheese slices to the burgers. Close the grill for another 45 seconds.

Remove burgers from the grill.

Place pretzel bun rolls on the grill grates for about 30 seconds to lightly toast.

To assemble the big mac sliders, we recommend building from the bottom bun, a layer of big mac sauce, one cheeseburger patty, a pickle slice, sauteed onions, lettuce, a second cheeseburger patty, more big mac sauce, pickle, onion, lettuce and top bun.
Video
Nutrition
Calories:
739
kcal
|
Carbohydrates:
46
g
|
Protein:
30
g
|
Fat:
47
g
|
Saturated Fat:
16
g
|
Monounsaturated Fat:
1
g
|
Cholesterol:
114
mg
|
Sodium:
963
mg
|
Potassium:
413
mg
|
Fiber:
2
g
|
Sugar:
6
g
|
Vitamin A:
595
IU
|
Vitamin C:
2
mg
|
Calcium:
273
mg
|
Iron:
3
mg