The Oklahoma onion burger has been a big deal at our house for many months now. In fact, I've been forbidden from preparing hamburgers any other way anymore. We can't even go out for burgers now because the Oklahoma onion burger has ruined all other burgers for my family. They're spoiled now and there's no going back. It's kind of funny really, that I would describe my family as being spoiled by a burger that began its existence due to Depression-era penny-pinching.
Note: Some of the links in this article may be affiliate links. This doesn't cost you any more than normal. Read our disclaimer for more info.
Where Did the Oklahoma Onion Burger Originate?
While there may be some debate as to the exact origin of these fried onion burgers, it is generally agreed that they first became popular at the Hamburger Inn in Ardmore, Oklahoma in the mid-1920s.
During this post-World War 1 period of time, money was tight and business owners were looking for creative ways to stretch a dollar.
This "Depression Burger" was born from the idea that pressing a big pile of inexpensive onion into a little bit of ground beef could give the burger more substance while using less meat.
Diners and cafes around the state quickly caught on and Oklahoma fried onion burgers gained in popularity.
How to make Oklahoma fried onion burgers
The star ingredient of this delicious burger is onions. Eww, gross, right?
Now, I know many of you are already ready to check out because "I don't like onions." Let me ask you, do you dislike onions in every single form? Even onion rings? If someone at your table ordered a Blooming Onion, would you not partake of a single petal of fried onion goodness?
Because if there's even a chance that you might like certain forms of cooked onions even occasionally, I challenge you to still try this recipe. In spite of the high percentage of onion, it doesn't taste the way you're probably assuming.
I had my kids try these burgers and they "hate onions" but love onion rings and blooming onions. Guess what? We called them Oklahoma onion ring burgers and suddenly "These are the best burgers I've ever tasted!"
Prepare the Onions
If you are a master chef with incredible knife skills, you go ahead and slice these paper-thin onions yourself. However, I highly suggest using a mandoline. The goal here is to have consistently thin slices of onion, which I think is best achieved with a mandoline.
Onions are 89% water, and if left as-is, all that moisture is going to get in the way of what we're trying to accomplish on the griddle. Spread your thinly sliced onions out, sprinkle them with salt and allow 15 minutes or so for the salt to draw some of the moisture out.
Over time you'll notice the onions take on a limp-looking texture, almost as if they've already started cooking, and there will be some liquid in the bottom of your dish.
Now it's time to take a big handful of onions over to the sink and squeeze them like you're wringing out a sponge. Try to get every last bit of excess moisture out of the onion. Put them back down in a dish lined with a paper towel and it's time to fry up some onion burgers.
Time to Smash Some Burgers
These Oklahoma fried onion burgers cook quickly, so you'll want to make sure you have everything all in place before getting started.
Heat up your griddle or large cast-iron pan until it's nice and hot. Make sure you've got your griddle tools and burger press handy. Your meat should already be divided into 1/4 pound balls. Collect your salt and pepper, buns and cheese slices. Prepare whatever condiments or burger toppings you desire. Make sure you have a clean platter to put your finished burgers on when they're all done.
Some recipes may suggest using vegetable oil or canola oil to prepare the griddle, but I really don't think that's necessary unless you're using very lean meat. I prefer 80/20 ground beef, which generates enough grease that makes any additional oil completely unnecessary.
Simply space the meat out on the griddle and then smash them flat with your burger press.
I searched high and low for many months to find the perfect tool for smashing burgers and I'm a huge fan of the Sasquash by Burger Iron.
It's exactly what I was looking for and works like a charm. A little tip I'll share is that once you press the meat down, slide the press off the patty toward you rather than attempting to lift it up off the burger.
As soon as you've smashed the patties, start piling onions on top of each one. Use probably twice as many as you think looks reasonable. If you think it looks like way too much, you've probably chosen the right amount.
Season each onioned patty with salt and pepper and just let them sit and cook for a good 3 minutes.
Be patient; really good things are happening right now.
Use your metal spatula to gently loosen up the patty from the flat top and flip it over, this time with the onions on the bottom.
Place the cheese slices on each of the patties to melt.
While the cheese begins to melt, place the top buns upon each burger. Then, as strange as it sounds, stack the bottom buns on top of the top buns.
With both of the buns resting above the cooking meat and onions, they are able to absorb the steam rising up from below and that just adds delicious flavor to the buns.
After a few minutes, you'll notice some of the grilled onions start to look almost burned and that probably means it's ready to remove from the heat.
Pick up the bottom bun from the stack and then use your spatula to carefully transfer the patty, onions, cheese and remaining bun to build your complete onion burger Oklahoma style.
Add desired toppings and serve immediately. Savor the delicious flavor of every bite.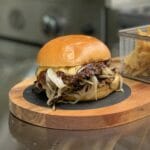 Print Recipe
Oklahoma Onion Burger
The Oklahoma onion burger is a griddle smashed burger with crispy and caramelized onion cooked right into the patty. It's the only burger you'll want to eat, from here on out.
Equipment
Griddle or a large cast iron skillet

mandoline
Ingredients
1

lb

80/20 ground beef

4

slices

American cheese

4

brioche hamburger buns

1

medium

yellow onion

1/2

tsp

kosher salt

1/4

tsp

black pepper

2

Tb

mayonnaise
Instructions
Using a mandoline at it's finest setting, slice the onion into very thin slices. Sprinkle them with a little bit of salt and allow them to sit for about 15 minutes for the moisture to pull out of the onions. Following that rest, pick up the onions and squeeze any additional moisture out of them over the sink. Return the thinly sliced onions to a dry bowl.

While the griddle is preheating, form beef into 1/4 pound balls.

Drop the 4 balls of beef (spaced out) on the hot flat top and begin smashing them as thin as you can using the burger press. Pile a handful of onions on top of the thin patties and season with kosher salt and pepper. Leave for about 3 minutes to get nicely seared on the bottom.

Carefully flip the burgers over using a metal spatula, now with onions on the hot surface and the burger on top of the onion. Top each burger with a slice of American Cheese.

Set the top bun on top of the cheese and place the bottom bun on top of the top bun, allowing both buns to steam from the burger and onions cooking below.

After about 2-3 more minutes, transfer the bottom bun to your plate, followed by the onion-burger-cheese-top bun that is already built on the diner grill.
Notes
We like our Oklahoma Onion burgers super simple with only a squeeze of Japanese mayo for a condiment.
However, you do you! If you want the works and add bacon, tomato, lettuce, pickles, ketchup, yellow mustard, knock yourself out!
Nutrition
Calories:
544
kcal
|
Carbohydrates:
25
g
|
Protein:
28
g
|
Fat:
36
g
|
Saturated Fat:
14
g
|
Polyunsaturated Fat:
5
g
|
Monounsaturated Fat:
13
g
|
Trans Fat:
2
g
|
Cholesterol:
104
mg
|
Sodium:
978
mg
|
Potassium:
432
mg
|
Fiber:
1
g
|
Sugar:
5
g
|
Vitamin A:
205
IU
|
Vitamin C:
3
mg
|
Calcium:
322
mg
|
Iron:
4
mg