The Solo Stove Yukon is a large-sized stainless steel fire pit that produces a smoke-free fire. Like me, you may not have even realized that a smoke-free fire was possible without the use of propane. With a little bit of skepticism, we took the leap and purchased the Yukon a couple of years ago to see if it was all it's cracked up to be.
While Breeo holds the claim on creating the first smokeless fire pit, Solo Stove came along right around the same time and has been innovating their fire pit designs right along with the best of them.
As it turns out, Solo Stove's claims for campfires featuring way less smoke are completely accurate. Our Yukon is now a permanent feature in our outdoor kitchen and backyard living space. From here on out guests will only leave our backyard celebrations smelling like good barbecue rather than campfire smoke.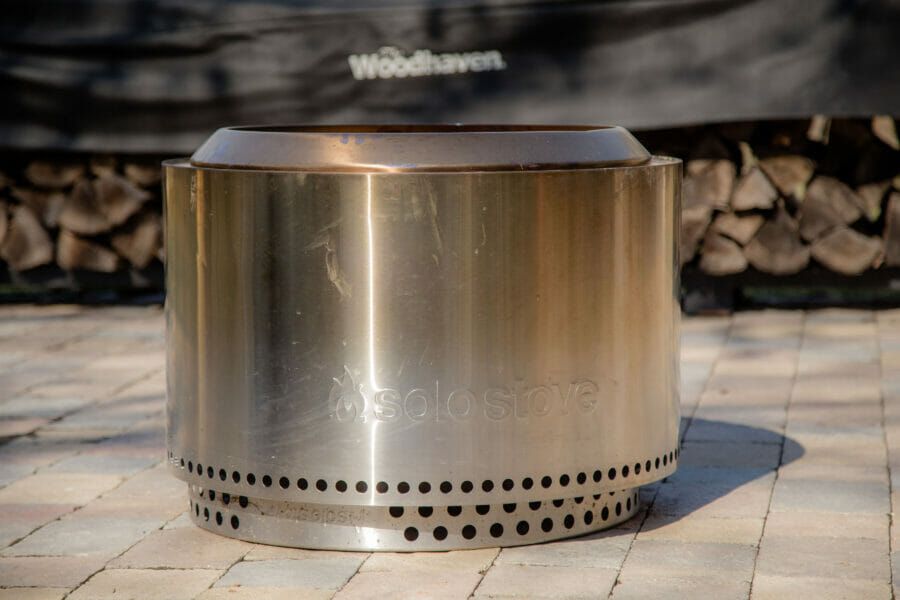 Looking for gift ideas for yourself or someone special in your life? We've got you covered.
Solo Stove Yukon Features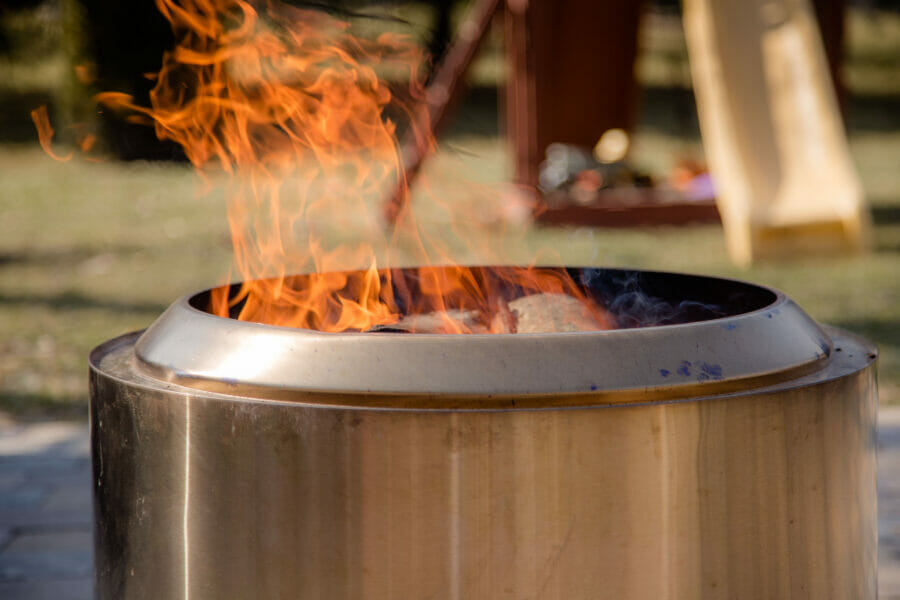 The Solo Stove Yukon features an innovative design with a stainless steel double-wall chamber and strategically placed vent holes. With a precision base plate in the bottom of the burn chamber allowing spent ash to fall through, preventing it from clogging vital airflow, oxygen can be fed directly to the embers helping the fire to burn faster and hotter. The fire ring, also formed from 304 stainless steel helps to keep the fire centered and even.
| | |
| --- | --- |
| Feature | Measurement |
| Diameter | 27″ |
| Height | 17″ |
| Weight | 38lbs |
| Material | 304 Stainless Steel |
| Fuel | 8-10 Logs up to 22″ long |
| Warranty | Lifetime |
Save $10 off a purchase of $99 or more with the discount code: BARBECUELAB
What comes in the box?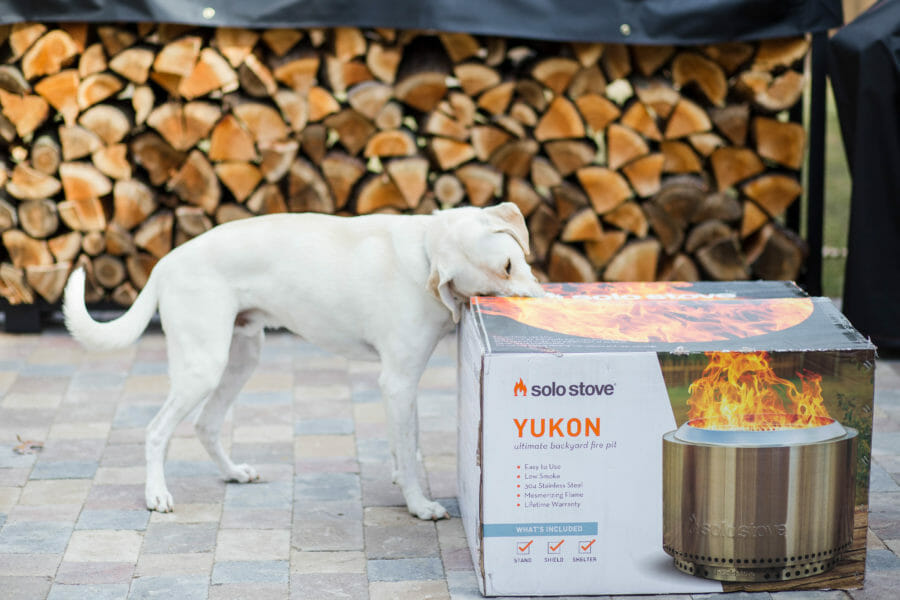 To answer what comes in the box, that would entirely depend on which box you ordered. For example, we ordered the Yukon backyard bundle, and in addition to the Solo Stove fire pit and the fire ring, our set included the shelter, stand, spark shield, and removal tools.
However, we probably should have just ordered the Yukon ultimate bundle from the beginning, which would have also included the fire pit tools and roasting sticks (in addition to all previously mentioned items), which we eventually ended up purchasing separately anyway.
It's important to note however, that if you are strictly ordering just the Solo Stove Yukon and not a bundle, the fire pit itself is all you will be getting. (The ring is part of the fire pit.)
Save $10 off a purchase of $99 or more with the discount code: BARBECUELAB
What doesn't come in the box?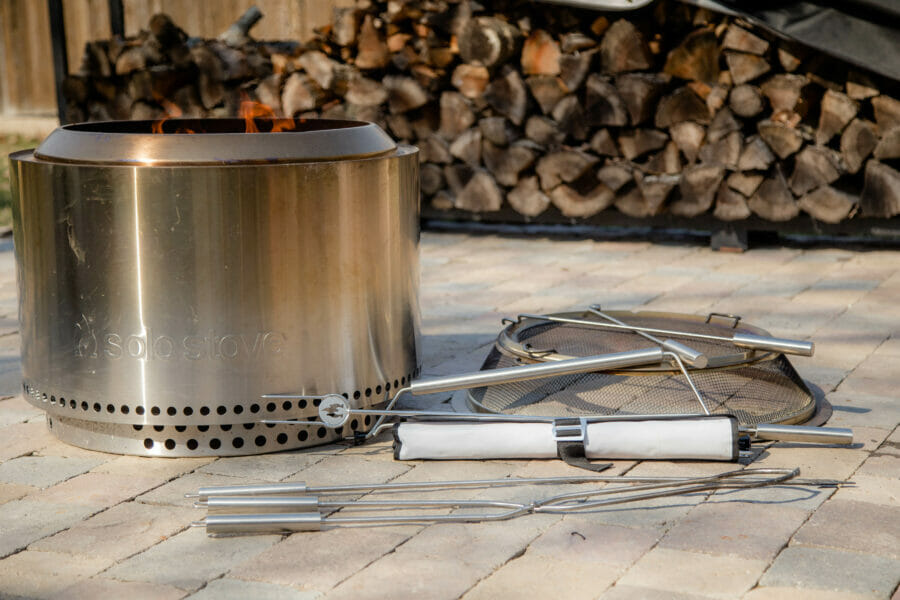 Again, to answer that question depends on which box you ordered! Here's what I will say… we have continually and little by little added more and more Solo Stove products to our collection over the past 18 months because every single item we've tried has impressed us.
In addition to the accessories included in the bundles previously mentioned, Solo Stove also offers lids, handles, storage solutions, heat deflectors, cooking systems, and even firewood to enhance your Solo Stove experience.
Check out our post on Best Solo Stove Accessories to find out which products we've tested and recommend.
Save $10 off a purchase of $99 or more with the discount code: BARBECUELAB
Can you cook on the Solo Stove Yukon?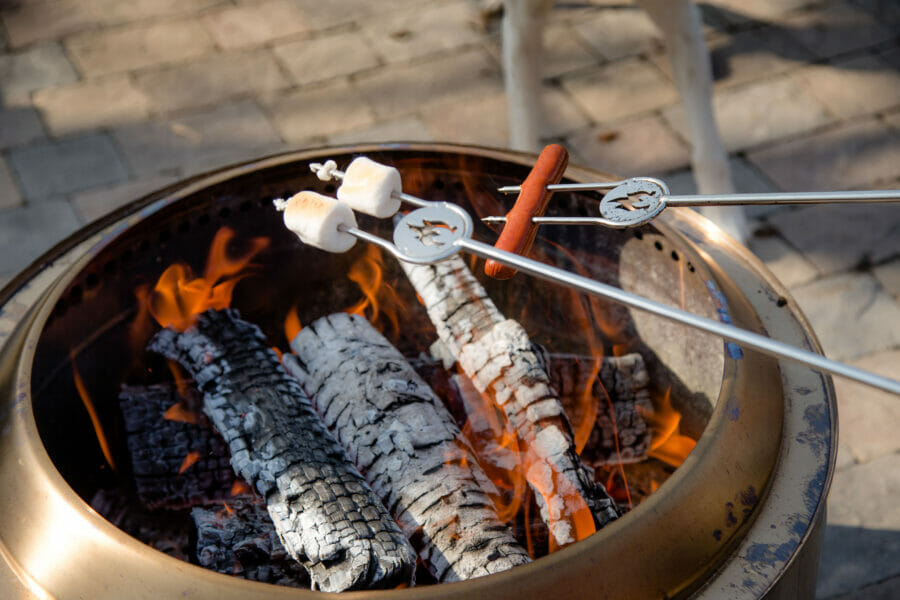 Straight out of the box you're limited to roasting hot dogs and marshmallows over the open flame or possibly a campfire pie if you're feeling really crazy. But let me warn you that Solo Stoves produce a lot hotter fire than you're probably accustomed to, so I highly recommend waiting until it has died down a fair bit before attempting to cook even those.
The thing that has impressed us about Solo Stove is that they're constantly innovating and releasing more products and features to keep us enjoying the great outdoors.
First they released the Solo Stove Grill, which is a charcoal grill similar in look and design to the fire pits, but a completely different unit by itself.
Next they released the cooktop and hub bundles that are designed as an add-on to your existing Solo Stove fire pit. These can include either a cast iron griddle, grill, or wok.
And now, the newest baby of the Solo Stove family the Pi pizza oven, which is also a stand-alone unit separate from the fire pits.
Save $10 off a purchase of $99 or more with the discount code: BARBECUELAB
Is the Yukon Solo Stove too big?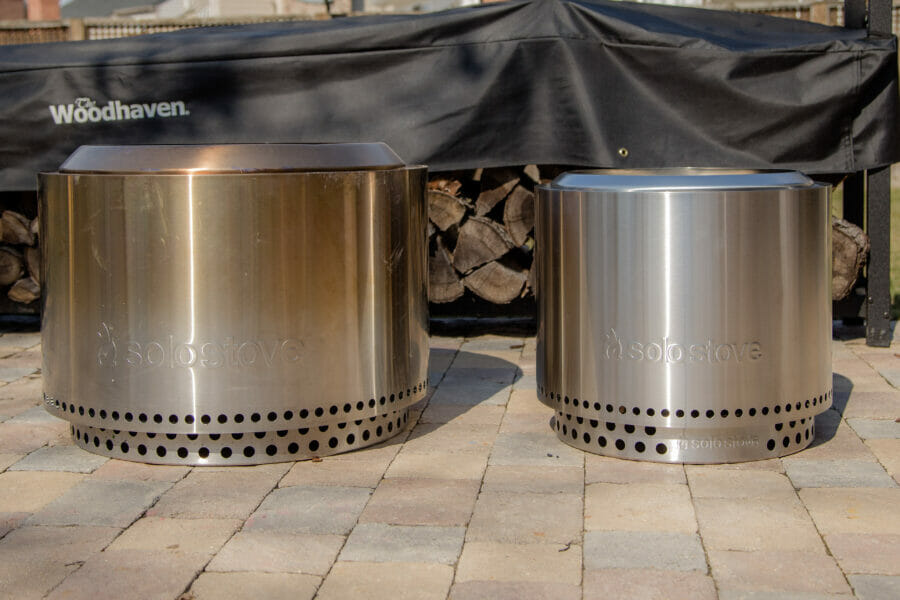 The Yukon is the largest of all the Solo Stove fire pits, and it is indeed big. But fun fact, the Yukon used to be even bigger. The original versions of the Yukon had a diameter of 30″ rather than 27″. Solo Stove made the shift to a slightly smaller Yukon during the summer of 2020 in order to make this fire pit a little lighter (10 lbs) and easier to pick up and clean, as well as require less wood for fuel.
Is it too big? That depends.
Are you hoping to move it around a lot? Take it to your friend's house? Take it camping? Yes, the Yukon is too big for you. This is not a portable fire pit.
Do you have a limited supply of firewood? Is firewood hard to come by in your area? Yes, the Yukon is too big for you.
Do you plan on sitting around the fire by yourself or with only one or two other people at most? The Yukon might be too big for you.
But if that's the case, the Bonfire or Ranger might be exactly what you need instead. The smaller sized Solo Stoves are much more portable and require considerably less fuel than their big brother.
Save $10 off a purchase of $99 or more with the discount code: BARBECUELAB
Our Solo Stove Yukon Review
What we love about the Solo Stove Yukon fire pit
Smoke-free fire if you follow directions
By far, the most appealing promise Solo Stove makes is for a smoke-free fire. It sounds like an oxymoron and a promise that is just too good to be true. But I can honestly tell you that if you follow the guidance given by Solo Stove, you will have almost no smoke once your fire is fully going. It will produce smoke at the very beginning as the kindling is just lighting and the fire is building. If you're using dry, seasoned wood, your Solo Stove fire pit will produce far less smoke than any other fire pits you've ever sat around. And I would take it a step further and suggest you burn hard woods rather than softer woods. Hard wood takes longer to burn, which means you won't need as much of it to last you through the night, and it also helps reduce smoke.
Save $10 off a purchase of $99 or more with the discount code: BARBECUELAB
High-quality build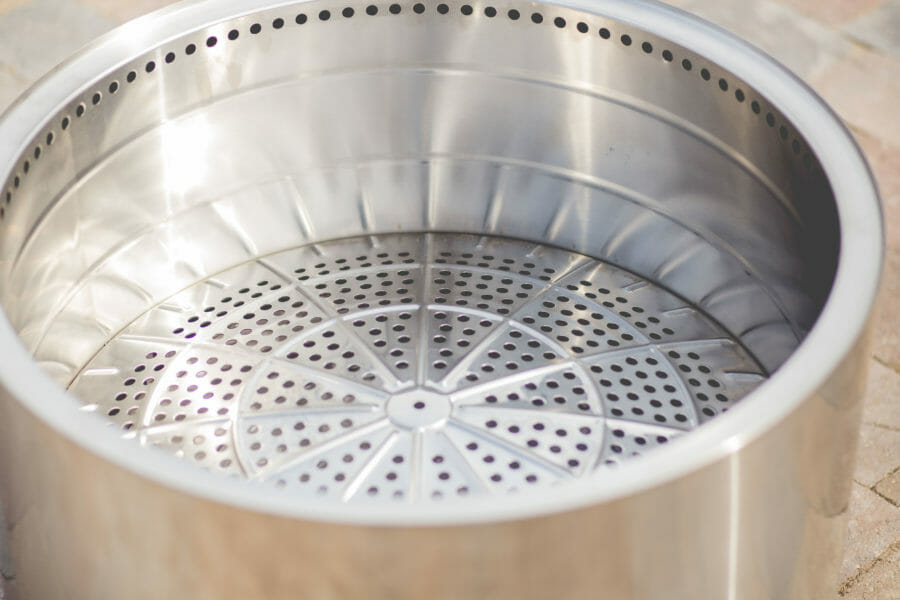 The Solo Stove Yukon fire pit is probably the highest quality fire pit I've come across. Most fire pits we've owned in the past only lasted us a few seasons before they were completely rusted out. This Solo Stove fire pit will probably last us forever; it's built that well.
Our experience with the purchase of our Yukon and every other Solo Stove product we've received has been flawless. Everything that we've received has been in perfect condition and in most cases the quality of the build has been even better than our expectations. That being said, I have seen comments and reviews of other customers who have received dented or damaged products. Solo Stove has excellent customer service, so if there's ever a problem with your purchase give them a call and they will make it right.
Save $10 off a purchase of $99 or more with the discount code: BARBECUELAB
Super easy to light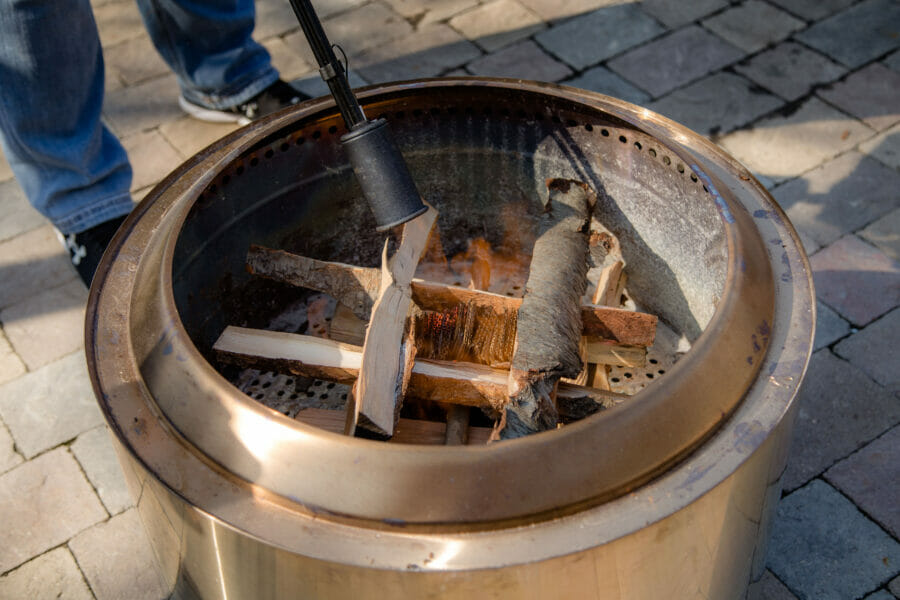 Again, if you follow the directions that Solo Stove provides, lighting a fire in your Yukon is pretty easy compared to other fire pits. The key thing is that you have to start small and then work up to a bigger fire.
Start with some (dry) kindling and a few smaller pieces of wood in the bottom of the burn chamber. (The Kindling Cracker is the BEST tool to cut our logs down to the right size for this job). We like to build a small "log cabin" around our kindling. Kindling could be anything from small pieces of your Yukon box, dry sticks, wadded-up newspaper, to toilet paper rolls filled with dryer vent lint. I almost always break out my favorite fire-starting tool, the Grill Gun to help get the kindling going a little faster.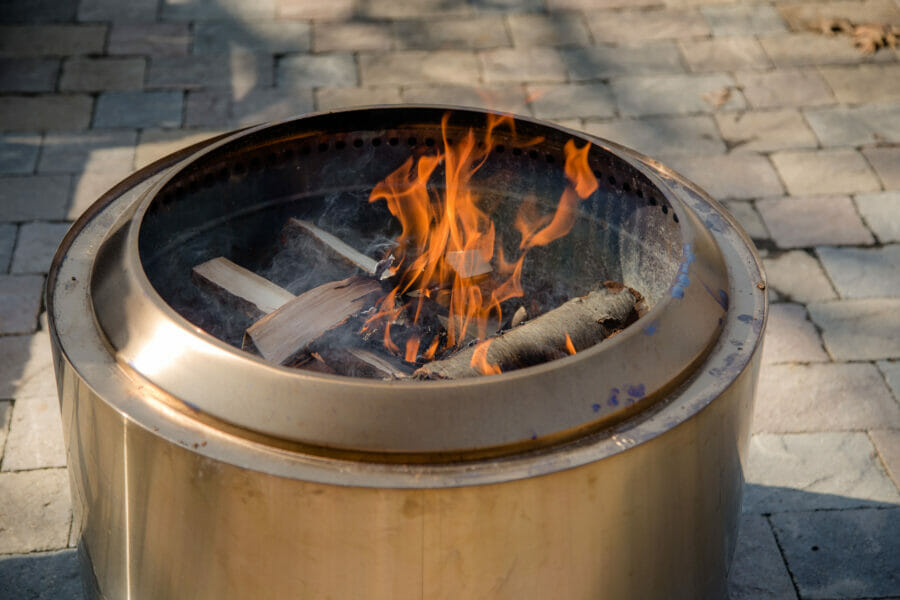 Once you have that base fully lit and it's been burning for probably about 5 minutes, then you can start adding additional fuel to the fire. If your base is good and hot, the new logs will probably light pretty instantly.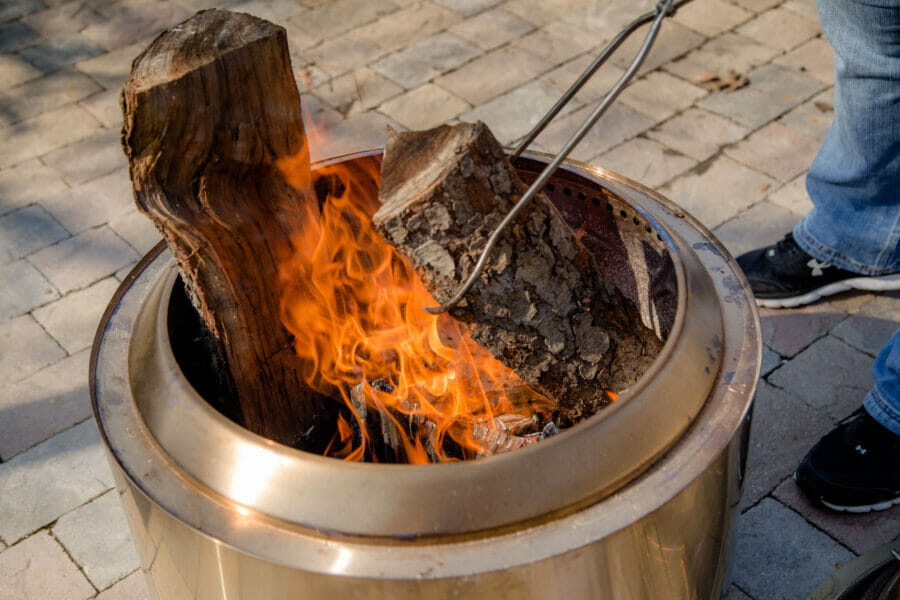 We usually only add 2-3 logs at a time initially until the fire is fully going and then we'll load it up nice and full, being sure to keep the top of the logs below the ring so that we can maintain a smoke-free fire.
From first light to a roaring fire with full secondary burn takes less than 20 minutes.
Save $10 off a purchase of $99 or more with the discount code: BARBECUELAB
Secondary burn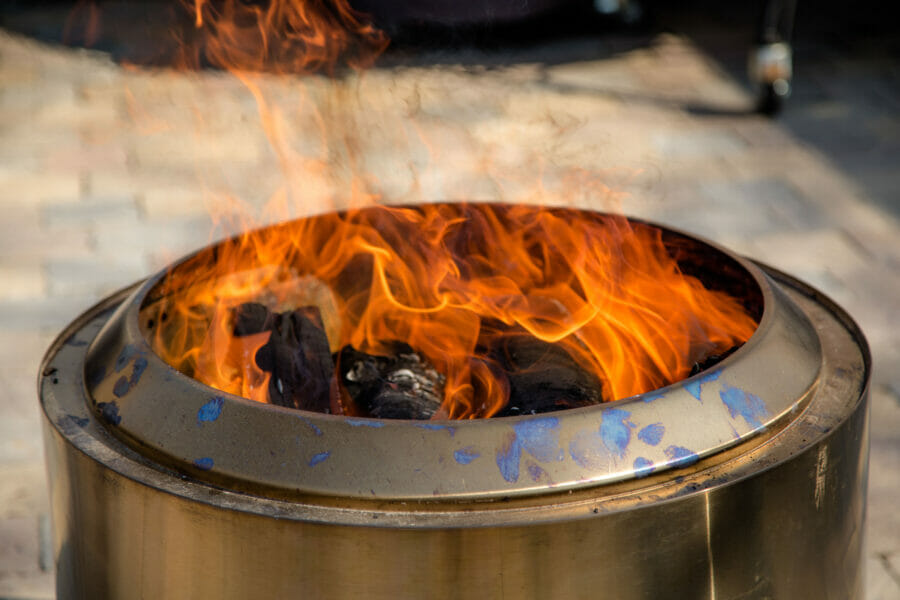 Staring at a nice campfire is always something we've all enjoyed. But just wait until you see the secondary burn in your Solo Stove Yukon. Mesmerizing.
When the fire is really going it creates a lack of oxygen which then pulls air through the bottom vent holes. The rising hot air exits the top vent holes and instantly combusts creating tiny jets of flames that are intoxicating to watch. This air movement fuels the fire in a way that other fire pits never do.
By the way, this would not be the time to roast marshmallows. You would have to hold them 3-4 feet away from the fire to keep them from instantly incinerating. Your fire is VERY hot right now; it's best to wait until it's died down quite a bit before enjoying your s'mores.
More complete combustion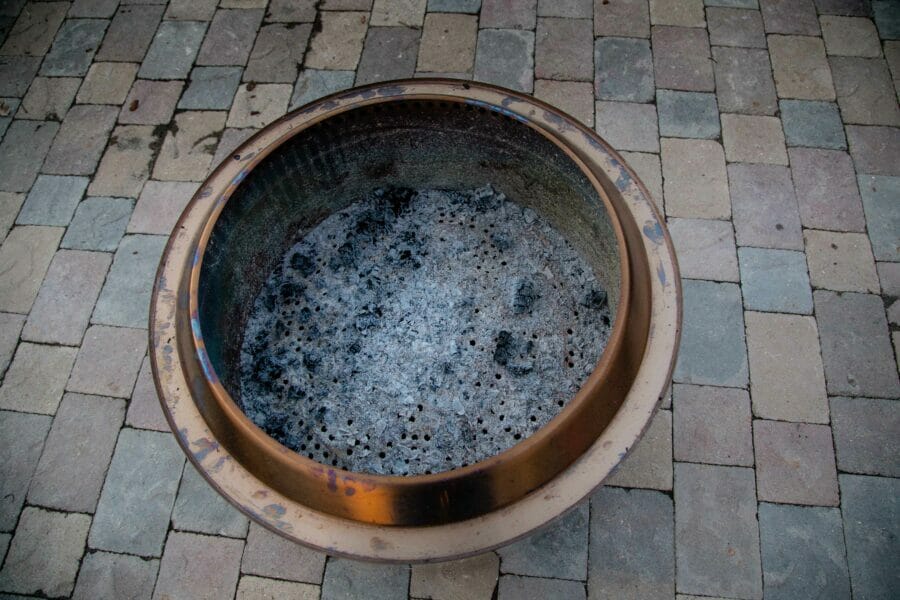 Because of that secondary burn, there will be nothing but ash in your Yukon the next morning. When preheated air fuels the flame resulting in a more complete combustion process, the fire burns every last morsel of wood down to dust. It's a more efficient burn than you've probably witnessed in any other fire pit.
Save $10 off a purchase of $99 or more with the discount code: BARBECUELAB
Great for larger groups of people
The main advantage of the Yukon fire pit over the smaller Bonfire is that this unit is better for larger groups of people. It's basic geometry that a circle of 8 camp chairs will be larger than a circle of 4. Therefore a larger fire pit would be more appropriate inside that circle than a smaller one. We'll talk about heat transfer in a little bit, but obviously the further away from the fire you have to sit, the less heat you'll be enjoying. So if you like to entertain people in your backyard, the Yukon is definitely the way to go.
Lifetime warranty
Read that again: lifetime warranty. Solo Stove fully intends that this will be the last fire pit you'll need to buy. And as long as you're using your Yukon the way they've advised, they believe it should last that long. And if for some reason it doesn't, their warranty will replace your Yukon with a new model.
Save $10 off a purchase of $99 or more with the discount code: BARBECUELAB
What we don't love about the Yukon
Eats a ton of wood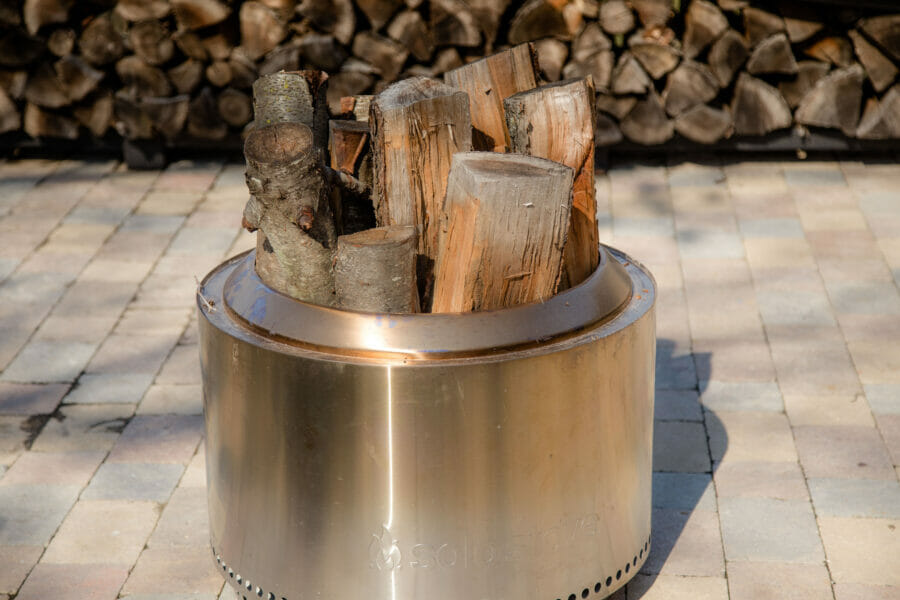 You will burn through a LOT of wood in the Yukon fire pit. However, like I mentioned above, hard wood, like oak or cherry, will take a lot longer to burn than soft wood like pine or cedar.
We don't typically have our fire going for more than 4 hours and the last hour is just letting it die down to coals. But still, 3 hours of feeding a fire of that size can really add up so if you don't have a good source for firewood a smaller stove might be a better fit.
Not enough ambient heat
This is probably the #1 complaint among Solo Stove users. The process that makes these Solo Stove fire pits smokeless creates a vortex of heat that shoots straight up, but not out, from the fire. Standing up around the fire, you'll reap the benefits of the heat. However, when you sit down, you'll notice that you don't feel the heat as much as when you're standing.
Solo Stove has heard that complaint however, and has recently released a heat deflector to help push that vortex of heat back down and out toward the users sitting around the fire pit.
Hot to the touch
I'm not exactly what it is about the Yukon that makes people feel like it would be safe to touch or even rest their feet on the outside of the fire pit. But inevitably they do, which often results in burns, melted shoes and even singed clothes. You can safely hold your hand an inch away from the outside as the fire burns and be ok, but it will burn your skin if you touch it. In fact, our dog Uno has a little patch of hair on his back that feels funny, a little more rough than the hair around it. That's because he walked to close to our Yukon last fall and singed his hair in that spot.
We used our Thermoworks infrared thermometer to test the surface temperature at various locations of the stove during a roaring fire. Toward the bottom of the stove, just under the logo the temperature was reading 119°F. Up toward the top of the stove the surface temperature had climbed all the way up to 431°F. And just for curiosity's sake, the temperature of the ring was a whopping 951°F. I suppose that's why they include the lifting tools with the spark shield. Do not make the mistake of trying to pick that up with your bare hands.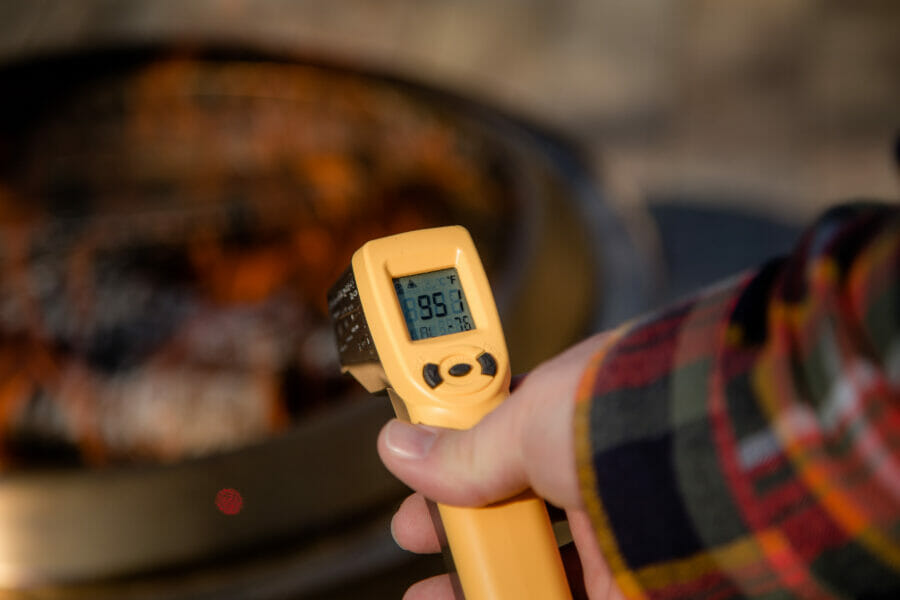 So every time we light it up when guests are around (our family of 4 already know the drill) we give the safety speech to make everyone aware that it is not a footrest and shoes will melt on the outside.
Save $10 off a purchase of $99 or more with the discount code: BARBECUELAB
Heavy and bulky to clean ash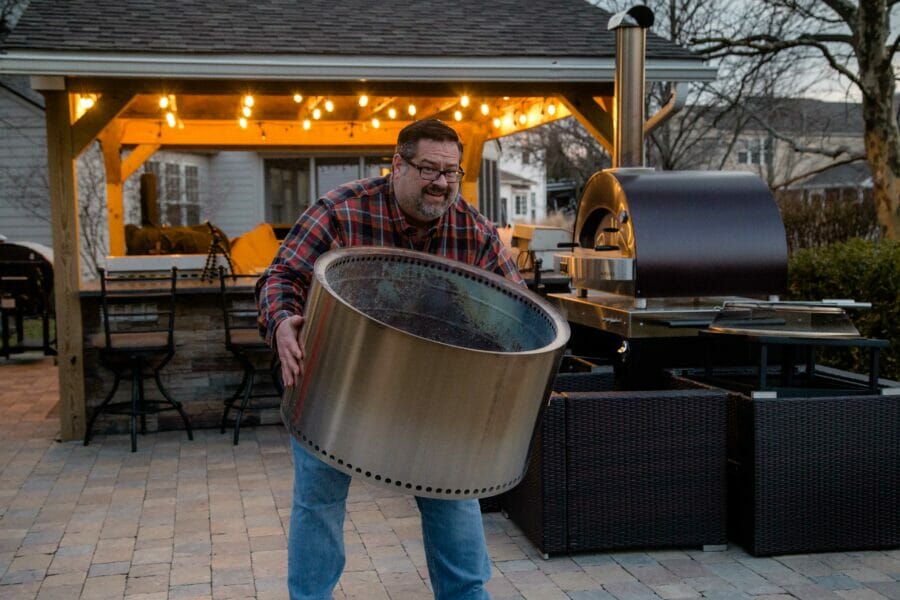 Emptying the Yukon fire pit of ash is a two-person job unless you've purchased the Solo Stove handle (or fashioned your own alternative). It's not that it's super heavy necessarily; it's under 40 lbs. But it's big and bulky, making it very difficult for one person to maneuver by themselves.
Additionally, since the ash pan is not removable it can be tricky to get all of the loose ash out, even with two people. Honestly, we often do an initial dump of the bulk, followed by rolling it around on the grass. The ash tumbles around and eventually finds its way out of one of the vent holes. And bonus, the ash can be really good for your soil.
Is the Solo Stove Yukon worth it?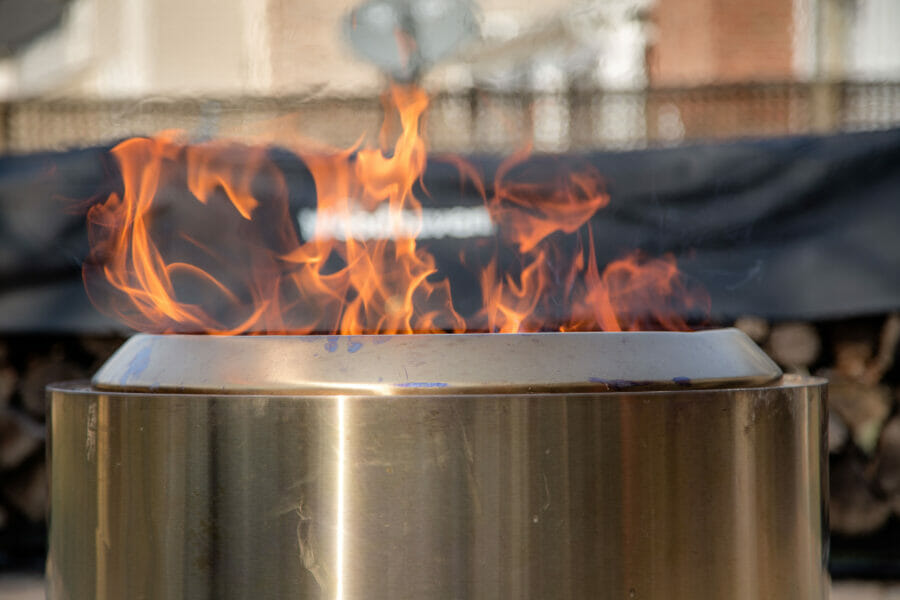 I get it. The Solo Stove Yukon is a big investment. There's so much debate in your head over which size to get and whether to splurge on a bundle or keep it simple and limit yourself to the Solo Stove fire pit only. I remember it well.
All I can tell you is my own experience. We have absolutely loved our Yukon and all the accessories that came after. Nothing has disappointed us and we never once have thought we should have gone with the smaller portable fire pit. In my opinion, it is worth the investment.
I said it before, but the Solo Stove products are just of a higher quality and will last so much longer because of it. I could easily go through 4 or more of the cheap fire pit options in the life span of my Yukon. And with those I would still be smelling like smoke at the end of the day.
The Yukon is a great fire pit and we're glad to have one in our backyard.
Save $10 off a purchase of $99 or more with the discount code: BARBECUELAB