The Solo Stove Bonfire is a medium-sized stainless steel fire pit that produces a smoke-free fire. We first learned about Solo Stove a couple of years ago while attending the HPBA Expo in New Orleans, and purchased our large-sized Yukon backyard bundle shortly after for our outdoor kitchen and living space.
Though Breeo claims to have created the first smokeless fire pit, Solo Stove came into existence around the same time and has certainly forged its own path in this niche. Both companies helped pave the way for a number of other manufacturers who would later follow suit with this low smoke design.
Solo Stove's smokeless fire pits come in three sizes: the Yukon (largest), Bonfire (medium), and Solo Stove Ranger (smallest).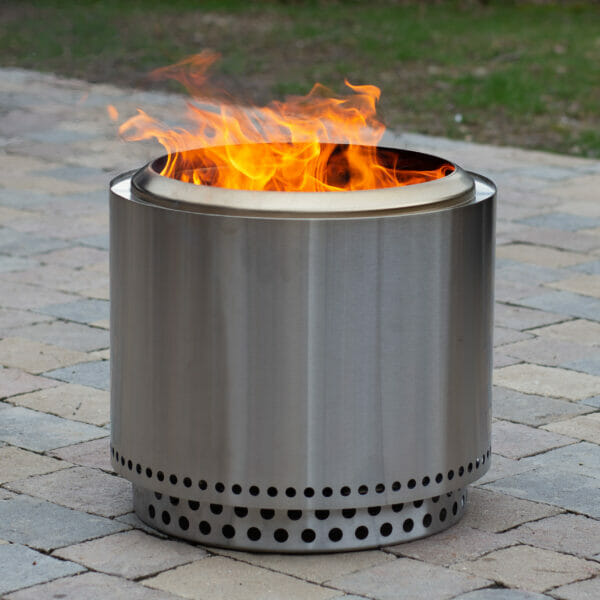 Save $10 off a Solo Stove purchase of $99 or more with the discount code: BARBECUELAB
Solo Stove Bonfire Features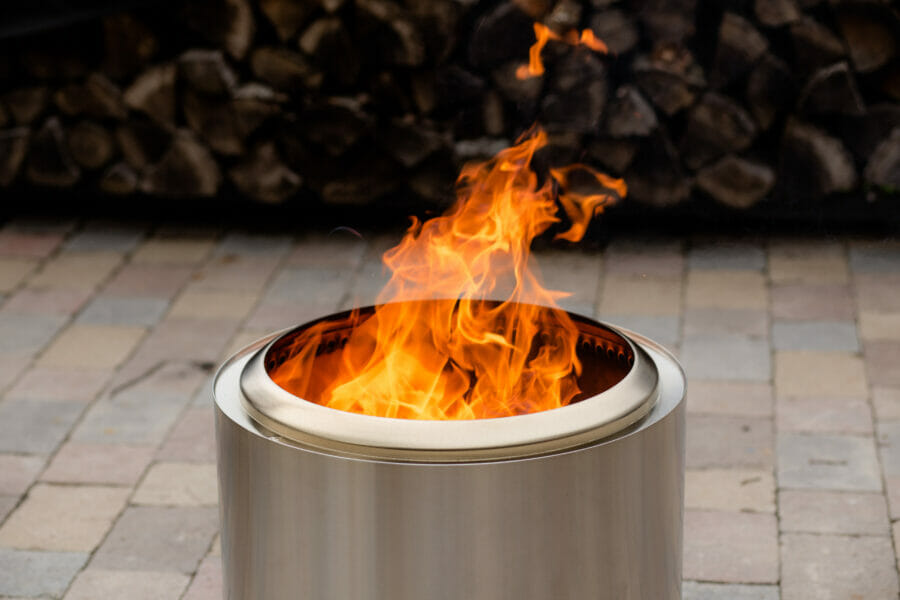 Like all Solo Stove fire pits, the Bonfire features a revolutionary design including a double-wall structure with vent holes at the top and bottom of the fire chamber. Cool air enters through the bottom, heats up within the double wall, rises to the top, and instantly combusts as it exits the top vents. There are also vent holes in the ash pan at the bottom of the burn chamber, allowing spent ash to fall through, and preventing it from clogging vital airflow.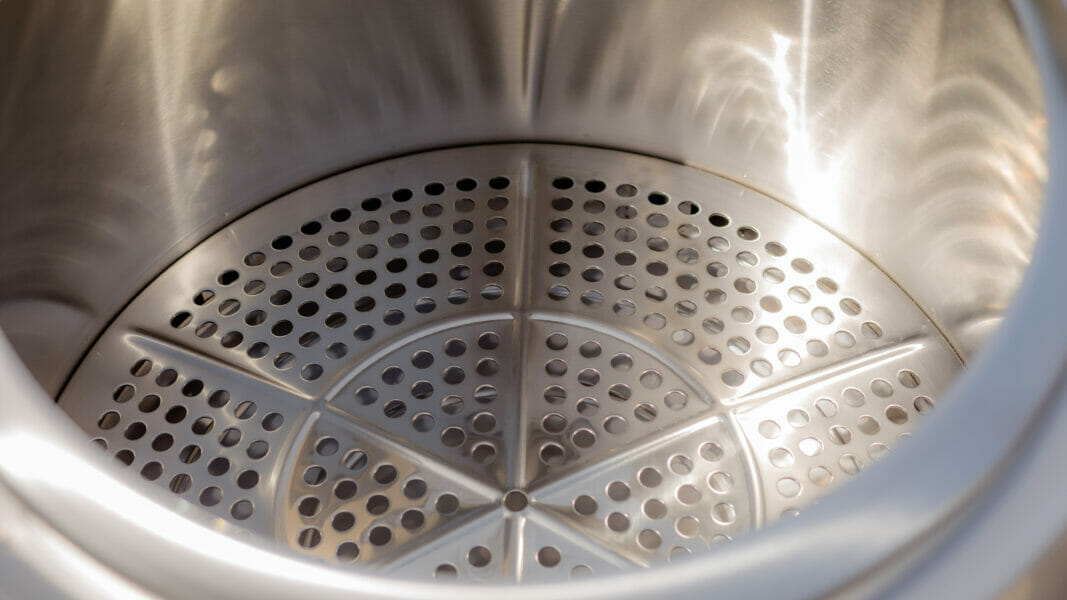 This continuous supply of air results in more complete combustion and a hotter fire with little to no smoke. The removable fire ring keeps the fire centered and even. (Keep in mind that when the fire pit is in use, the fire ring should be placed in the position that has it rising up from the top, and can be flipped upside down for storage purposes).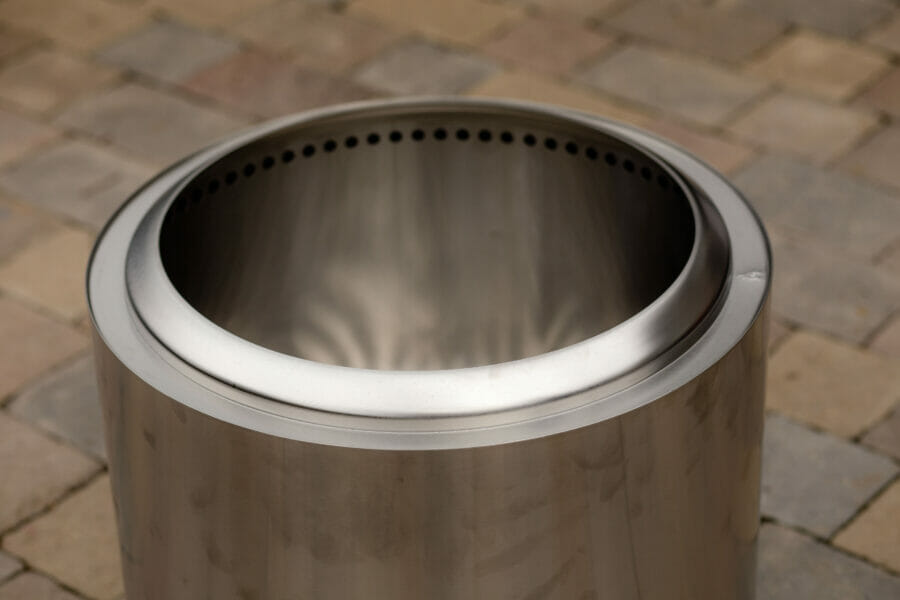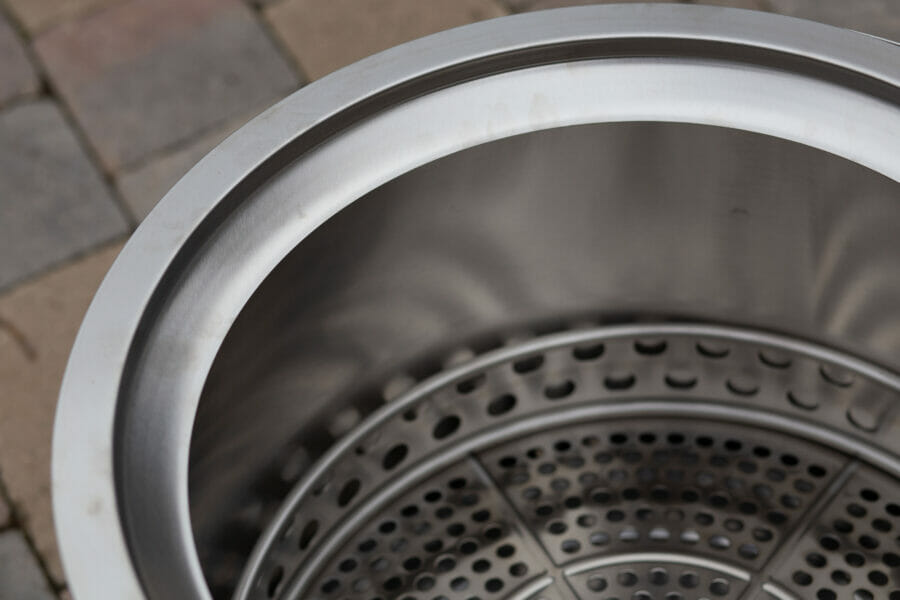 Recently, Solo Stove released its 2.0 model of smokeless fire pits, featuring a new removable ash pan for easier cleanup. This has been a long-awaited and often requested upgrade from their loyal fans.
| | |
| --- | --- |
| Feature | Measurement |
| Diameter | 19.5″ |
| Height | 14″ |
| Weight | 20lbs |
| Material | 304 Stainless Steel |
| Fuel | 4-6 Logs measuring 12-16″ long |
| Warranty | Lifetime |
Save $10 off a Solo Stove purchase of $99 or more with the discount code: BARBECUELAB
What comes in the box?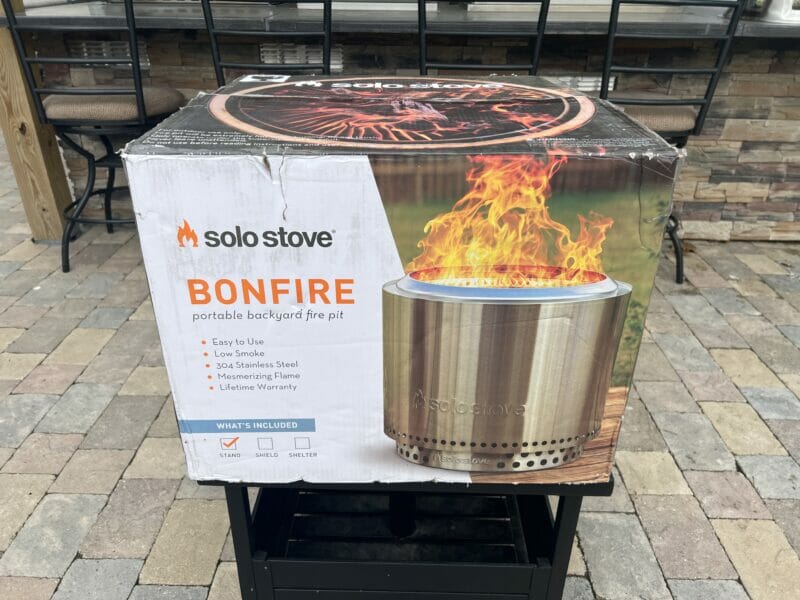 The contents of your Bonfire box depend on which box you ordered. This time around we ordered just the Bonfire and stand bundle and it came with the Bonfire, stand, fire ring, and nylon carrying case.
If you ordered the backyard bundle it would also include the spark shield and lifting tools and a shelter in addition to the basic Bonfire collection.
The ultimate bundle would include everything mentioned so far as well as the fire pit tools and roasting sticks.
Save $10 off a Solo Stove purchase of $99 or more with the discount code: BARBECUELAB
What doesn't come in the box?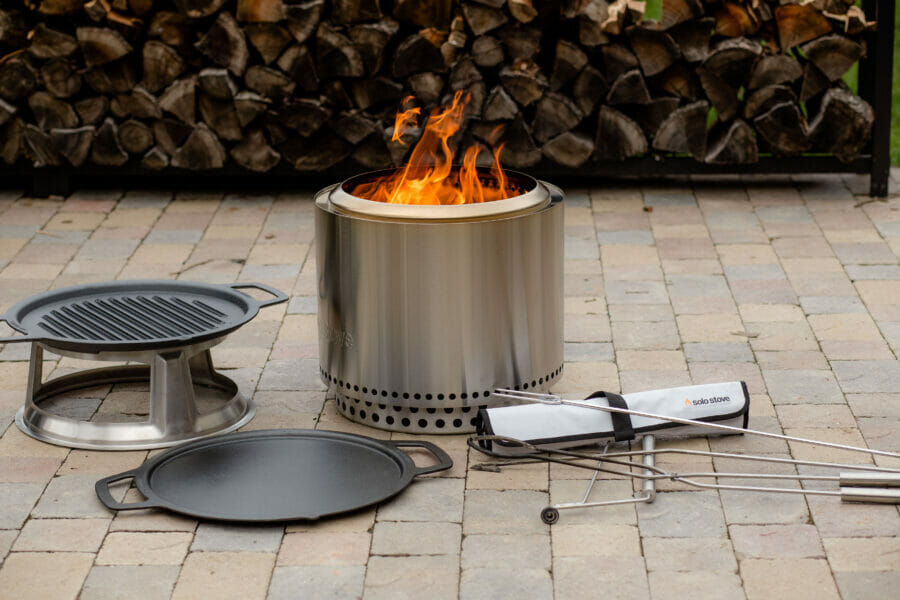 Solo Stove has manufactured a wide variety of accessories for your smokeless fire pit. As mentioned above, the spark shield and shelter are included in the backyard bundle or can also be purchased separately if you decide to add them later. Likewise, the roasting sticks and stainless steel fire pit tools are part of the ultimate bundle but are also able to be purchased separately. When we bought our Yukon we (in hindsight) should have just ordered the ultimate bundle and saved a few dollars because we eventually ordered those additional tools anyway.
There are also fire pit cooking bundles available that would include the basic fire pit items in addition to a cooking system (griddle, grill, or wok). The cooking systems can also be purchased individually.
Aside from that, Solo Stove offers a handle, heat deflector, firewood, and even a storage station to add to the enjoyment of your outdoor space.
Check out our post on Best Accessories to find out which products we've tested and recommend.
Can you cook on the Solo Stove Bonfire?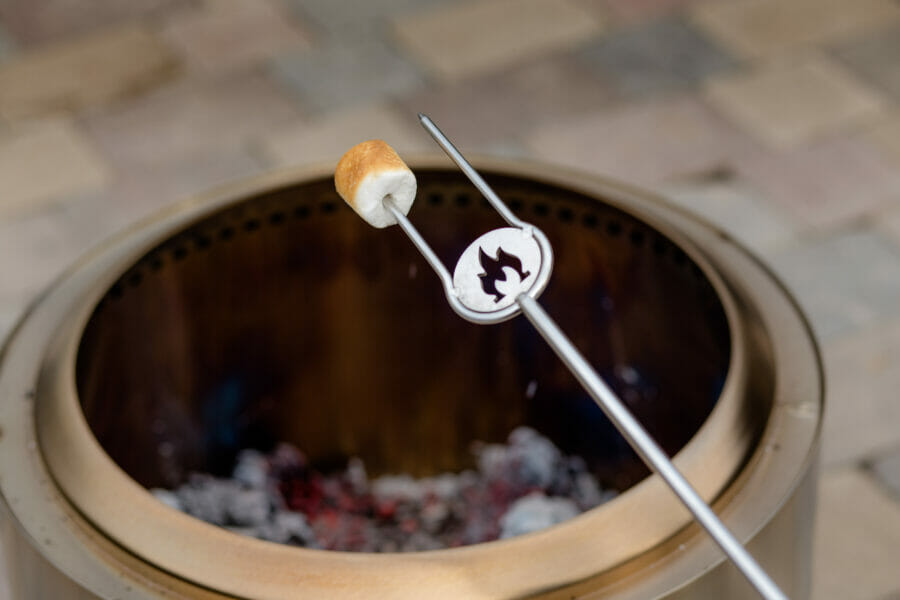 Yes, you can cook on a Solo Stove, but the key is understanding when is the appropriate time. If you put marshmallows or hot dogs over a raging fire, they'll be on fire in less than 5 seconds because the fire is so hot. We like to wait until the fire has died down a bit to cook at temperatures that won't instantly burn what we're cooking.
The first time you light up your Bonfire and experience the hot raging fire you'll likely think, "man, this would be great to sear a steak on." This pit gets hot. I mean really hot. 1000°F and then some. And I think Solo Stove heard us and agreed because they've released their cooking systems in the last year or so, which gives you the option of a grill, griddle, or wok to set atop a hub that sits on top of your smokeless fire pit.
We've just added the griddle and the grill tops to our ever-growing collection and have shared our thoughts on those items in our best accessories post.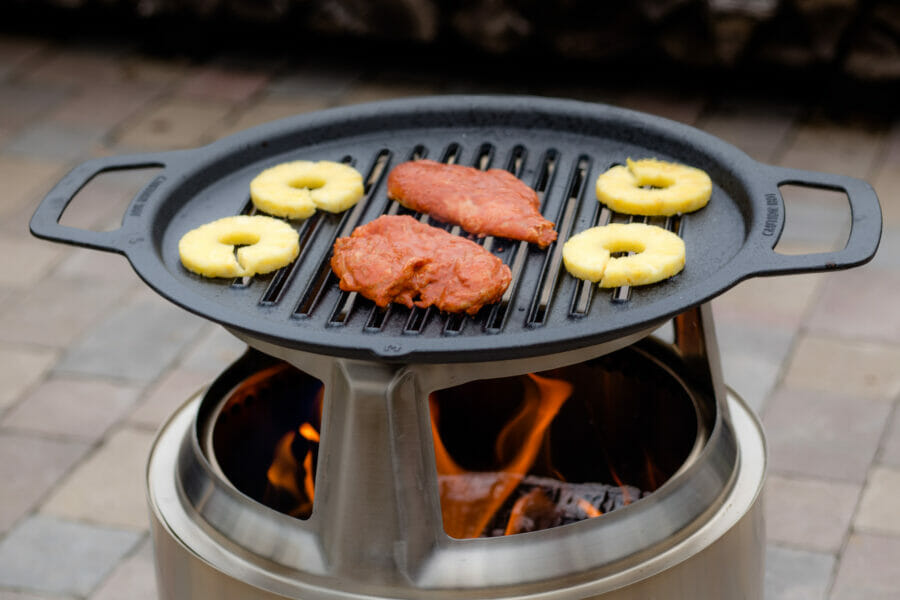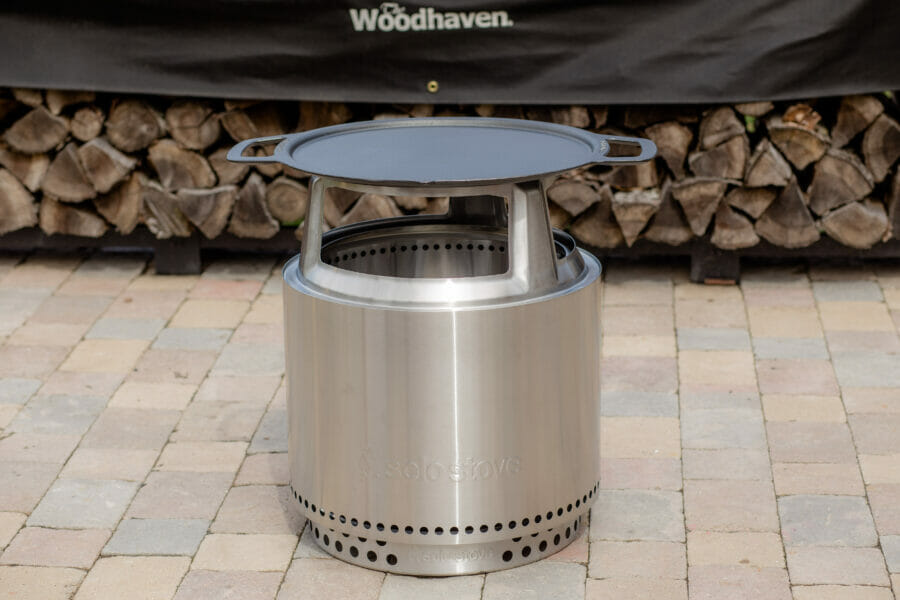 Save $10 off a Solo Stove purchase of $99 or more with the discount code: BARBECUELAB
Can you use a Solo Stove Bonfire on a wood deck?
Theoretically, you can use a Solo Stove on a Wood deck, as long as you put the included ring stand underneath. While the stand does protect the heat-sensitive surfaces directly below the fire pit, sparks and embers do on occasion pop out of the top and land wherever the wind blows. So do exercise caution and never leave your smokeless fire pit unattended near combustible materials.
While the ash pan does act as a bit of a heat shield, reducing the heat transfer from the burn chamber to the ground beneath, the best way to prevent your Bonfire from burning the surface it's sitting on is to elevate your fire pit. Your Solo Stove Bonfire may include a stand that does an excellent job with this task. If the stand was not included in your purchase, you can buy one separately.
Is the Bonfire Solo Stove too small?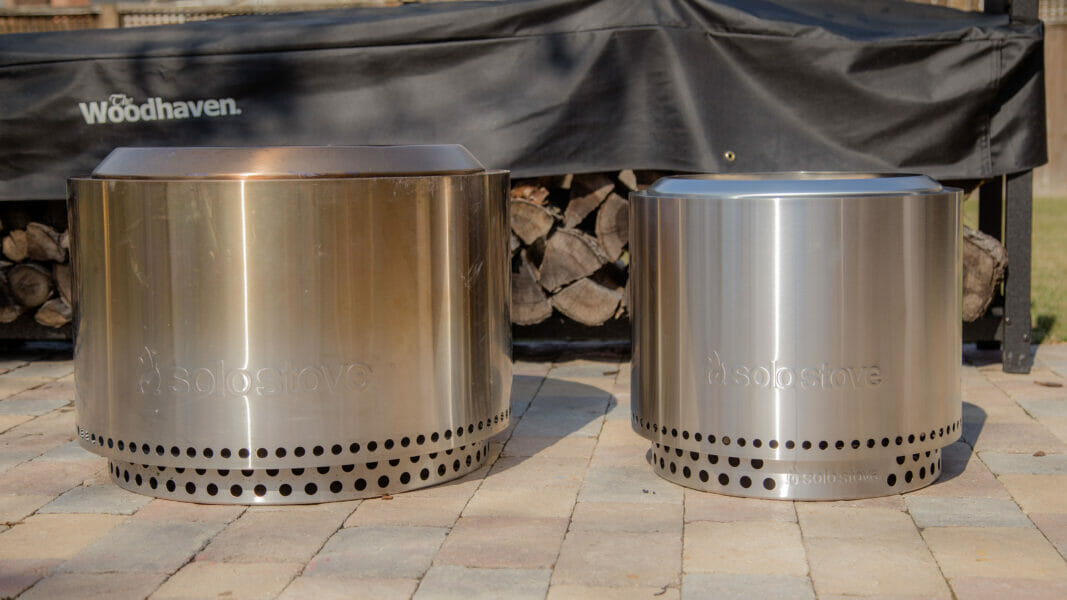 The Bonfire is really great for single families or families who like to entertain less than 10 people. For larger gatherings, the Yukon is a perfect fit.
Often times the hardest thing to decide when purchasing a Solo Stove is which size fire pit to get. Since the Solo Stove Ranger is intended more for camping, the more common debate is between the Solo Stove Bonfire and the Yukon. Will a larger fire pit like the Yukon be too big? Will the Bonfire be too small? It's a tough decision; it really is!
We started out with the Yukon because we entertain larger groups in our backyard often and felt like it was a better fit for our personal situation. But truth be told, there have been plenty of times when a smaller wood burning fire pit would have felt more appropriate for our use.
Do you want to have flexibility in where you enjoy your fire pit? Do you want a portable fire pit that you can take with you wherever you want to go? The Bonfire is the right size for you.
Do you have a limited supply of firewood and limited space to store dry wood? The Solo Stove Bonfire is probably the right size for you.
Do you have a large family or frequently entertain large groups in your backyard? The Bonfire may be too small for you. (Or maybe you consider adding a second Bonfire for those times you have company.)
Save $10 off a Solo Stove purchase of $99 or more with the discount code: BARBECUELAB
Our Solo Stove Bonfire Review
Save $10 off a Solo Stove purchase of $99 or more with the discount code: BARBECUELAB
What we love about the Bonfire fire pit
Portability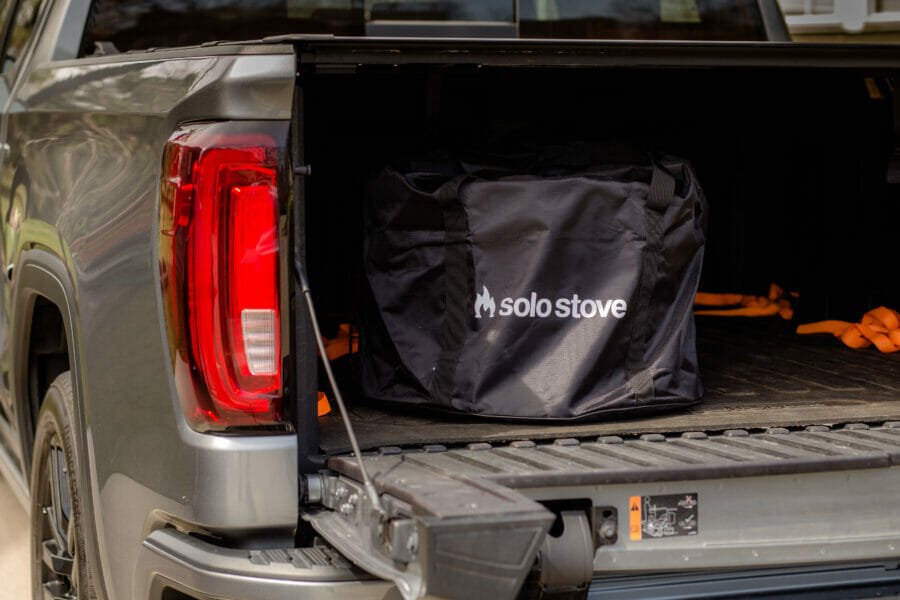 Having started out with the Yukon, we really appreciate the size and weight of this portable fire pit. It is much easier to move around than its big brother and the fact that it comes with a carrying bag makes it even more convenient.
Save $10 off a Solo Stove purchase of $99 or more with the discount code: BARBECUELAB
Almost no smoke
It's not a gimmick. These fire pits truly are smokeless… if you do it right. You have to follow the suggestions that Solo Stove gives:
We recommend dry hard woods that have been properly seasoned. If you don't follow this you will still have smoke, regardless of your wood burning fire pit.
Keep your wood fuel at or below the top of your fire pit opening to minimize smoke.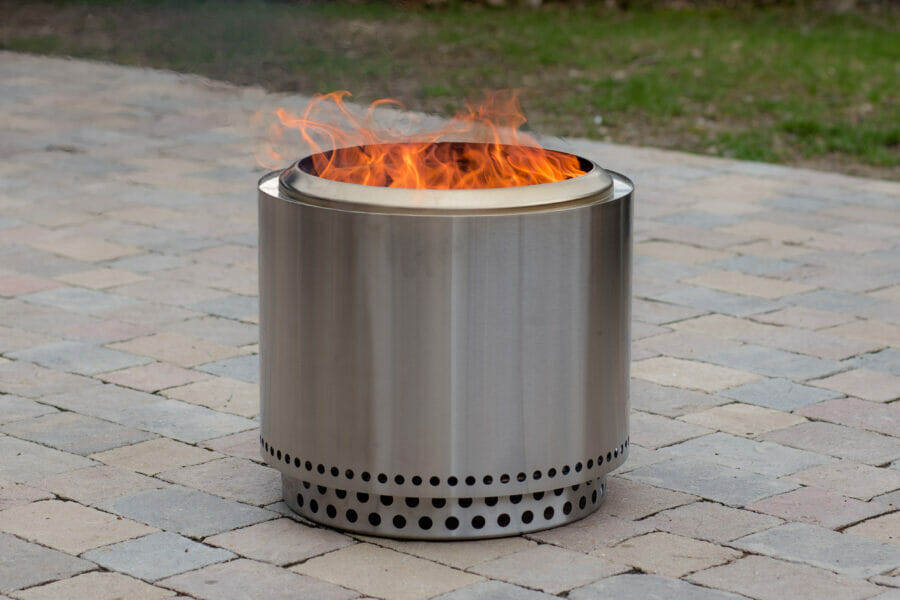 High-Quality fire pit
We've owned several different fire pits over the years of my adult life. Not one has even come close to the quality of our Solo Stove fire pits. Now to be fair, not one has even come close to the price of our Solo fire pits either. However, if you pay more money for a great fire pit that will outlast them all, isn't that money well spent?
Made entirely of 304 stainless steel, the Bonfire is a high-quality fire pit built to last a very long time.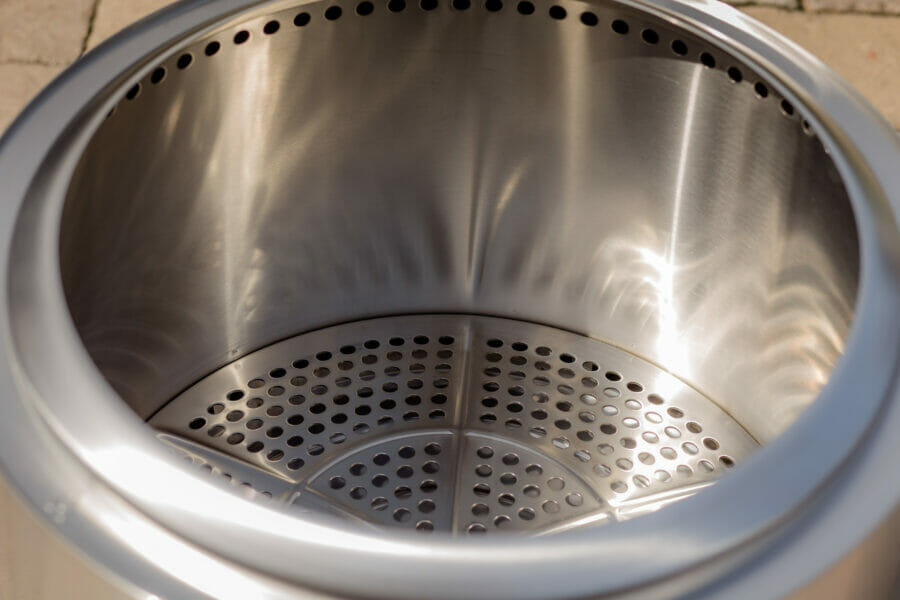 Save $10 off a Solo Stove purchase of $99 or more with the discount code: BARBECUELAB
Secondary burn
To quote my 12-year-old, watching the secondary burn in our bonfire is "so satisfying". And she's not wrong. There's something truly mesmerizing about watching the secondary combustion of preheated oxygen shooting out of the vent holes along the top of the burn chamber.
Fire is kind of intoxicating to stare at to begin with, but the secondary burn just takes it to a whole new level.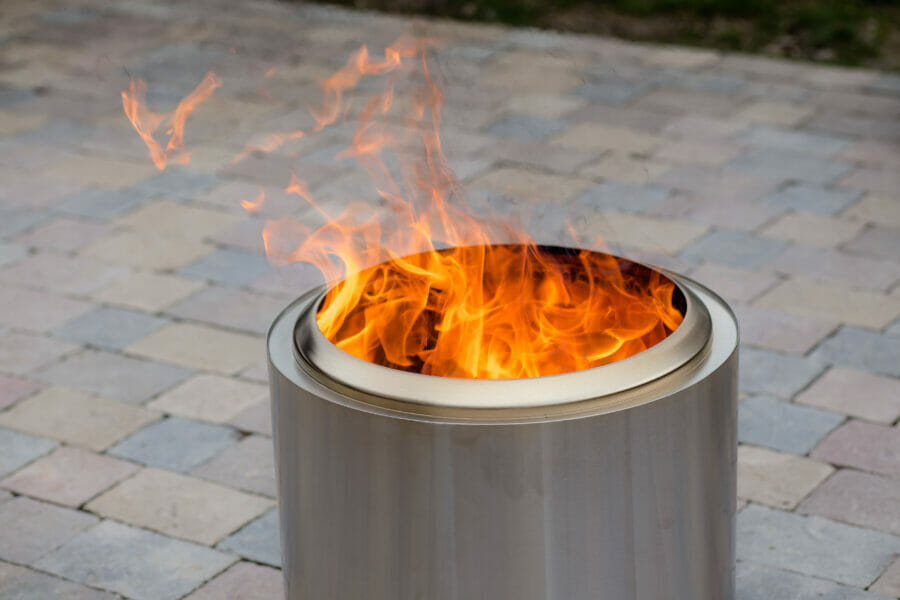 Lifetime Warranty
Solo Stove has created a fire pit built for a lifetime and they back it up with a warranty to match. A lifetime warranty is a pretty bold promise for a fire pit. None of the cheap bowl fire pits I bought at Home Depot ever offered such a bold promise.
Save $10 off a Solo Stove purchase of $99 or more with the discount code: BARBECUELAB
Easy to Light
Because of the 360° Signature Airflow Technology, we find these fire pits a lot easier to light than other wood burning fire pits we've owned in the past.
At the recommendation of Solo Stove, we begin with a "log cabin" of kindling in the bottom of the burn chamber. We stick a fire starter inside the cabin and then light it up. Our preferred tool for starting a fire is always the Grill Gun, but there are plenty of less-fun ways to start a fire as well. The fire starter will light pretty instantly and then we give about 5 minutes for that kindling to really light well and get hot before adding more logs. If the kindling is really ready, and your firewood logs are dry and seasoned, new logs will ignite right away and you'll have a roaring fire in no time.
Resist the temptation to build a full teepee of firewood right away and keep it simple and small at the beginning. That way the air has plenty of room to circulate around the fuel source and you'll have a fire that will burn longer and hotter with very little smoke.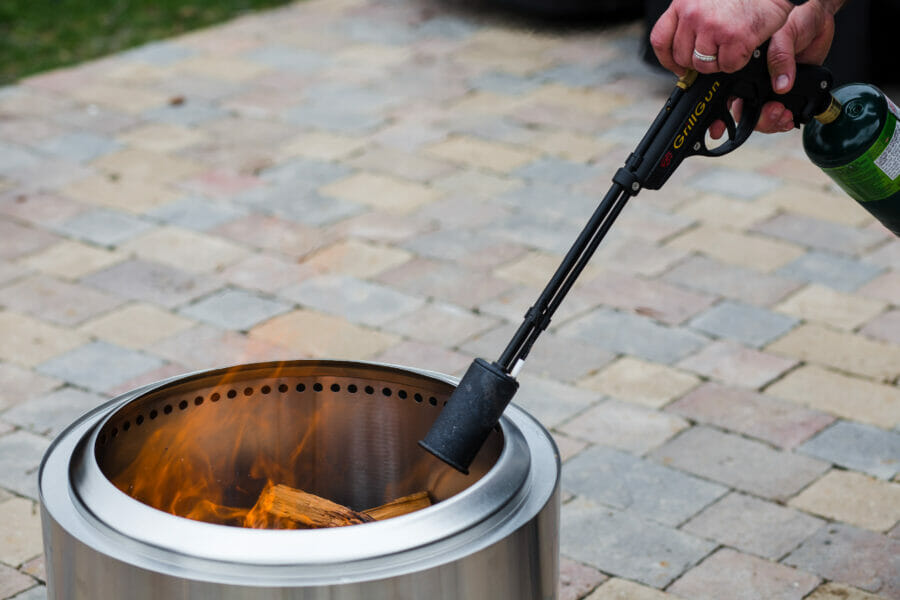 Easy to clean out
With the recently upgraded Solo Stove 2.0 models, these smokeless fire pits have never been easier to clean out. With the new removable ash pan, simply reach in and pull it out, dump it, and return it to the fire pit. No more picking up the whole fire pit to shake out the fine ash that used to get trapped inside.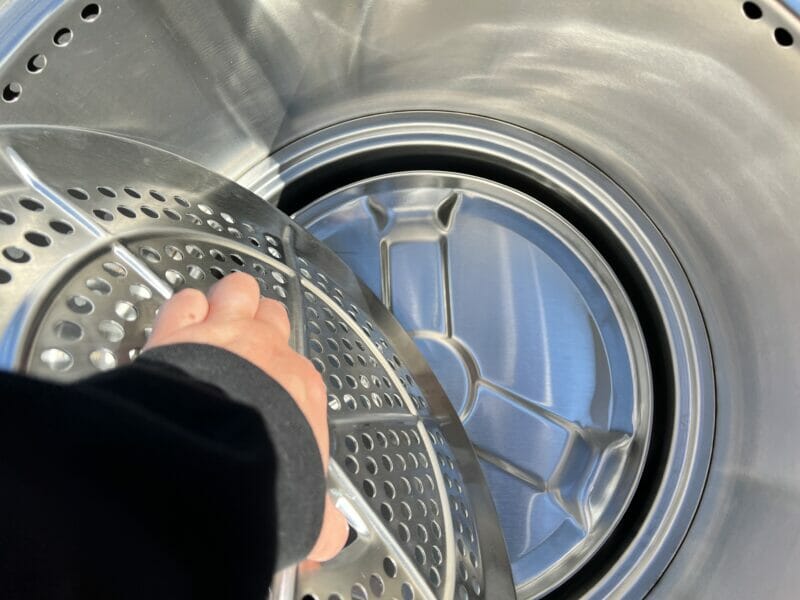 Save $10 off a Solo Stove purchase of $99 or more with the discount code: BARBECUELAB
What we don't love about the Bonfire
Requires shorter logs
If you typically buy your firewood in bundles at the gas station, this may not be a problem for you, but we usually buy our wood by the rick from any random person willing to deliver it by the truckload. And we've discovered that many of the logs on our wood rack were cut a bit on the long side for our Bonfire. We have the kindling cracker for cutting our logs into smaller splits, but that doesn't help when they're too long.
Too small for larger groups
In my opinion, the Bonfire is best for 4-5 people at most. Any more than that and the circumference of people surrounding the fire pit will require everyone to be further away from the fire than they'd probably prefer. So we will continue using our Yukon for those nights when we have a big group and may only pull out the Bonfire when it's just our family of 4.
Not enough ambient heat
A common complaint among Solo Stove users is the lack of ambient heat transfer coming from their low smoke fire pits. The airflow and flame ring promote almost a vortex of fire and heat that travel straight up, but not out, from the fire. Standing up near the fire, you'll definitely enjoy more heat. But as soon as you sit down you'll notice a drop in temperature.
They've recently released a heat deflector to help redirect that heat out horizontally rather than vertically. We haven't tested that product out yet, but will be sure to share our thoughts once we do.
Save $10 off a Solo Stove purchase of $99 or more with the discount code: BARBECUELAB
How does the Solo Stove Bonfire compare to the other smokeless fire pits?
Solo Stove Bonfire
Materials: 304 stainless steel
Weight: 20 lbs
Diameter: 19.5 in.
Height: 14 in.
Included: fire pit, portable carrying case
Manufactured: China
Regular Price: $399
Stand-out Features: compatible with cooking systems and heat deflector, sold separately
Pro: lightweight and portable, easy to clean with a removable ash pan, lifetime warranty
Con: (see above)
Save $10 off a Solo Stove purchase of $99 or more with the discount code: BARBECUELAB
Tiki Fire Pit
Materials: powder-coated steel, 16 gauge stainless steel
Weight: 43.00 lbs
Diameter: 24.75 in.
Height: 18.75 in.
Included: fire pit, wood pack, cover
Manufactured: China
Regular Price: $395
Standout Features: available wood pellet packs for easy fires
Pro: removable tray for easy ash cleanup
Con: reviews report that low smoke is only achieved when burning wood pellet packs and not when burning actual wood logs.
Brand New Breeo Y Series (available September 2)
Materials: stainless steel
Weight: 31 lbs
Diameter: 21 in. (outer), 17.5″ (inside)
Height: adjustable 11″/15″/20″
Included: fire pit with adjustable legs
Manufactured: Pennsylvania, USA
Regular Price: $495
Stand-out Features: built in handle for easy portability, 3 fuel types, adjustable legs for stow, burn, and cook, compatible with the Outpost grilling system, sold separately
Pro: limited lifetime warranty
Con: more difficult to clean out ash
See our full review comparing the Breeo Y with the Bonfire 2.0.
Is the Solo Stove Bonfire worth it?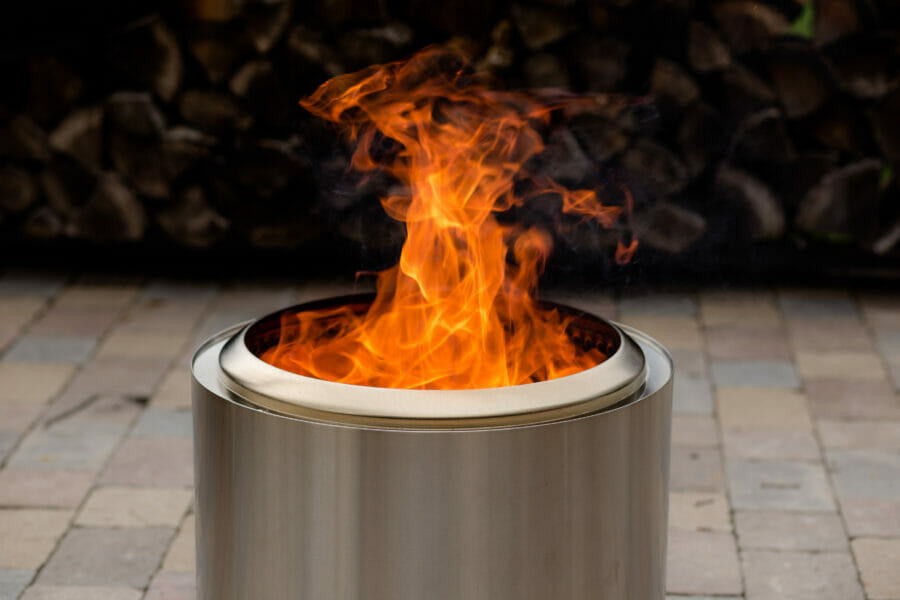 Every consumer has different preferences and priorities. But in our experience, the Bonfire is definitely worth the investment. And to be really honest, every Solo Stove product we've purchased to date (and there have been a lot) has also been worth the investment. Their products aren't cheap, but their products aren't cheap either. They're built to last a lifetime. And when you think about it that way, you might actually save money in the long run.
Save $10 off a Solo Stove purchase of $99 or more with the discount code: BARBECUELAB