Whether you already own a Solo Stove fire pit or you're considering purchasing one soon, chances are you've been slightly tempted to buy one or more of the fire pit accessories they also offer. However, if you're like me, that temptation is quickly followed by feeling offended by the price.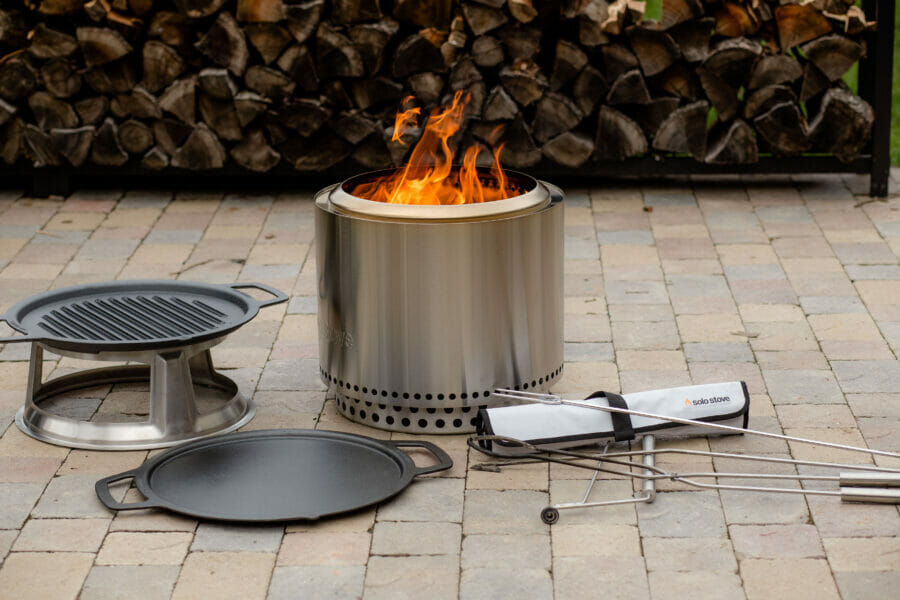 Note: Some of the links in this article may be affiliate links. This doesn't cost you any more than normal but these paid commissions help support our channel. Read our disclaimer for more info.
I'm a frugal shopper and don't like to spend money on products that I can find less expensive elsewhere. However, I had a moment of weakness during a Solo Stove accessories sale and splurged on the marshmallow roasting sticks and fire pit tools to go along with our Yukon.
It didn't take us long to come to the realization that these were literally the best fire pit accessories we'd ever laid hands on. Maybe we'd only been using the cheapest junk on the market up to that point, but we were thoroughly impressed with the quality of each new fire pit accessory we added to our collection.
Considering the build quality, we were able to justify spending more, knowing that these products would long outlast their less expensive counterparts. In fact, we often joke about how our kids will fight over who inherits the Solo Stove roasting sticks after we die. Because they're that high in quality, they will outlive their owners.
Best Fire Pit Accessories From Solo Stove
Of all the Solo Stove accessories we own, there are some that we feel are more necessities, while others we would consider to be more "luxury" or optional items. For that reason, I'm listing them in order of importance (by my standards/wants/needs).
Your Solo Stove fire pit is going to last a very long time. Feel free to take your time and slowly build up your collection of accessories over the years to come. These backyard fire pit accessories also make great gifts, so drop your hints early for Mother's Day, Father's Day, your birthday, and Christmas.
1. Solo Stove Stand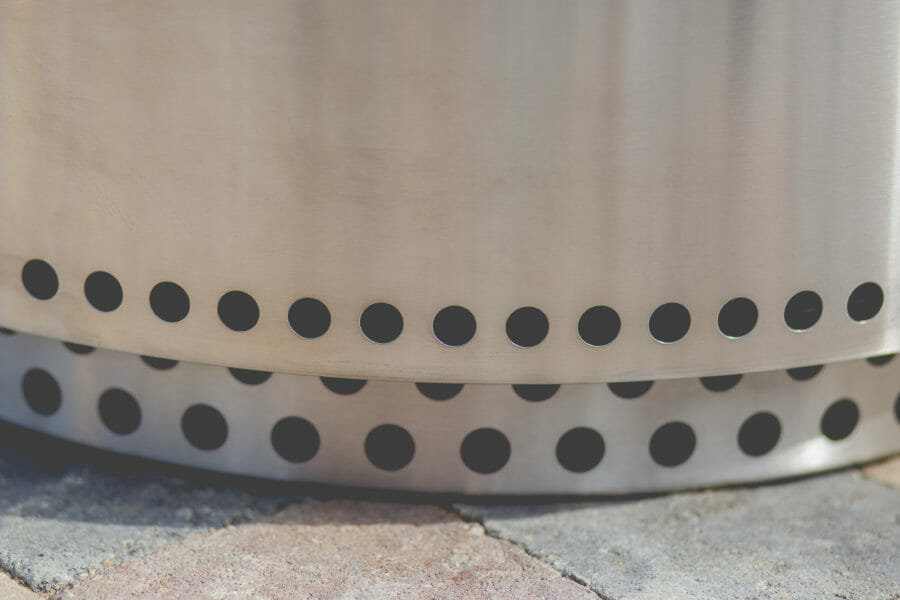 Solo Stove fire pits get very hot. Without a stand, your outdoor fire pit will certainly scorch the ground below it. If you plan to light your Solo Stove on the grass, patio, or deck, the stand will elevate your smokeless fire pit just enough to allow airflow, protecting any surface below.
There are certainly other, less expensive options out there for raising your Solo Stove up, but bricks and the like wouldn't look nearly as nice under your shiny stainless steel fire pit.
If there is only 1 fire pit accessory that you're going to add to your Solo Stove, it should be the stand. However, if you're planning on only burning it over a rocky or sandy surface, feel free to skip this item.
Save $10 off a Solo Stove purchase of $99 or more with the discount code: BARBECUELAB
2. Shelter or Lid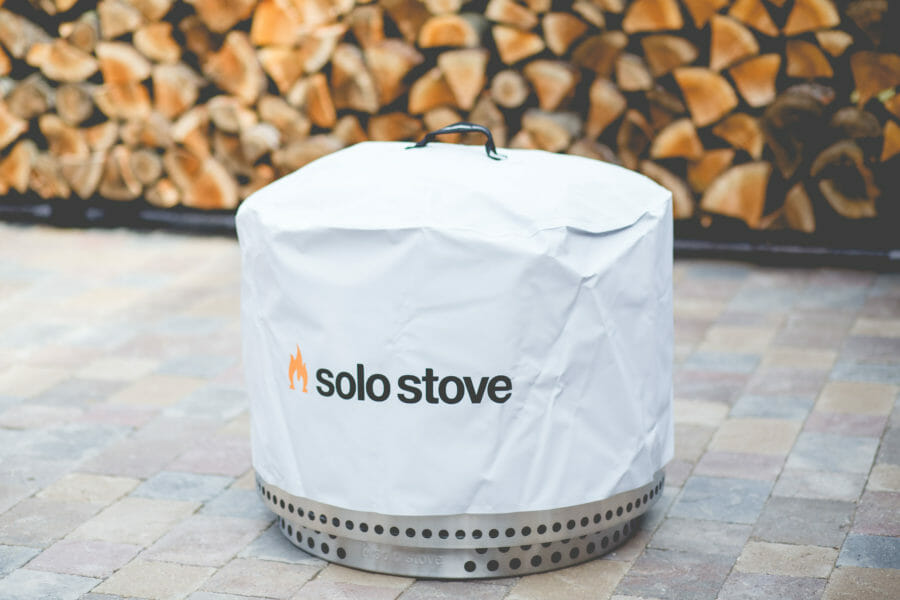 Once you've invested money in a Solo Stove fire pit, you'll want to protect your investment. They do come with a lifetime warranty, but there are also things you can do to help take care of it and keep it in good shape.
The inside of the fire pit is the main thing that should probably be protected from getting wet. Solo Stove offers two different accessories to help with that task: The fire pit lid and the shelter (or fire pit cover).
When we purchased our Yukon a year and a half ago, the white shelter was part of the backyard bundle. We keep the Yukon covered all the time unless it's being used or still cooling down. The shelter does an excellent job of keeping the inside of the burn chamber dry, which is protecting it from rust.
The other fire pit accessory that Solo Stove offers that would do this same job is the lid. If memory serves correctly, the lid didn't come out until after we'd purchased our bundle, but if I had it to do all over again, I might have chosen it instead of the shelter.
Not only does the fire pit lid protect the inside of the fire pit, but it also allows your Solo Stove to act as a table to hold drinks or other small items when not hosting a fire. Also, the stainless steel lid is a little more attractive in my opinion than the white shelter which shows dirt and grime pretty quickly.
Solo Stove has redesigned the shelters in the last year and are now offering them in black or ash gray, which I'm sure probably does a much better job of disguising the dirt than the previous white fire pit cover.
Regardless of which way you decide to go, I highly recommend you pick up either a lid or a shelter to protect your Solo Stove from the elements. (Unless you decide to go big and get a Station… but more on that in a bit.)
Save $10 off a Solo Stove purchase of $99 or more with the discount code: BARBECUELAB
3. Fire Pit Tools
With cheap or homemade stone fire pits simply throwing a new log on the fire might be perfectly fine, but we prefer a more gentle approach with our Solo Stove fire pits. I don't want to do anything that might put a dent into the nice stainless steel.
The fire pit tools are perfect accessories when you need to add more wood to your outdoor fire pit or stoke the fire. Like the fire pits, they're also made out of 304 stainless steel and are heavy-duty and of very good quality. It should be noted that both tools are bent and they're supposed to be that way. The slight angle allows you to stay a little more protected from the extreme heat while tending to the fire.
Save $10 off a Solo Stove purchase of $99 or more with the discount code: BARBECUELAB
4. Roasting Sticks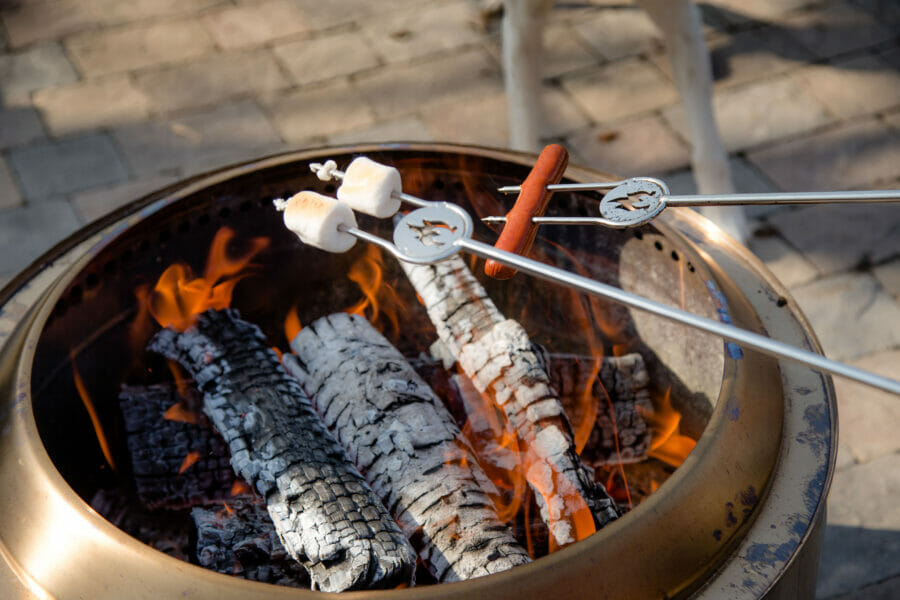 I cannot say enough good things about these roasting sticks. Honestly, they may not be the most "critical" in this list of best fire pit accessories, but they are my favorite.
The roasting sticks come in a very nice carrying case, and each stick comes in two pieces which are then screwed together after removing from the case. Like the fire pit tools, these are made of 304 stainless steel and are so well built.
Obviously, the roasting sticks are perfect for cooking hot dogs or roasting marshmallows over the open fire. Whether using a Yukon, Bonfire, or Ranger, ditch the old sticks and twigs and use the Solo Stove roasting sticks to instantly elevate your backyard party.
Here's a helpful tip for you to remember: the stainless steel roasting sticks are super easy to clean using soap and water as long as they do not return to the fire to "burn off" the remaining marshmallow residue. I know when most people cook marshmallows, they tend to put the sticks right back into the fire as soon as they remove the marshmallow because they assume that helps clean them. And maybe that's true with other types of roasting sticks. But believe me, it definitely does more harm than good and they will definitely be harder to get sparkly clean if they do.
Save $10 off a Solo Stove purchase of $99 or more with the discount code: BARBECUELAB
5. Shield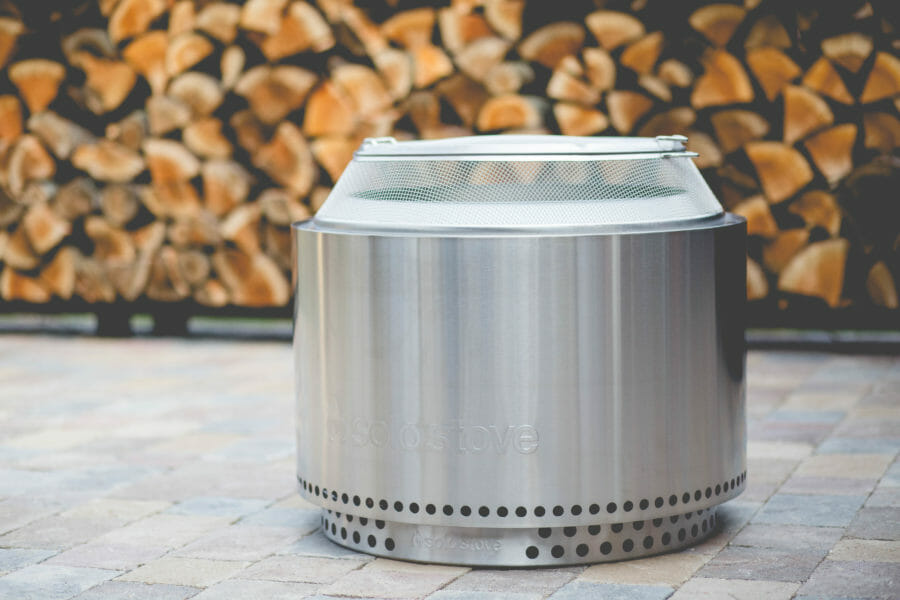 The spark shield was included in our Yukon backyard bundle that we started our Solo Stove obsession with. It's one of those fire pit accessories that I really debated over for a while when making that purchase. Is it really necessary?
Ultimately I decided to go for it to save our patio furniture cushions.
Sparks and embers will inevitably pop and fly out of your wood-burning fire pit no matter what brand you're burning a fire in. It's just part of the wood-burning fire pit experience. We have found the spark screen to be very effective at keeping most of the flyaways contained to the fire pit.
Admittedly, this is a problem that you don't have to worry about when using gas fire pits, but then you miss out on the best backyard fire pit experience.
Also, the shield comes with tools to assist you in transferring the different parts of the spark screen on and off of the hot fire pit and they are great as well!
So my advice is that if you are burning your Solo Stove near any combustible material (wood deck, outdoor rug, furniture cushions), the spark screen would be pretty important for you to have.
Save $10 off a Solo Stove purchase of $99 or more with the discount code: BARBECUELAB
6. Handle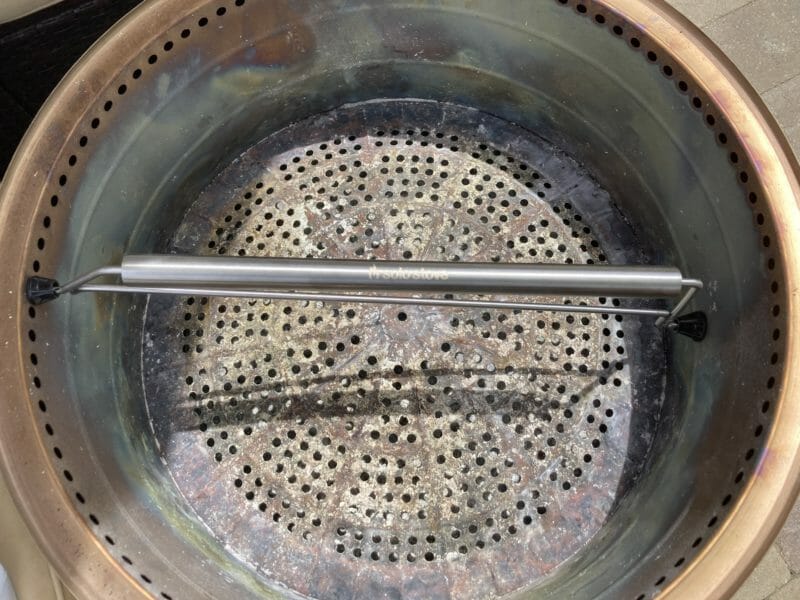 If you are the proud owner of a Yukon, I highly recommend you also be the proud owner of this handle. Without it, the Yukon is just big and awkward to move and maneuver by yourself. The handle allows one person to carry the Yukon independently which is a significant game-changer, as far as I'm concerned. It's the least expensive of all the fire pit accessories, so if you're buying or have a Yukon, don't even think about it; just get one.
Now if you've got a Bonfire or a Ranger, that's another story. We recently added a Bonfire to our collection and have not picked up a handle for that fire pit. And honestly, we probably won't. And I'm certain that we wouldn't if we had the even smaller Ranger. Those fire pits are smaller, lighter, and a lot easier to pick up and carry than the Yukon.
However, we don't make a habit of moving hot fire pits. I think some people might use the handle to relocate their Solo Stove to a different location at the end of the burn, perhaps to protect it from rain or burglary. The fire has died down and it's just smoldering coals, but the fire pit is still too hot to touch. That's when the handle might come in handy. However, we've just never felt that need ourselves.
Save $10 off a Solo Stove purchase of $99 or more with the discount code: BARBECUELAB
7. Station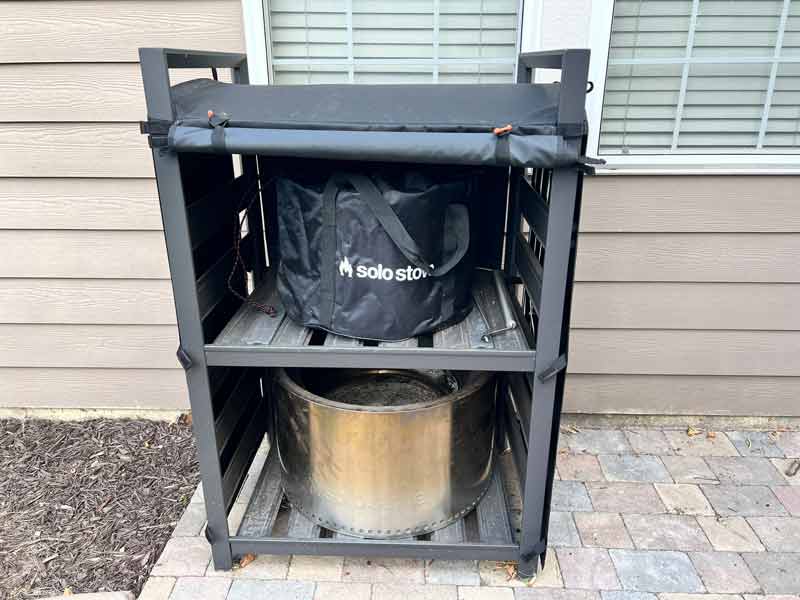 The more you add to your Solo Stove collection, the more you'll find yourself wanting the Station.
It's a two-shelf storage unit that is able to accommodate any size Solo Stove (Ranger, Bonfire, or even the Yukon). It can also be used to store firewood and keep it dry and ready for your next fire. There is a cover that drops down on each side to keep things protected from the weather. And my favorite is the universal tool rack for storing our fire pit accessories and tools.
Since we already have a sizable wood rack fully loaded and a constantly growing Solo Stove collection, we're using our Station strictly for Solo Stove product storage and it's working beautifully.
Save $10 off a Solo Stove purchase of $99 or more with the discount code: BARBECUELAB
8. Cooking System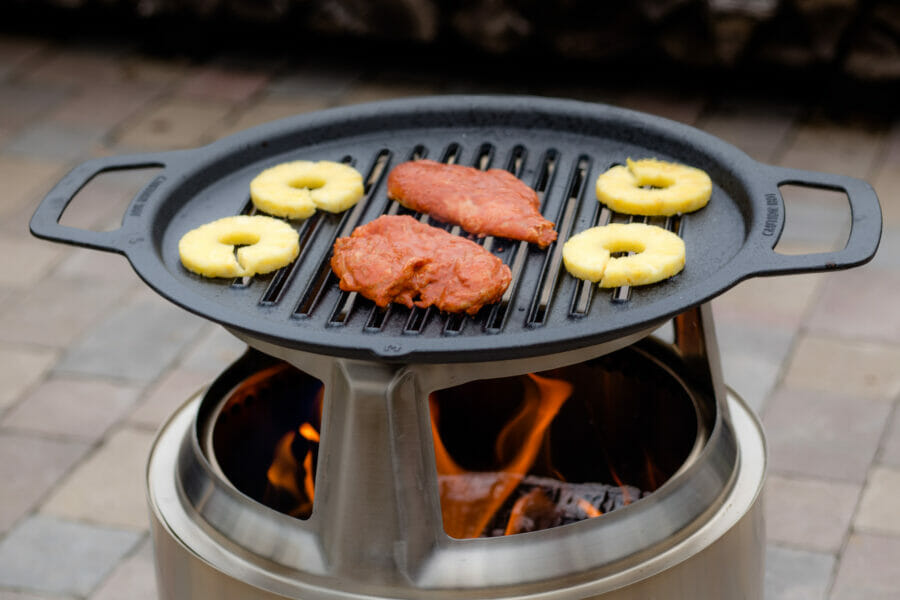 If you like cooking more than just hot dogs and marshmallows over an open wood fire, the cooking system might be a good addition for you. We recently picked up the grill and griddle to go with our Bonfire. There is also a wok, but we do not have that one… yet. Basically, there is a hub, which is the stainless steel frame that goes on top of the Solo Stove and then the cast iron grill, griddle, or wok are interchangeable above that.
Just keeping it real though, make a plan for storing these fire pit accessories before making this purchase. These are the kinds of things that you think "that would be fun to have!" so you order them and get them home and THEN it occurs to you that you have no idea where you're actually going to store them when not in use. Just sharing the tip to think through that before clicking the "buy" button.
Save $10 off a Solo Stove purchase of $99 or more with the discount code: BARBECUELAB
9. Heat Deflector
The heat deflector is one of the only fire pit accessories we do not yet own. One of the only complaints that come from Solo Stove users is the lack of ambient heat dispersed outward toward users sitting around the fire. They have recently released a heat deflector that sits atop the smokeless fire pit (much like the cooking systems) to stop the heat from shooting straight up, and force it to redirect out horizontally.
Since we don't own it and haven't yet experienced it in action we can't speak to its success yet. If you're reading this and you've tried the heat deflector, drop a comment down below and let us know how it works!
Save $10 off a Solo Stove purchase of $99 or more with the discount code: BARBECUELAB
The Best fire pit accessories (non-Solo-Stove)
GrillGun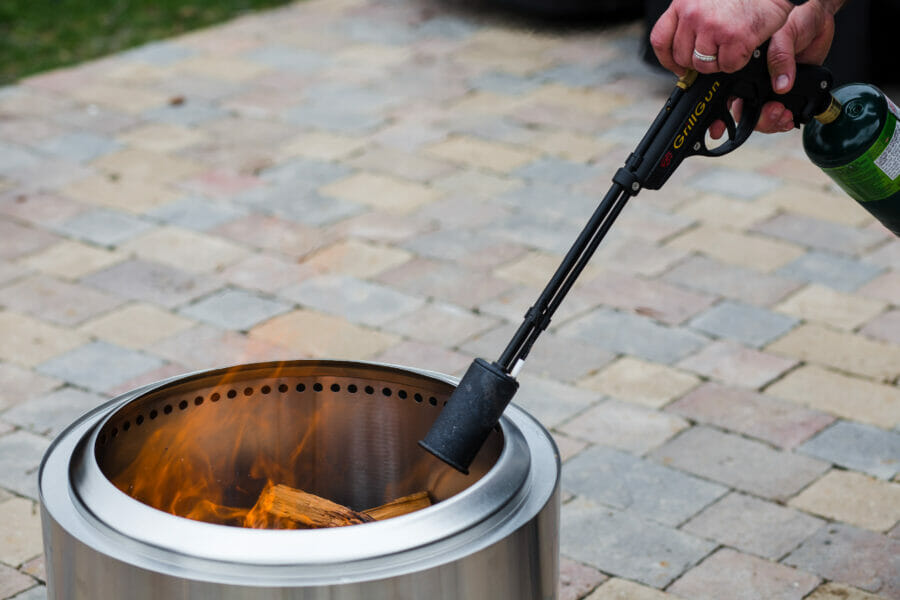 You guys, the GrillGun is SO MUCH FUN to use! But aside from being fun, it is literally the fastest way for us to light our fire pit. Fueled by a canister of propane, this firestarter can really pack a powerful punch of flames. All the guests at your party will be fighting over who gets to light the Solo Stove once you bring out the GrillGun. You think I'm kidding, but I'm not. (Use the coupon code: bbqlab to save 10% on your purchase!)
Looftlighter X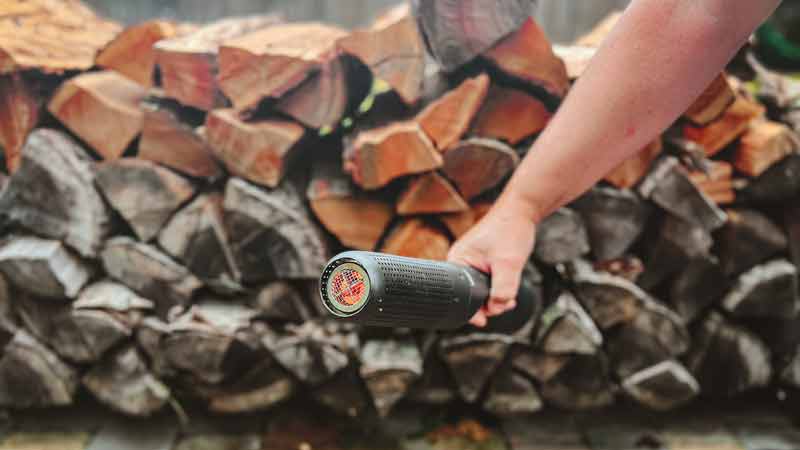 A little more compact, but still highly effective, the battery-powered Looftlighter X is a great way to start a fire in your portable fire pit like the Ranger or even the Bonfire.
Bar Keepers Friend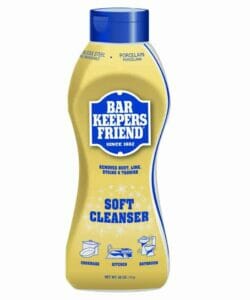 Did the kids drop a gooey marshmallow on the side of your Bonfire? Did your drunk brother-in-law melt his shoe to the side of your Yukon? Bar Keepers Friend and a microfiber cloth are the perfect Solo Stove accessories for scrubbing your fire pit back into shape and getting it clean again. I mean, it's a fire pit, so it's not supposed to stay pristine and shiny all the time, but sometimes accidents happen that require a little extra attention and this combination is pretty tried and true in the Solo Stove community.
Woodhaven Wood Rack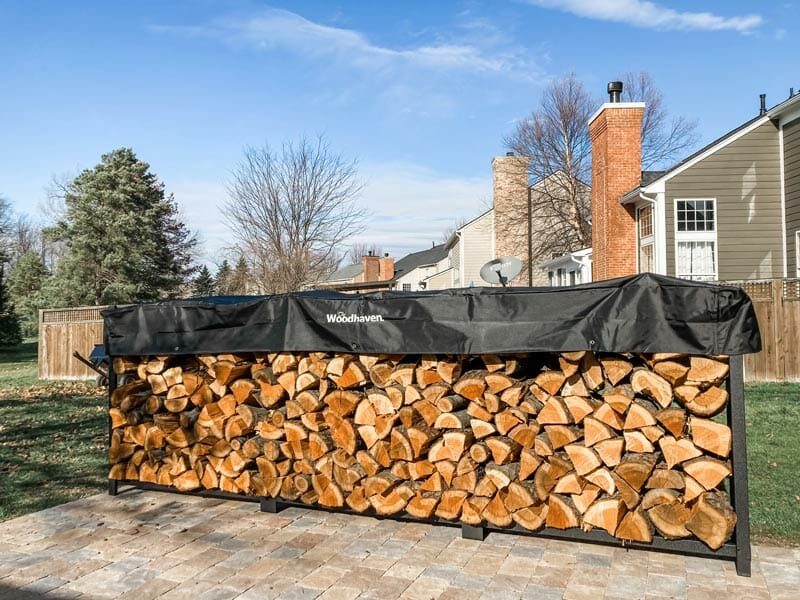 We put the 12 foot Woodhaven fire wood rack on our patio practically as soon as we'd completed our DIY outdoor kitchen project. It has been fantastic for allowing the lower layers of logs to season while keeping the top 12 inches of wood dry and ready for the next fire. If 12 feet is too much or not enough wood storage for you, these come in many lengths and sizes.
Reeces Cups and Oreos
And finally, the most important fire pit accessories: Reeces cups and chocolate fudge Oreos. Yes, the classic graham cracker, Hershey's bar and marshmallow is a tried and true win, but if you want to create perfect s'mores over an open fire, add these two ingredients to the buffet.
David's favorite recipe calls for exchanging the Hershey's bar for a Reeces cup.
Melissa's favorite recipe is the s'moreo. Crack open a chocolate fudge Oreo and put a toasted marshmallow inside.
Give them both a try and let us know which you prefer. Are you team Classic, team David, or team Melissa?