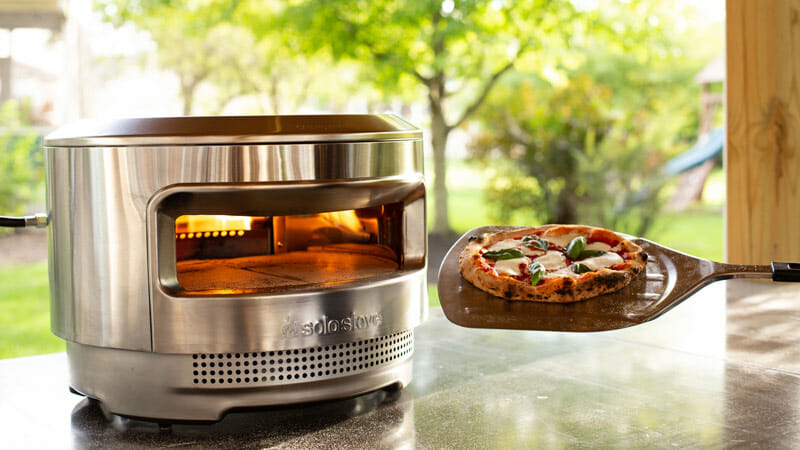 If you've been following our content for a while, you've likely seen us review our fair share of pizza ovens over the last couple of years. What can I say? We love pizza. Particularly when they can be made in our own backyard.
So when Solo Stove asked us to review their new pizza oven, we were more than happy to oblige. We've been big fans of Solo Stove smokeless fire pits, reviewing their Yukon, Bonfire, Grill, and countless amazing Solo Stove fire pit accessories. We honestly haven't found a Solo Stove product yet that we've been disappointed with, but would that trend continue into the pizza oven niche?
Could Solo Stove's oven hold up against the likes of portable pizza oven brands like Ooni and Gozney?

Note: Some of the links in this article may be affiliate links. This doesn't cost you any more than normal but it helps support our channel. Read our disclaimer for more info.
Why can you trust our review?
At the Barbecue Lab, we attempt to be as impartial as possible, collecting as much information as possible and allowing the data to speak for itself. Solo Stove provided us with the use of their product for a limited amount of time, but the content of this article and video are entirely our own; we have not been asked to say anything specific regarding the product. We have personally used this pizza oven multiple times, done our best to capture our experiences, and will let our readers and viewers decide for themselves if this particular oven fits their budget and their lifestyle.
Our Solo Stove Pi Pizza Oven Review
Solo Stove vs. Ooni
I'll start by disclaiming that it's hard for me to put "vs." between those two brand names because we've been big fans of both brands for quite some time! We've previously reviewed the Ooni Koda 16 and the Ooni Karu 16, but because of the significant size difference, we will be comparing the Solo Stove Pi to the Ooni Karu 12 as they have the most similarities.
Solo Stove Pizza Oven vs. Ooni Karu 12
Quick Comparison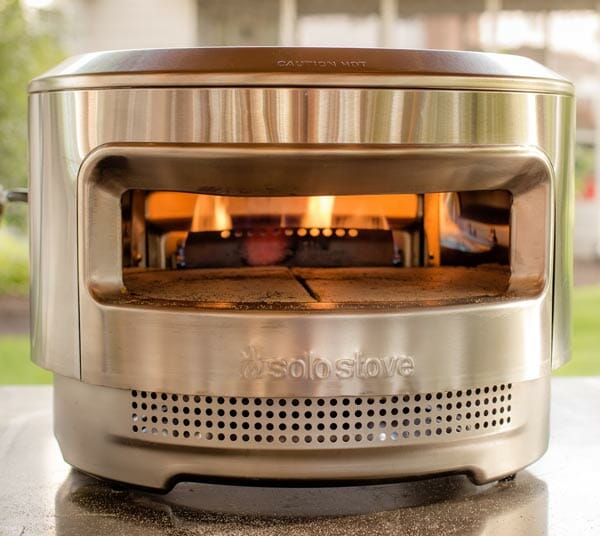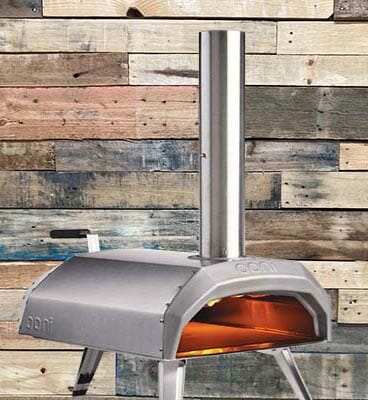 | | | |
| --- | --- | --- |
| | Solo Stove Pi | Ooni Karu 12 |
| Dimensions | 15.125″H x 20.5″D x 20.5″W | 30″H x 31″D x 15″W |
| Weight | 30.5 lbs | 26.5 lbs |
| Body Material | 304 stainless steel | Brushed 430 stainless steel |
| Pizza Stone | 13mm cordierite stone | 15mm cordierite stone |
| Opening | 12.75″W x 3.75″H | 13″W x 3.89″H |
| Fuel | wood; gas burner optional | wood, charcoal; gas burner optional |
| Warranty | Lifetime | 3 year on registered purchases |
| Retail Price | $624.99 | $399 |
Wood Burning Assembly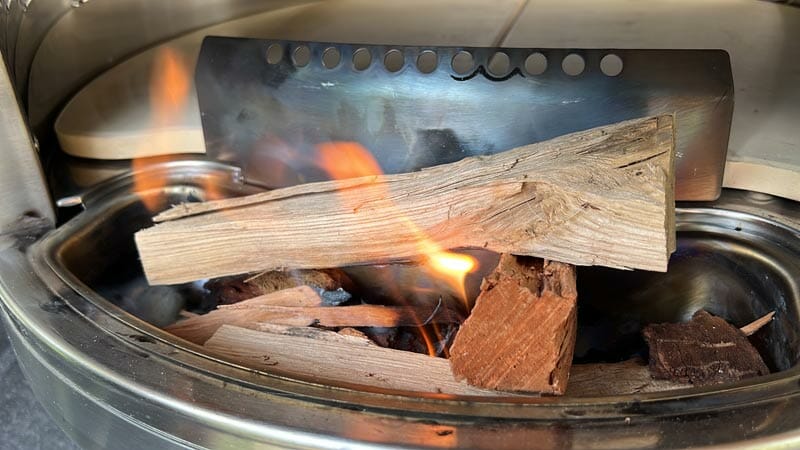 Both the Solo Stove Pi and the Ooni Karu 12 come out of the box as wood-fired pizza ovens.
The Solo Stove Pi comes with a wood-burning assembly that can burn small kiln-dried cuts of wood. There is a removable ash pan measuring roughly 10.5 inches wide by 3.5 inches deep in which you build your fire. The fire is accessed through a rear door that is removed and replaced with an included tool. The Pi also comes with a small tool for stoking the fire.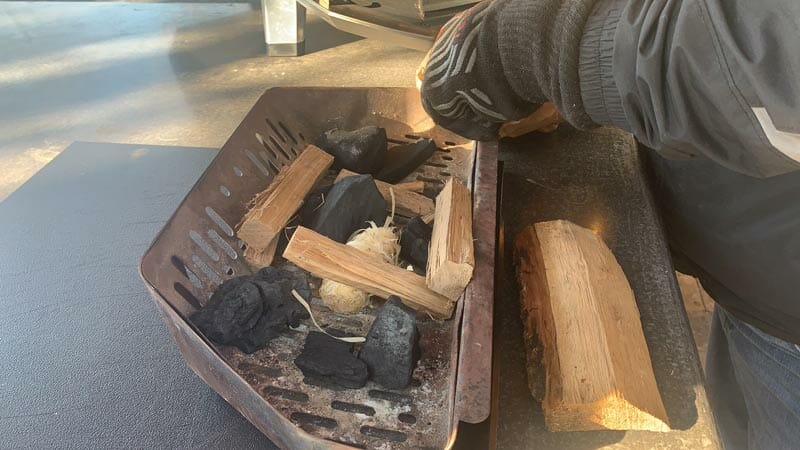 The Ooni Karu 12 has a very similar setup including a removable ash pan. Unlike the Pi, the ash pan on the Karu goes in and out through the front door of the pizza oven. Once the fire is going and has been placed in and pushed to the back of the wood oven, additional fuel can then be added through a hatch door on the back of the unit.
When cooking wood-fired pizzas, managing your fire is critical and observing your wood-burning stone temperature frequently helps to inform your fire management. In pizza ovens of this size, the wood you're using will be quite small and will need to be replaced often to maintain the proper temperature.
Gas Burner Option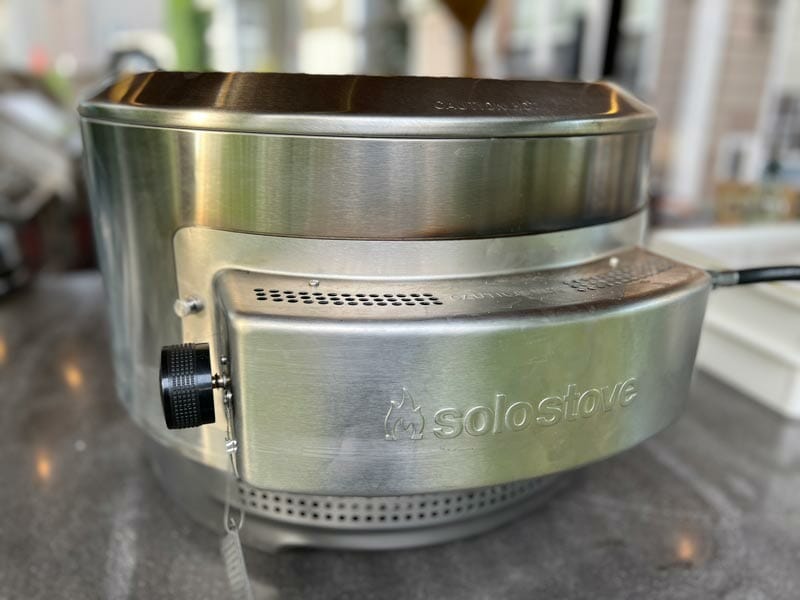 For an additional expense, both the Solo Stove Pi and the Ooni Karu can become a dual fuel oven with the addition of a gas burner. The gas burner hooks up to a propane tank. The propane-fueled flames are easily adjusted higher or lower with the turn of a knob. The Solo Stove gas burner retails for $269.99 (but is frequently on sale; currently $174.99 as I type this) and the Ooni gas burner retails for $99.99.
What's the difference between cooking with wood and cooking with gas?
Believe it or not, your pizza won't taste differently if it's cooked with wood rather than gas. In fact, more often than not, when we've given our guests a blind taste test, they typically guess the pizza cooked with gas as the one having the wood-fired flavor.
The true difference doesn't come in the flavor, it comes in the ease of cooking. It is much easier to operate a pizza oven fueled by propane rather than wood, just like it's much easier to operate a grill fueled by gas rather than charcoal.
Another difference we found is that we were able to get the Solo Stove Pi quite a bit hotter when using the gas burner than we were with wood.
Other Pizza-Making Tools are Essential
I'm a penny pincher and I know that when I'm about to make a big purchase like this, I tend to go with the very base package without all the extras included in whatever "bundles" are offered. But inevitably, I get my order delivered and then realize I really do need several of the items that had been offered in the bundles to even be able to get started. This is a classic case of that.
Solo Stove has put together 2 different bundles to make sure you don't forget any of the other pizza oven accessories you need to get started. The starter bundle includes the Pi pizza oven, infrared thermometer, pizza peel, and pizza cutter. The essentials bundle includes everything from the starter bundle as well as the shelter and turning peel.
Pizza Peel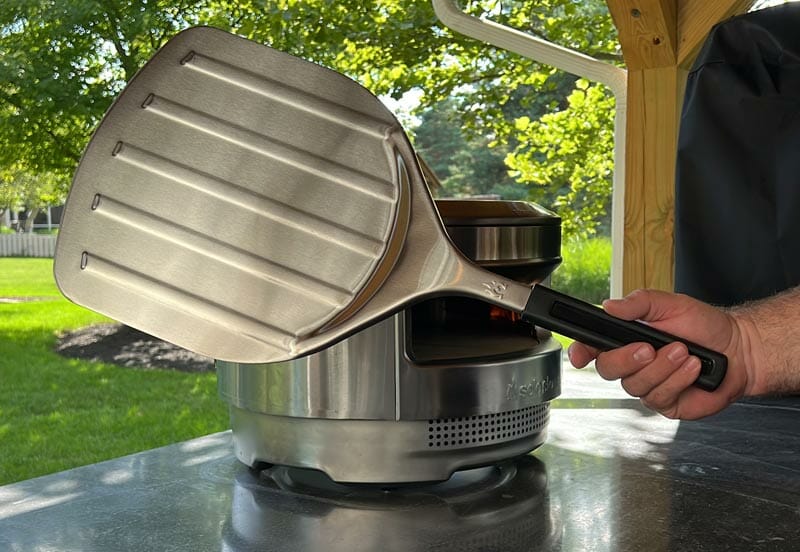 You could just order the Solo Stove Pi alone. But if that's all you have, you're not making pizzas in it. You absolutely under no uncertain terms MUST have a pizza peel. This is a non-negotiable item. It doesn't have to be Solo Stove brand, but you must have a peel that will fit the opening of the pizza oven in which you're cooking. Check the current price of the stainless steel peel.
Thermometer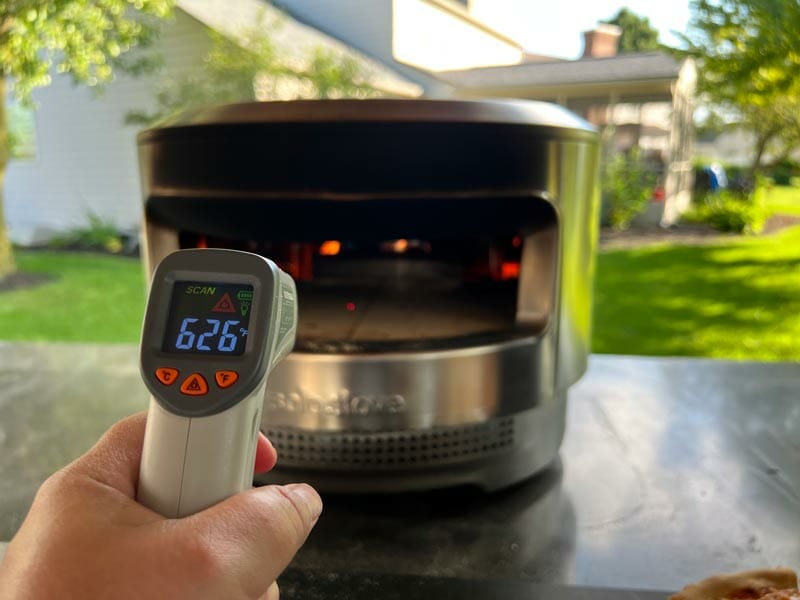 While you technically could start cooking pizzas if you only had a peel and an oven, an infrared thermometer is pretty important to see that you do it well. This is what tells you the surface temperature of the cordierite pizza stone on which you'll be launching pizzas. If the pizza stone is too cool, your crust will be undercooked while your toppings burn. If the stone is too hot, your bottom crust may burn while the upper half of the pizza cooks. We try to shoot for a pizza stone temperature between 700-800°F before we launch our first pizza. Check the current price of the Solo Stove IR thermometer.
Turning Peel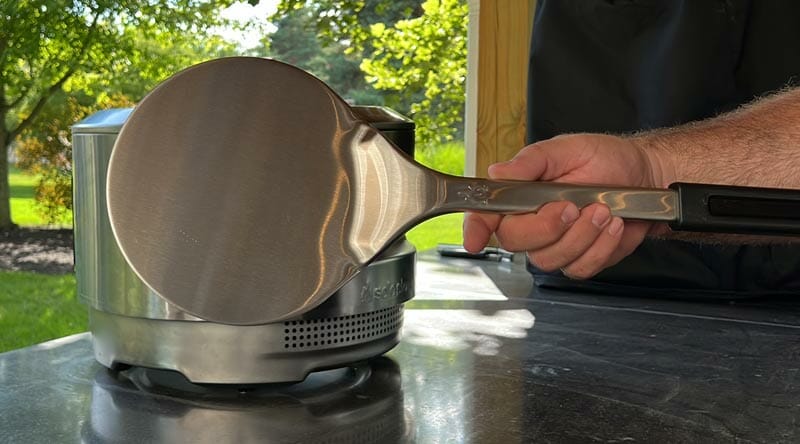 While the turning peel isn't essential, it makes the job a lot easier. After you launch your pizza it will need to be turned, or rotated within the oven every 20-30 seconds. Without the turning peel you'd have to pull it mostly out on the regular peel, rotate the pizza on the peel with your fingers while whispering "hot! hot!" and then slide it back into the oven every 30 seconds. The turning peel is small enough that it allows you to rotate the pizza while staying inside the oven and protecting your fingers. Check the current price of the turning peel.
Pizza Cutter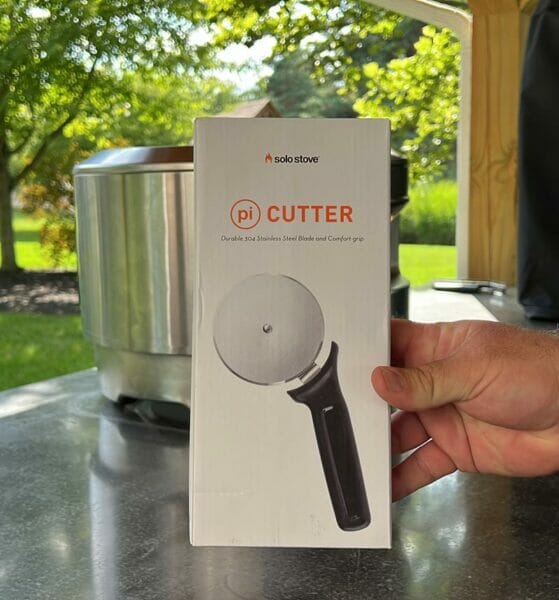 The Solo Stove pizza cutter comes in both the starter bundle and the essentials bundle. It's a pretty basic cutter, probably pretty similar to the one you already have in your kitchen drawer. Check the current price of the pizza cutter.
Shelter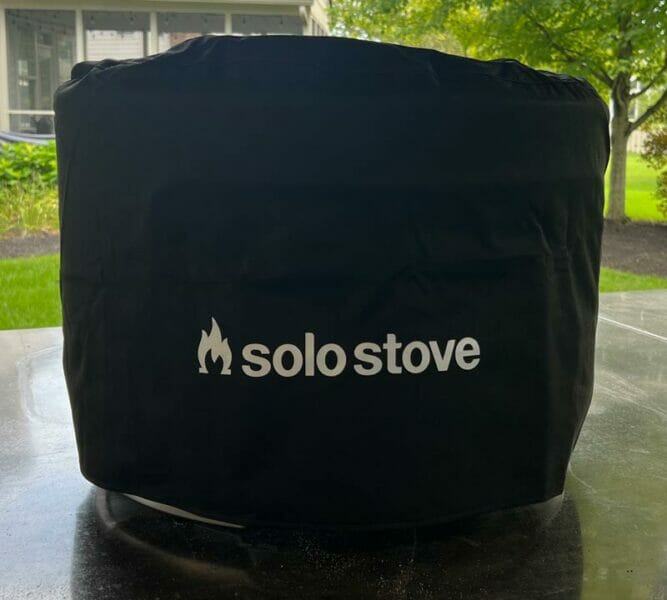 If you plan on storing your Solo Stove Pi outside, you're going to want a way to keep it covered and dry inside. Check the current price of the Solo Stove Pi Shelter.
Fire Starters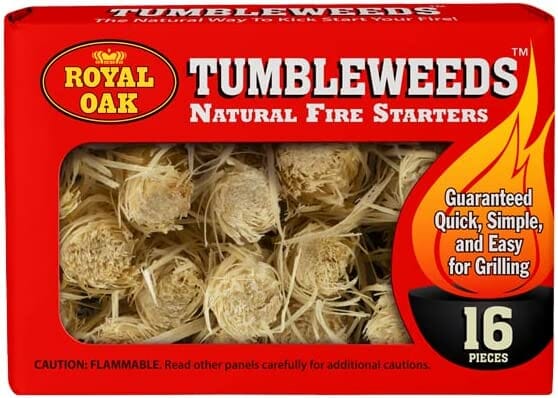 Unless you plan on only using the additional gas burner, you'll need at least one fire starter for each time you light up your pizza oven, burning wood. We prefer the tumbleweed-style starters.
Small Fire Wood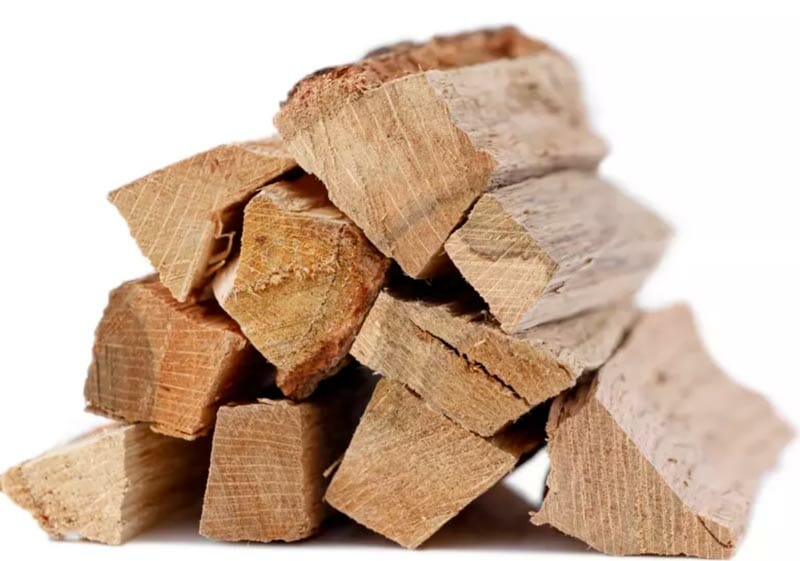 You will not be able to just grab wood off your wood rack to fuel your pizza oven. You need pieces that are only 4-5″ long with a diameter of 1-2″ to fit in the wood burning assembly. As amazing as the kindling cracker is, it's too much work for me so I'd just assume buy a box of cooking wood splits all ready to go.
Solo Stove Pi Tips and Tricks
Cleaning the Outside of your Pi Pizza Oven
If you're burning wood, the outside of your fire pit will definitely accumulate soot above the front opening. This cleans off easily with warm soapy water and a microfiber cloth. We also like using Bar Keeper's Friend, which we also use to occasionally tidy up our Solo Stove fire pits and other outdoor kitchen appliances.
Cleaning the Inside of your Pi Pizza Oven
Don't clean the inside of your outdoor pizza oven. And what I really mean is, no matter how big of a mess you might have made on your pizza stone, do not attempt to pull the stones out and give them a good scrub in the sink. Instead, get your fire as good and hot as you can and let the heat incinerate the mess; much like the cleaning cycle of your indoor oven.
Maintain Access to the Back of the Oven
Think about where you'll be setting up your new Solo Stove Pi before you order. Do you have an existing counter in your outdoor space or will you be setting up a table or a cart to set it on? Be sure that wherever you plan to set up your outdoor pizza oven, you still have access to the back in order to add wood or adjust the gas burner.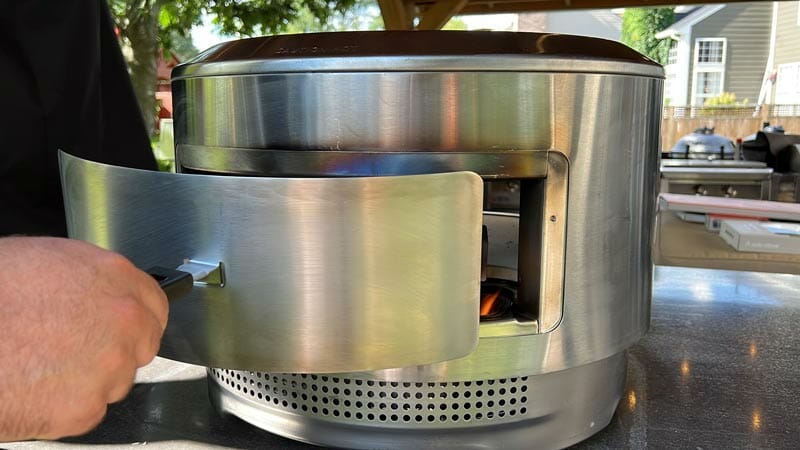 Practice, Practice, Practice.
I hate to burst your bubble, but you probably won't be cooking restaurant-quality pizzas on your first try with your new outdoor pizza oven. And it has absolutely nothing to do with the quality or function of the Solo Stove Pi pizza oven, but everything to do with the level of difficulty when it comes to transferring pizza dough from a peel to a hot backyard pizza oven. It's a new skill and it's not easy. You'll mess up a few times. We all do, whether we admit it or not. But it is a skill that can 100% be learned. It's not a bad idea to start with a frozen pizza or two just do get down the basics of fire management, monitoring pizza stone temperature with your infrared thermometer, and turning your homemade pizza mid-cook. But once you start making homemade pizzas from scratch, make some extra dough "just in case".
Is the Solo Stove Pi Pizza Oven worth it?
So the question is, is the Solo Stove Pi the right outdoor pizza oven for you to make your own backyard artisan personal-size pizzas?
It's a great pizza oven! I admit I liked it better with the propane burner than without. I think the wood we were using wasn't cut small enough and we just had a real tough time getting the temperature as hot as we like it for cooking homemade pizzas. The propane option just makes it so easy to use.
If you love Solo Stove fire pits, you'll certainly love their new pizza oven as well. If you're comparing prices between the Ooni Karu 12 and the Solo Stove Pi, the Karu certainly retails at a better price. However, Solo Stove frequently runs sales on the pizza oven and other products, so keep your eye out and it sometimes bumps down to roughly the same price as the Ooni Karu (which almost never goes on sale). You certainly can't argue with the lifetime warranty and top-notch customer service that comes with the Solo Stove!