The Ooni Koda 16 gas-powered outdoor pizza oven is one of the Barbecue Lab's favorite new units to cook with. Best of all it's portable, which means we can have delicious homemade stone baked pizza even when the party isn't in our own backyard!
We've been grilling pizzas on our gas grill for years, but I've always wanted an outdoor pizza oven and this Ooni Koda 16 did not disappoint.
Note: Some of the links in this article may be affiliate links. This doesn't cost you any more than normal. Read our disclaimer for more info.
What size pizza does Ooni Koda make?
The Ooni Koda portable gas pizza oven comes in 2 different sizes. The Ooni Koda 12 gas powered outdoor pizza oven makes 12-inch pizzas on a 13×13″ pizza stone. The Ooni Koda 16 makes anything up to 16″ pizzas on a 16.5 x 16.5″ stone baking board. The Ooni Koda 12 has an opening height of 3.22″ while the Ooni Koda 16 has an opening height of 4.37″. So if you like to cook larger pizzas, the Ooni Koda 16 gas pizza oven is what you'll want for sure.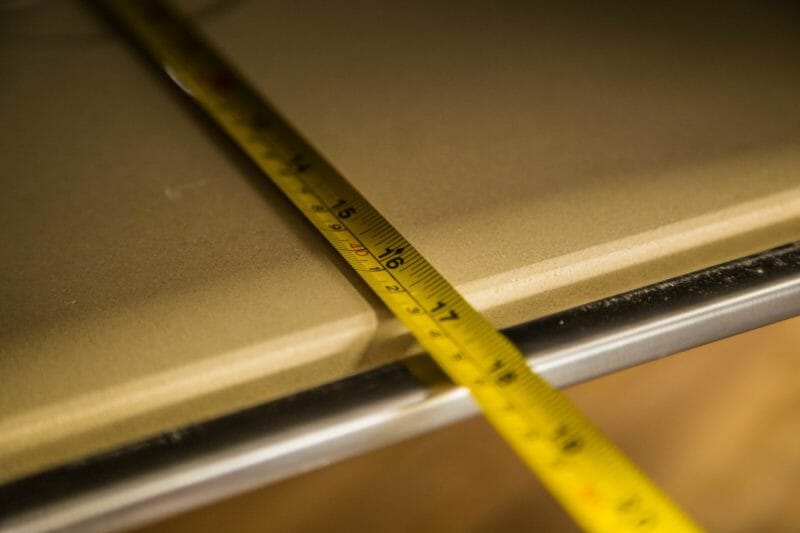 These Ooni pizza ovens can cook more than just stone baked pizza as long as the space allows for it. Dry baked goods like bread can be baked directly on the cordierite stone baking board like a pizza. Other foods like delicious flame-cooked steaks and vegetables can be cooked in a cast-iron pan placed in the outdoor pizza oven. Ooni's dual-sided Grizzler plate is too large to fit in the Ooni Koda 12 however, there are smaller options such as the Sizzler and Grizzler pan that the smaller Ooni pizza oven would accommodate.
Ooni Koda 16 Gas Pizza Oven Specs
Fuel
The Ooni Koda 16 is a portable gas pizza oven that is designed to be used with either natural gas or propane. A conversion kit (sold separately) is required for using natural gas.
We have only ever hooked ours up to large propane tanks, but all we do is turn on the instant gas ignition and after about 20 minutes, this gas-powered pizza oven is hot and ready to go.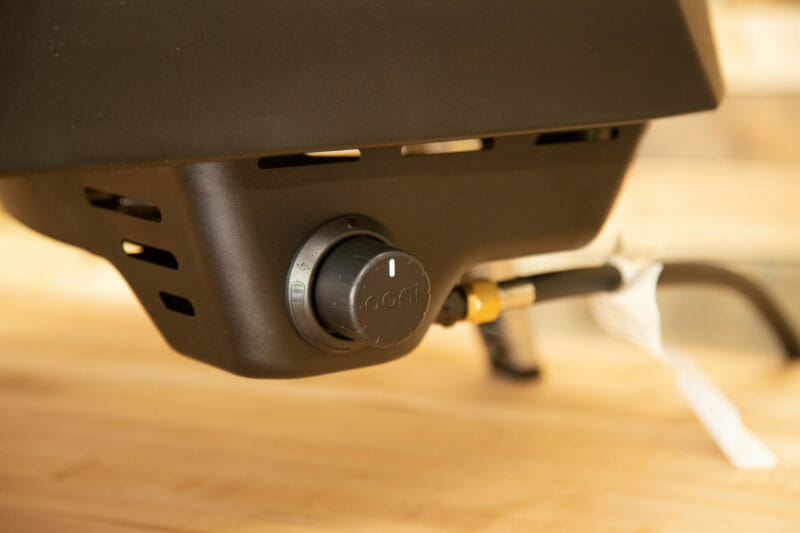 The Ooni Koda 16 gas-powered outdoor pizza oven has an L-shaped burner that runs along the left side and back of the oven. This means that the pizza stone will be hottest in the back left quadrant, requiring the homemade pizza to be rotated in the oven every 20 seconds or so.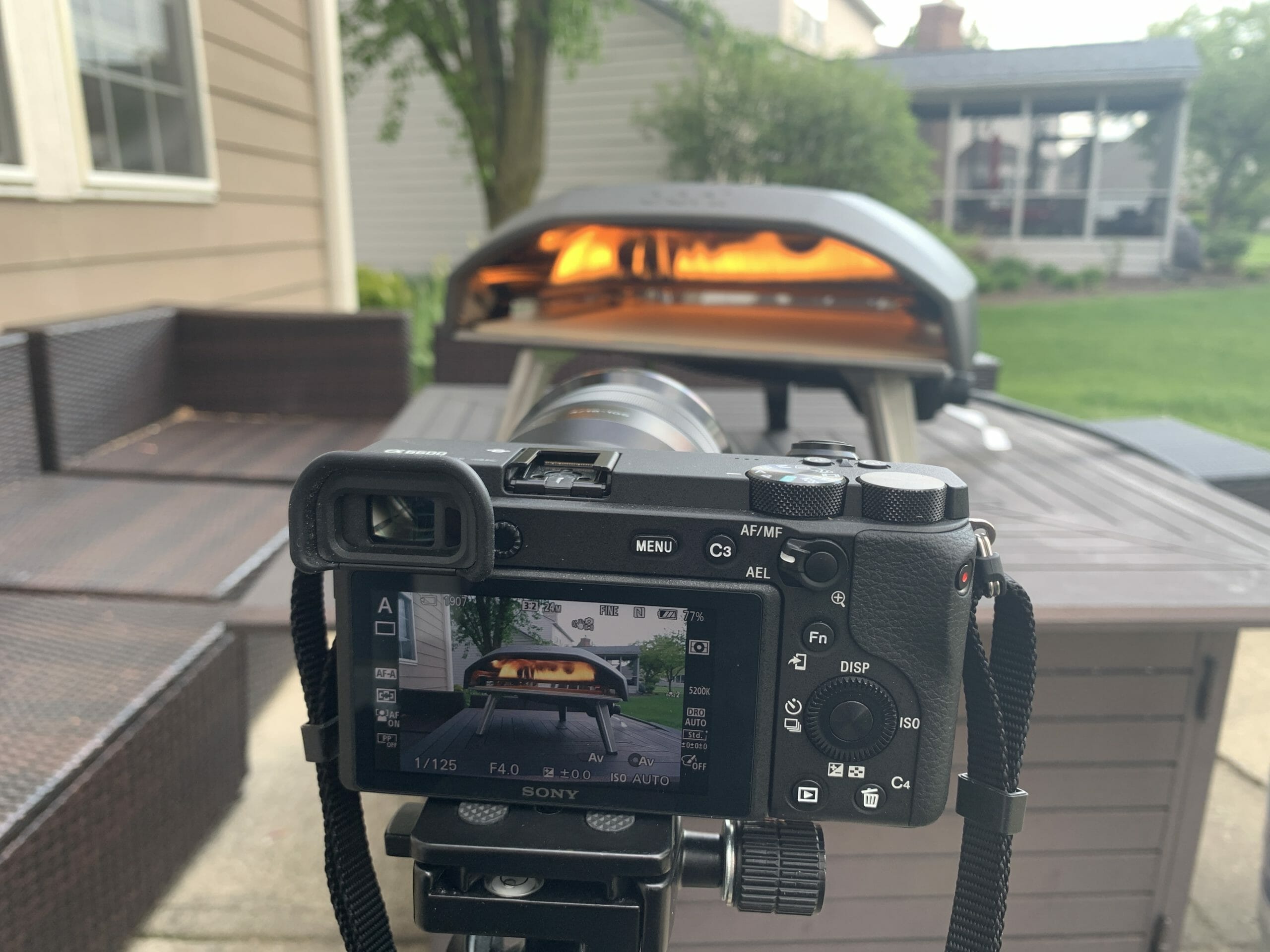 The heat control dial enables adjustable heat control throughout the cook. This is a true advantage to cooking with natural gas or propane as opposed to a wood fire.
There were a few instances where we had a difficult time getting the Ooni Koda 16 to light and stay lit. While there may be a few other reasons why this might happen, in our case it was typically caused by a build-up of pressure inside the gas regulator that was stopping the gas from flowing properly.
It turns out the solution for this problem was quite simple and all we had to do was remove the gas regulator from the propane tank to "burp" it. Leave it off for about 30 seconds before screwing it back on to the propane tank and then you should be back in business and ready to light it back up. If you make a practice of removing the gas regulator from your propane tank between uses, this probably won't be a problem.
Ooni Koda 16 Dimensions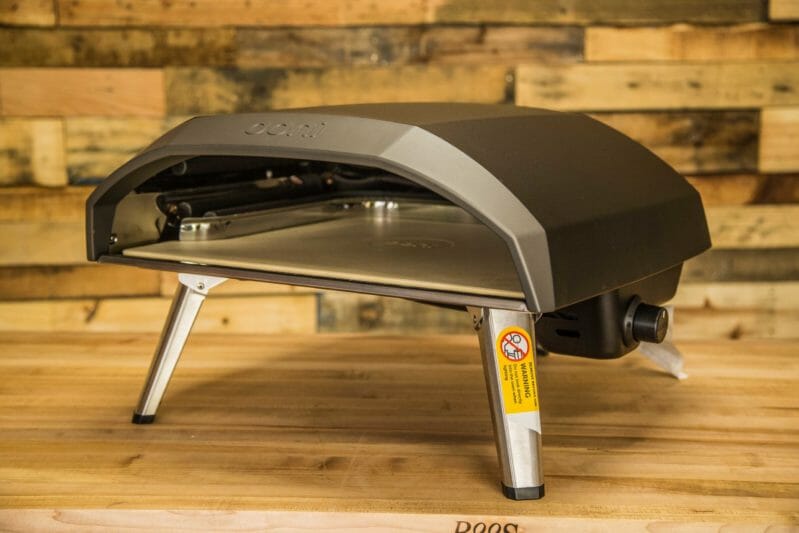 With the legs extended, the Ooni Koda 16 stands about 14.5 inches tall. It runs about 25″ from front to back, and about 23″ from side to side. The unit weighs approximately 40 pounds. (In contrast, the smaller Ooni Koda 12 only weighs about 20 pounds).
Internally, the cooking area is about 16.5″ square with an entrance height of about 5 inches. While this Ooni Koda 16 gas powered outdoor pizza oven can fit a 16″ pizza, we have typically stayed in the 12-14″ ballpark so far, leaving extra room for navigating the required pizza rotations
Temperature
This portable gas powered outdoor pizza oven can reach temperatures up to 932°F and we've found that to be pretty accurate. It takes about 20 minutes for the pizza oven to get that high, depending on the outside temperature.
While Ooni offers a wide variety of accessories including many that are fun but not crucial, one accessory that you really can't skip is the Ooni infrared thermometer. The IR thermometer is your only way of truly knowing the temperature of your cordierite stone baking board. If you launch your pizza before your Ooni pizza oven is hot enough, your dough may not cook thoroughly. And if you let your stone get too hot, the crust may burn.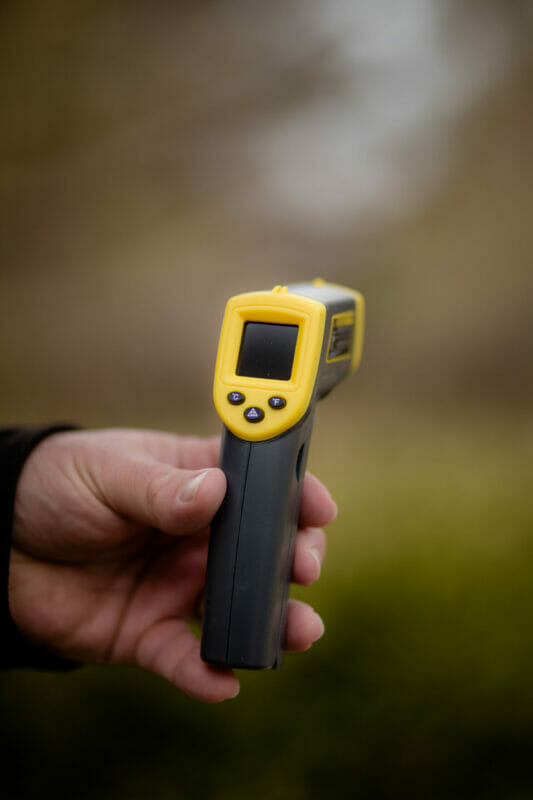 Ooni suggests that you wait for stone temperature to reach 752° before beginning to cook your pizzas. Keep in mind that a cooked pizza will have reduced the temperature of the stone baking board, and a little time will be required to allow the temperature to recover before cooking your next pizza.
We like to preheat our Ooni Koda 16 on high and then turn the temperature down a little before actually launching our first pizza (so the entire pizza can cook more evenly and not burn the toppings). Once a pizza has been removed we adjust the temperature back to high until it's time to launch again.
Assembling the Ooni Koda 16
The Ooni Koda 16 gas powered outdoor pizza oven comes fully assembled in the box and literally the only thing you have to do is simply unfold the legs and slide the cordierite stone baking board in place and run it for about 1/2 hour for an initial burn-in.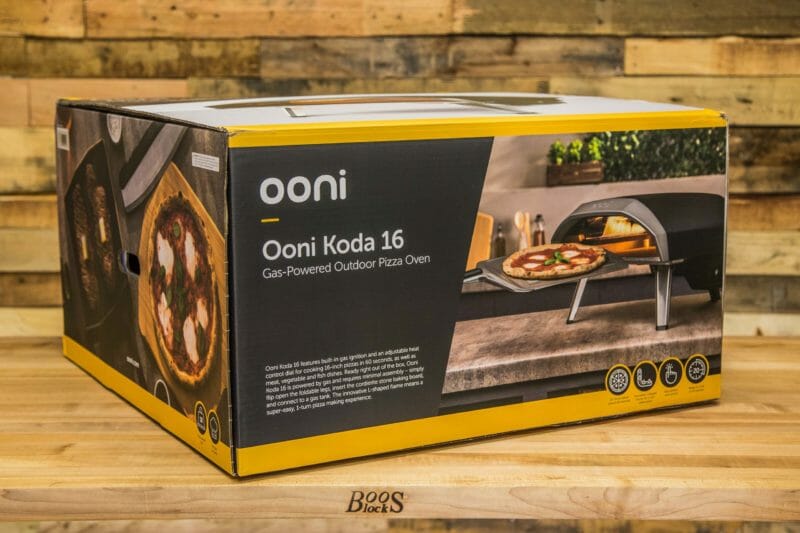 How does the Ooni Koda 16 compare to the Roccbox?
If you're considering the purchase of a portable-sized gas-powered outdoor pizza oven, you might have also come across the Roccbox by Gozney. While we have not yet had the chance to cook on the Roccbox, we have put together some key notes for a quick comparison.
As you can see, the cooking space for the Ooni Koda 16 is several inches larger and it weighs less than the Roccbox. However, for the same price as the Ooni Koda 16 you could purchase the Roccbox with the dual fuel option.
Ooni Koda 16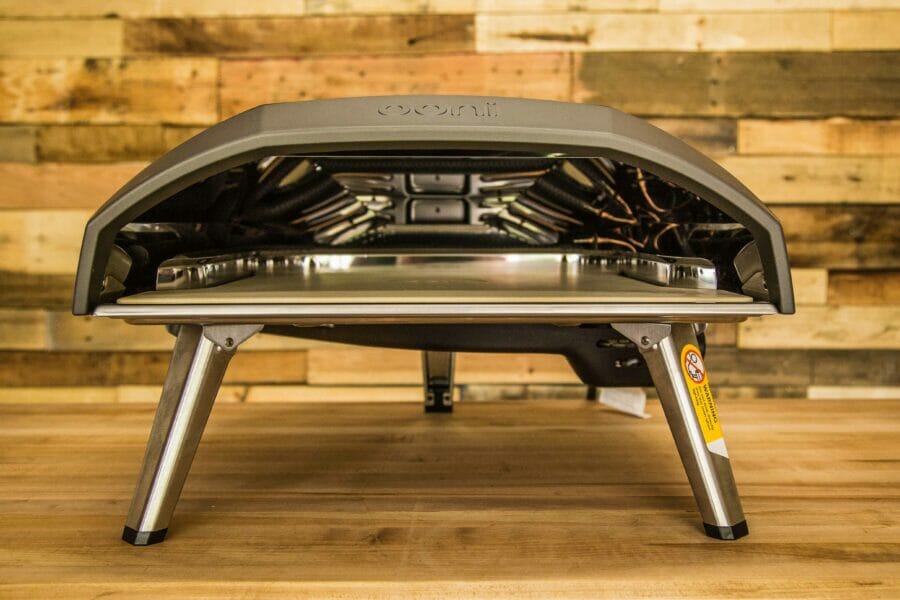 Fuel: gas only, conversion kit required for natural gas
External Dimensions: 25 x 23.2 x 14.7″
Cooking floor dimensions: 16.5 x 16.5″
Oven weight: 40 lbs
Cooking Floor: 15 mm Cordierite stone
Accessories included: none
Warranty: 3 year on registered purchases
Price (at time of publishing): $599 (Check latest price on Amazon)
Roccbox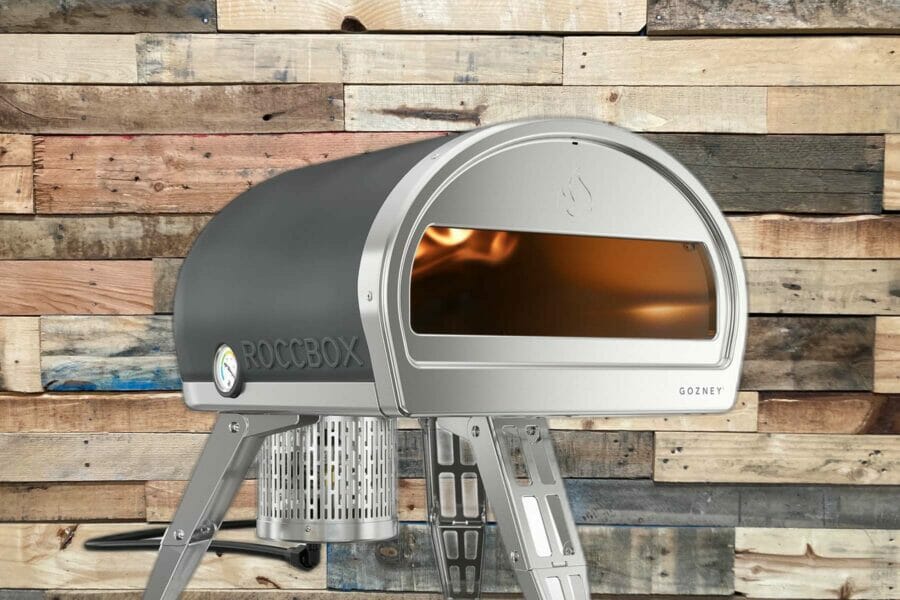 Fuel: gas-only, or dual fuel optional for an additional $100
External Dimensions: 16.3 x 21 x 18.6″
Cooking floor dimensions: 12.4 x 13.4″
Oven weight: 44 lbs
Cooking Floor: 19mm Cordierite stone
Accessories included: professional-grade pizza peel, bottle opener
Warranty: 5 year on registered purchases
Price (at time of publishing): $499 (Check latest price on Amazon)
What We Loved About the Ooni Koda 16
Less mess
Cooking outdoors with gas simply produces less mess than cooking with wood or charcoal. There's no ash to empty after a cook. Simply turn off the burner and gas supply and you're done. There will still be some burnt flour residue and the occasional mess from a launch-gone-wrong to deal with after everything cools down, but you know what there won't be? Ash.(However, if a wood-fired pizza oven is what you might prefer, check out our review of the Ooni Karu 16 multifuel pizza oven.)
Convenience
You can't argue with the fact that cooking with gas is more convenient than cooking with wood and coal. With a simple flip of the built-in gas ignition, the Ooni Koda 16 is only 20 minutes away from cooking your pizza. That's just the amount of time you'll need to pull together your supplies and ingredients and prepare your first pizza for launch.
Portability
The Ooni Koda 16 gas powered outdoor pizza oven is portable. While it weighs twice as much as the smaller Ooni Koda 12, 40 pounds is still a reasonable weight for moving this oven around. In our experience, it is possible for one person to move it alone, however easier if they have a friend. Portability means enjoying great pizza even when you're away from home.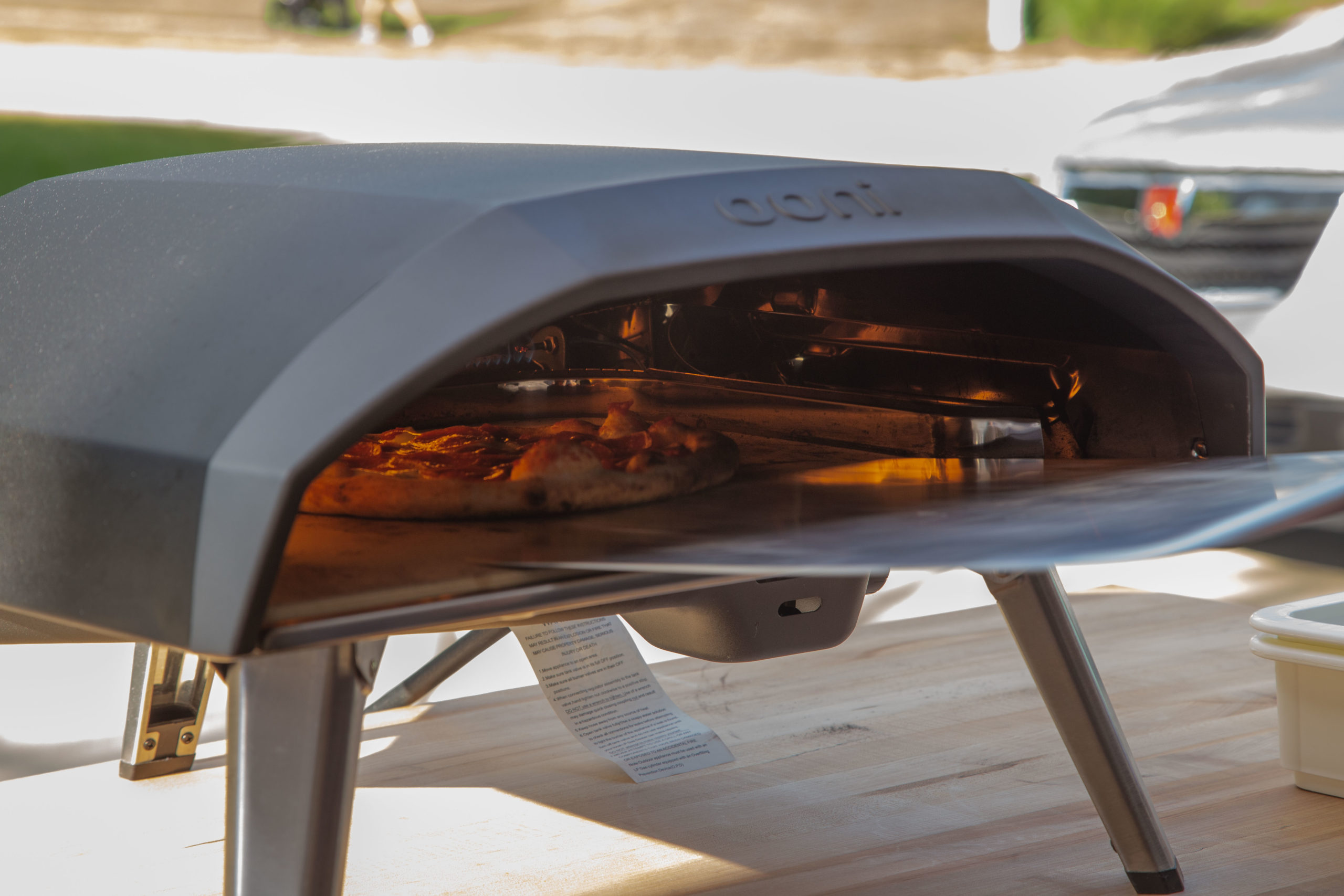 Amazing Outdoor Cooking Experience
When you have an Ooni pizza oven in your outdoor kitchen, the phrase "pizza party" takes on a whole new meaning. Your guests will no longer just come over to eat pizza. They'll be coming for the whole experience. The waterfall effect from the innovative L-shaped flame is mesmerizing to watch, and these gas powered outdoor pizza ovens cook jaw-dropping pizzas in a mere 60-90 seconds. "Pretty cool" is an understatement.
Ease of Setup
I can't even imagine what could improve the setup of this gas powered outdoor pizza oven. It's so quick and simple. Unfold the legs. Put the pizza stone in place. Hook it up to your propane tank and you're off to the races. It just doesn't get any simpler than that!
Great Pizza Guarantee
Ooni boasts a 60-day guarantee on their website that they'll buy back your Ooni pizza oven if you're not happy with it in that time span. So try it as much as you can in two months and if you still can't seem to get it down and produce great pizzas, Ooni has your back.

Things We Didn't Love
It takes practice to make good pizza
We'll go into this a little more in the next section, but you're not likely going to ace it on your first try. And that can be discouraging after making this much of a financial investment.
Only one fuel type
The Ooni Koda is a gas powered outdoor pizza oven and only gas powered. There are no other options to fuel this oven so if you're out of propane, you're not cooking pizza. Even to use natural gas, an additional conversion kit will be required.
Uneven heat distribution
Compared to the Ooni Karu 16, the heat distribution of the Ooni Koda 16 leaves a bit to be desired. With the L-shaped burner on the left and back sides, half of your pizza will be cooking much faster than the other half. You have to really be on top of your pizza turning game or you'll end up with burned pizza pretty quick.
Outdoors only
Maybe this goes without saying, but for some it may need to be said. This gas powered outdoor pizza oven is for outdoor cooking only. No exceptions. Even if it's below 0° and just too cold to cook pizza outside, it's still unsafe for you to fire it up inside. Don't do it.
There is a Bit of a Learning Curve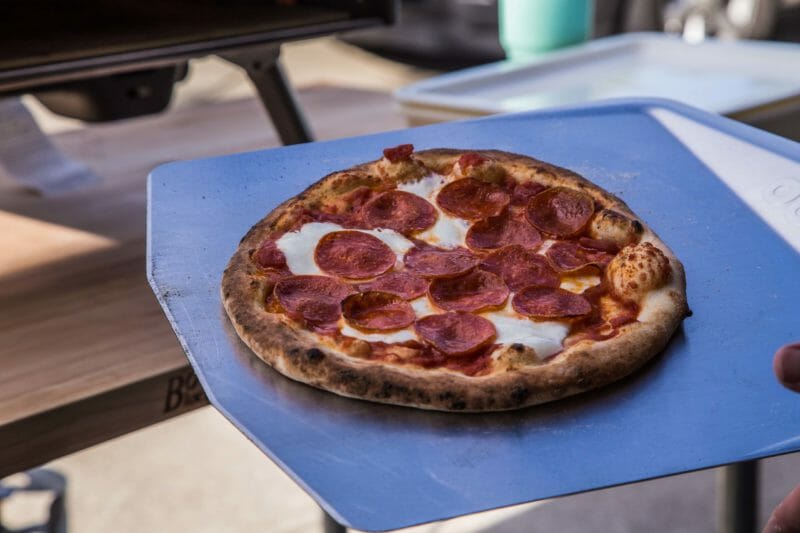 I was not used to transferring homemade pizza from a pizza peel to a hot stone, so this did take a bit of practice to get down. Cooking pizzas 1-2 times a week for 6 weeks or so, I only just now feel like I'm getting the hang of it.
It takes some practice to get to the point where you can successfully launch a whole assembled pizza into the oven and not just the toppings (while the base remains on the pizza peel.) So while you're getting started, always make extra dough just in case you have a mishap or two. But don't give up! Practice makes perfect.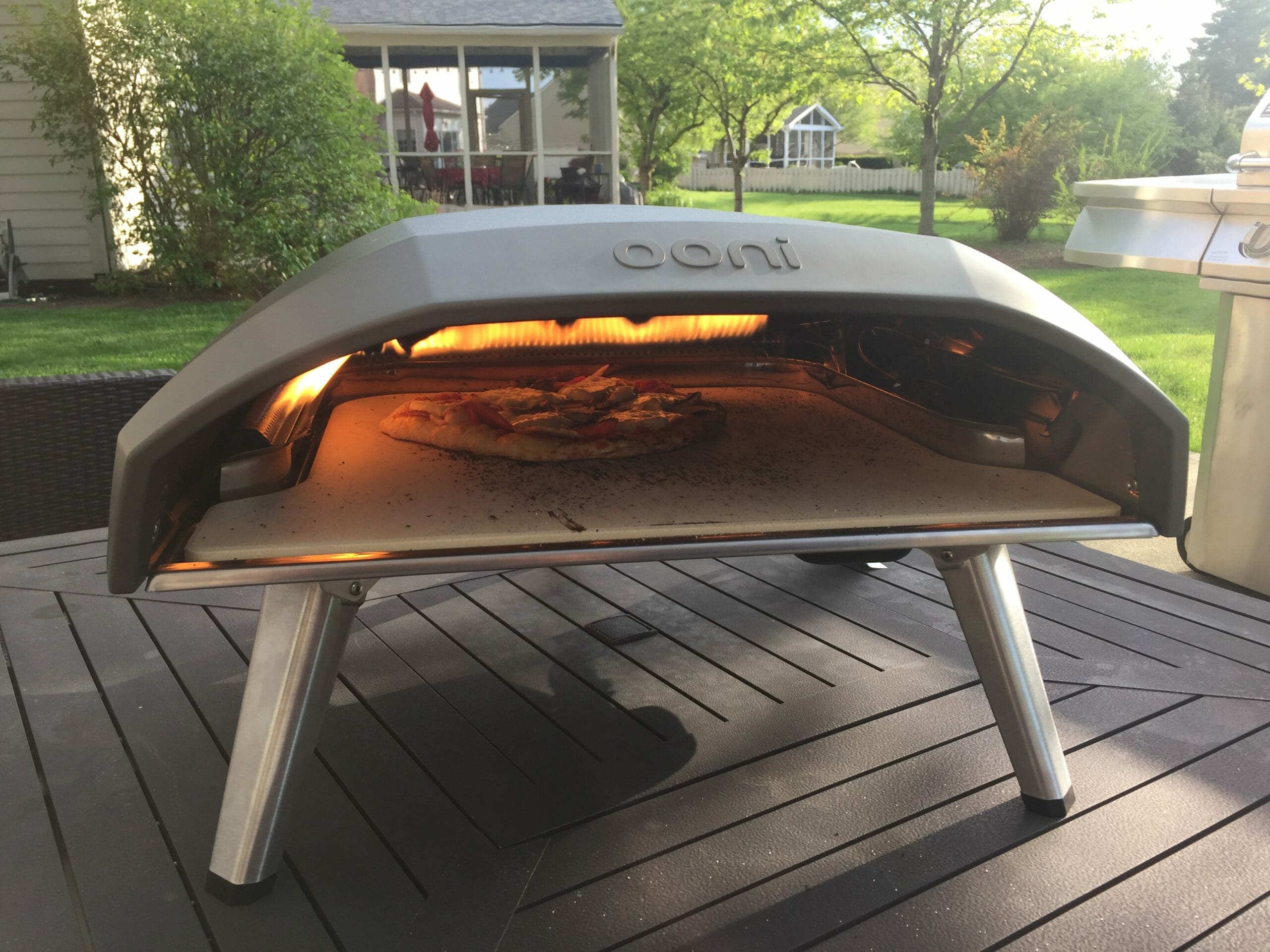 Here's what we've learned getting started:
In the beginning, we put WAY TOO MUCH flour on our bamboo pizza peel, placed our (already stretched out) dough on top, and then decorated the pizza while constantly jiggling the pizza around hoping it wouldn't stick before launching. The problem was that we launched quite a bit of that excess flour into the oven which burned, leaving a fair amount of burned flour on the bottom of the crust resulting in not the tastiest pizza. (You can even spot an example of this in our video review, where a clip from one of our earlier cooks was used)
What we do now: We lightly dust a wood cutting board with flour and build our pizza there. Then we lift up a corner of the assembled pizza and slide the pizza peel (not floured at all) underneath. As it turns out, with a little bit of practice, transferring an assembled pizza onto a peel isn't nearly as challenging as I assumed it would be. We've found that the transfer onto the pizza peel eliminates a lot of the excess flour that used to taint our pizzas, but the crust is dusted enough from the cutting board that it doesn't stick to the peel during its short trip from the cutting board to the portable pizza oven.
What Kind of Dough Should I Use in the Ooni Koda 16?
If you're making your own pizza dough, start with the classic pizza dough recipe right on Ooni's website.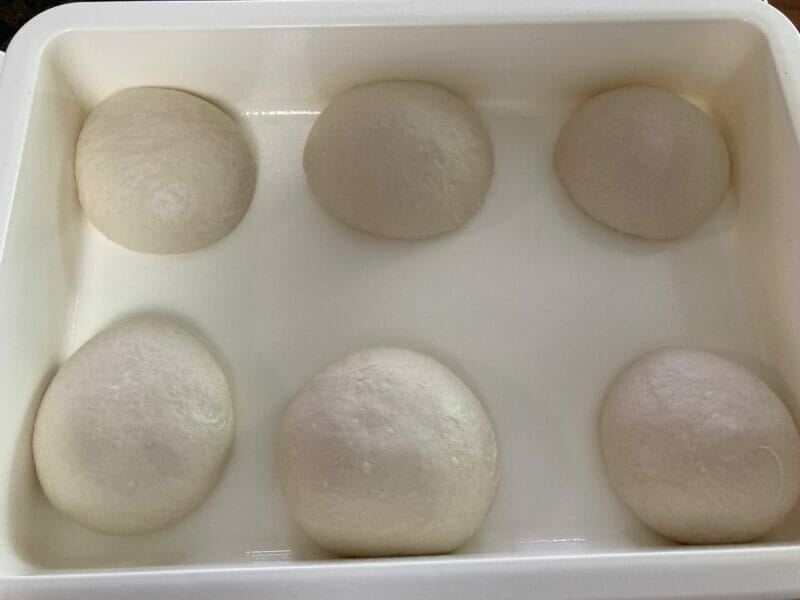 However, there are a couple of things you'll need to know.
Ooni recipes favor the metric system, so you may feel a little lost for a moment if you're like me who lives in the American world of cups and teaspoons. It may be time to invest in a digital kitchen scale while you get acclimated.
Ever heard of "00" flour? I certainly hadn't. I've learned that it's basically the secret ingredient to a good Neapolitan pizza crust. And it turns out hunting down "00" flour during the dog days of COVID-19 proved to be extra challenging. Fortunately, it seems like the supply is now recovering making it a little easier to find.
Get yourself a dough proofing tray that can fit in the fridge. It will be your best friend when you go to separate your dough into individual balls and don't want them all to run into each other.
Edited to add: after a couple of years of experience behind us now, we've put together several videos in this post on How to Make Neapolitan pizza for your outdoor pizza oven. This is a great place to start if you're wanting to know how to make your own dough, how to stretch the dough, and how to transfer the pizza to your outdoor pizza oven.
Our Recommended Ooni Accessories: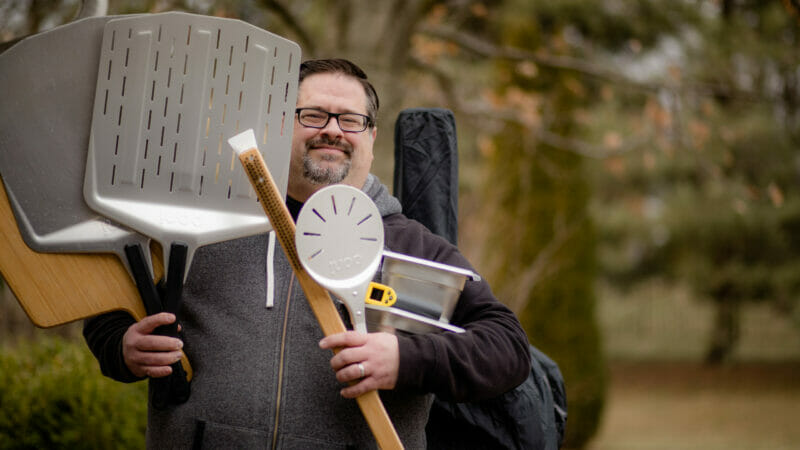 There are tons of different accessories available to use alongside the Ooni pizza ovens. Carts to host the pizza ovens, covers to protect them, various sizes and styles of pizza peel options, Ooni infrared thermometer, products to aid in cleaning, and cookware to expand your cooking options beyond just delicious pizza. The options can seem overwhelming and the investment can add up quickly. We've added quite a few accessories to our collection over the past couple of years and have put together an article walking you through our favorite Ooni accessories and which ones you can do without.
Check out the other Ooni Pizza Ovens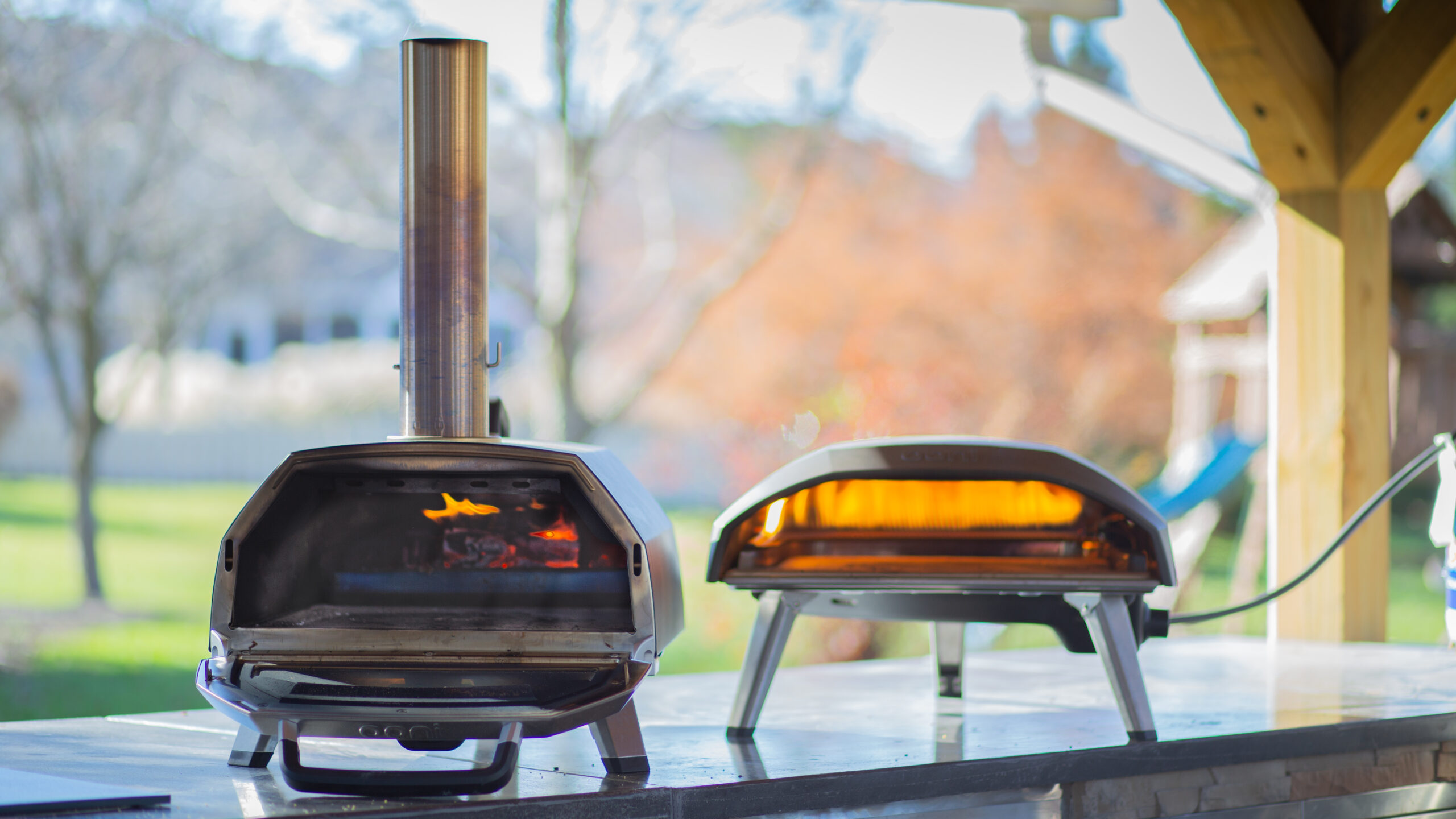 Ooni has more pizza ovens to offer besides the Ooni Koda 16 gas-powered outdoor pizza oven. In fact, they currently offer 5 different pizza ovens in a variety of sizes and fuel types depending on how you prefer to cook.
If you're thinking about purchasing an Ooni pizza oven but are still unsure which model to go with, check out our post "Which Ooni Pizza Oven is Right For You?". In this post we specifically compare the Ooni Koda 16 gas-powered outdoor pizza oven to the Ooni Karu 16 multifuel pizza oven.
Is the Ooni Koda 16 gas powered outdoor pizza oven worth it?
In short, yes we do recommend this portable outdoor pizza oven. The Ooni Koda 16 is a great pizza oven to have in your outdoor space. Once you have one, you'll be eating way more pizza than you probably should. It's just inevitible.
Is my quest for the perfect outdoor pizza oven over now? Well, no. I still dream of having a huge wood-fired pizza oven built into my backyard kitchen scape.
However, this is a portable pizza oven I can easily take to my parents' house, camping, loan to a friend, you name it. You can't argue with the fact that it is incredibly portable and cooks very delicious pizzas once you get the hang of the technique.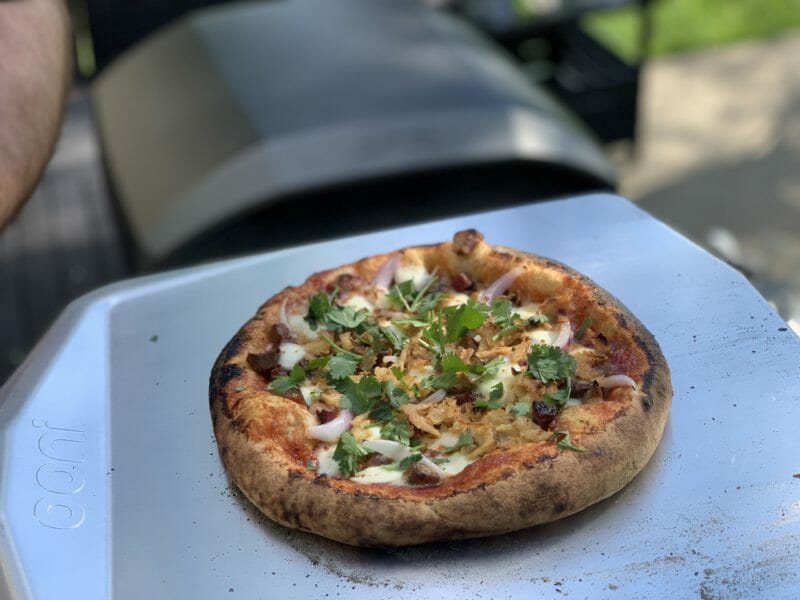 Where Can I buy the Ooni Koda 16?
The Ooni Koda 16 is available direct on the Ooni website as well as Amazon.