We have been grilling pizzas for a while. In fact, for many years this recipe has been our signature dish. We're so excited to finally post so others can use it.
I believe it was around 2003 when I first saw Bobby Flay toss raw dough on a grill from across the room and completely blow my mind.
At the time I was watching the Food Network pretty religiously. I remember thinking, "If this guy can fling raw pizza dough 20 feet across the room and land it on the grill, then I'm pretty sure I can carefully slide it on a grill and find success."
So in classic David style, I didn't do a trial run with just my wife and myself first. No, one summer day I got my boss and several coworkers and their families together for our very first grilled pizza party. What a way to peel back that onion, right?
And you know what? It totally worked. And we've been grilling pizza ever since.
Grilled Brisket Pizza:
This particular pizza recipe was created during one of our amazing grilled pizza parties when we had a huge selection of toppings available to cover our pizzas with. Our counters practically looked like a grocery store.
It just so happens that I had smoked a delicious brisket a couple of days prior and we had some leftover that we decided at the last minute to add to the buffet.
Part of the fun of this type of pizza party is that you can be adventurous with your toppings and explore new things that you might not taste otherwise.
The best part about a grilled pizza party is getting to cook delicious concoctions that only you like. For example, if you're into crispy pizzas with sun-dried tomatoes, a whole cup of olives, basil, rosemary and onion, but want to go light on the parmesan cheese, then go for it! You can cook whatever your heart (or taste buds) desires!
You can use bigger pieces of dough to cook a bigger pizza to share with the whole family, given that your grill has enough space for a full pizza. Once you taste this recipe, though, you might not want to share any pieces, regardless of how big your pizza is.
This grilled chopped brisket pizza is a favorite combination that is a sure-fire win in my book. Here's what it includes:
Bbq sauce
chopped smoked brisket
red onions, thinly sliced and lightly sautéed
fresh mozzarella
feta cheese
After we cooked the pizza, we garnished with fresh basil or cilantro
How to Prepare Homemade Pizza Dough for the Grill
Making homemade pizza dough really isn't that complicated. The hardest part is learning how to warm up the water to the correct heat for the sake of the yeast. I have a laser infrared thermometer that helps take the guess work out of that.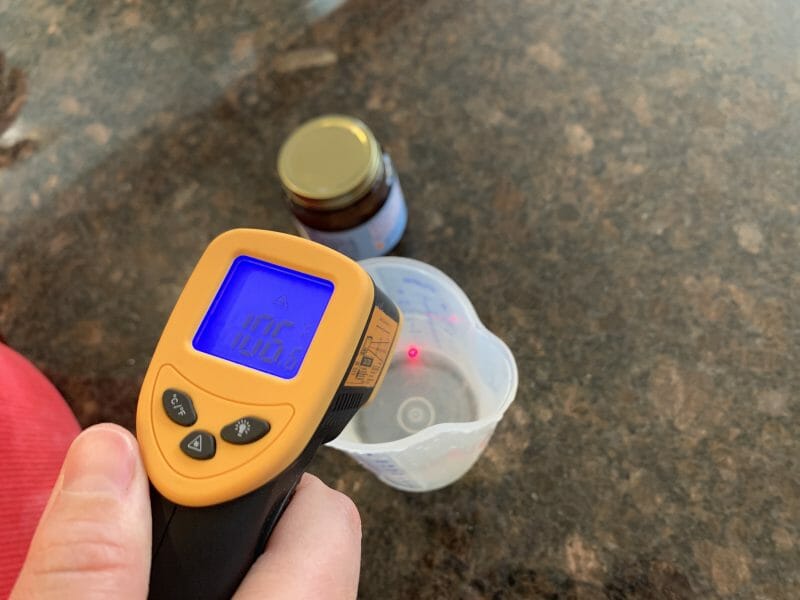 When using active dry yeast the water should be between 105-110 degrees for optimal proofing.
We always mix our pizza dough in our KitchenAid stand mixer.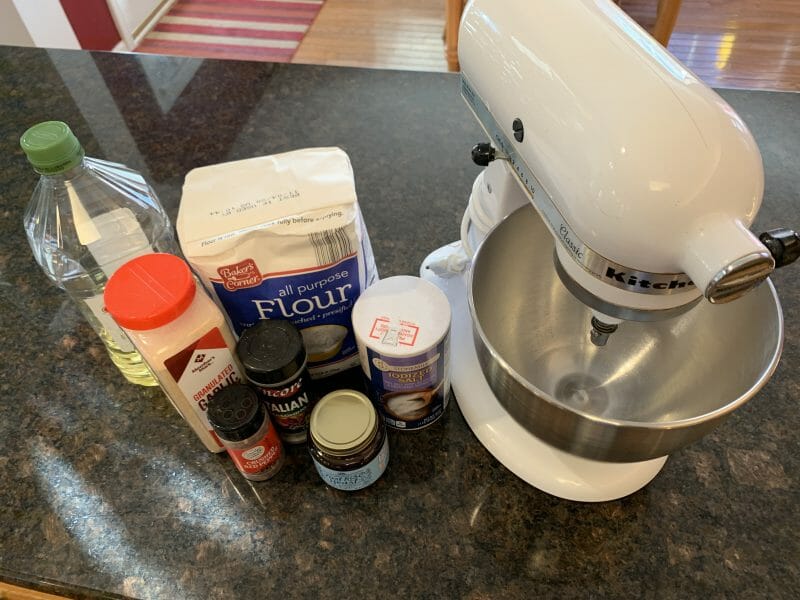 Take it step by step when making pizza dough.
Proof the yeast. Combine the warm water (105-110 degrees), yeast, and sugar in the mixing bowl and just let it be for 10 minutes. You will see that over time it starts to expand and bubble on the top, much like the froth of freshly poured root beer.
Add the dry ingredients and oil. Gently add the flour, salt, oil, and any additional teaspoons or tablespoons of seasoning, depending on how much seasoning you want. (we like to add garlic powder, Italian seasoning, and a tiny bit of red pepper flakes). Use the dough hook to mix those ingredients together for a couple of minutes. It should eventually form a ball on the hook that basically cleans the mixer of any remaining ingredients remaining behind.
Time to rise. When I grill pizza, I like to divide the dough into individual servings right away. I spray a Pyrex dish or cake pan with cooking spray, load dough balls inside, and cover with plastic wrap for a couple of hours. Over time they will expand and nearly double in size and shape.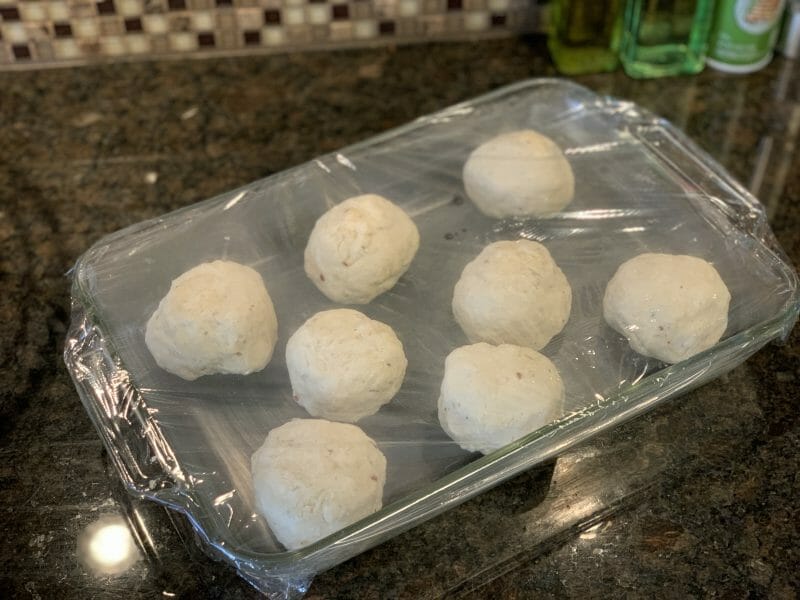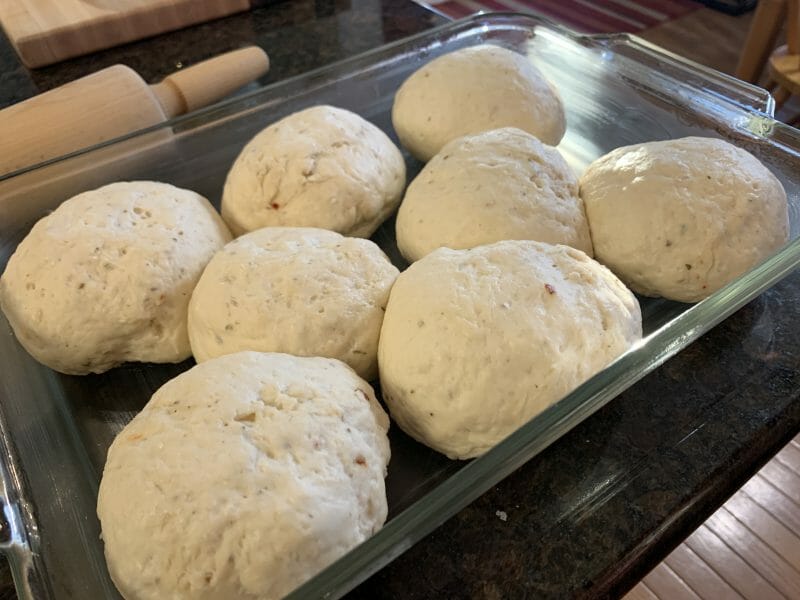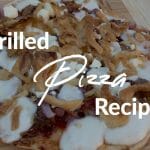 Print Recipe
Grilled Pizza Dough Recipe
This pizza dough recipe is a crowd pleaser for sure. There's no better way to entertain a group of friends than hosting a pizza party at the grill.
Ingredients
2

tsp

active dry yeast

1

tsp

sugar

3/4

cup

warm water

between 105-115 degrees

2 1/4

cup

flour

1

tsp

salt

2

Tb

olive oil

¼

tsp

garlic powder

¼

tsp

Italian seasoning

¼

tsp

red pepper flakes
Instructions
In a stand mixer, combine warm water, yeast and sugar in a bowl and allow to sit and proof for about 10 minutes. It should expand and develop a frothy bubbled top.

Carefully add flour, salt, seasonings and oil to the bowl and use a dough hook to knead the dough for about 3 minutes until the dough forms a nice ball and has cleaned the sides and bottom of the bowl.

Divide the dough into 4 equal balls. Place into a dish that has been sprayed with nonstick cooking spray and cover with plastic wrap. Set aside for 2 hours to rise.

Heat your grill up nice and hot between 450-500 degrees preferably.

On a lightly floured surface, roll each of your dough balls out using a rolling pin or just your hands.

Once the grill is hot, carefully lay the rolled dough on the grill grate and close the lid for about 2 minutes.

Use a large spatula or pizza paddle to flip the pizza crust grilled side UP on a plate and return inside to add your desired toppings.

Turn the grill temperature down to a medium low now and carefully transfer the pizza back to the grill. Close the lid and let it cook for another 5-10 minutes depending on the thickness of the toppings.
Nutrition
Calories:
342
kcal
|
Carbohydrates:
57
g
|
Protein:
10
g
|
Fat:
8
g
|
Saturated Fat:
1
g
|
Sodium:
588
mg
|
Potassium:
133
mg
|
Fiber:
4
g
|
Sugar:
1
g
|
Vitamin A:
37
IU
|
Calcium:
11
mg
|
Iron:
3
mg
How to Throw a Grilled Pizza Party
Literally hundreds of people have cooked pizzas on my grill over the past 15 years.
My wife and I were small group leaders at our church for about a dozen years and those who were in our group always looked forward to at least a spring and a fall outdoor pizza party in addition to several others throughout the summer.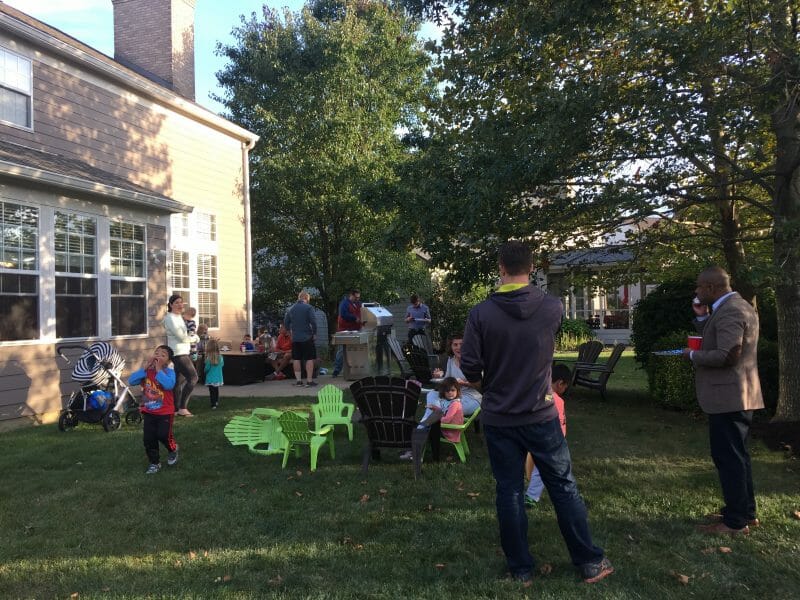 We've thrown these parties for staff get-togethers. We've done them for large groups of volunteers I was managing in my previous work. Family reunions. Birthday parties. We even donated a grilled pizza party once for a private school auction fundraiser. Either for lunch or dinner, this meal will be a crowd favorite.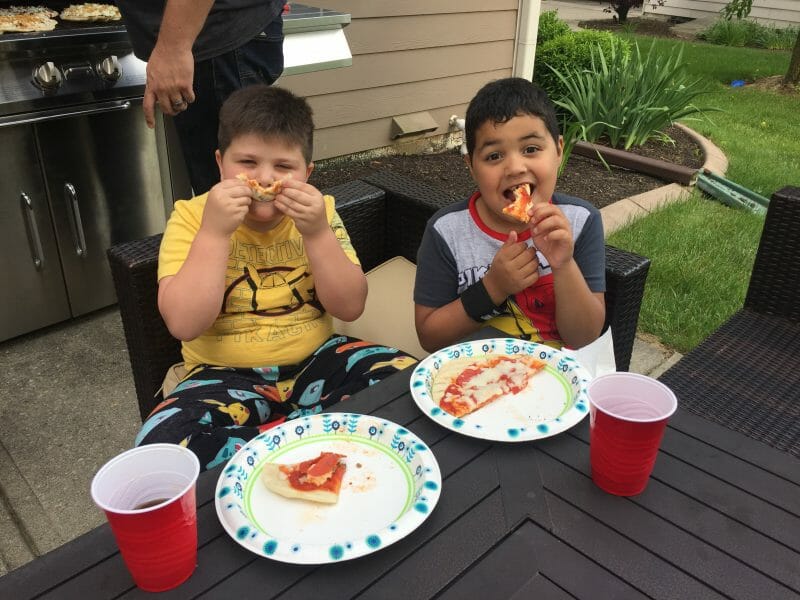 So all that to say that we've learned a few things over the years on how to be successful throwing a grilled pizza party. Here are some relatively simple things to consider:
How Many People Do You Invite??
Well, how big is your grill? We have a 5 burner Jenn Air gas grill that can let about 8-9 pizzas enter it at a time. It's a beast of a gas grill. So we have served a group as big as about 45 before, just knowing that we won't all be sitting down to eat at the same time.
You can use any type of grill that you want for your pizzas. Many people use charcoal grills, others use gas. We choose the grill that we do because of the sheer number of pizzas that we can prepare at once with it.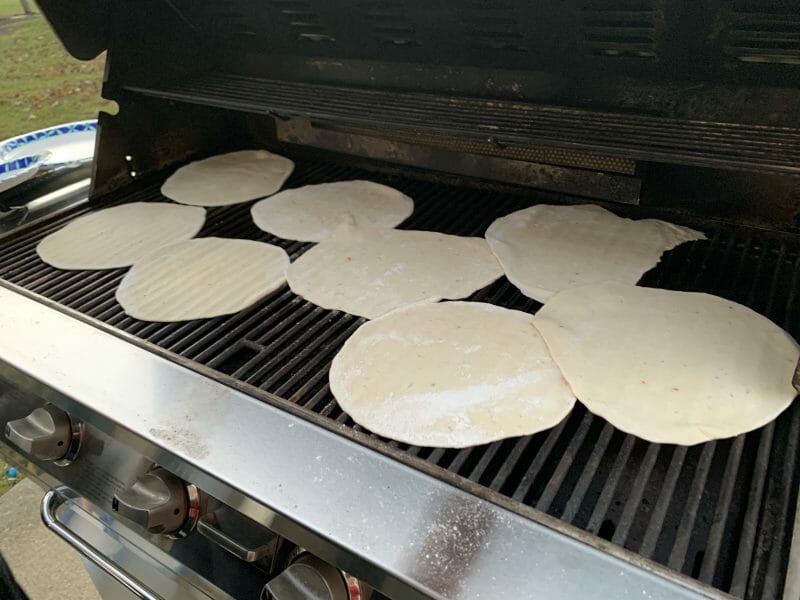 Despite all your worst fears, the dough will not ruin your grill grates. You can safely put the pizza stone away for this cook and place your dough directly on the grill.
One of the benefits to having a big group is that you end up with a bigger buffet of extra pizza toppings to choose from!
What Should the Guests Bring?
When we throw a grilled pizza party, we provide the dough, drinks, paper plates, paper cups, and the rest of the paper products, and the guests bring everything else.
We provide a huge sheet, almost like an advertisement, of potential choices and everyone signs up in advance for whatever items they'd like to bring. Usually 3-4 things per family.
The bigger the group, the more elaborate the buffet of additions can be for your meal.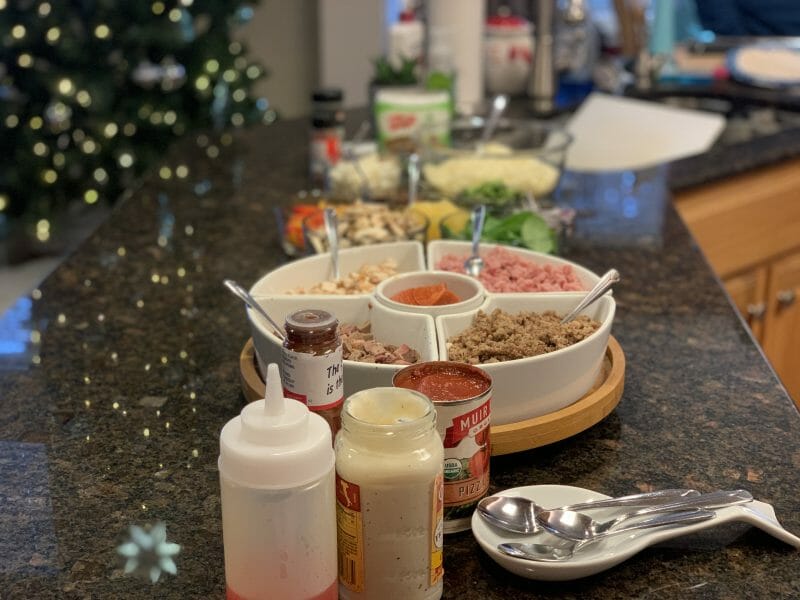 Guests are advised to come with their toppings already prepared for the buffet. So any food or topping that needs cut up or pre-cooked should be ready before arriving. For instance, someone bringing a pound of chicken might want to cook it before arriving. Otherwise, you'll obviously have to wait for the pound to get fully cooked before using it, and that's no fun.
Depending on the size of the group, we might limit the options for people to choose from so that you have enough of the more traditional toppings available.
Some, like pepperoni, sausage, and onion go very quickly. Others, like rosemary, basil, and olives go at a much slower pace (for obvious reasons).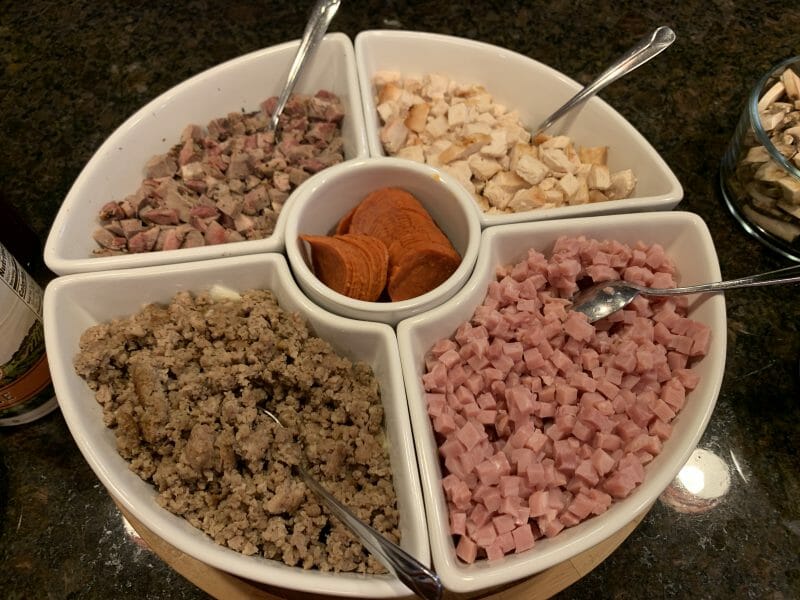 The cheese is what you'll always need the most of, so make sure that whoever is bringing that plans for more than just a few cups, or ask multiple people to bring a bag. Almost everyone will sprinkle some (or a lot) of it on their pizzas, so prepare properly.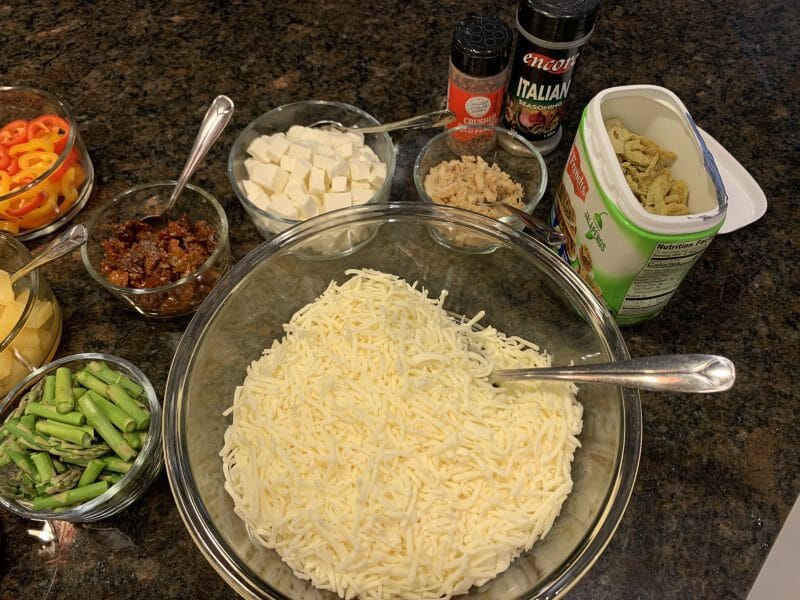 Pizza Toppings
Olive Oil
Tomato Sauce
Alfredo Sauce
Pesto Sauce
BBQ Sauce
Pepperoni
Sausage
Ham
Bacon
Chicken
Anchovies
Shredded Mozzarella cheese
Fresh Mozzarella cheese
Parmesan
Feta Cheese
Goat Cheese
Cheddar Cheese
Mushrooms (Thinly sliced)
Tomatoes
Green Pepper (Thinly sliced)
Sweet Bell Peppers
Banana Peppers
Onions (Thinly sliced)
Olives
Jalapeños
Pineapple
Artichokes
Fresh Spinach
Fresh Basil
Rosemary
Fresh Cilantro
Italian Seasoning
Fried Onion
We also usually have some guests bring salads, chips, or desserts in addition to the pizza toppings. It's nice to have other things to munch on while waiting for your turn to cook your pizza.
How to Make Things Run Smoothly
Station 1: Dough Rolling
All the dough should be pre-divided into individual balls for each guest. You can have the guests roll their own dough, although we've found that this always takes longer. If efficiency is what you're looking for, designate one or two people that can roll the dough for all. We dust the paper plates with flour before we slide the rolled dough on it so that the dough doesn't stick to the paper plates.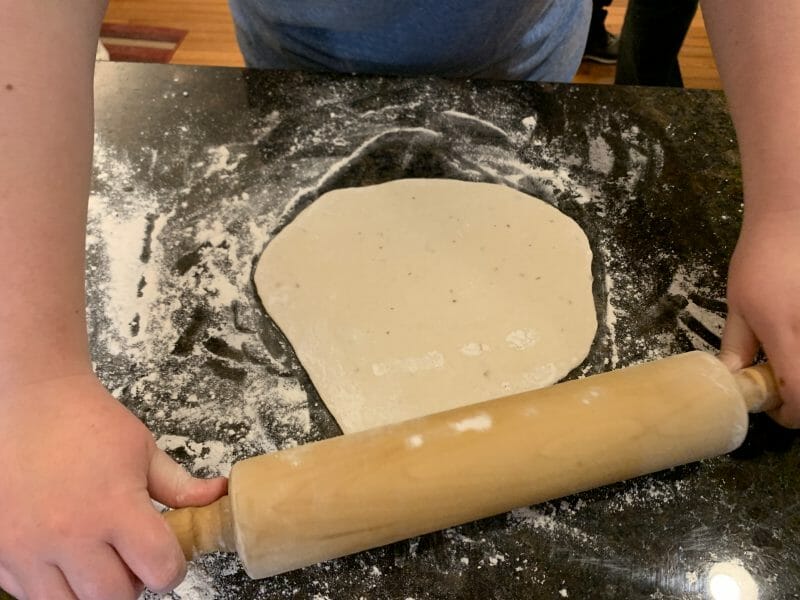 Station 2: Grilling the first side of the pizza
Once you have enough homemade dough to fill your grill, go ahead and load it up to cook off the first side. Just close the grill and let them cook for 1-2 minutes. They'll likely puff up like you see below, but they'll deflate as soon as they come off the grill. To remove them, use a spatula to flip those pizza crusts back onto their plates and send them into the next station.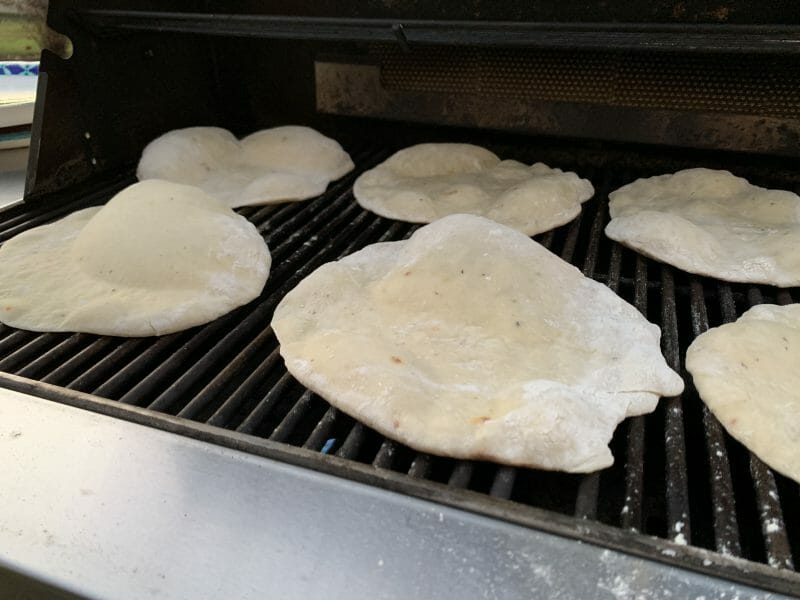 Station 3: Toppings Buffet
You'll want to arrange your buffet in a logical progression. The stack of cooked pizza crust should go first, followed by all the sauce options, meat options, vegetable and green options, shredded cheese options, garnishes, etc.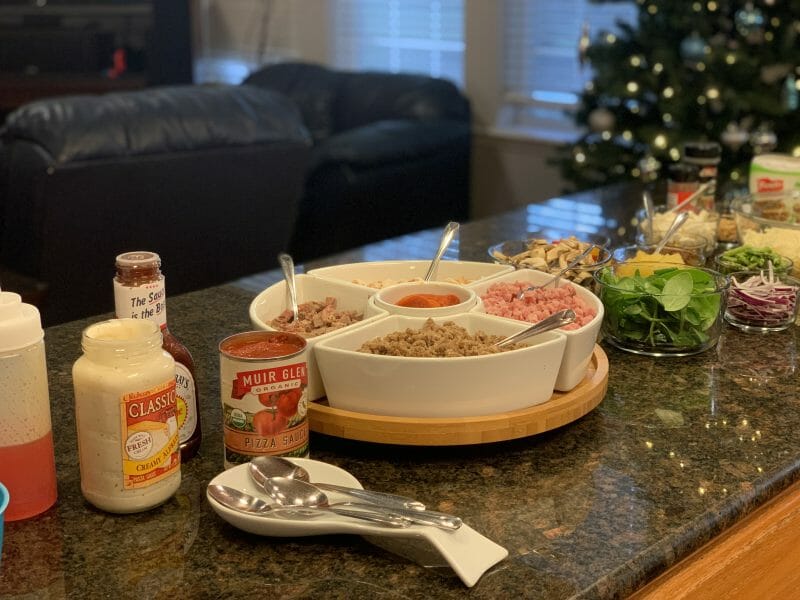 Station 4: Return to the grill
By now, hopefully the first phase of cooking pizza crusts is complete and the set heat of the grill can be turned down a bit. You'll want to be careful to not open the hot grill more than necessary, so try to wait until you have a full grill again before beginning. The set amount of time it takes each pizza to finish cooking will entirely depend on how many extra additions they've added to their pizza. You want to be sure that the toppings are heated through and the cheese is melted. Those that are more heavily topped may take up to 15 minutes while the basic one-topping pizza may only require 5. As you remove one pizza, transfer a new one in its place.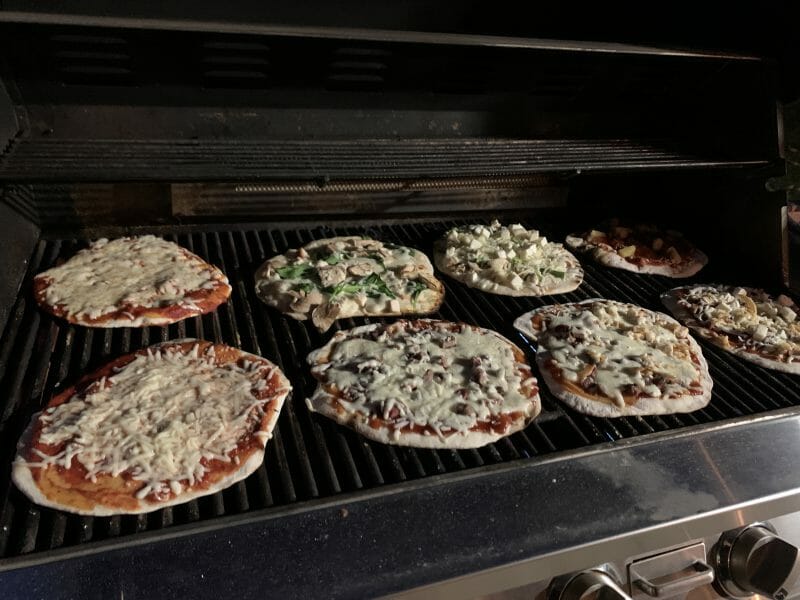 Station 5: Pizza Cutting
After the dough rolling station has been cleaned up, we usually replace that area with a good-sized cutting board and our handy pizza cutter.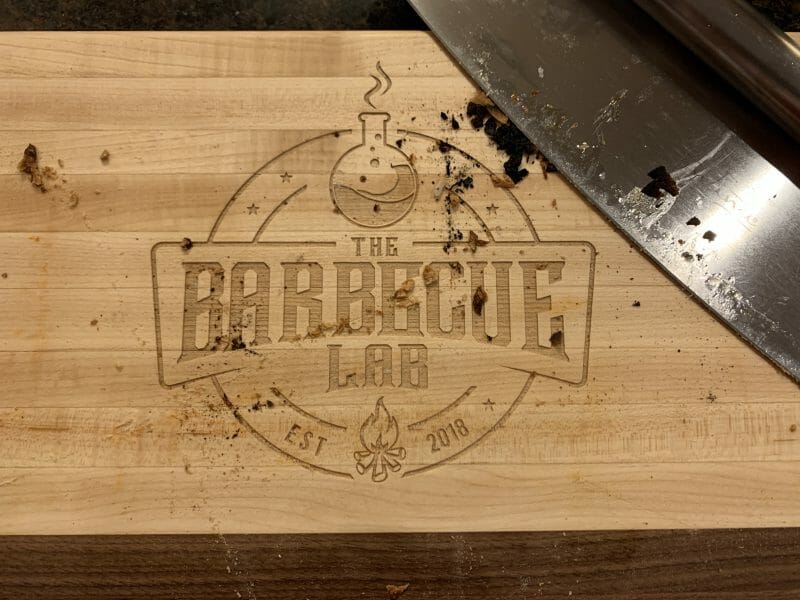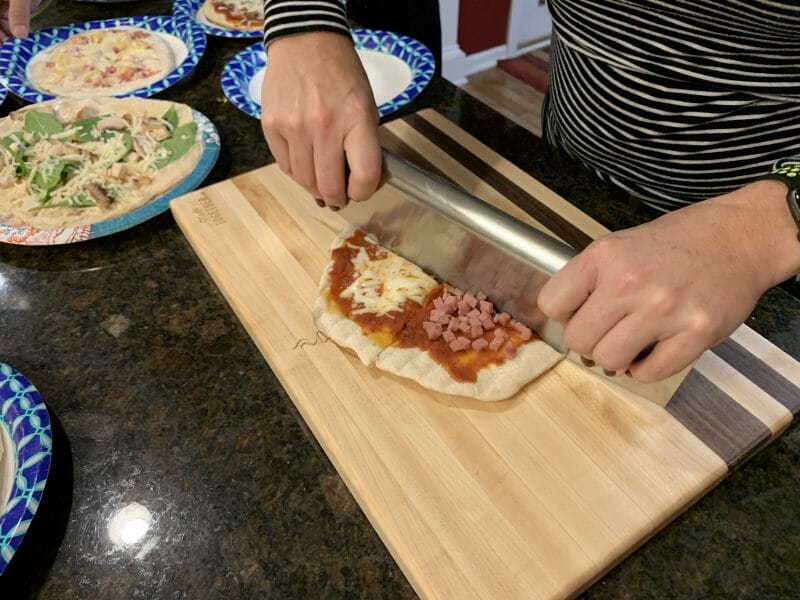 Grilling pizza has become a tradition in our family and friend groups. It's literally the first thing I want to do when the cold winter temperatures break and the first signs of spring arrive. And as you may have noticed the Christmas decor in the pictures, grilling pizzas is not strictly a summer activity. I hope you give it a try no matter what time of year it is.
You're all set to start grilling pizzas for your own parties! I think you'll find that your friends and family will be more than happy with the results.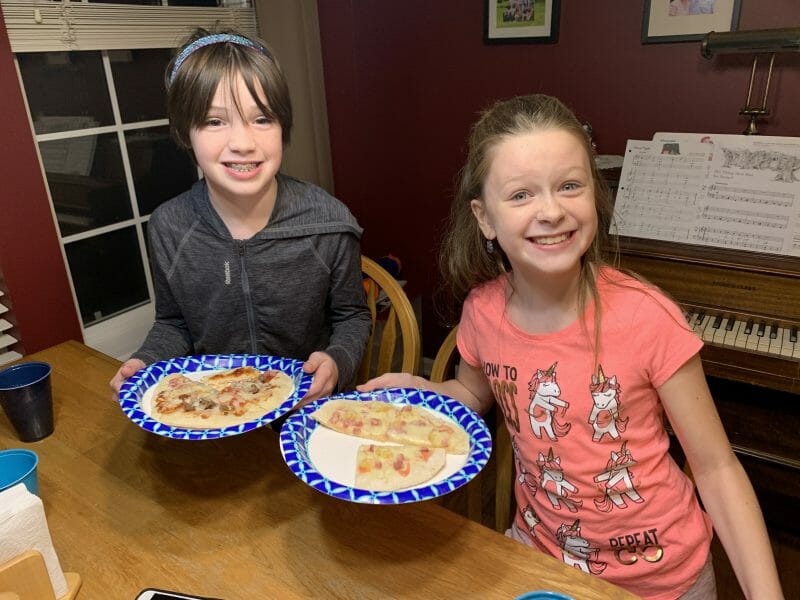 Drop a comment below if you can think of toppings for our pieces of pizza that we left out and need to add to the list. Or tell us what your favorite topping combination is! Maybe we'll have to try your recipe next.
We hope that this post was helpful to you and that you'll be back to The Barbecue Lab for more recipes, gear reviews, grill reviews, and other great content.