If you have any type of stick-burner in your outdoor cooking arsenal or a smokeless fire pit like Solo Stove or Breeo, a good supply of wood is a must. And if you've invested in a good supply of wood, having a strong and durable firewood rack that can keep your wood dry and ready for use is of utmost importance.
We've recently added the Woodhaven 12 foot firewood rack to our backyard patio and share our thoughts and experience in this video review.
Note: Some of the links in this article may be affiliate links. This doesn't cost you any more than normal. Read our disclaimer for more info.
Product Features
The Woodhaven firewood rack is built in the USA and is designed to be the last wood rack you'll ever need to buy.
It's made of 16 gauge steel and the frame is welded, which means it doesn't move, even when loaded down. The precision drilled holes allow all the parts and hardware to fit together like a glove. This is a thick, weighty product that is meant to last a lifetime.
The tubing is capped at the factory, so it's a secure addition that won't come out like many of the others that I've encountered on the market.
The nuts and bolts are stainless steel which means that rusting and corrosion should not be an issue on this unit.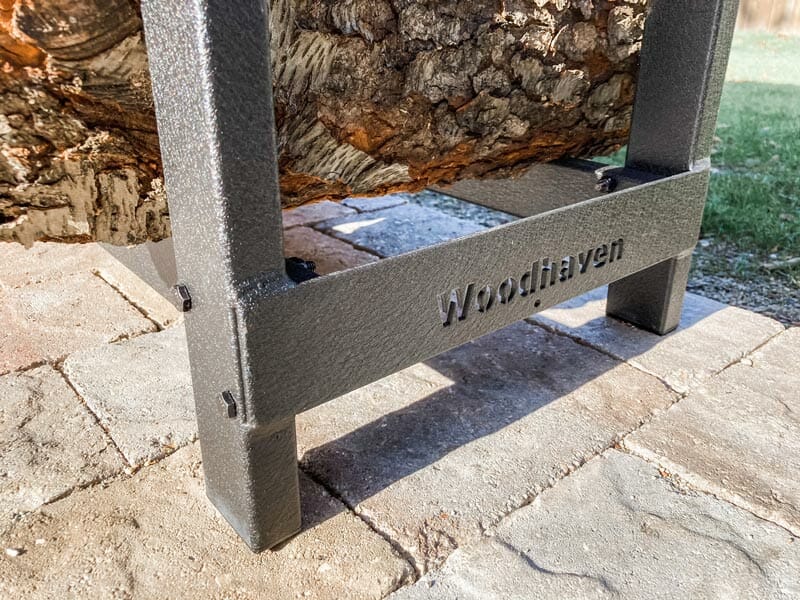 Short Cover Concept
The Woodhaven introduced the idea of the short cover to the world of wood racks.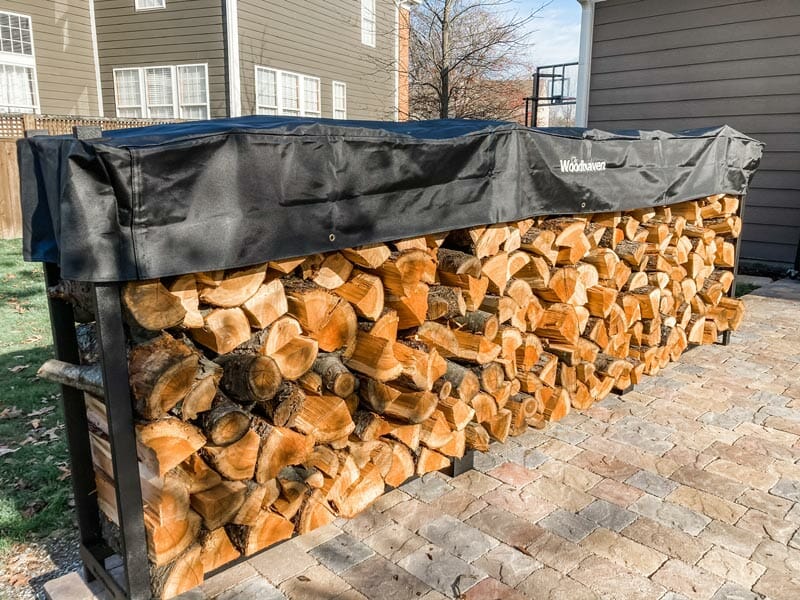 This heavy-duty canvas cover only fits over the top 12″ of wood, keeping only the wood you'll be using first dry and protected.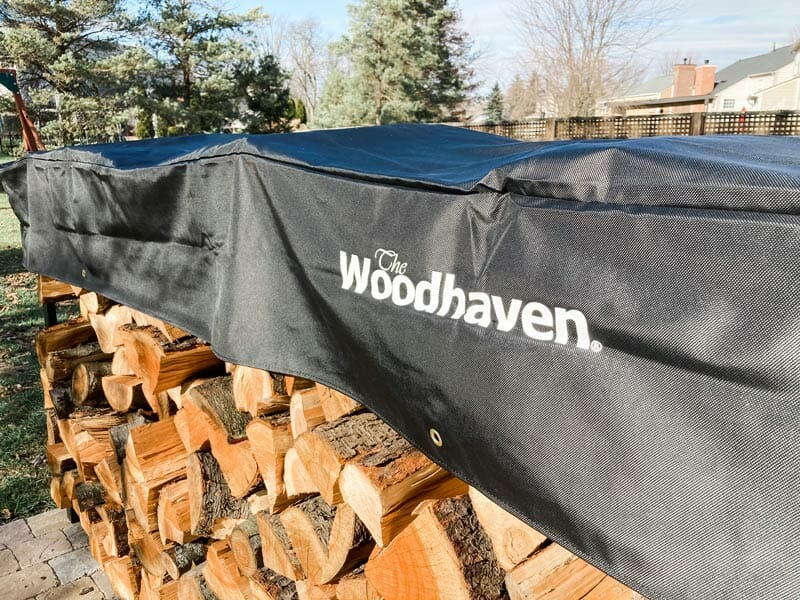 This allows plenty of sun and airflow for the remaining bottom 3 feet, which is an ideal environment for seasoning firewood. It also drastically helps cut down on mold and mildew issues with your wood.
The cover comes with elastic straps that fit around the vertical supports very snuggly. In our experience, these straps have been successful securing the cover in our recent 40-50 mph wind gusts.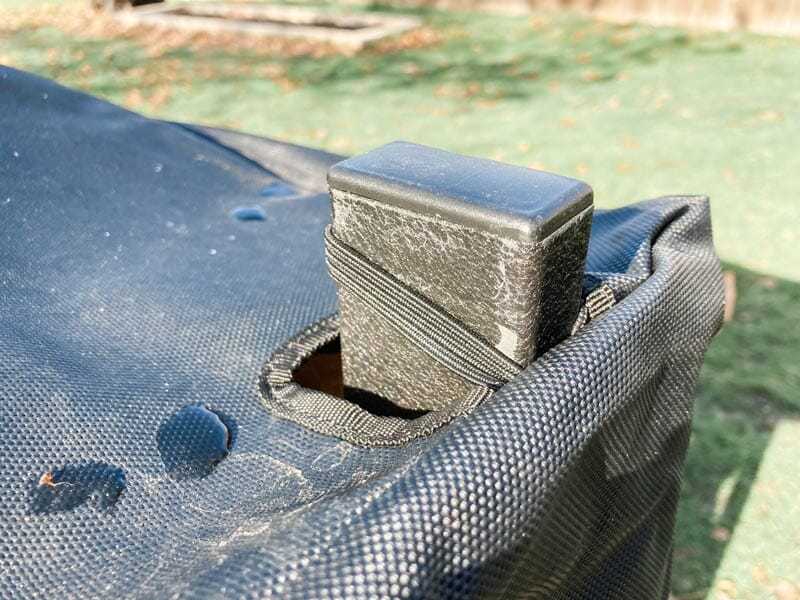 It's nice to know that there are also grommets throughout the cover so if we felt the need for additional security we could use bungee straps or ropes to tie the cover down even more.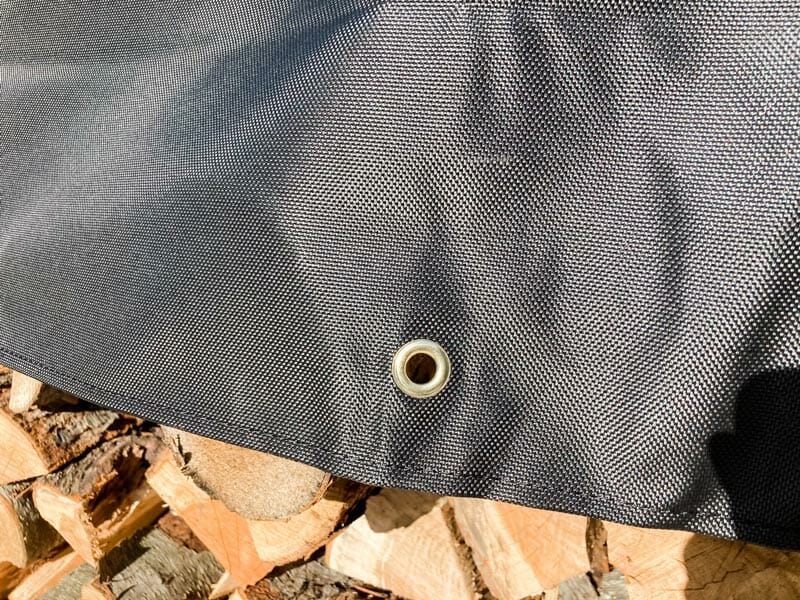 Firewood Rack Sizes
The Woodhaven log racks come in 4-foot (1/4 cord capacity), 8-foot (1/2 cord capacity, 10-foot, 12-foot (3/4 cord capacity), and 16-foot (1 cord capacity) widths, and there are even some 2, 3, and 5-foot variations available if you'd like to keep a smaller rack closer to the fire.
The Woodhaven log rack capacities are based on a 24″ length of firewood.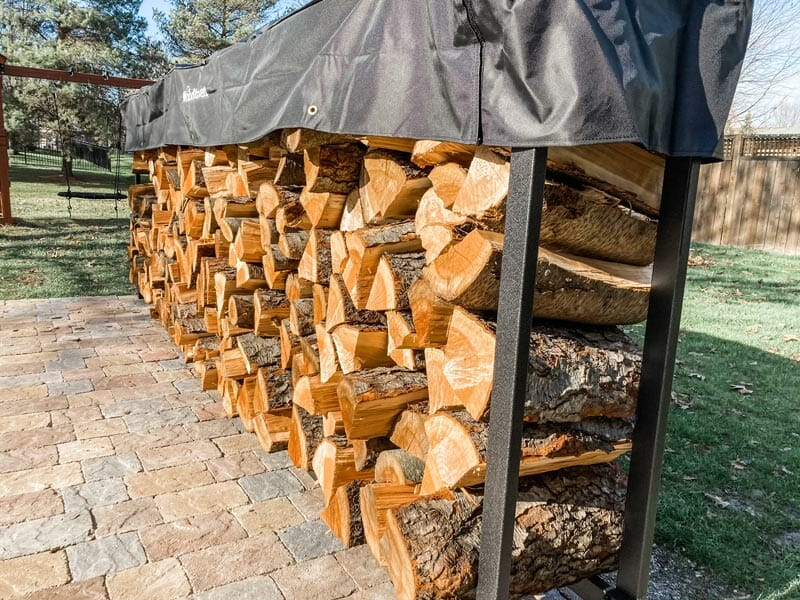 How much is a cord of wood?
A cord of wood will measure 4x4x8 feet, which adds up to 128 cubic feet in total. A cord is a pretty exact unit of measurement for wood.
How much is a rick of wood?
A rick of wood is a much less exact amount simply describing a pile of wood measuring 4 feet in height and 8 feet in length, but no specified measurement of width. The logs may be cut to 12, 16 or 24 inch splits.
Lifetime Structural Warranty
Alexander Manufacturing stands behind their products and offers a lifetime structural warranty on all their wood racks. And if I had to guess, that's probably a pretty safe warranty for them to offer because this product was definitely built to last a lifetime. They're not blowing smoke when they claim it will be the last wood rack you'll ever have to buy.