This Smoked meatloaf recipe will amaze and delight even the most skeptical meatloaf eaters in your house! The bbq and smoke flavors kick this comfort food up to a whole new level.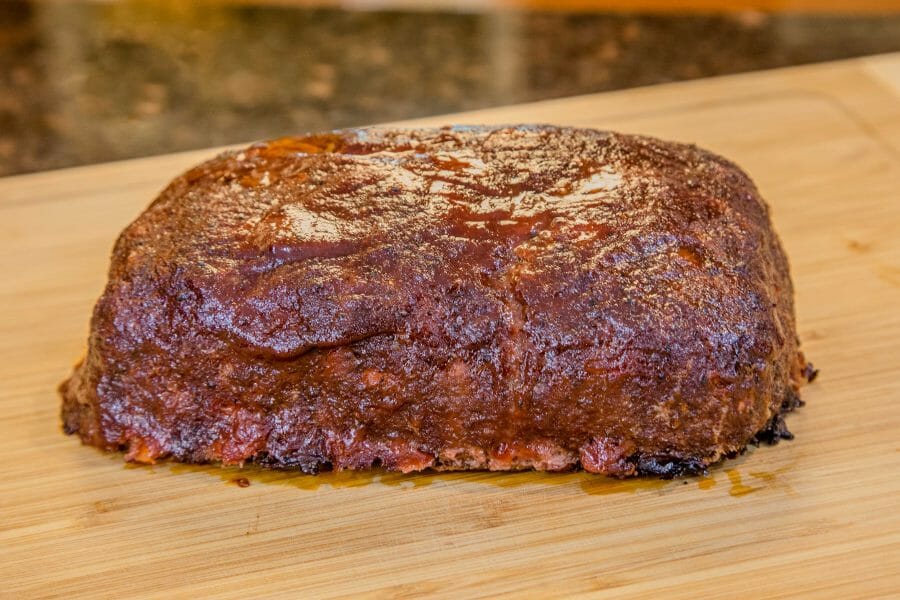 Did you know that only approximately *43% of the American population actually likes to eat meatloaf?
That's probably not true. I honestly made up that statistic. But it sounds about right to me.
I personally have never been a fan of baked meatloaf.
But I married a woman who is one of the *43%. In fact, oddly enough her whole family is. In their house classic meatloaf was a family favorite.
Silly girl thought she could convert me to being a meatloaf eater when we got married.
She was wrong. I still didn't like it. But we "compromised" and still had it for dinner about once a year.
But then a funny thing happened.
Over the years I got really into barbecue. I accumulated a small collection of grills and smokers with which to hone my outdoor cooking skills.
After many years of practicing (and a whole lot of failed meals), I started getting pretty good at it. My family was growing impressed with the meals I would produce.
And then a challenge was issued.
Take this meal that I'd been loathing my whole life and revamp it to create a smoked bbq meatloaf recipe.
I honestly didn't think that cooking a meatloaf on a smoker and using bbq sauce instead of ketchup would make a big enough difference for me.
But I was wrong. It was amazing.
*The statistic listed in this article is complete fiction. It is based entirely on my own opinion and there are absolutely no facts to back it up.
Not Your Average Meatloaf Recipe
Only about half of this recipe resembles the meatloaf my wife grew up eating.
To begin with, we have used more than just ground chuck.
We've experimented with blending in some other meat options including ground turkey and ground pork. But what we settled on was a 3:1 ratio of ground beef to original pork sausage.
To give this recipe more of a barbecue flavor, we sprinkled our own bbq rub recipe on the outside of the meatloaf and glazed the top with our own homemade bbq sauce recipe.
You could certainly use your own favorite bbq rub or bbq sauce (which we used to do), but I will admit that this recipe got even better when we started developing and using our own rub and sauce.
How to Make Smoked Meatloaf
Start by combining the different meats in a large bowl. To that you add your finely diced vegetables including carrots, celery, onion, red bell pepper and fresh garlic.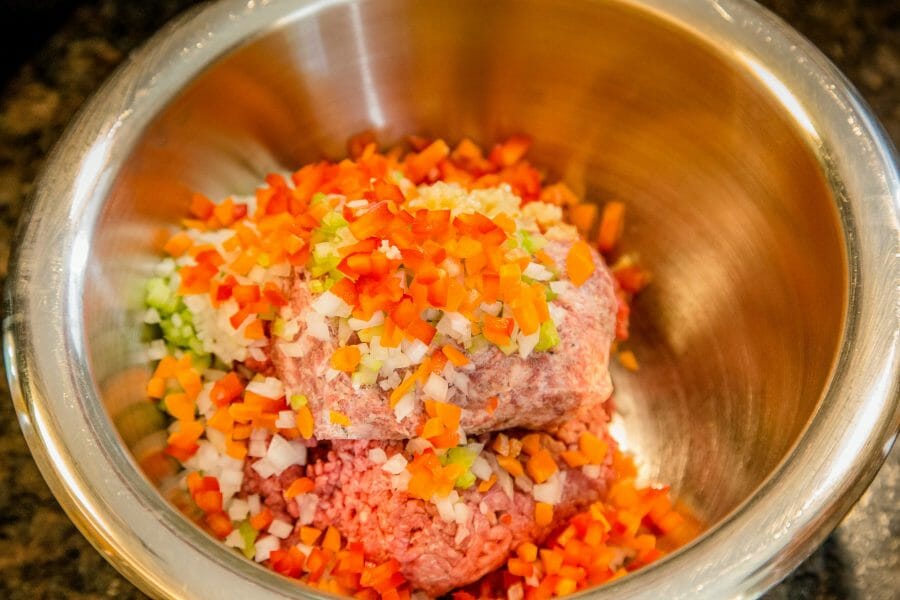 In a separate bowl, whip up the wet ingredients including the eggs and the heavy whipping cream and set aside.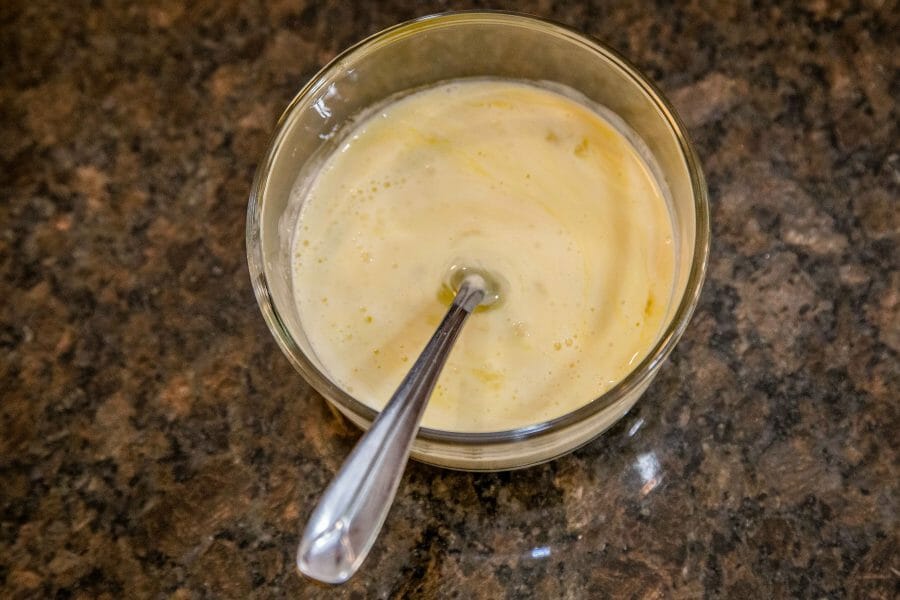 Using another separate bowl, combine the dry ingredients of panko bread crumbs, parmesan cheese, salt, pepper, and dry bbq rub.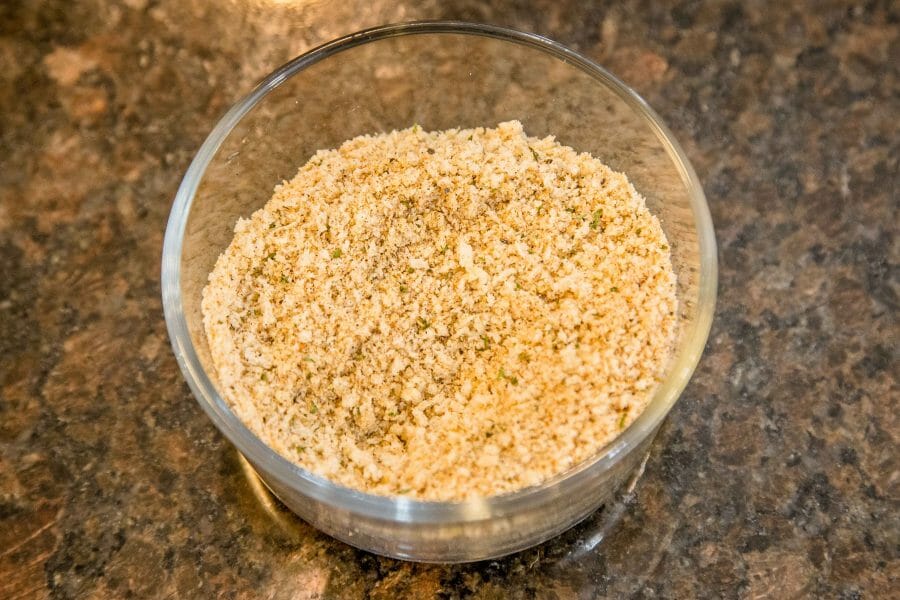 Add the wet ingredients, the bbq sauce, and the dry ingredients in with the meatloaf mixture and mix thoroughly (I like to use my hands for this).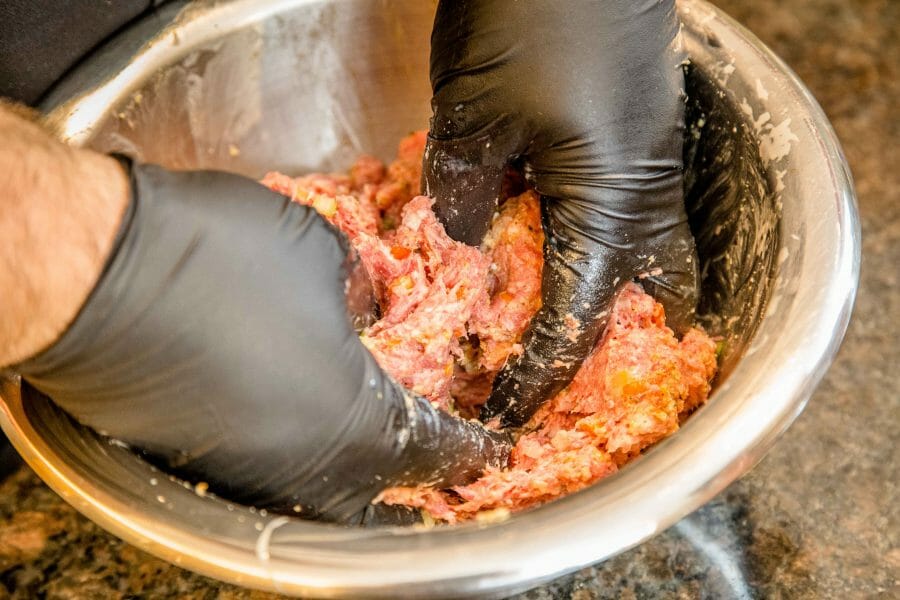 Next you need to prepare a loaf pan by spraying it with nonstick cooking spray and lining it with plastic wrap.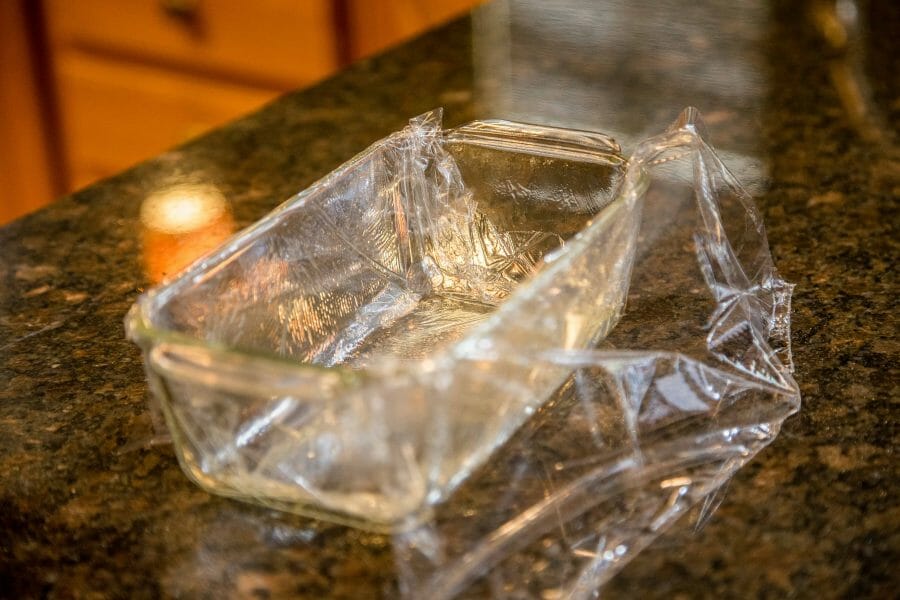 You will transfer the meatloaf mixture into the loaf pan in the fridge for at least an hour to set up and take shape.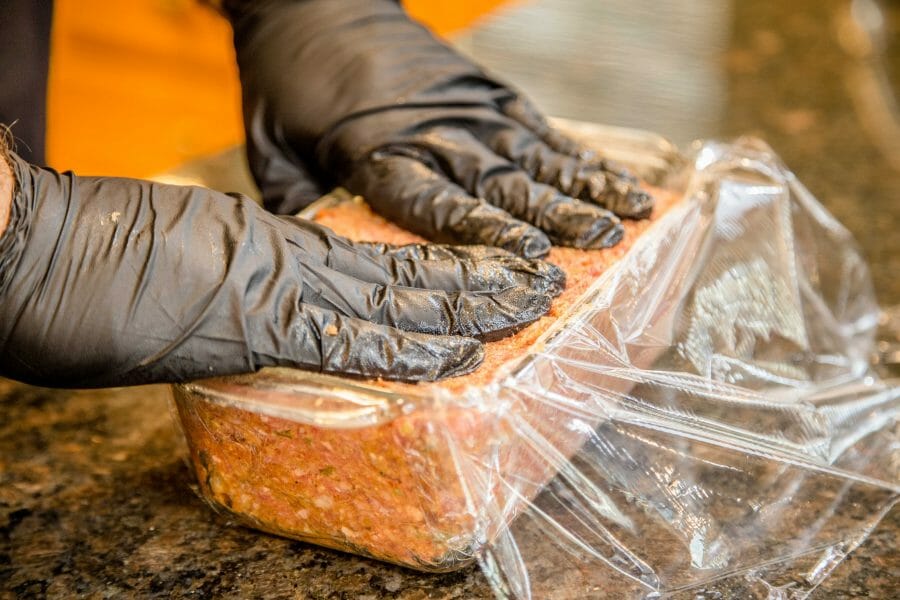 Because this is a smoked meatloaf, we want as much surface area exposed to smoke during the cook as possible. So we recommend transferring your uncooked meatloaf onto a wire cooking rack.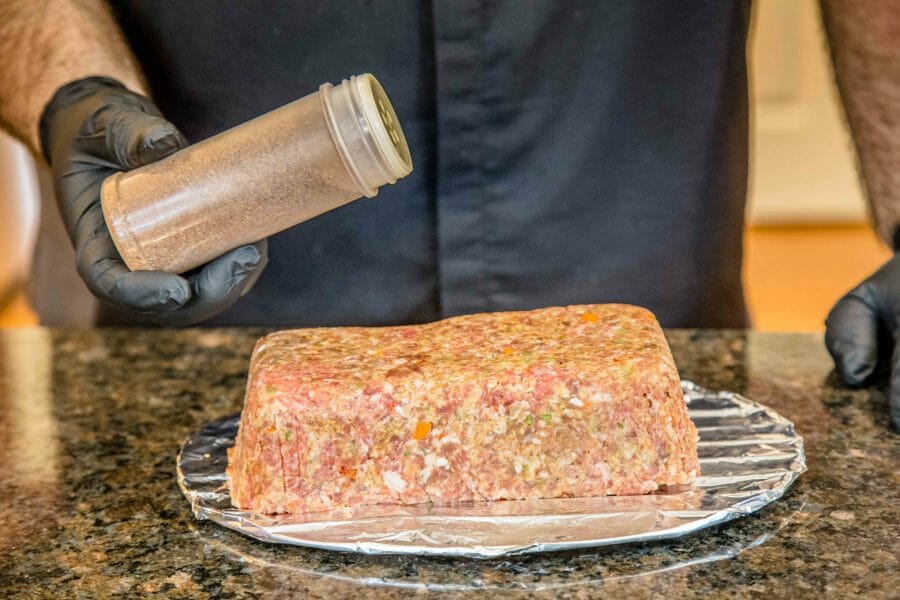 Lastly, sprinkle a nice layer of bbq rub on the top and all 4 sides of the meatloaf. And now it's ready to cook.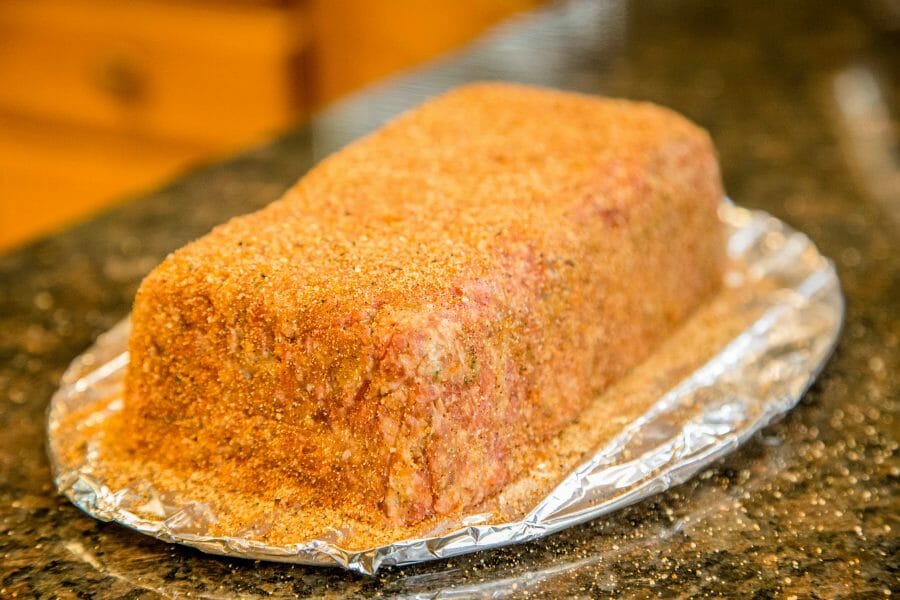 How to Cook Smoked Meatloaf
We've smoked our meatloaf recipe on a pellet grill, an offset smoker, and even our kamado charcoal grill using indirect heat and hickory wood chips. No matter the grill, just close the lid and let the smoke roll.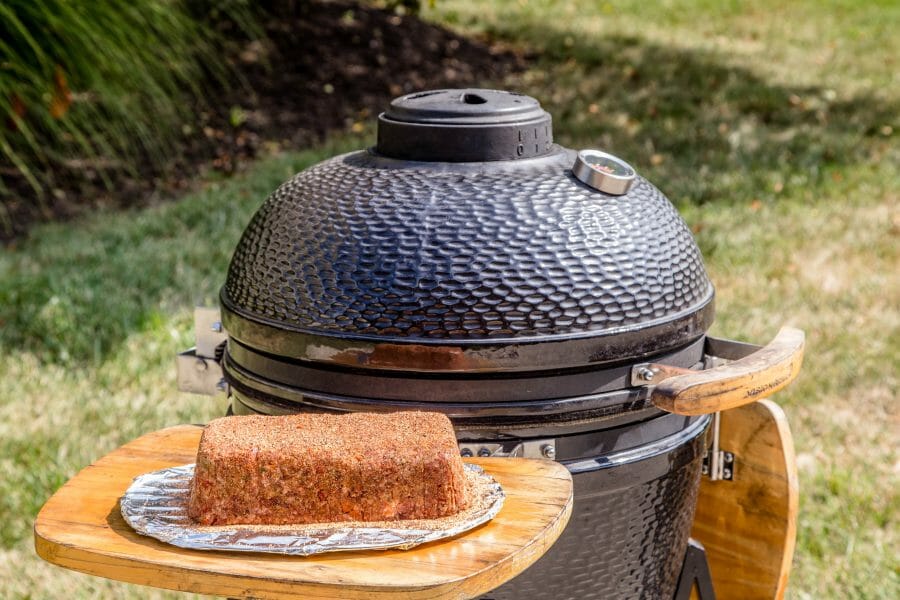 Cooking times will vary, but we've found that our average cook time for this smoked meatloaf recipe is 2 hours. The main thing is making sure you cook it until the internal temperature (checked with an instant-read thermometer) reaches 160 degrees.
Your last step is to glaze the top and sides of the smoked meatloaf with bbq sauce. It will need to return to the heat for an additional 10-15 minutes, just long enough to set up a little.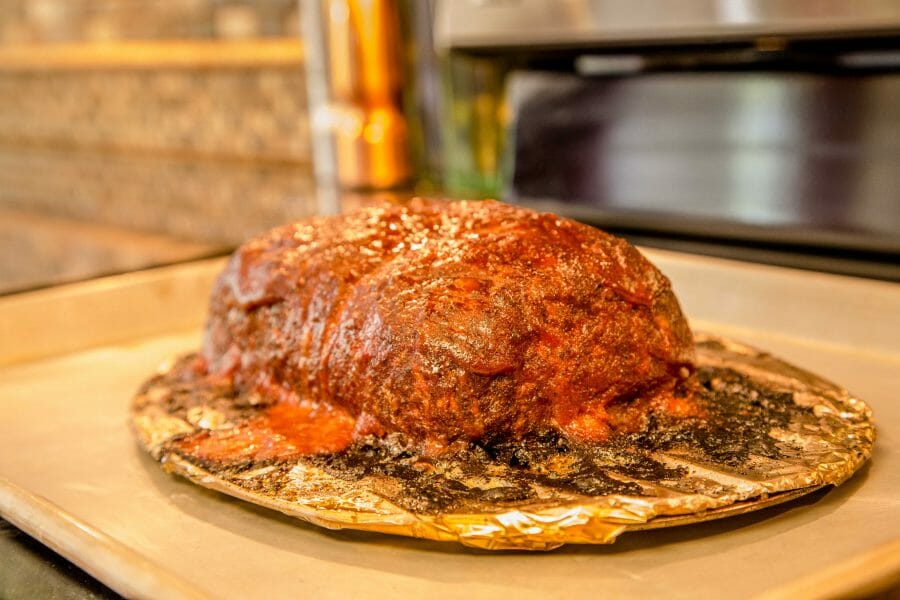 After removing the meatloaf from the grill, allow to rest for about 20 minutes before attempting to slice. This will help your meatloaf stay nice and moist and not lose all of the juices onto the cutting board.
We recommend using a serrated knife or an electric knife to cut nice slices without causing the meatloaf to crumble apart.
After you cut your first slice, you'll surely notice a beautiful smoke ring adding to the list of barbecue features of this awesome recipe.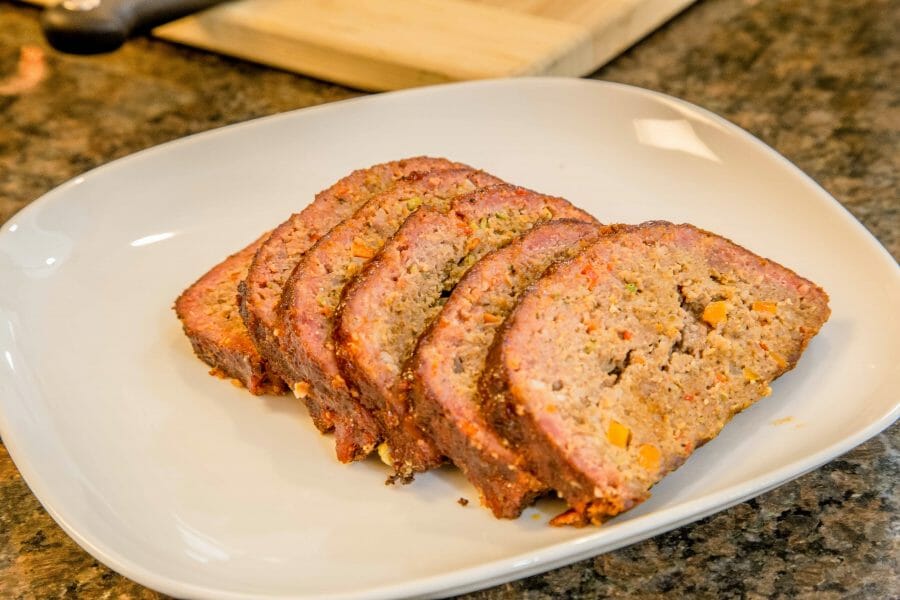 Serve this smoked meatloaf up with some mash potatoes or better yet, twice smoked potatoes, and you've got yourself a delicious meal.
You should give this one a try and be sure to let us know in the comments how you liked it!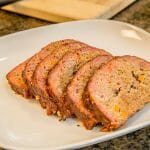 Print Recipe
Smoked Meatloaf
Meatloaf is one of those meals that's usually just ok. But our barbecue smoked meatloaf takes it to a whole new level that will leave your family asking for more!
Equipment
Smoker

Wire Cooking Rack

loaf pan
Ingredients
1½

lb.

ground beef

½

lb.

pork sausage

¼

cup

carrot

finely diced

¼

cup

celery

finely diced

¼

cup

red pepper

finely diced

¼

cup

onion

finely diced

2

cloves

garlic

minced

2

eggs

¼

cup

heavy whipping cream

2

Tb.

barbecue sauce

1

tsp

salt

½

tsp

black pepper

1

Tb.

barbecue rub

½

cup

panko bread crumbs

¼

cup

grated parmesan cheese

1

cup

barbecue sauce

¼

cup

barbecue rub
Instructions
In a large bowl combine the beef, sausage, carrot, celery, red bell pepper, onion, garlic, and 2 Tb. of barbecue sauce.

In a separate bowl, whisk the eggs and cream together.

Add the wet ingredients to the meat mixture and stir together.

In a separate bowl, blend the salt, pepper, barbecue rub, bread crumbs and parmesan cheese. Add this to the meat mixture and blend it all together thoroughly without overworking the meat.

Spray a loaf pan with nonstick spray. Line the loaf pan with a large piece of plastic wrap being sure to press it into all the corners. Transfer meatloaf mixture into the loaf pan and gently press it down to eliminate air pockets.

Cover and refrigerate for at least 1 hour up to overnight.

Heat your smoker to 275 degrees.

Carefully use the plastic wrap to remove the meatloaf from the loaf pan and transfer it to a wire cooking rack.

Sprinkle additional barbecue rub on the top and sides of the meatloaf.

Smoke for about 2 hours until an internal temp of 160 degrees.

Glaze meatloaf with barbecue sauce and leave it on the grill for an additional 10 minutes.
Video
Nutrition
Calories:
447
kcal
|
Carbohydrates:
21
g
|
Protein:
23
g
|
Fat:
30
g
|
Saturated Fat:
12
g
|
Cholesterol:
135
mg
|
Sodium:
1033
mg
|
Potassium:
458
mg
|
Fiber:
1
g
|
Sugar:
14
g
|
Vitamin A:
1134
IU
|
Vitamin C:
7
mg
|
Calcium:
86
mg
|
Iron:
3
mg