There are hundreds of ways to light a fire, but the cleanest way I know of is to do it with superheated air. Today we're taking a deep dive into the battery-powered Looft Lighter X electric fire starter.
We first saw the Looft Lighter X in action back at the Hearth Patio and Barbecue Expo in 2020, right before the world shut down. We saw it in use but never had the opportunity to try it ourselves until the last few months when we got a tester sample to play with and see what it was all about.
Note: Some of the links in this article may be affiliate links. This doesn't cost you any more than normal but it helps support our channel. Read our disclaimer for more info.
What is the Looft Lighter X used for?
Let's start with what this unit is for. Quite simply, it's for lighting and stoking fires. It doesn't matter if you're lighting charcoal or wood, working in a grill or at a campsite or in your fireplace, this is a fire starting device that works both inside and out.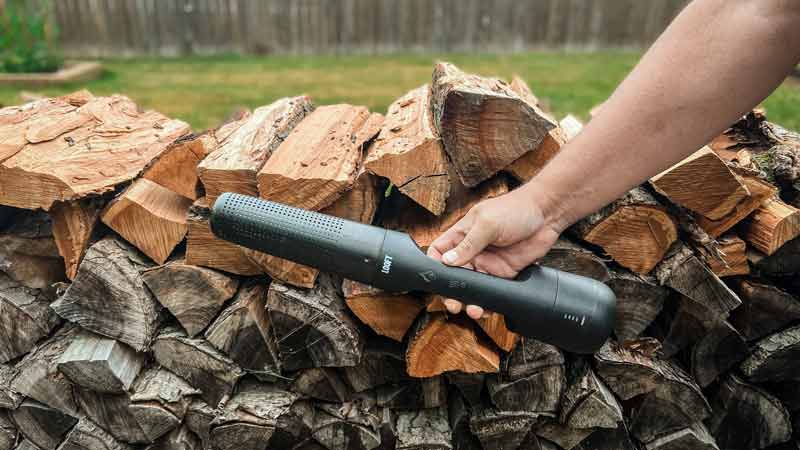 Where Can the Looft Lighter X Be Used?
I've seen the Looftlighter X in use at one of our local KCBS BBQ Competitions, and I've used it to light our Solo Stove Bonfire and Yukon fire pits, our new Breeo Y series fire pit, countless kamado grills, our offset Lone Star Grillz smoker, our outdoor pizza oven (both Ooni and Alfa), fireplace logs and more.
Who is the Looft Lighter X for?
Like I said at the beginning of this article, there are countless ways to start a fire, but this is the cleanest way that I'm aware of. There's no wax cube or tumbleweed fire starter needed here. No residue left over in my outdoor wood fired oven where a wax starter burned into the cooking brick and left a mark I can't get rid of. I learned that lesson the hard way. Using the Looft Lighter X is easy, so let me show you how it works.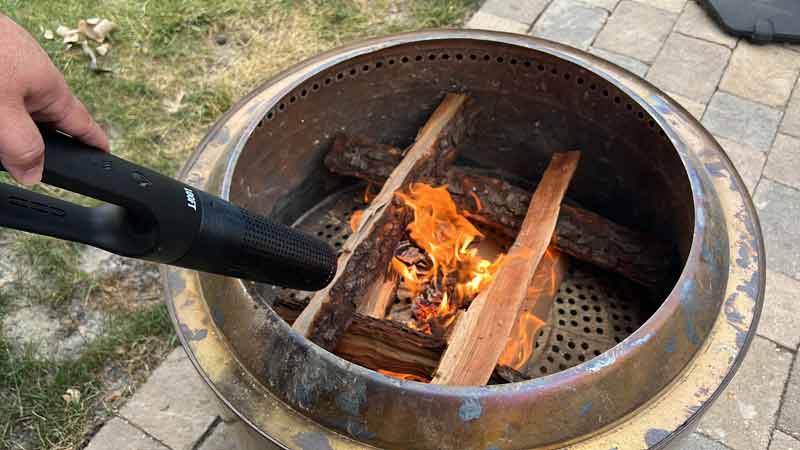 How does the Looft Ligher X work?
Turn on the power.
When holding the handle of the Looft Lighter X, the power button is on the underside of the handle, where your index finger is likely resting. Hold that button down for a few seconds until the buttons light up.
Position the Looft Lighter X heating element and activate burn mode.
Once you have your wood or charcoal arranged and in place, touch the tip of the Looft Lighter X right up against your fuel and press the flame button on the handle. This will turn on the heating element along with a low fan, reaching temperatures up to 1200°F. Keep the Looft Lighter aimed directly at the same spot for about a minute.
Pull back, but keep aiming.
As soon as you start to see sparks or a glow appears, pull the Looft Lighter X back a few inches, but keep that superheated air directed in the same direction.
Activate air mode.
Because of the automatic ignition program, air mode will begin automatically after 2 minutes, but you can always start it sooner if you choose. In air mode, the fan will kick into high gear and the heat will turn off. You'll likely see flames pretty quickly at this point.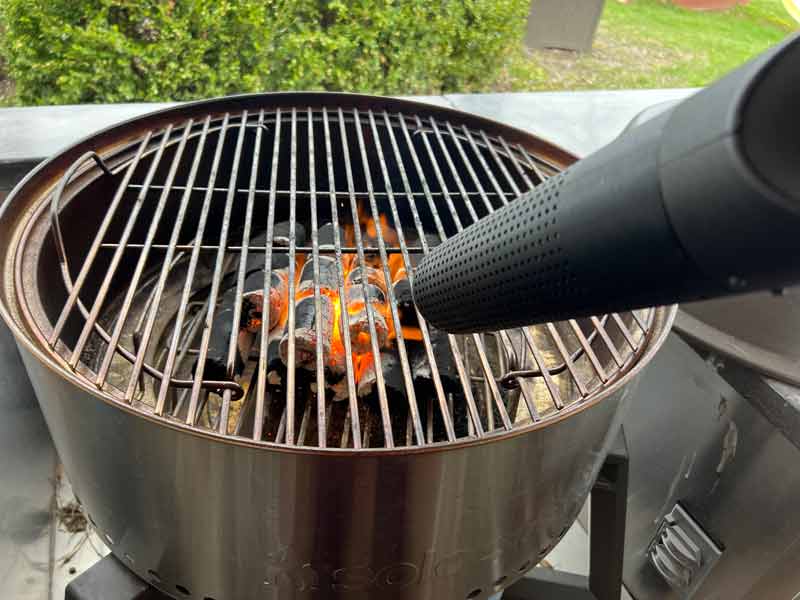 Turn off the Looft Lighter X.
As soon as your flames gain independence and remain lit without the assistance of blowing air, you can turn the Looft Lighter X off and set it down.
Battery Powered Fire Starter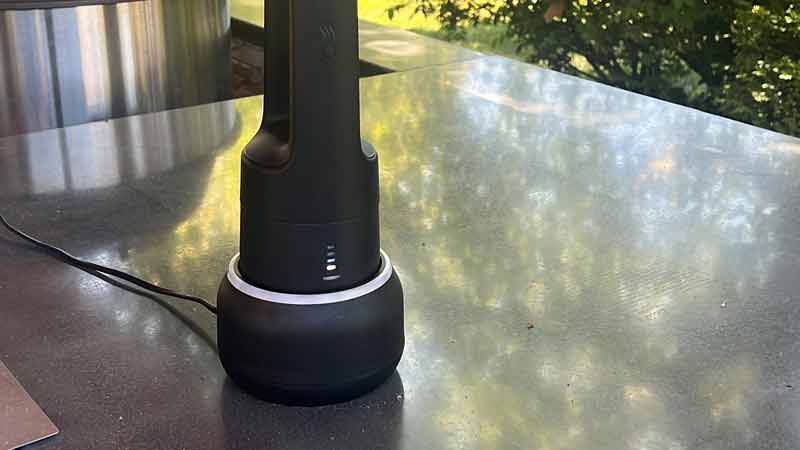 Unlike its predecessor, the original Looftlighter, the Looft Lighter X uses only battery power, so there's no power cable to manage while you're using it.
A single charge is designed to last 10 uses, and it probably does, but I tend to charge it every 5-6 uses to make sure I have power on hand when I need it.
The charger has a retractable cable, and I like that the cord stores out of the way when it's not in use.
What we love about the Looft Lighter X
I love that the Looft Lighter X stands vertically, making it simple to set down after use without worrying about it accidentally brushing up against something flammable and starting an unintended fire. In my opinion this is a huge improvement from the original Looft Lighter X because I was always leary about setting that down while it was hot.
The fact that this amazing tool is battery powered is a huge convenience. As long as it's fully charged, it can be used literally anywhere. Additionally, the battery only takes 2 hours to charge
This is about the cleanest way I know of to start a fire. There's no need for toxic chemicals like lighter fluid. We're just using good old clean superheated air to light charcoal grills, fireplace logs, fire pits, or an outdoor pizza oven.
The Looft Lighter X is so easy to use. It's probably one of the easiest fire starter options I own, and I have quite a few here at the Lab.
The Looft Lighter X has been designed with a detachable heat shield. This is the part of the tool that withstands extremely high temperatures and will wear down the fastest, so the ability to easily replace that one part to keep the whole unit working properly is good planning on Looft's part.
What we don't love about the Looft Lighter X
Honestly, the only thing I don't love about the Looft Lighter X is the price. $299 is a steep price for many to pay for the ability to start a fire when there are much less expensive options out there. It's certainly not for everyone, but those who can afford this amazing tool will certainly appreciate its sleek design and convenience.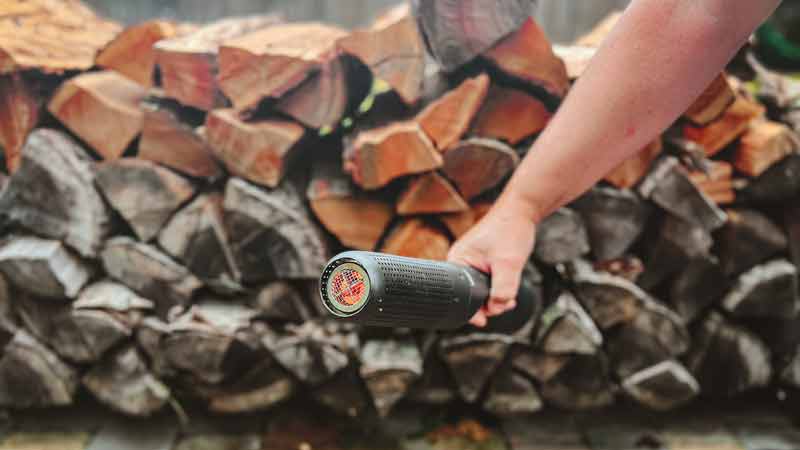 Conclusion
Whether you're lighting your fireplace, fire pit, charcoal grill, or pizza oven, the Looft Lighter X will have that perfect glow smoldering both quickly and easily.