The Z Grills 7002C2E is a part of our testing for the Best Pellet Grill of 2022 that we've recently published. We took 5 wood pellet grills under $599 and put them head to head in over 20 categories to determine which wood pellet grill is the best buy at that price point.
Note: Some of the links in this article may be affiliate links. This doesn't cost you any more than normal but these paid commissions help support our channel. Read our disclaimer for more info.
But today, we're talking about the Z Grills 700 series, and it gets its name from having right at 700 square inches of cooking surface available in the pellet grill. Let's start by walking through the specifications on this unit.
5% discount code: ZGRILLS
Z Grills 700 Specifications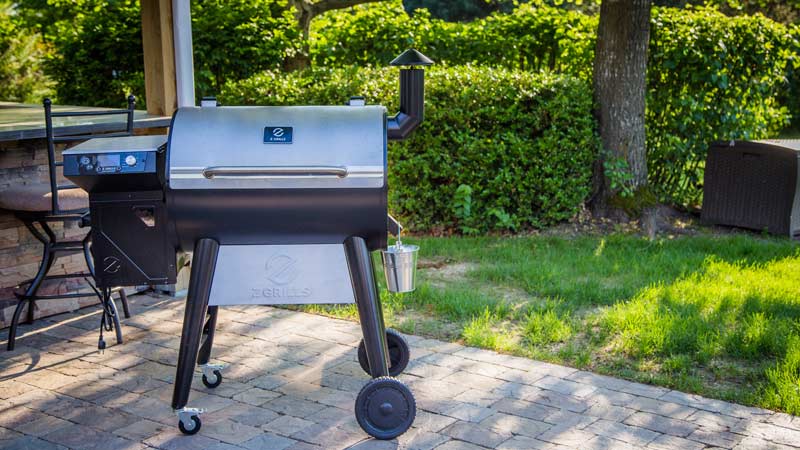 Assembled Dimensions: H51″xW48″xD26″
Weight: 113 lbs
Cooking Area: main grate 504 square inches, secondary grate 193 square inches, total cooking area 697 square inches.
Cooking Height: 9 inches
Temperature Range: 180-450 °F
Hopper Capacity: 24 lbs
The main grate measures 26 inches wide by 19 1/2 inches deep and is made of porcelain coated steel. The upper rack measures 26 inches wide by 7 1/2 inches deep and is also made of porcelain coated steel.
There's 9 inches of vertical height in the cooking chamber, which is important to know when you're thinking about smoking the Thanksgiving turkey.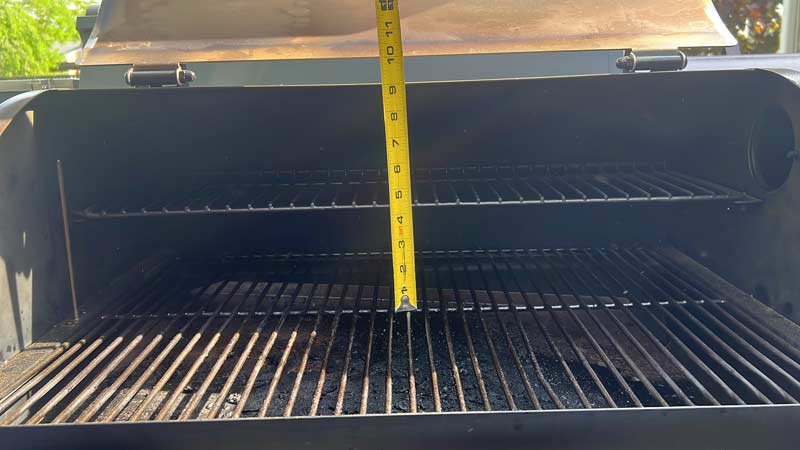 This wood pellet grill weighs just over 110 pounds and carries up to 24 pounds of wood pellets at a time. There's even a wood pellet view window in the pellet hopper so you can see your pellet levels at any point during your cook. I like this feature a lot since I'm constantly forgetting to add wood pellets to my grills before I start a cook.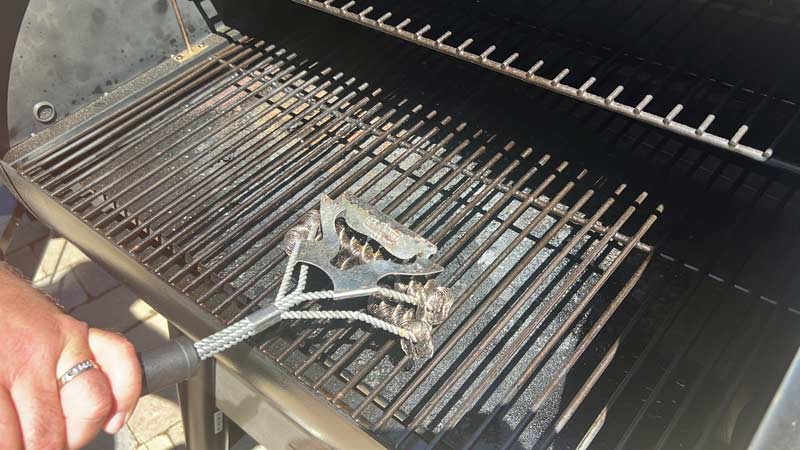 The main cooking surface offers 504 square inches of cooking space, and the upper rack brings another 193 square inches that totaling 697 square inches of cooking space.
The digital PID controller is set by a single knob to control temperature and has a range from 180 to 375 degrees Fahrenheit. There's also a Smoke setting below 180 and a High setting above 375 that in our testing reached the 500-degree range.
5% discount code: ZGRILLS
Z Grills Build Quality
When it comes to the build quality of this wood pellet grill, we put it to the test with our digital caliper and came up with a 2.11 mm measurement on the thickness of the lid and a 1.55 mm measurement on the thickness of the body.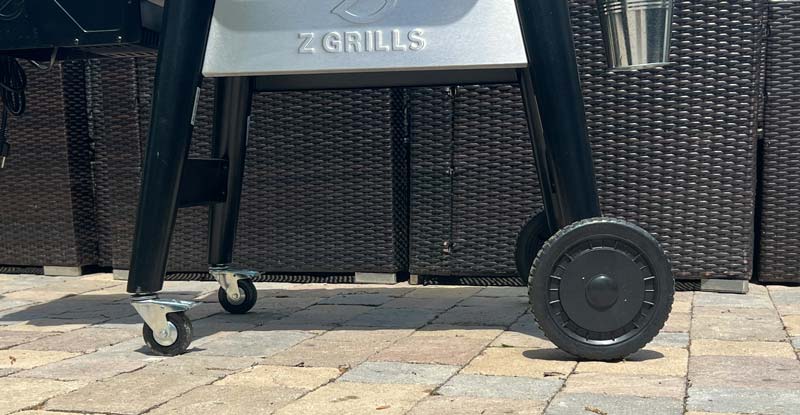 There are 2 locking caster wheels on the grill and 2 large wheels to make it easy to move around. We've found if you pick up the pellet grill by the handle and hold the caster wheels off the ground, the large back wheels make it easy to move through grass and softer dirt when needed.
Z Grills Controller
The controller on the Z Grills 700 series is a PID temperature controller, which is a part of the new trend in wood pellet grills as of late. Controllers used to be timed duty cycle or standard digital controllers, but the PID temperature controller is more efficient in the way it controls temperature. It's predictive, meaning that it won't have such a wide variance in temperatures over time.
5% discount code: ZGRILLS
Cooking on the Z Grills 700 Wood Pellet Grill
Let's walk through some of the cooks that we did on the Z Grills 700 pellet grill.
Low and Slow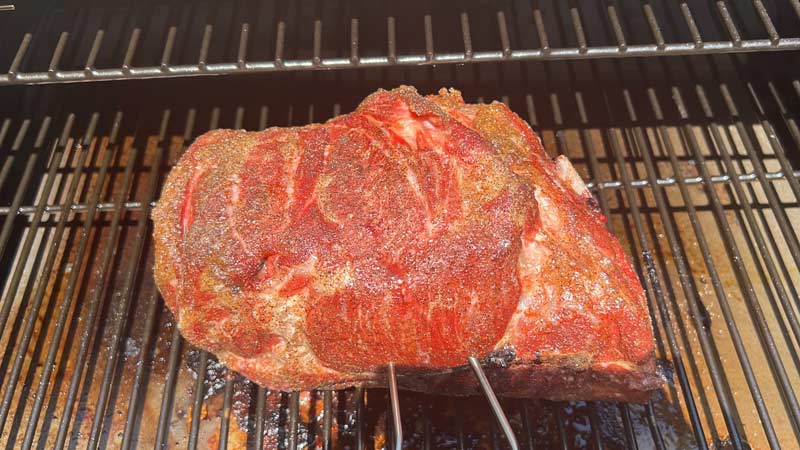 We started off with a low and slow pork shoulder for pulled pork. We seasoned the pork up with a 50/50 mixture of salt and pepper, set the pellet grill to 250 degrees, and didn't even open the lid for the first 3 hours.
We checked in and spritzed the pork with water to keep it moist, and wrapped the pork in aluminum foil when it reached a temperature of 150 degrees internal. Once it hit 200 degrees, we pulled the shoulder off the wood pellet grill and let it rest in a dry cooler for a few hours before we took the bone out and pulled the pork for sandwiches.
Hot and Fast Cooking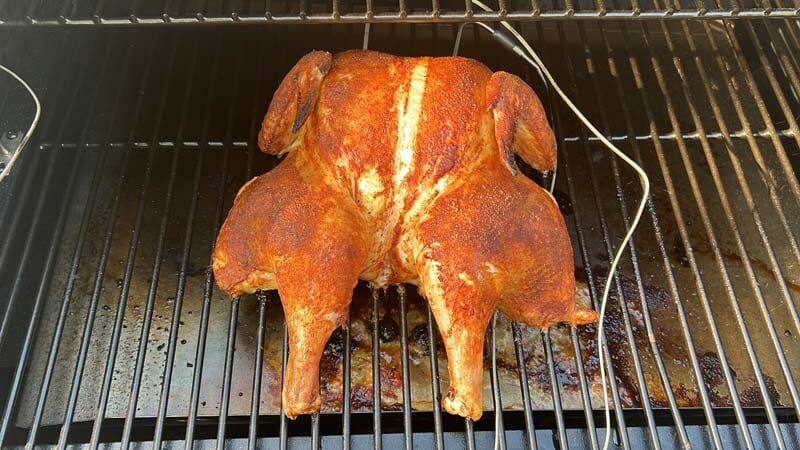 The next cook was a spatchcock chicken with Heath Riles Apple BBQ Rub. We cut the backbone out of the chicken so it would lay flat on the grate and cook evenly. We set the pellet grill to 350, and let it cook for about 90 minutes until we had a nice golden brown color and the breast temped at 160 degrees internal. We took it off the wood pellet grill, covered it with foil to let the carryover temperature get to 165 and served it to the family for dinner.
Grilling
For a truly hot and fast test, we set the wood pellet grill to high to see if we could really grill on this unit like we could on a gas grill. There's no direct access to flame on this grill, but we wanted to see if we could get grill marks on the grate that's included as well as the GrillGrate aluminum raised grate system.
We took 2 boneless chicken thighs seasoned with Pit Boss Champion Chicken rub, placed one on each grate and set a timer for 5 minutes. After the timer went off, we flipped the meat over and here's what they both looked like. Turns out you can get sear marks on a wood pellet grill without a flame access door.
5% discount code: ZGRILLS
Temperature Tests
We ran tests on this unit to see how long it would run on an empty pellet hopper to which we added exactly 4 pounds of wood pellets. We primed the auger and powered it off once the first pellet hit the burn cup. We reset, powered the pellet grill on to stabilize at 250, and this grill ran for 3 hours and 39 minutes on 4 pounds of wood pellets before it dropped to under 230 degrees and continued to lose heat until powered off.
We used our Thermoworks Signals to measure the exact temperature of the wood pellet grill compared to the programmed temperature of the Z Grills 700 pellet grill.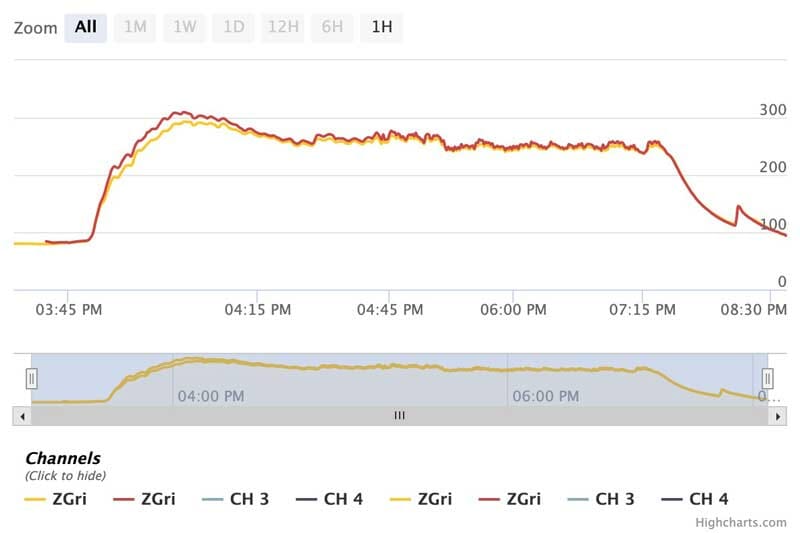 We also measured the amount of time it took for this wood pellet grill to go from a cold start to running at 250 degrees. We magnetically attached our Thermoworks Big and Loud timer to the front where we could see both numbers, and it got to 250 degrees in just 11 minutes and 38 seconds.
Warranty
When it comes to warranty, there's 3 years standard warranty on the Z Grills pellet grill, and more details can be found on the Z Grills website.
5% discount code: ZGRILLS
What We Love About the Z Grills 700 Series Wood Pellet Grill
The Z Grills 7002c2e has a large hopper that will last the duration of just about any low and slow smoking session.
I love that there's a pellet hopper clean out feature on this pellet grill. It allows me to change pellet flavors whenever I want, and also drain the wood pellets whenever I need to. Swapping pellet flavors isn't something that I do real often but I like to have the ability when the need arises.
The PID temperature controller also comes with 2 meat probes, which is a rarity in the sub $600 price point. Most pellet grills might come with 1 probe and some don't have any, so I like that 2 meat probes come standard. Temperature probes are necessary to measure the internal temperature of your protein, so when smoking more than one meat on your wood pellet grill, it's helpful to have more than one meat probe.
I really appreciate the pellet hopper window so I can quickly glance and assess whether the grill needs more wood pellets for my cook.
In all of our testing, this model had by far the most consistent cooking chamber temperatures throughout each of our cooks. The variance in temperature was generally just +/- 10 degrees Fahrenheit, and that's tight from what we saw in the other models involved in the test. Temperature control is something that Z Grills excels at.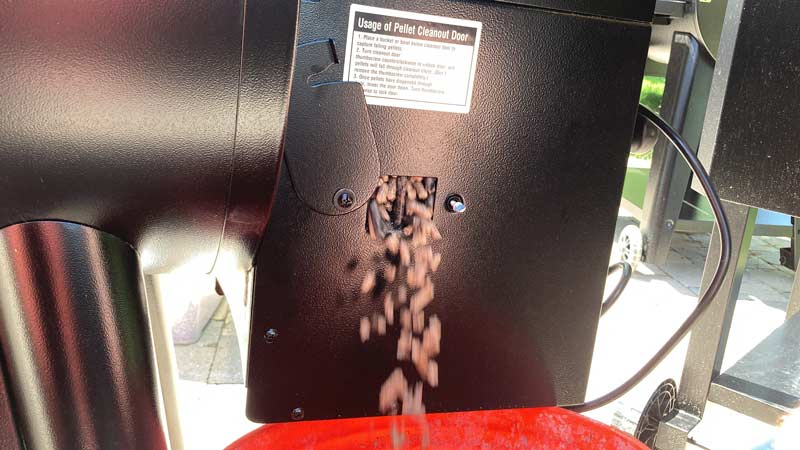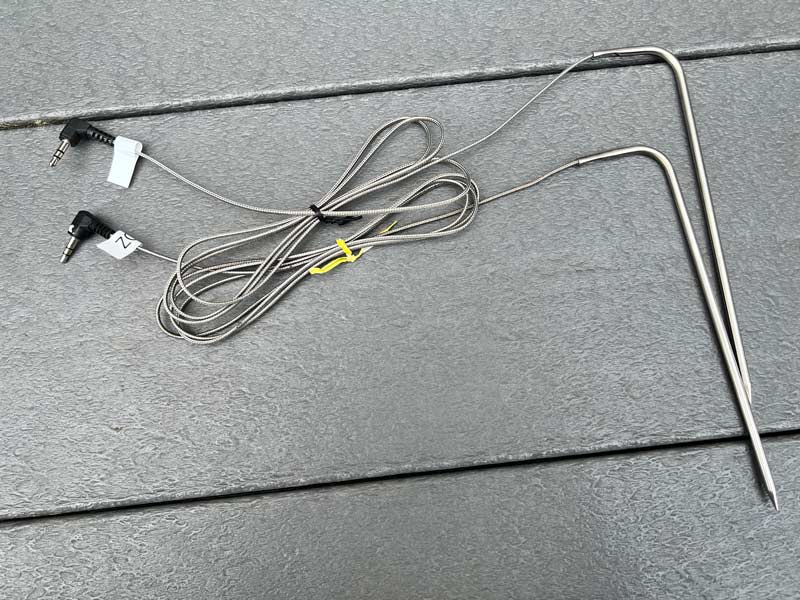 5% discount code: ZGRILLS
What We Don't Love About the Z Grills 700 Series Wood Pellet Grill
There's no side shelf on this Z Grills 700 model, so the stainless steel lid of the pellet hopper is the primary place to set trays of food or accessories when you're working on the wood pellet grill.
In our low and slow cooks, we were missing the real smoke infusion we were able to get on some of the other wood pellet grills. That great temperature consistency comes at a price, as it's the temperature variations that generate more smoke and give your proteins a better color and bark.
Conclusion
So, overall, what do we think about this Z Grills 7002C2E wood pellet grill? This is a very consistent pellet grill that holds temperature within a very tight range whether you're cooking at 250 for smoking or on high for a hot and fast sear.
It's a wood pellet grill that really can both smoke and sear, and it was the most efficient grill in our testing group of 5 units. A 24 pound pellet hopper means that you can get over 20 hours of cooking at smoking temperatures, so an overnight brisket cook is right in the wheelhouse for this grill. There's not much to argue with in this unit, and in the sub-$600 price range it preforms very well against the competition.
5% discount code: ZGRILLS