This smoked turkey recipe will forever change your outlook on this classic Thanksgiving entree. Free up your oven for the side dishes and smoke your turkey instead!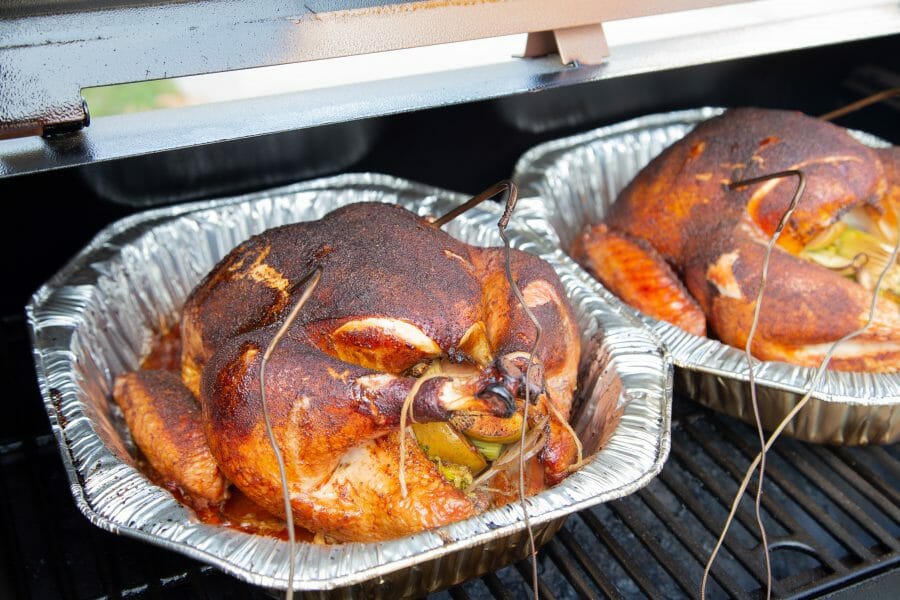 I'll just be honest here. Growing up, and even into my adulthood, turkey was possibly the food that I least looked forward to eating each Thanksgiving. But I would always grab that token slice required to earn my place at the dessert buffet.
Turkey wasn't necessarily bad…. it just wasn't all that special to me. It was like weird tasting chicken that was always a bit dry. And on Thanksgiving, there are like 20 other options of food to pile on my plate, so why waste time with a meat that didn't really do anything for me?
However, a couple of years ago I decided to attempt brining and smoking a whole turkey for Thanksgiving. Two words: game changer.
I was already looking forward to next Thanksgiving when I could have this delicious moist smoked turkey recipe again.
Note: Some of the links in this article may be affiliate links. This doesn't cost you any more than normal. Read our disclaimer for more info.
Does Brining a Turkey Make a Difference?
Does the sun come up each morning?
Does 1+1=2
Does bacon make everything taste better?
The answer to all of these questions is: YES!
While brining your turkey before cooking it can seem like a hassle, we have never regretted doing so. Leaving your turkey in a brine for 24-48 hours prior to cooking results in such moist and delicious meat, I assure you it will be worth the added effort.
To be honest, the additional effort is fairly minimal. The biggest challenges are space in the fridge or cooler and having your timeline worked out correctly.
Thanksgiving Day– Smoke the turkey.
Tuesday before Thanksgiving– Place the turkey in the brine.
Monday before Thanksgiving– Prepare the brine and refrigerate to cool down.
Depending on the size of your turkey, you'll also need to calculate when to get it out of the freezer to begin thawing in order to have it at least mostly thawed and ready for the brine on Tuesday.
How to Make a Turkey Brine
This first step of turkey prep will require a pot large enough to hold a minimum of 2 gallons of water. Even better though if you have a pot deep enough to also hold your whole turkey. That way, once the brine is chilled sufficiently, all you have to do is slowly submerge the the turkey into the pot of brine.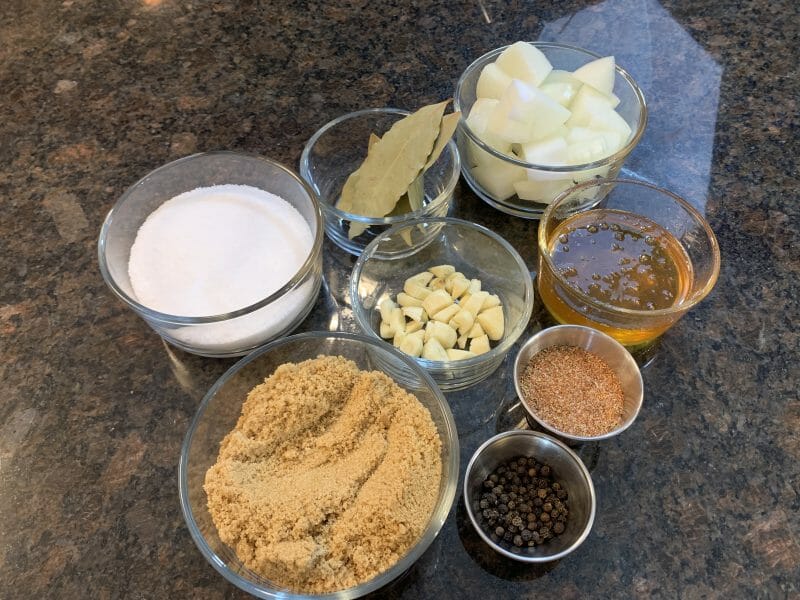 Preparing the brining solution is just a matter of bringing 1 gallon of water to a boil and adding kosher salt, brown sugar, honey, onion, garlic, whole black peppercorns, bay leaves, and your favorite creole seasoning.
Our Homemade Creole Seasoning Recipe:
1 1/2 Tb Paprika
1 Tb Kosher salt
1 Tb Garlic powder
1/2 Tb. Oregano
1/2 Tb. Cayenne pepper
1/2 Tb. Onion powder
3/4 tsp. Black pepper
3/4 tsp. White pepper
3/4 tsp. Thyme
After the salt and sugars have fully dissolved, add the second gallon of heavily iced water to begin cooling things down. You'll see that in spite of the ice, it still has a long way to go and will need to spend the night in the fridge or cooler of ice before it would be safe to introduce the turkey.
The stock pot we use can hold a 12 lb. turkey and most of the brine. We usually have to scoop a couple of cups out after putting the turkey in to prevent it from overflowing.
Place your brining turkey in the refrigerator or iced cooler for 24-48 hours prior to cooking.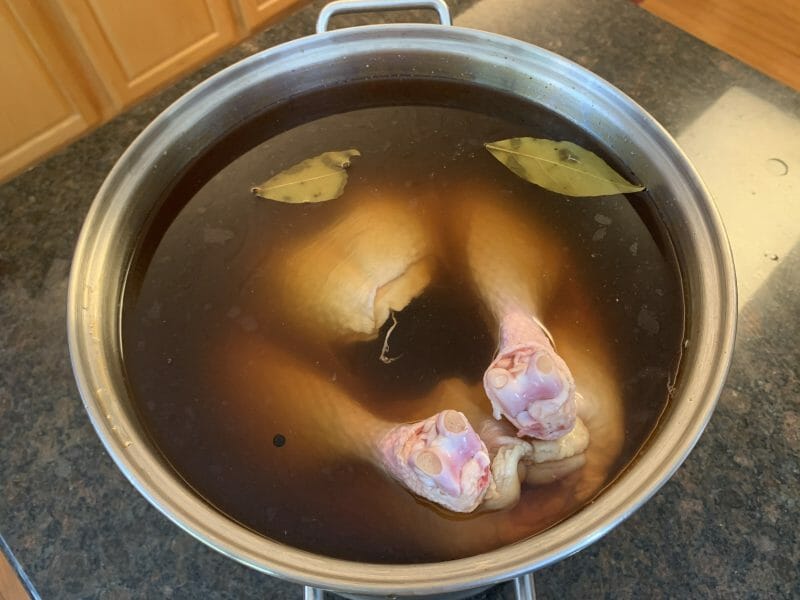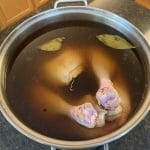 Print Recipe
Turkey Brine
Brining your turkey before cooking it is an excellent way to ensure super moist and flavorful meat.
Equipment
Large container or stock pot
Ingredients
1

gallon

water

1

gallon

water

heavily iced

1

c

kosher salt

1

c

light brown sugar

½

c

honey

6

garlic cloves

roughly chopped or smashed

1

onion

roughly chopped

4

bay leaves

1

Tb

whole peppercorns

3

Tb

creole seasoning
Instructions
In a large pot, bring 1 gallon of water to a boil.

Add the salt, brown sugar, honey, garlic, onion, peppercorns, creole seasoning, and bay leaves and stir until the salt and sugars have fully dissolved into the water. Remove from heat.

Add one gallon of heavily iced water to the pot to begin cooling everything down.

Transfer the pot to the refrigerator until it has reached a safe temperature of no more than 40°.

Select a container that can accommodate your turkey and pour the brine over top until the entire turkey is entirely submerged.

Place the container in the refrigerator or a cooler with ice for at least 24-48 hours before smoking it.
Video
After removing the turkey from the liquid, be sure to rinse it off in a clean sink and dab dry with a paper towel.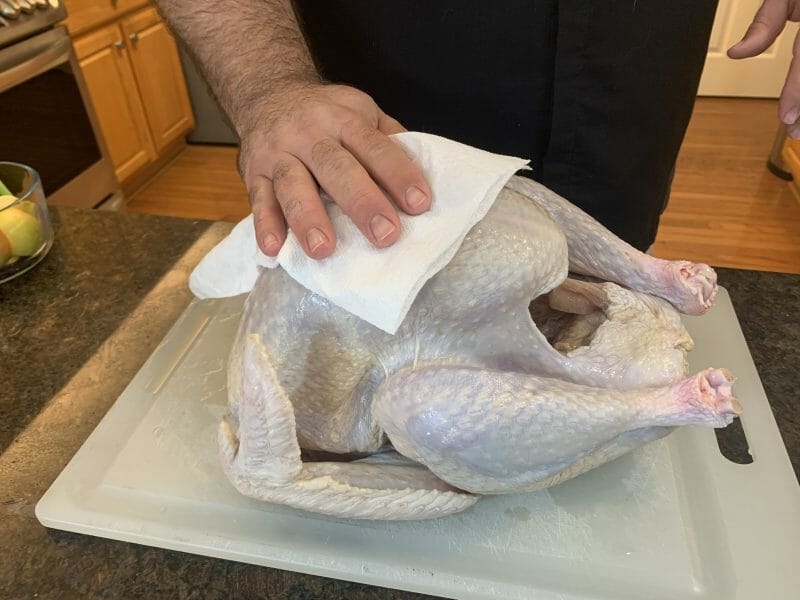 How to Season a Smoked Turkey
If you followed our recommendation for brining your turkey, you're well on your way already to the best smoked turkey recipe you've ever had. We're just going to walk you through a couple more steps to take it to the next level.
Aromatics: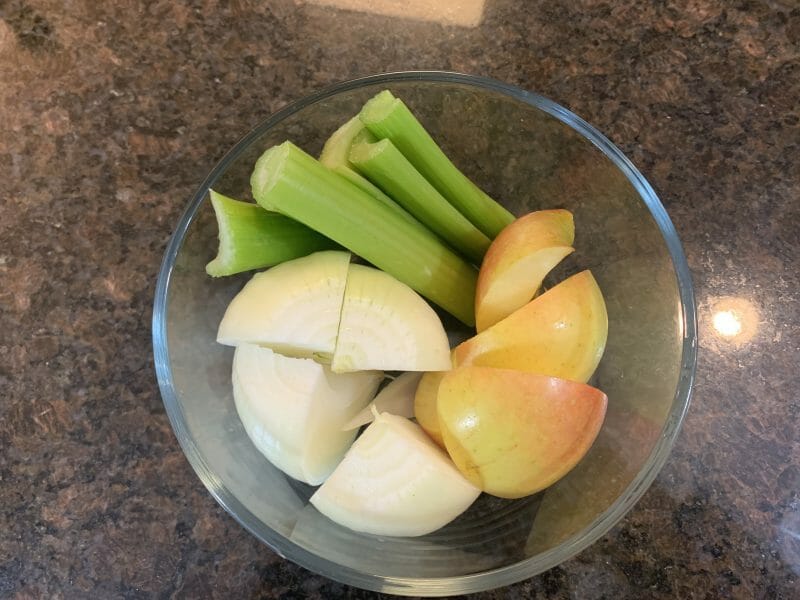 It's a good idea to stuff the turkey cavity with some aromatics during the smoking process. We usually quarter an onion, an apple, and a couple of stalks of celery.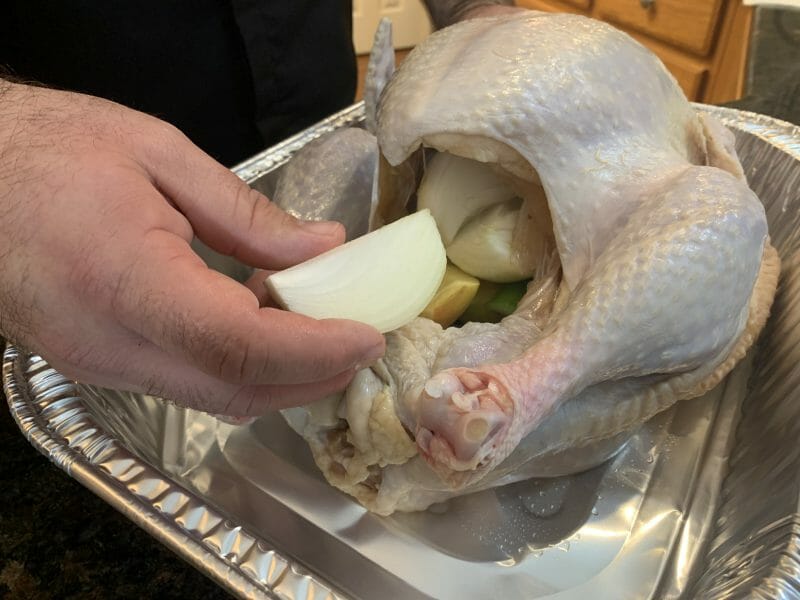 Turkey Injection: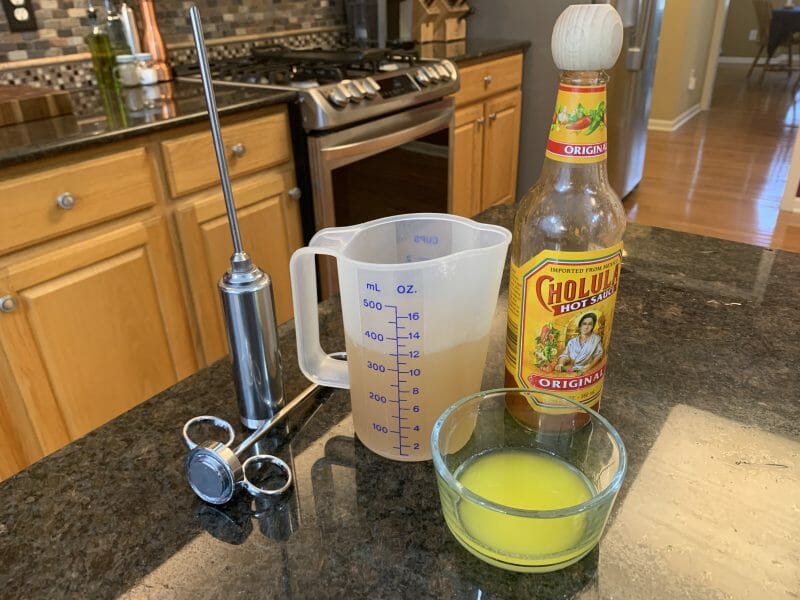 Use a marinade injector to insert the following solution into the turkey. I try to get 3 points in each breast, 2 points in each leg, and a few more spots throughout the turkey.
1/2 stick of melted butter
12 oz. chicken broth (warm up before adding to the butter)
1 Tb. your favorite hot sauce
You'll want to gently dab the turkey dry again after this before moving on to the seasoning. Some of the marinade does leak out when injecting the bird.
2-Phase Seasoning
After spraying the turkey generously with some cooking spray (we used an olive oil spray), you're going to sprinkle two different layers of seasoning.
Turkey Rub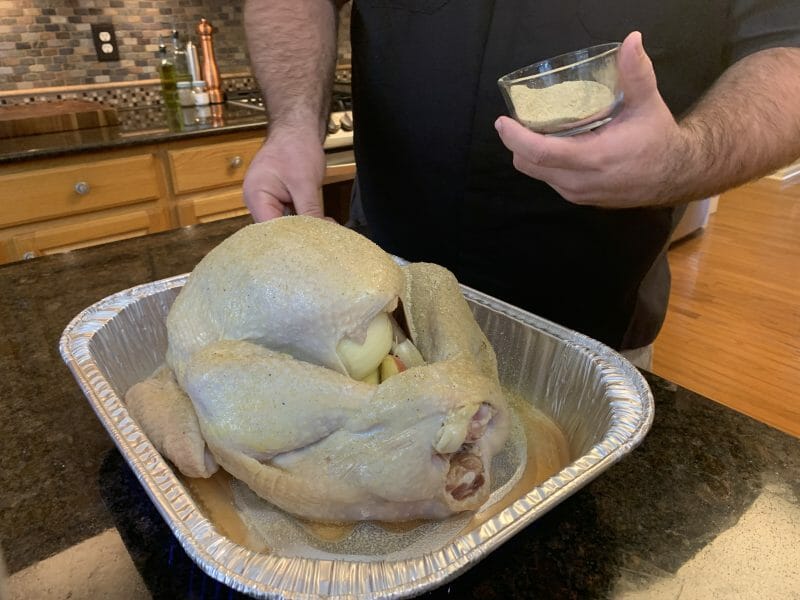 Mix these ingredients together and transfer into a shaker for ease of use. Note: you will not need all of this for one turkey.
1/4 cup Kosher Salt
1/4 cup garlic powder
3/4 tsp. poultry seasoning
3/4 tsp. white pepper
BBQ Rub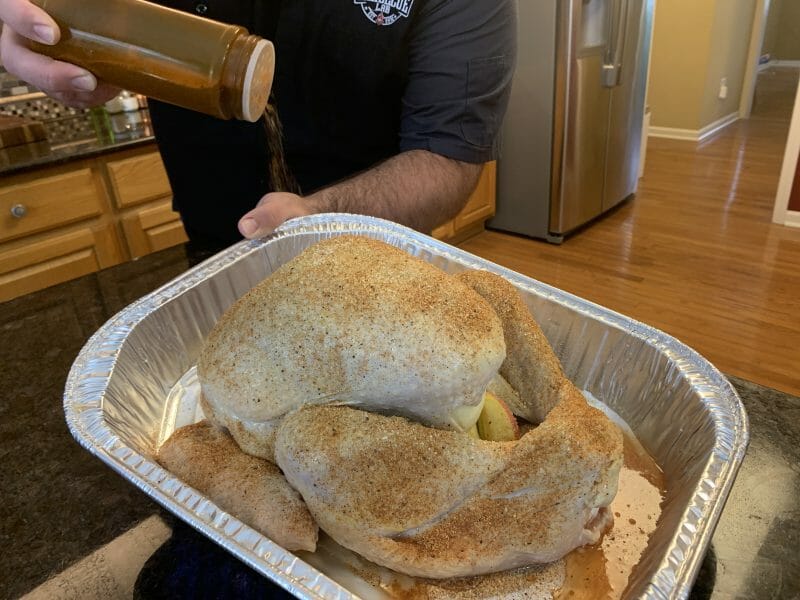 After layering on the turkey rub, it's time to follow up with your favorite BBQ rub. You can see our recipe here.
You might be wondering if this is even going to taste like a Thanksgiving turkey anymore after using creole seasoning and BBQ rub. But I assure you, it still will. And the gravy that you can make from the drippings will be the most unbelievable tasting gravy you've ever had.
How to Smoke a Turkey
Brine turkey for 24-48 hours. ☑️
Stuff turkey with aromatics. ☑️
Inject marinade into the turkey. ☑️
Season turkey skin with turkey rub followed by BBQ rub. ☑️
You are now ready to smoke the turkey.
I hope you're getting excited. I don't want to oversell this and then have you be disappointed, but I'm just saying that in MY experience preparing a turkey following these steps has been life changing.
Ok, so you may have noticed in the pictures and video that we're smoking this turkey in an aluminum roasting pan.
You could place the turkey right on the grill grate and be completely fine. However, you'd be missing out on all the amazing drippings that you can use for gravy later. So that's up to you.
To smoke a turkey, you'll set your smoker to about 300 degrees. This is a slightly higher temperature than where we normally smoke meats, but it will help crisp up the skin at a higher temperature.
We smoked this turkey on our Traeger Renegade Pro. Since it was a cold and rainy day that day, this was the perfect situation, not having to add wood to a fire in the rain every 45 minutes.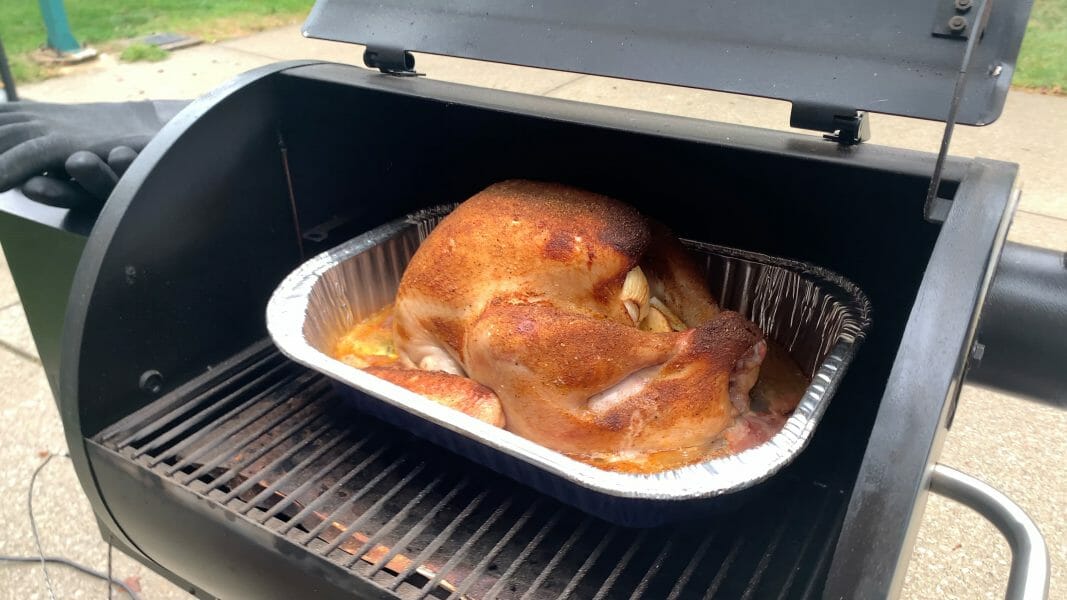 After the turkey has been smoking for about 90 minutes, go ahead and take that cooking spray you used earlier and give a nice fresh coat to the turkey skin. This will help it crisp up more in the last half of the smoke.
This is also a good time to insert an external temperature probe so that you can monitor the internal temperature of the bird.
For our 12 lb. whole turkey, it took between 3-3.5 hours to reach the correct internal temperature. Obviously the amount of time your turkey will take will be determined by its size.
Once the turkey has reached an internal temperature of 165 in the thickest part of the breast and about 180 in the thigh and we double-check it with our instant-read thermometer, it is time to remove it from the grill and tent it with aluminum foil. We suggest allowing at least 30 minutes for the turkey to rest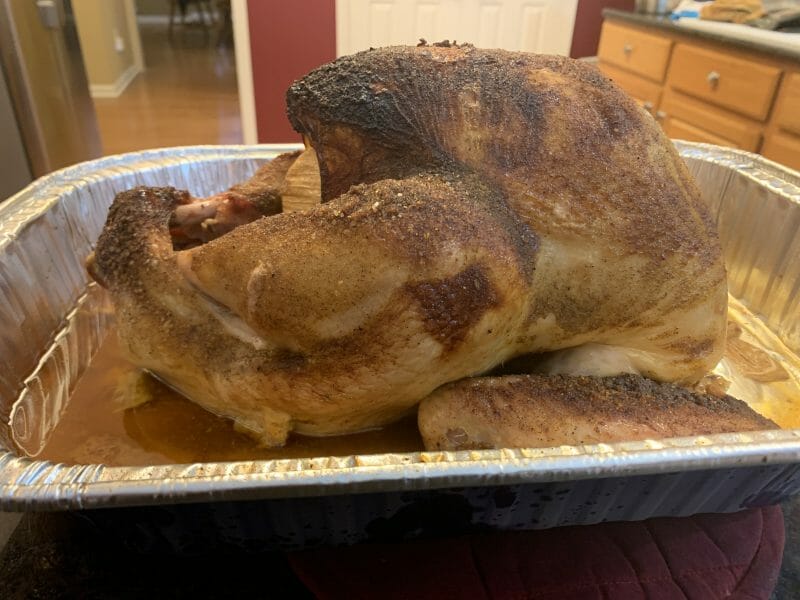 We hope you give it a try this season. And if you don't want to risk it all on the big day, go grab a turkey for a trial run ahead of time.
Let us know how it goes in the comments below!