You can take your healthy-eating meal prep to a whole new level with our easy smoked chicken breast recipe.
Boneless chicken breasts are known for being dry and overcooked in most American cuisine, but I think they get a bad rap.
With a good dry rub, you can have juicy and smoky chicken that you cook once, and use all week long.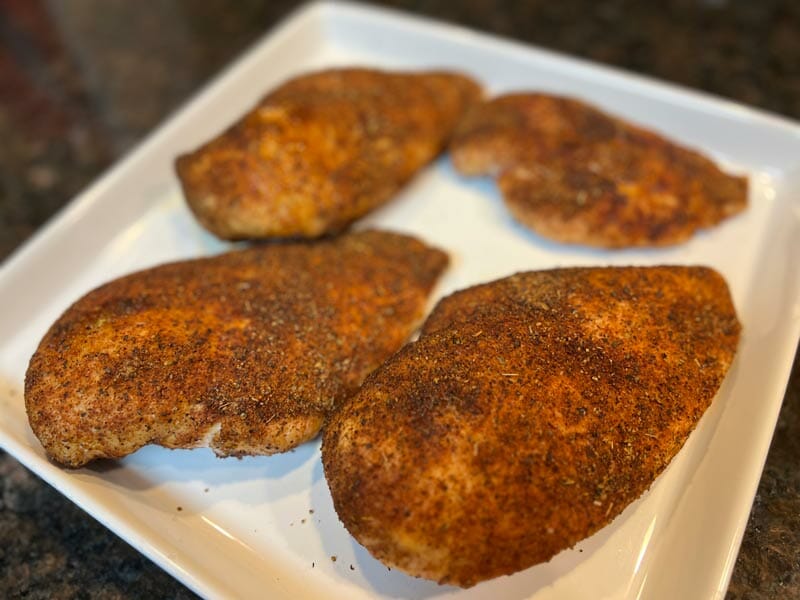 This article may contain affiliate links, and if you click them, you'll be supporting our little family of BBQ nerds with your purchase.
How To Smoke Chicken Breasts
Smoking boneless chicken breasts is really quite easy.
I start by taking the boneless skinless chicken breasts out of their packaging. A paper towel makes quick work of drying each breast. I just pat dry until the package moisture is absorbed by my paper towels, and it's time to season.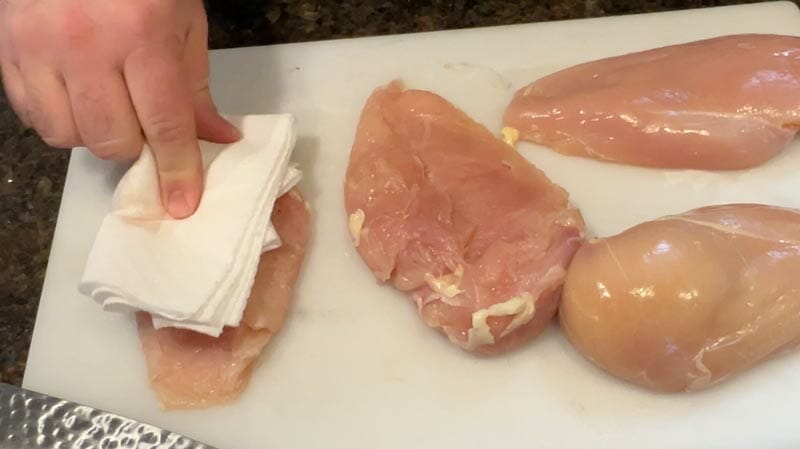 I love a good dry rub on chicken. It's good on wings, legs, and thighs, but I really love our free chicken rub recipe that we use for everything chicken here at The Barbecue Lab.
I like to put on a light coat of spray canola oil on each chicken breast to give them a little fat on the outside to start.
Next, I'll add our seasoning blend to the non-presentation side of the chicken breasts.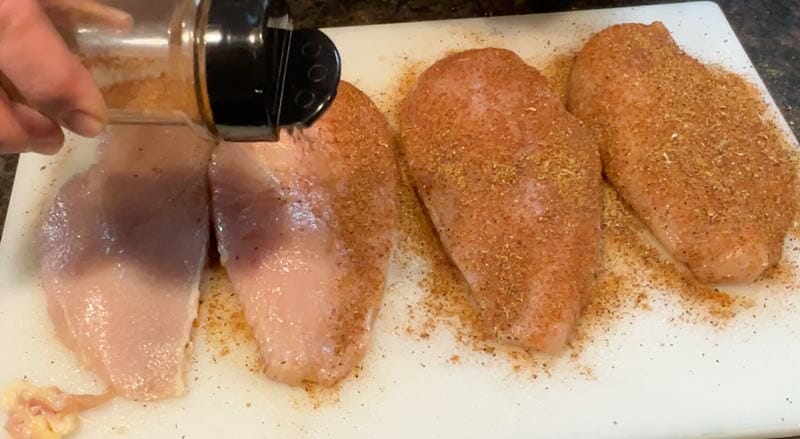 If you haven't been involved in competition bbq, you may not think about how things are going to look once you're finished cooking.
I try to think about the end product from the beginning, and I know I want the chicken breast to sit smooth side up when it's finished.
I will season the underside first, then move to the thickest part of the breast on the side where rub tends not to stick before I flip it over.
Finish with the presentation side, making sure that the chicken breast is fully covered. How it looks before you put it on the smoker is how it's going to look coming off, so now's the time to fix any areas missing rub.
What Temperature Is Best For Smoked Chicken?
I think 250 is the lowest temperature that I'm comfortable with smoking boneless chicken breasts.
I like 275 better, since I get juicy meat that has a good smoke flavor at that temperature.
You can certainly smoke it at a higher temperature, but the infusion of smoke will decrease as temperature increases.
If you smoke chicken breast at a temperature lower than 250, you run the risk of having a rubbery texture on the outside of the breast.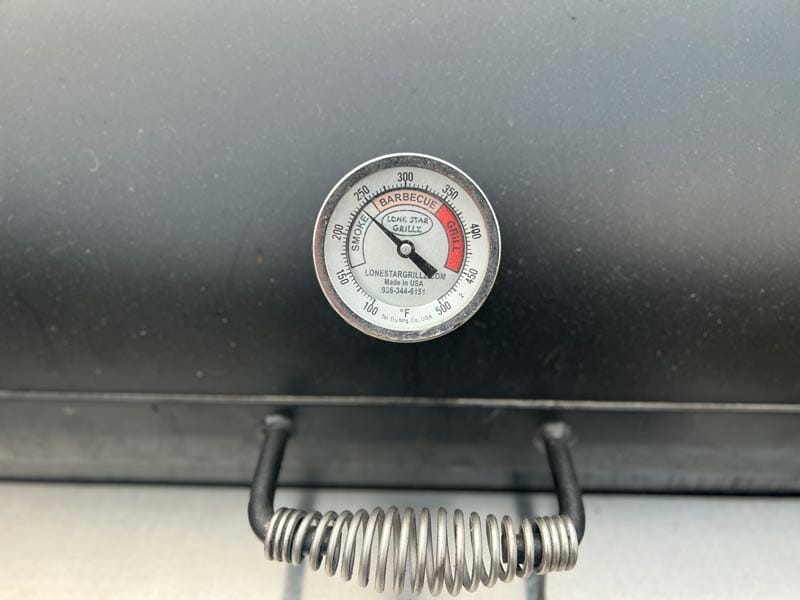 How Long Does It Take To Smoke Chicken Breasts At 225°?
Smoking chicken breast at 225 takes about 60 minutes to fully cook through. The internal temperature we're looking for is 165, which takes about an hour.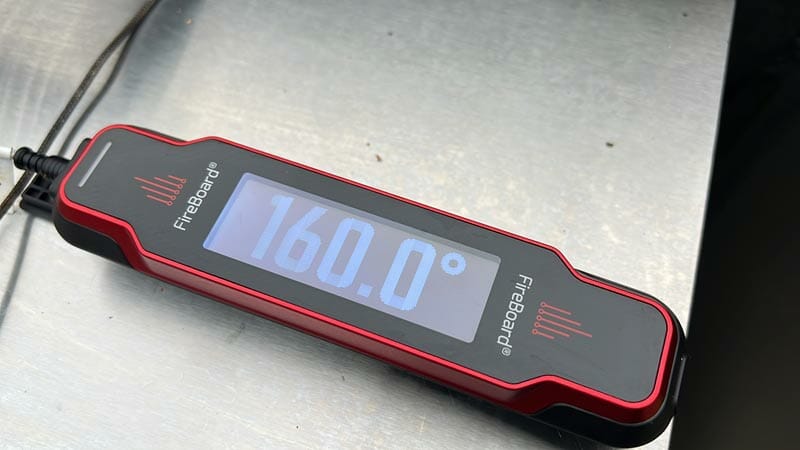 Wondering how long to smoke chicken? For breasts, it's a little over an hour at 225°, but I find they do better at 250-275° as it has a better texture on the outside.
What Seasoning Is Best For Smoked Chicken Breast?
The best seasoning for smoked chicken breast is one that you make yourself. Some traditional key ingredients are garlic powder, brown sugar and kosher salt.
To get more of a bbq seasoning or dry rub, add chili powder, onion powder and cumin to give it more of a Southwest taste.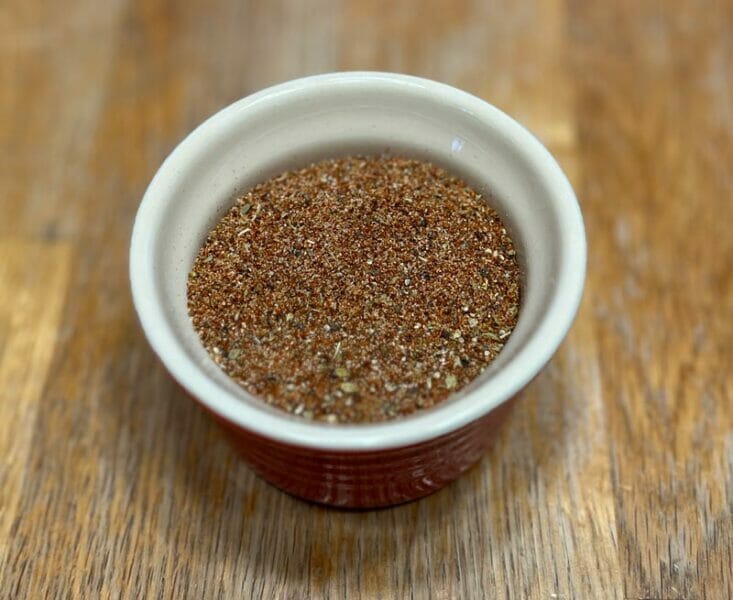 Our free chicken rub is our favorite seasoning blend to add flavor to chicken on the smoker or the grill.
For more seasoning blends, our Sweet and Spicy rub is another great way to season chicken breasts.
Do I Need To Flip Chicken When Smoking?
When I'm smoking chicken breast, I don't flip it over during the cook.
It's pitmaster choice, but most smokers use airflow around the chicken to cook, so the entire piece of meat is surrounded with heat.
If you're grilling chicken over a direct flame, yes, you'd need to flip it. But whenever you're cooking indirectly as you do when smoking, you can leave the chicken on the entire cook without flipping.
Should I Brine The Chicken Breast Before Smoking?
You can use an optional brine before smoking chicken breasts, but I find that it changes the texture of the chicken.
I prefer smoked chicken breast that hasn't been brined. If you're talking whole chicken, I sometimes like to brine, but just the breasts alone I don't brine.
Why Smoke Chicken Breasts Instead Of Grilling?
Smoked chicken breasts retain more moisture than their grilled counterparts. It is a slower method of cooking, and the smoking process gives you juicy meat that you can't get from grilling.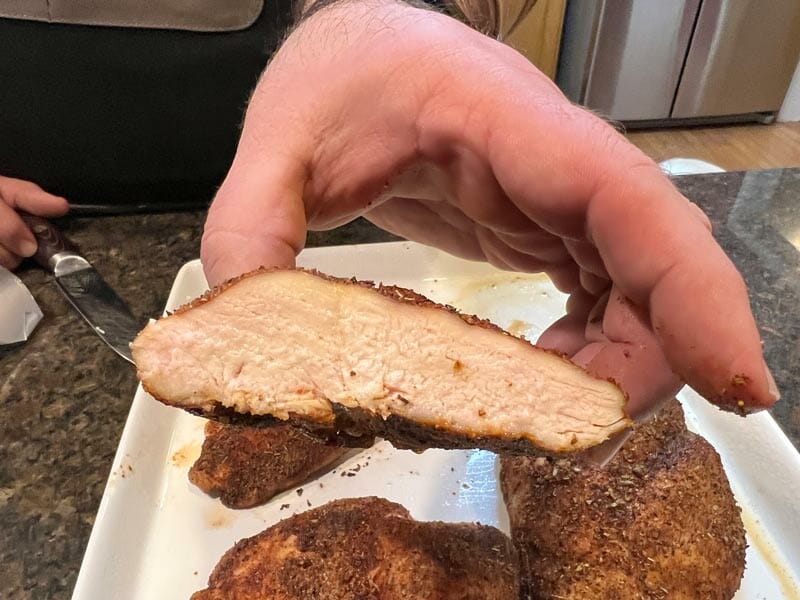 Smoked chicken breasts is one of the best ways to meal prep for the week, and still have chicken that tastes good when reheated.
What Kind Of Smoker Do I Need To Smoke Chicken Breasts?
You can smoke chicken with a pellet grill, offset, vertical smoker, charcoal smoker, propane smoker and more. The smoker used just needs to cook the chicken breast with indirect heat.
To smoke chicken breast, the process is slower than grilling, but not as slow as you'd cook a brisket or a pork butt.
As long as your smoker puts out smoke and will run between 250-300°F, it will work just fine.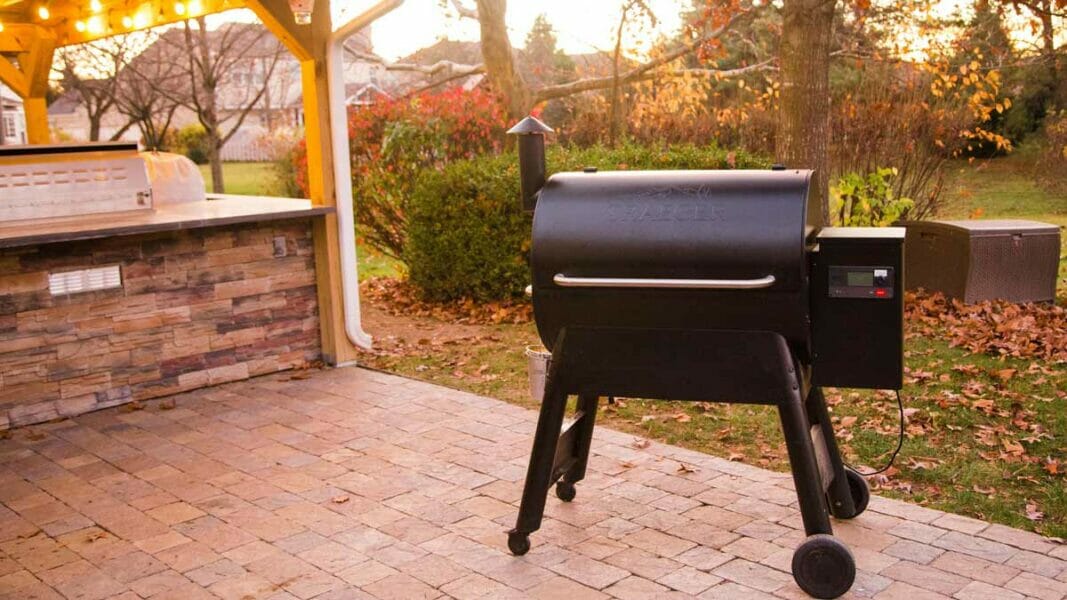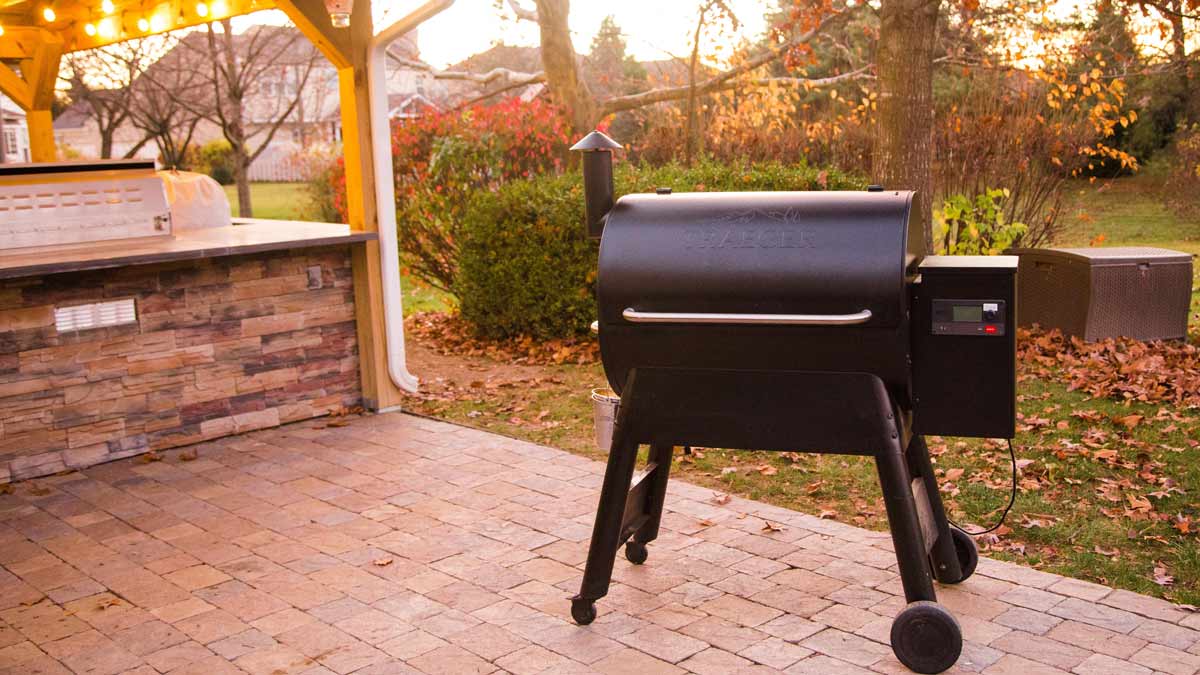 I've smoked chicken breasts on a Traeger pellet grill using apple pellets, and it gave a light smoky flavor. Whatever pellet smoker you use, know that you're going to get a lighter smoke infusion than a traditional offset or a charcoal smoker.
With charcoal, often wood chips will be used to increase the smoke, and they burn differently than pellets to give a bit more flavor.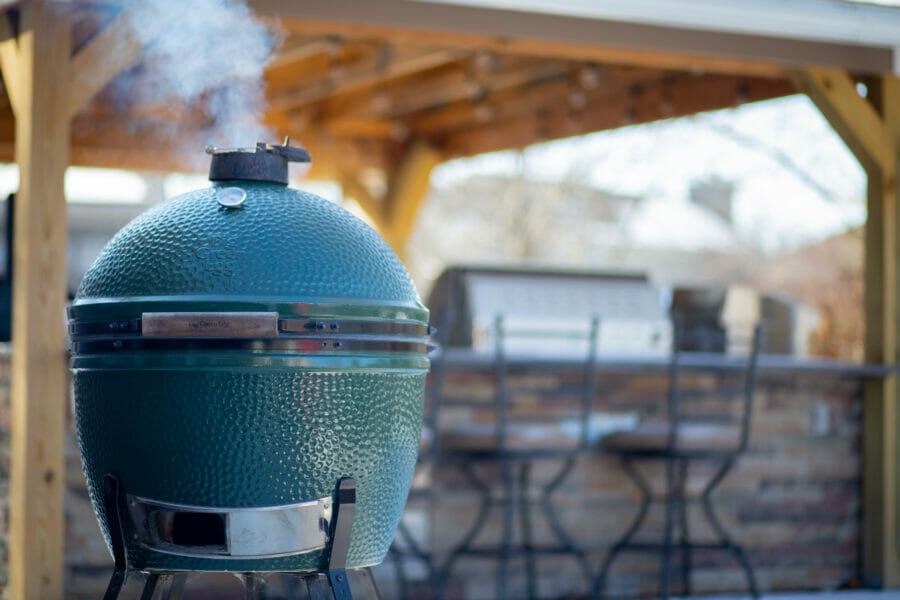 You can also use wood chunks or chips in a kamado grill. You'll get some smoke, but there's not much airflow in a kamado. With less airflow, the smoke hangs around longer to intensify the smokey flavor.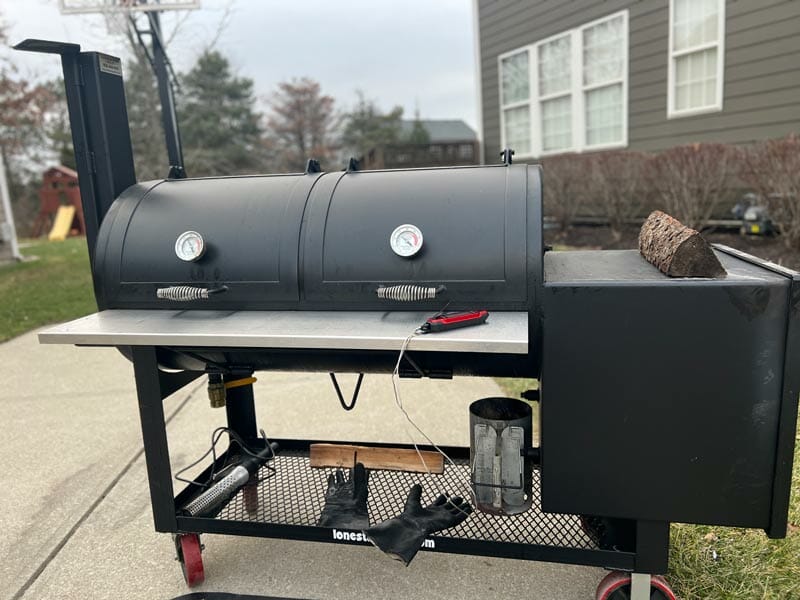 An offset smoker is the king of smoke flavor in my opinion. With a high amount of airflow, you'll get a drier exterior on the chicken, but this smoker gives intense flavor and keeps the meat juicy.
How Do You Keep Chicken Breasts Moist When Smoking?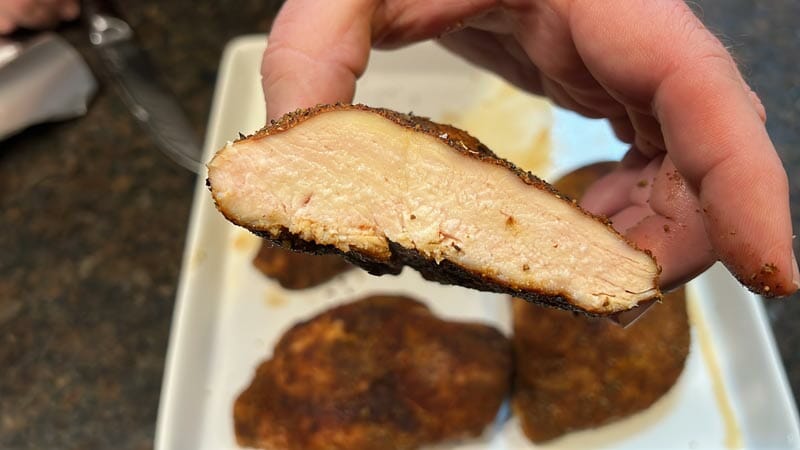 The key to juicy chicken breasts when you're smoking instead of grilling is the temperature you use. The chicken breast meat will get a rubbery texture on the outside if cooked lower than 250, which is why I like to smoke at 275 for breasts.
The moisture will stay in the breast if you don't leave it on the grill longer than you need to. If you wanted to ensure that the chicken is as moist as possible, then I'd use a brine for up to 6 hours before your cook.
How Do You Know When Smoked Chicken is Fully Cooked?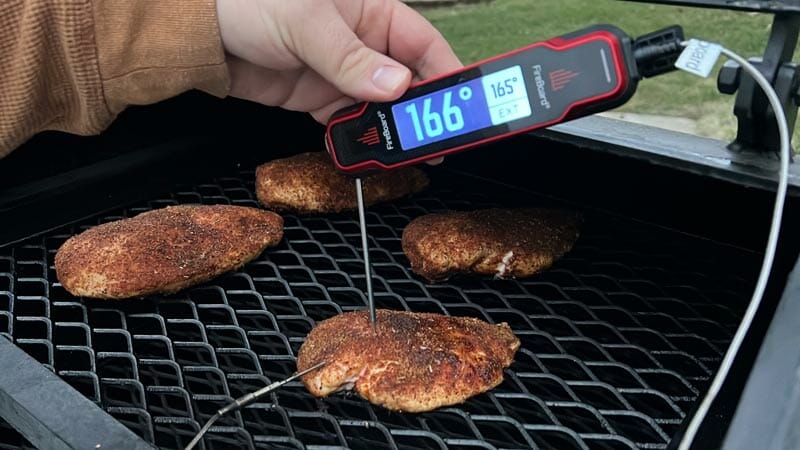 Smoked chicken is fully cooked when it hits the USDA standard of 165° internal temperature for white meat and 175° internal for dark meat.
I will insert a food thermometer into the thickest part of the breast, and once the white meat of the chicken reaches 160°, I'll pull it off the smoker, cover it in foil and let carryover cooking get it to 165°.
Storing And Reheating Smoked Chicken Breast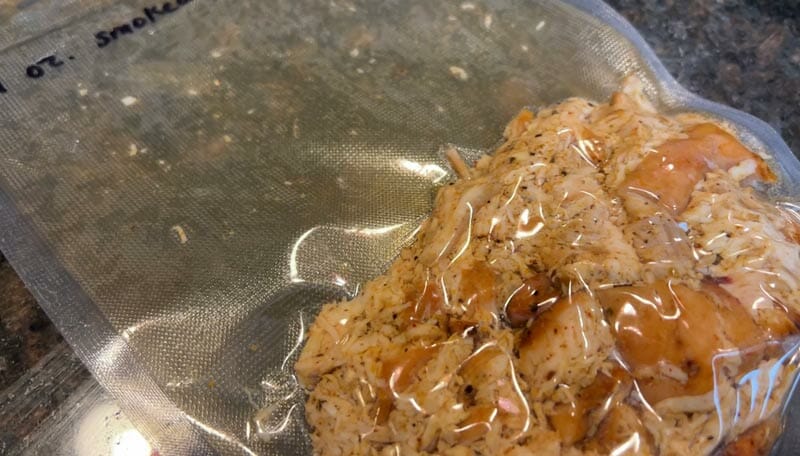 My favorite way to store smoked chicken breast is to vacuum seal it into portions that I know I'll use later.
Sliced smoked chicken breast or whole breasts work great, and they heat up beautifully in a sous vide set to 145°.
What's The Best Way To Shred Smoked Chicken Breasts?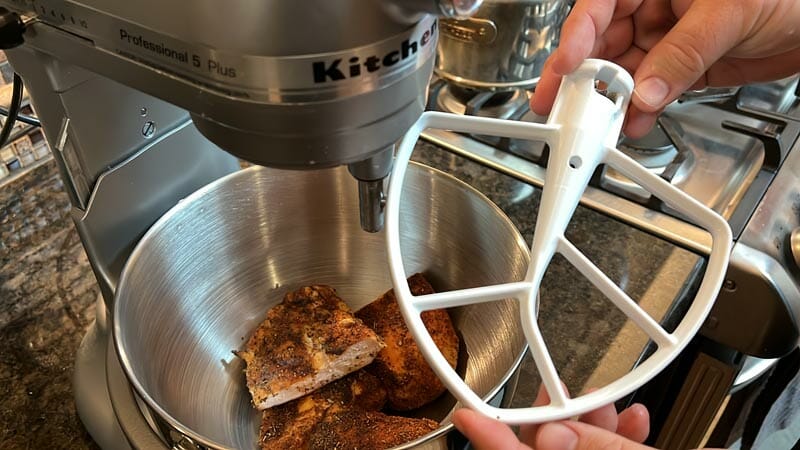 My favorite way to shred smoked chicken breasts is to cut the breasts into quarters and drop them into my KitchenAid mixer with the paddle attachment.
The mixer will shred the chicken in about 30 seconds, and it's much easier than doing it by hand.
For large amounts of chicken, I'll buy a food safe bucket and attach a paint stirrer to my cordless drill. It achieves the same result, and you can shred much more using a similar method.
What To Make With Leftover Chicken?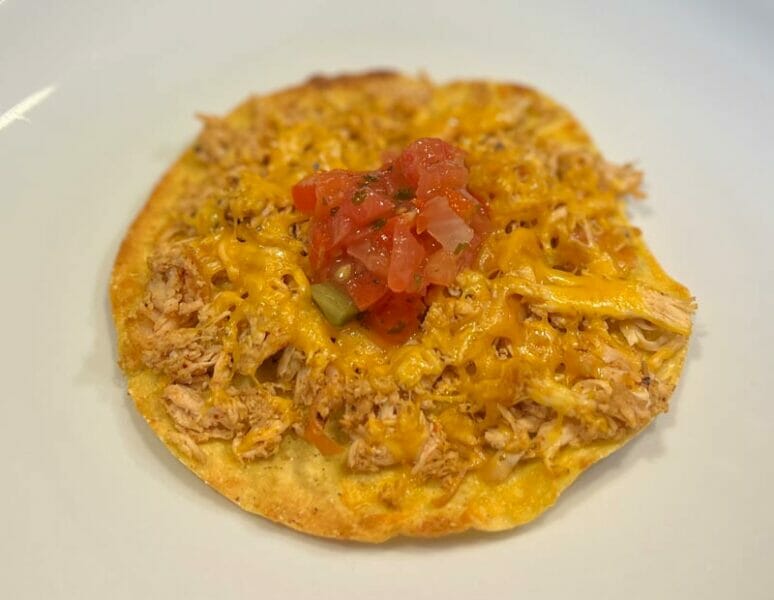 Leftover chicken is wonderful in enchiladas, on a tostada, or in a quesadilla, on a BBQ pizza, in soups, as a sandwich covered in your favorite bbq sauce and as the protein in your favorite casserole.
Easy Smoked Chicken Breast Recipe
You can take your healthy-eating meal prep to a whole new level with our easy smoked chicken breast recipe.
Ingredients
3

pounds

boneless skinless chicken breasts

(about 6 breasts)
Instructions
Preheat your smoker to 250°. We recommend fruitwood for chicken and primarily use cherry ourselves since we can source it locally.

Trim the chicken breasts to remove any unwanted fat. Pat the breasts dry with a paper towel and then spray or rub them with oil (either canola, vegetable, or olive oil will work) before coating all sides thoroughly with the dry rub mixture.

Place the chicken breasts on the smoker using indirect heat for about one hour. If using a leave-in meat thermometer, place the probe in the thinnest breast, which will likely be the first one to come fully up to temperature.

Remove the chicken breasts from the heat once the internal temperature has reached 160°. Loosely tent the chicken with foil and let the chicken rest for about 10 minutes, which will allow carryover to continue raising the temperature the remaining 5 degrees needed.
Video
Notes
When seasoning the chicken breasts, begin with the presentation side down first. That way, after you flip the seasoned side over to do the second side, it won't disturb the seasoning on the presentation side before smoking.
Nutrition
Calories:
131
kcal
|
Carbohydrates:
0.4
g
|
Protein:
24
g
|
Fat:
3
g
|
Saturated Fat:
1
g
|
Polyunsaturated Fat:
0.5
g
|
Monounsaturated Fat:
1
g
|
Trans Fat:
0.01
g
|
Cholesterol:
73
mg
|
Sodium:
352
mg
|
Potassium:
430
mg
|
Fiber:
0.2
g
|
Sugar:
0.03
g
|
Vitamin A:
137
IU
|
Vitamin C:
1
mg
|
Calcium:
9
mg
|
Iron:
1
mg
Chicken Rub Recipe
Whether you're seasoning whole chicken, chicken quarters, wings, or breasts, this easy chicken dry rub uses ingredients you probably already have in your pantry. Why buy a bottle when you can make it yourself?
Check out this recipe