The Pit Boss 820D3 is a part of our testing for the Best Pellet Grill of 2022 that we've recently published. We took 5 wood pellet grills under $599 and put them head to head in over 20 categories to determine which wood pellet grill is the best buy at that price point.
Note: Some of the links in this article may be affiliate links. This doesn't cost you any more than normal but these paid commissions help support our channel. Read our disclaimer for more info.
But today, we're talking about the Pit Boss 820D3. Let's start by walking through the specifications of this unit.
Pit Boss Specifications for the 820 Wood Pellet Grill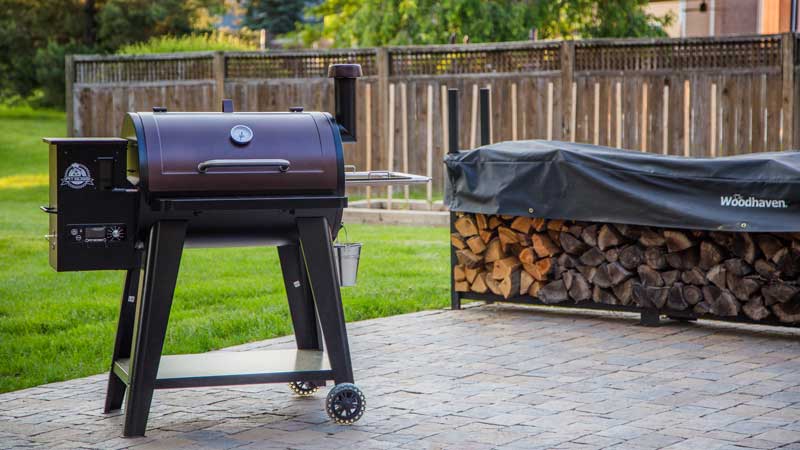 Assembled Dimensions: 56.8″ X 52.1″ X D32.3″
Weight: 150.5 lbs
Cooking Space: main grate 592.8 square inches, secondary shelf 256.68 square inches, a total of 849.48 square inches of cooking surface
Cooking Height: 8.5 inches
Temperature Range of 180°F to 500°F
Hopper Capacity: 21 LB, hopper viewing window
This Pit Boss pellet grill has a large hopper capacity and I really like that it includes a hopper viewing window so I can visibly monitor the pellet level without opening the hopper lid.
The 820 D3 offers about 850 square inches of cooking area total with about 593 square inches of space on the main grate level. There are 8 and a half inches of vertical clearance if you take out the upper rack, which is more than enough room for whole chicken and turkey.
It has a temperature range from 180 degrees to 500 degrees Fahrenheit, and temperature is selected by the main dial on the controller from Smoke, 180, 200, 225, 250, 300, 350, 400, 450, 475, and high for 500 degrees.
Assembling the 820 Wood Pellet Grill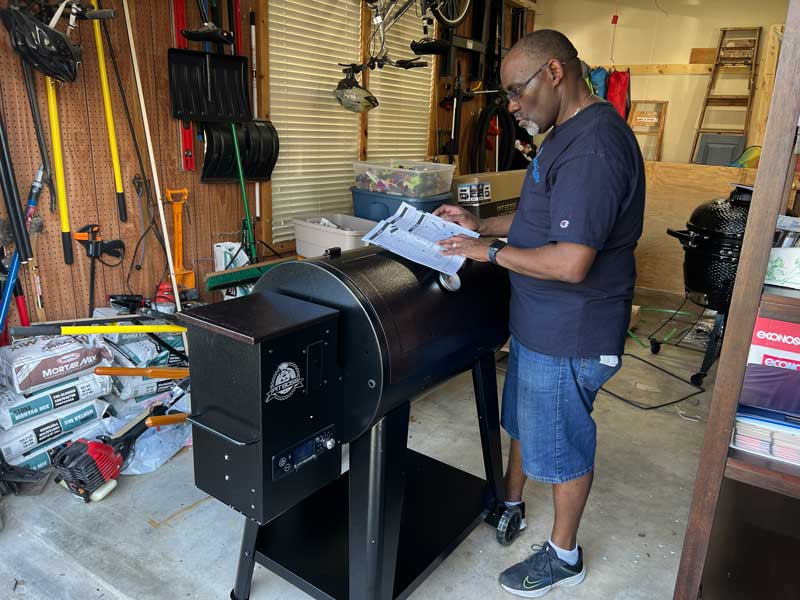 When it came to assembly for this unit, we had friends of The Lab come and help us put this and the other units for the best pellet grill under $599 together, and the Pit Boss 820 was built by our friend Kevin. He said that it was a pretty easy build. All around it took about 90 minutes from box to ready to fire up. The only part where it was helpful to have another pair of hands was when we needed to turn the grill on its head to assemble the legs. One person steadying the grill while another puts each leg on was very helpful.
Pit Boss 820 Build Quality
When we talk about the build quality of a grill, we like to look at how sturdy is it, what it's made of and how well it's put together. One of Pit Boss's slogans is "Bigger, Hotter, Heavier" and it rings true on this model. Using the digital caliper that we have here at The Lab, we measured 2.70mm for the door and 2.16mm for the grill body. It's by far the heaviest metal on a grill lid and body that we've seen at this price range.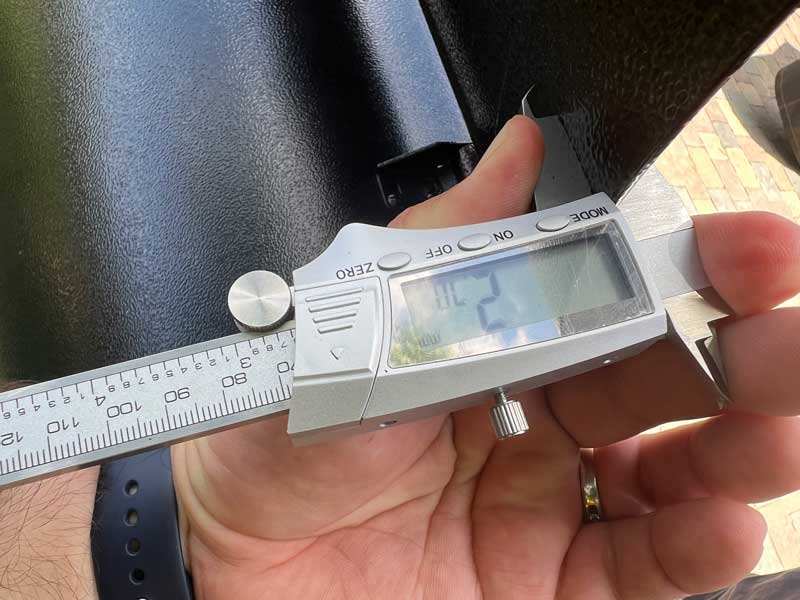 The grill grates are porcelain-coated cast iron, and the main grates are HEAVY. They're wide enough to put on a good sear and the porcelain coating makes them incredibly easy to clean.
There is a foldable front shelf that comes standard with the 820, and that's pretty uncommon at this price point as well. The removable tray side shelf is also unique at this price point and we enjoyed the flexibility that it provided.
There are two wheels on the unit and two stationary legs, which means it's incredibly sturdy and isn't going to move anywhere, even in the toughest of winds. The trade-off is that you have to lift a pretty heavy grill to maneuver it around the patio on just two wheels, but if you're just going to put it in place and leave it, there's not another grill I'm aware of that will stay put like this Pit Boss wood pellet grill.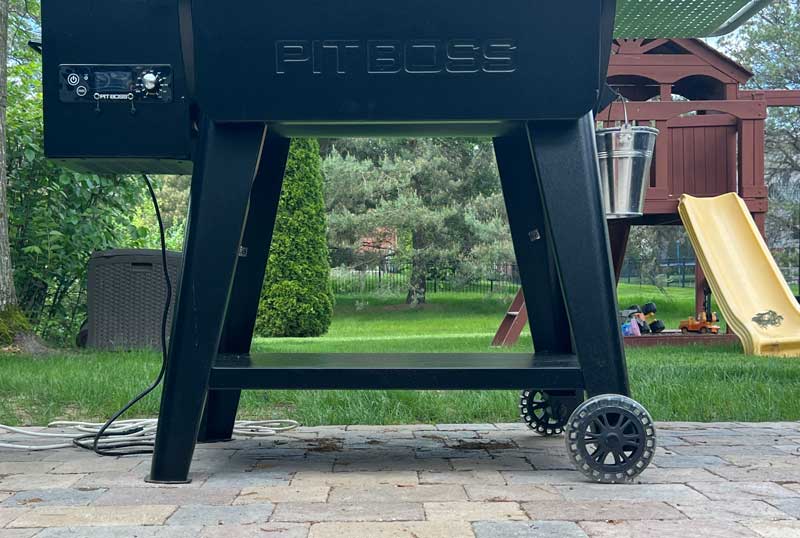 Pellet grills aren't exactly designed to keep all of the smoke in during a cook. There's an open smoke stack that doesn't have a baffle, so smoke can exit freely. I still like to know that the grill I'm buying seals well enough that smoke isn't going to be exiting from every joint and seam.
On the 820, we used a single sheet of paper to test the seal around the door to see if we could get between the metal. We couldn't get through the side of the door very easily, but the bottom of the door wasn't hard to get into. No smoke has been visible coming out of the door except during startup though, so it's pretty air-tight overall.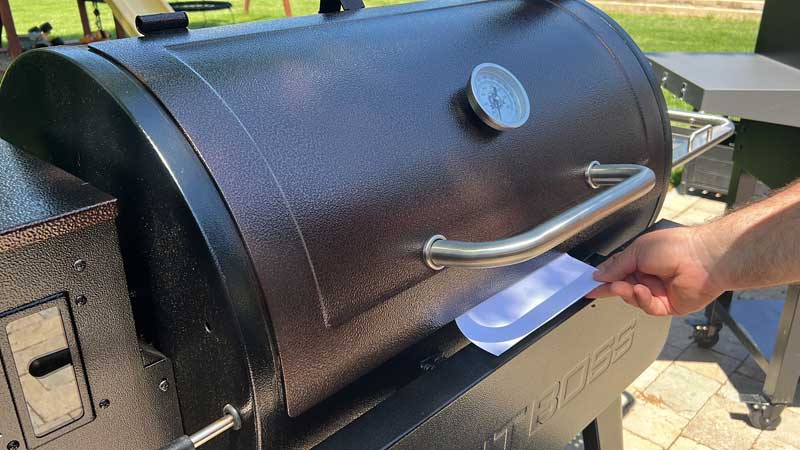 Digital Control Board
To my knowledge, the controller on this unit is not a PID controller, nor does it have Wifi or Bluetooth. That being said, there's something about a digital control board that's not PID with more inconsistent temperatures that makes great BBQ. I've found that the controllers that allow some temperature swing during a low and slow cook put the best bark and color on meat.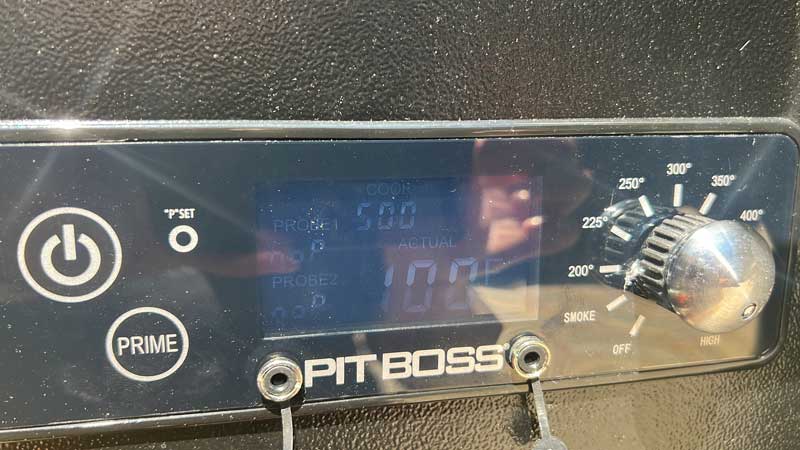 The Pit Boss 820D3 comes with one meat probe to monitor meat doneness. The controller has two probe ports, so if you purchase an additional meat probe you'll be able to monitor 2 proteins at once.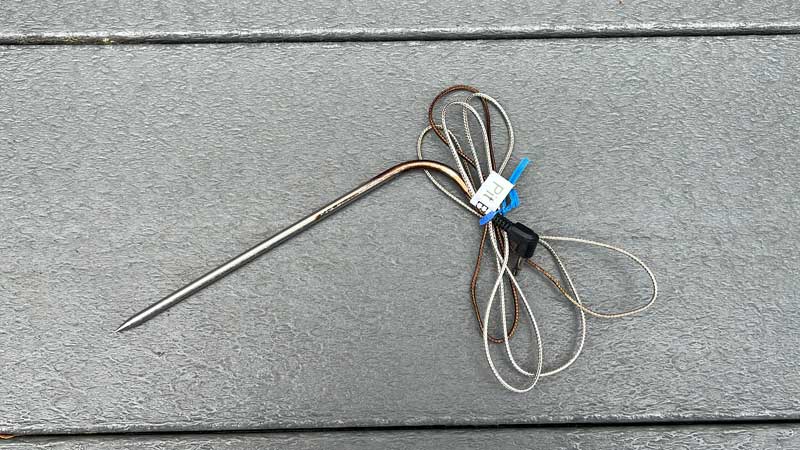 Cooking on the Pit Boss 820D3
Low and Slow Smoking
We took a 9lb pork butt (shoulder), seasoned it with a 50/50 salt and pepper mixture and put it on the Pit Boss 820D3. We didn't open the lid for 3 hours, and then we simply spritzed the pork with water from a spray bottle every hour until the 5 1/2 hour mark. At that point, here's what it looked like. It's taken on a beautiful mahogany color on the outside and was by far the best-looking pork shoulder in our testing group of 5 grills.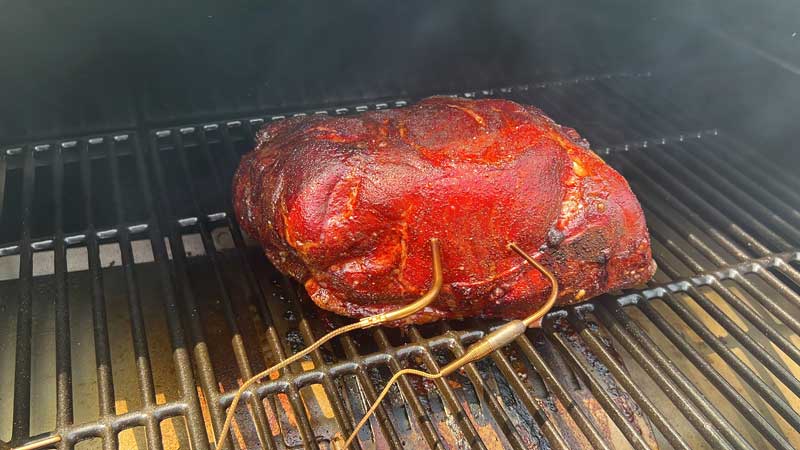 Cooking Hot and Fast
The same thing goes for the hot and fast test that we ran. We took a whole chicken and spatchcocked it by cutting out the backbone and laying it flat so it would cook evenly. We seasoned it with some Heath Riles Apple rub, set the grill to 350 degrees, and here's what it looked like at the 90 minute mark. Beautiful color on the outside and moist and juicy on the inside.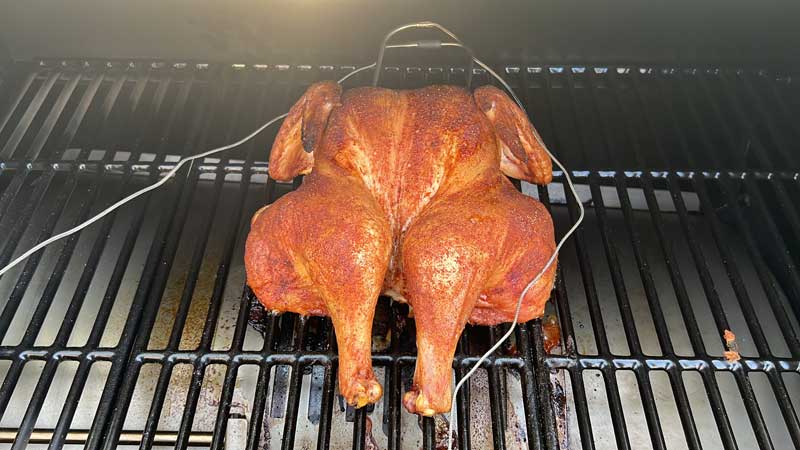 Grilling Game
Our testing wouldn't be complete without running a direct grilling test to see how the 820 can grill burgers or chicken, so we picked up some boneless skinless chicken thighs, seasoned them with Pit Boss Champion Chicken rub, and put them on the grill.
The Pit Boss pellet grill was fairly unique at this price point as it has an innovative Flame Broiler Lever to allow you to achieve instant direct or indirect heat, depending on how the heat diverter is positioned. Most of the other pellet grills we tested were only able to provide indirect heat.
I wanted to test how the grill would do both on top of the open flame access door and on top of a set of aluminum GrillGrates with the raised rail system. The chicken directly over the fire pot got a lovely sear from the flames, and the chicken on the GrillGrate system took on some nice grill marks as well.
When it comes to grilling, the open fire access is rather small on all pellet grills because there's just a 4-inch cup of fire below to service the entire grilling surface. That's where I like the GrillGrate system that runs 150 degrees hotter than the grates that come with the grill, so I can grill across the entire grate, even on a pellet grill, and still get those grill marks that drive guests wild.
Temperature Control
I also wanted to know how long it would take the Pit Boss 820 to go from a cold grill to 250 degrees for a smoking session, and the grill reached temperature in just 7 minutes and 55 seconds.
When the grill starts up, our experience has been that it overshoots the set temperature by a good 50-80 degrees. It then settles back down to the set temperature after about 10 minutes, but it's important to note that you'll want to let the grill sit for 10 minutes after startup if you don't want a higher heat going into your cook.
We tracked just how long the unit would run on 4 pounds of pellets, and we tracked this test using our Thermoworks Signals thermometer. We took an air probe and placed it center grate and another air probe within 1 inch of the grill's internal thermometer, and here's what we saw.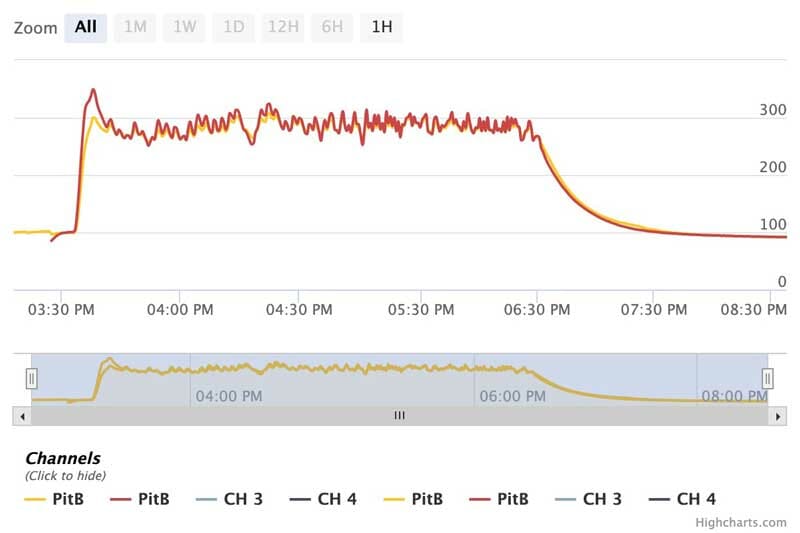 You can track the overshoot in temperature during startup, as well as see that the grill has a bit of movement around the set temperature. We talked about this grill not having a PID controller, and this is what that looks like in graphical form. But, man does it put some great-looking color on meat with that temperature swing as an asset.
Warranty
The 820 D3 comes with a 5-year limited warranty, and you can learn more by visiting the Pit Boss grills website. I feel like it's worth mentioning that this was by far the longest warranty of all the grills we reviewed at this price point. That tells me that Pit Boss has built a quality grill and they have confidence that it's been built to last a while.
What we loved about the Pit Boss Grills 820D3
I love that I can achieve instant direct or indirect heat with the innovative flame broiler lever. Putting a reverse sear on a thicker cut of meat is simple with the slide of a lever.
The removable tray side shelf is pretty simple but a nice upgrade from the other pellet grills we've been looking at lately.
The porcelain-coated cast-iron cooking grates are pretty substantial and sturdy when being cleaned.
The color and smoke flavor we achieved on this grill were head and shoulders above the competition. The food cooked on the Pit Boss 820 looked and tasted substantially better than the food from the other grills.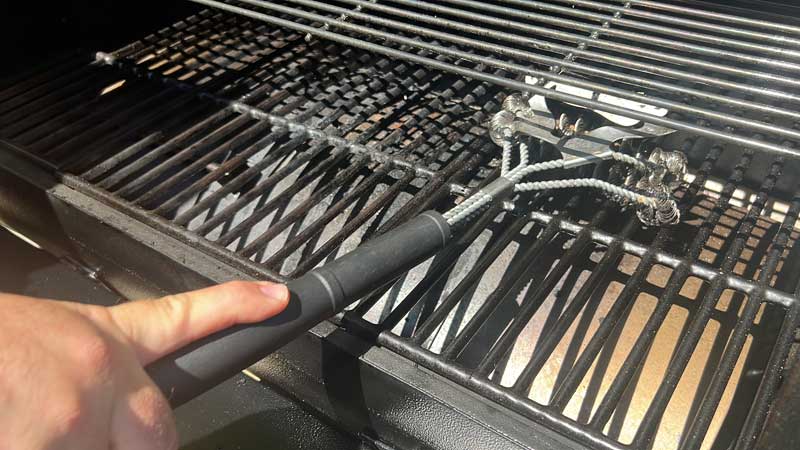 What we didn't love about the Pit Boss Grills 820D3
This pellet grill is very heavy and hard to move around.
While the temperature range of 180 to 500 covers the range I would typically require of a pellet grill, I don't care for the pre-determined intervals from which I have to choose. For instance, there's no way to set this pellet grill to 275° and that's one of my favorite temperatures! (Do you have a favorite temperature?)
Conclusion
The Pit Boss 820D3 pellet grill was our 2022 winner for "best bark and color". While this grill wasn't necessarily the winner of all the categories we tested, we felt like it was the winner of the categories that matter the most to me as an outdoor cooking enthusiast. If you're looking to up your smoking and grilling game this summer, I personally think that Pit Boss has manufactured a great grill that will bring mouthwatering flavor to your food at a great price.
If you're thinking about joining Pit Boss Nation with the purchase of this grill, we would greatly appreciate you clicking our link first to support our channel.