I do not live in Philadelphia. I never have. In fact, I live about 10 hours away by car. Therefore I am not an expert on Philly Cheese Steak sandwiches. I just wanted to get that disclaimer out of the way.
However, I do enjoy eating a good cheese steak recipe from time to time. And I also enjoy cooking recipes on the Le Griddle outdoor griddle built into my outdoor kitchen.
That's why I decided to call this recipe the Philly Cheese Steak Recipe for the Rest Of Us. Because the majority of us probably aren't close enough to just pop in to Philly and order a traditional cheesesteak.
In this article I might reference things that would be considered authentic or traditional when it comes to the Philly cheese steak, but at the same time I'm also going to tell you, you do you.
You want to add bell peppers or mushrooms to your cheesesteak recipe? Knock yourself out. Get creative. Does it have cheese? Does it have steak? Is it a sandwich? Then it's a cheese steak sandwich. Does it taste good to you and the people you're serving it to? Then it's a delicious cheese cake sandwich. Way to go!
Which cut of beef should I use for Philly Cheese Steak?
Probably the most commonly used cut of beef for making cheesesteak sandwiches is the ribeye steak. Other cuts like sirloin or flank steak will generally be tougher and not as tender and juicy.
Pro-Tips for thinly slicing beef
Not everyone has a meat slicer at home, so we have to use more creative measures to slice steak thinly. What we did that worked quite well was to put the ribeye steak in the freezer for about an hour before slicing. That's long enough to help the meat firm up nicely without freezing completely.
That way when we were slicing (against the grain), the steak held it's form and didn't squish around from the pressure of the knife. We were able to get almost paper-thin slices just with a nice sharp chef knife.
What kind of cheese goes on Philly Cheesesteaks?
Philly cheese steaks are traditionally prepared using either Cheez Whiz or Provolone cheese slices.
How do you cook a Philly Cheese Steak Sandwich?
Because you want a cheese steak sandwich to be nice and juicy, we tried to cook our recipe on a fairly low heat using our outdoor griddle.
We wanted our sautéed onions to be soft and translucent but not over cooked.
Thinly sliced beef cooks fast and will also dry out fast if you're not careful. That's another reason why we kept the temperature low. This was not the time to achieve a beautiful sear. Low and slow was the name of the game.
On the same note, we waited to add seasoning until our cooked beef was nearly finished. Salt tends to draw moisture out and we didn't want that to happen too early in the cooking process.
Once the steak and onions were finished we arranged them in the shape and size of our hoagie rolls before topping it with our slices of provolone cheese.
At this point there are two different ways to melt the cheese and we've done them both.
First, you can just leave things alone and let the cheese melt from the heat coming up from the steak and griddle below. That's the method we used in this video. It typically results in a more "picturesque" finished product with distinct layers of meat and cheese.
Second, you can literally flip the meat and cheese mixture up side down so that the cheese is touching the griddle and the meat mixture is resting on top. It obviously doesn't take long for the cheese to melt and then use your long spatula to flip it all back over and onto the hoagie. In our experience this method results in cheese being distributed all throughout the meat mixture which probably tastes better but doesn't necessarily look as nice.
And that's it.
It really is a very easy cheesesteak recipe to make, especially once you know the trick to getting thinly sliced steak.
Our Philly Cheesesteak Recipe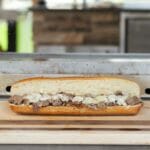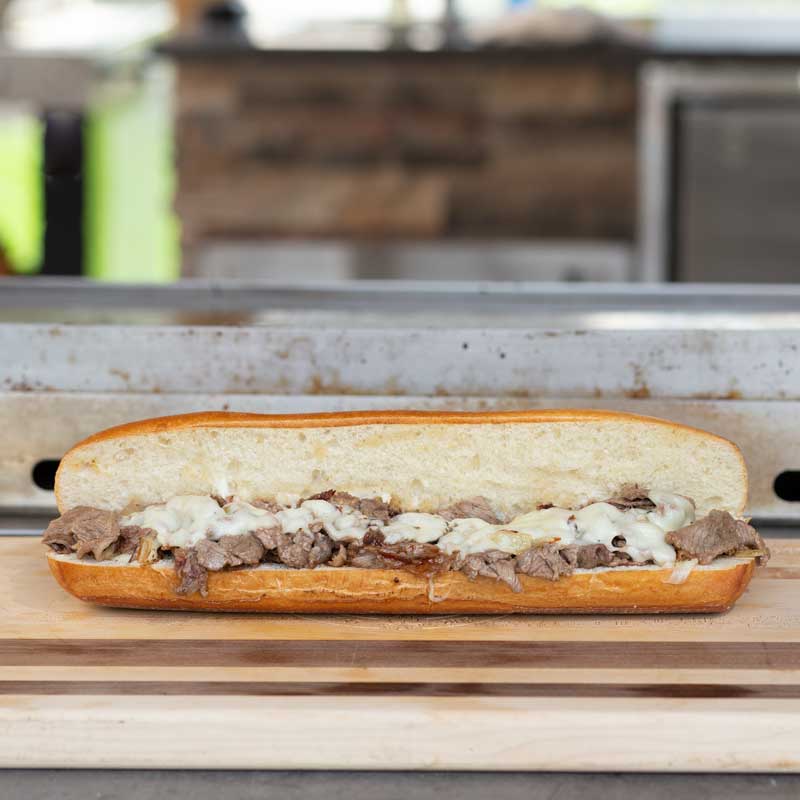 Print Recipe
Cheese Steak Recipe for the Rest of Us
We can't all live in Philly, but here's a cheese steak recipe for the rest of us to enjoy cooking on our outdoor griddles! Quick and easy to make and wonderfully delicious.
Ingredients
1

onion

diced

1

lb

Ribeye Steak

chilled and sliced thinly

olive oil

salt

ground black pepper

4

slices

provolone cheese
Instructions
Place the

1 lb Ribeye Steak

in the freezer for about 1 hour to chill prior to slicing.

Remove the

1 lb Ribeye Steak

from the freezer and thinly slice it across the grain using a sharp knife.

Heat your outdoor griddle up to medium low heat.

Using a couple teaspoons of

olive oil

to lubricate the griddle, add the

1 onion

and cook for a couple of minutes until they begin to become soft and translucent. Then move the onions to a cooler side of the griddle.

Add a little bit more

olive oil

and cook the

1 lb Ribeye Steak

. We're not looking for a deep sear; we're trying to keep the meat nice and moist while it cooks.

Once the meat is showing little to no pink remaining, move the onion back over and combine it with the meat, along with seasoning with

salt

and

ground black pepper

to your liking.

Arrange the meat and onion mixture to fit the size and shape of your hoagie roll, splitting it in half if you prefer (for easier transfer to the bun). Then top it with

4 slices provolone cheese

and allow it to melt for about a minute.

While the cheese is melting, place the sliced hoagie roll open side down on the griddle to warm up.

Once the cheese has melted, transfer the meat, onion, and cheese mixture to the hoagie roll.