Outdoor griddles have been gaining in popularity in the outdoor cooking world this year. And in our opinion, the company Le Griddle is a force to be reckoned with in this category.
We reviewed their 30″ gas griddle back in the spring and were thoroughly impressed with the even heating it provided. When they reached out to us about trying out the brand new electric Wee Griddle, we knew we had to give it a try and see how it compares.
Note: Some of the links in this article may be affiliate links. This doesn't cost you any more than normal. Read our disclaimer for more info.
Product Features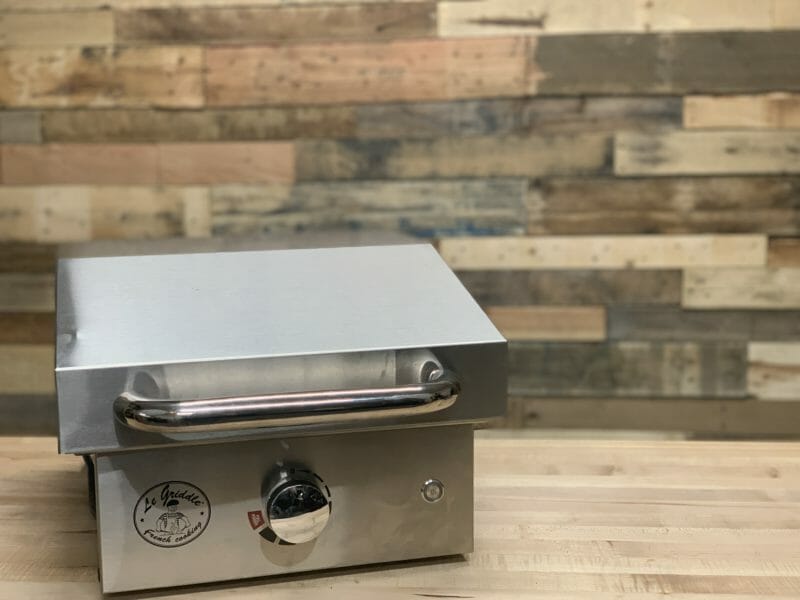 Dimensions
| | |
| --- | --- |
| Width | 17.5 inches |
| Depth | 18.75 inches |
| Height | 12.5 inches |
| Weight | 68 pounds |
| Cooking Space | 252 square inches |
Dual Plate System
Why is a unit of this size so dang heavy? Two words: cast iron.
Le Griddle knows their stuff about how to make a griddle cook hot and even. Unlike any of their competitors, Le Griddle uses their patented Dual Plate System™ which fuses cast iron to the bottom of the 304 stainless steel griddle surface. It makes for a really heavy griddle; but in my opinion, it offers the best heat distribution and food contact of any griddle you can find on the market today.
Where Can I Use the Electric Wee Griddle?
Honestly, just about anywhere as long as you have the ability to plug it into electricity. This unit is safe for both outside and inside use, which is pretty awesome for those that live in a situation where you're restricted from using charcoal or propane. So apartment dwellers, food truck owners, campers, and the like, this one is especially for you!
But it's certainly not exclusively for you. The opportunities for using this griddle go as far as your extension cord will take you.
Cooking on the Electric Wee Griddle
After using this electric griddle for a few cooks, we've learned some things that we thought you might like to know.
It does take a little while to come up to temperature, so keep that in mind as you're preparing for your cook. I say go ahead and crank the temp up all the way for at least 10 minutes while you're prepping your ingredients for the cook and you should be good to go.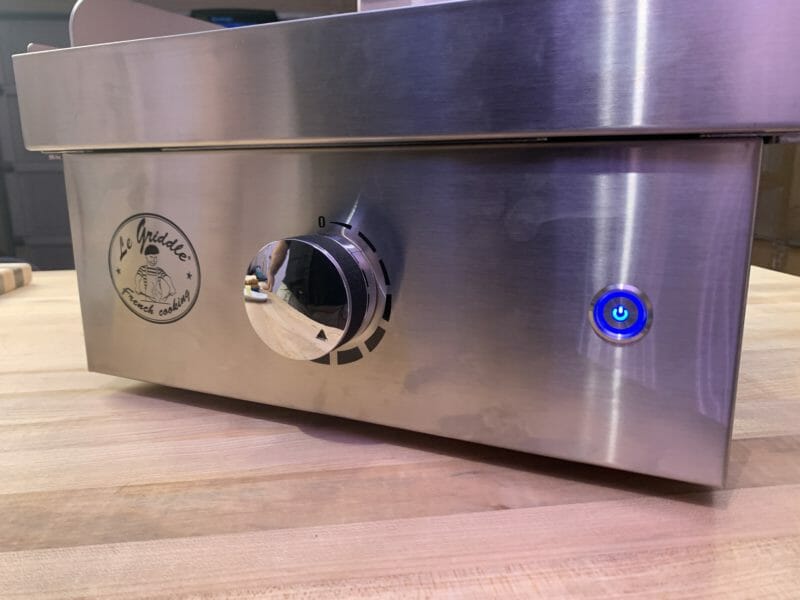 Our first cook was a simple grilled ham and cheese sandwich. We wanted to be able to see what the heat coverage was like, and we were certainly not disappointed.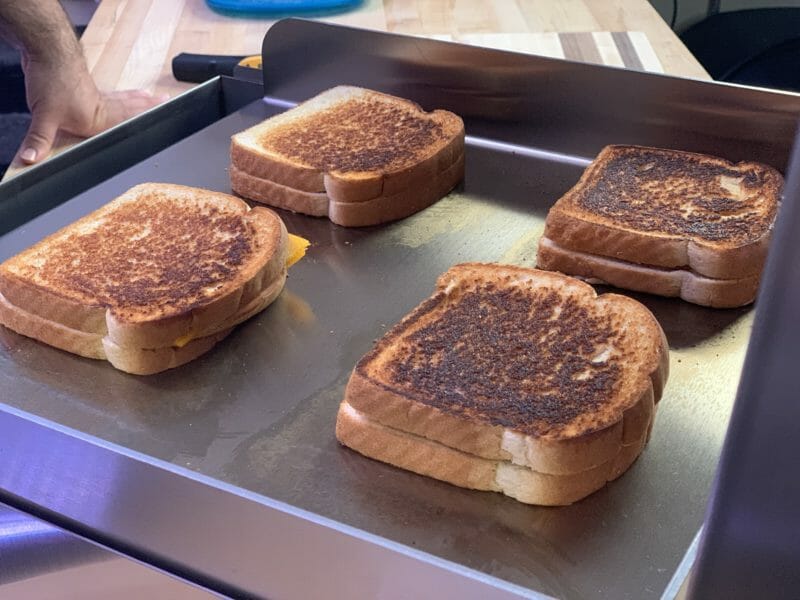 We were pleased to see that the Wee griddle provided a fairly even heat, slightly warmer in the back than the front, but no extreme hot or cold spots. This is not something we've been able to say about every griddle we've cooked on over the years, so we chalk that up as a real win for Le Griddle.
We've been thrilled with the results of the cooks we've done on the electric Wee Griddle. The sear ability is simply phenomenal.
Quite honestly, the best steak fajitas I've ever made in my life was prepared on this griddle. We took some flank steak and seasoned it with some cumin, salt and pepper, and seared it until we hit about 130 internal temperature. Add to that the peppers and onions, and these fajitas were amazing.
We also cooked a shrimp dish with a compound butter that's one of our favorites at home. We took some 16-20 shrimp, put them on the Wee Griddle with some Avocado oil to keep them from sticking, and dropped in some compound butter as they cooked. We felt like we had a steakhouse shrimp dinner without the price tag.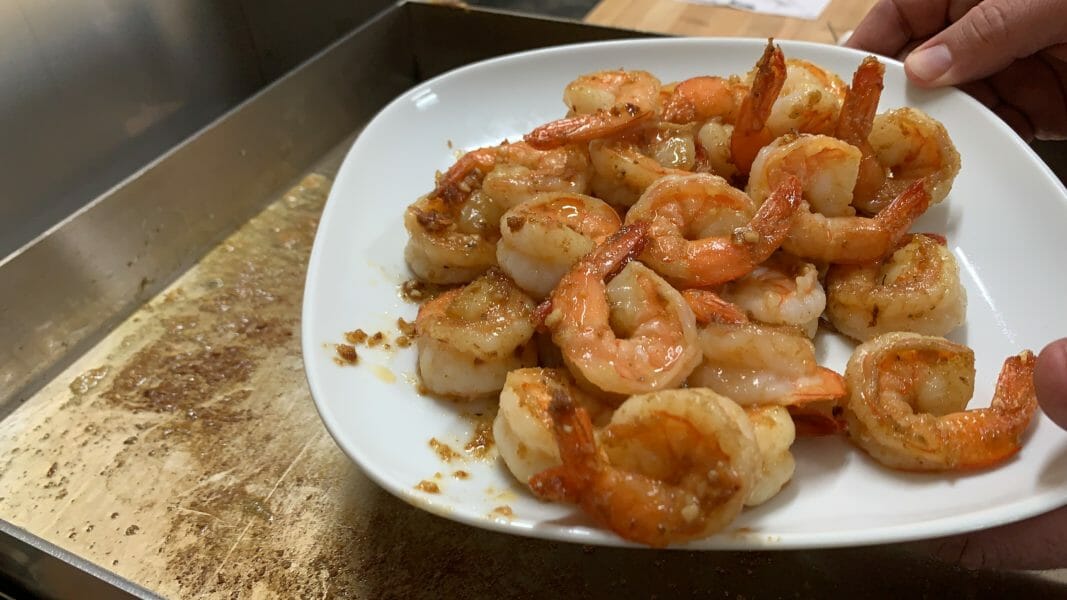 And don't forget about breakfast… Pancakes, hash browns, bacon, eggs, veggies… the kids even love to help on the weekend when brunch is on the menu.
Cleaning the Wee Griddle
Cleaning this griddle is a sight to behold, but it is 100% easier if you take care of this task immediately after pulling the food off. Just dump some ice cubes on the piping hot griddle and watch as the ice melts, releasing charred food bits from the surface.
One of the things I really like about the Le Griddle design is the removable grease tray that runs all along the front of the unit. While it's super easy to take out and clean in the kitchen sink, it is secure in place during the cook and I don't have to worry about it falling out accidentally.
We made the mistake of walking away from our grilled cheese cook thinking "it wasn't that bad of a mess, we can clean it later." It was easily 3 times as much work coming back to it later than when we've cleaned the griddle right away. It's ok, your food can wait the 3 minutes it will take to clean the griddle. We just make sure that we have our cleaning tools and supplies ready and available before we even start cooking.
I won't say that it's easy to clean this griddle, but I will say that this griddle is capable of getting a lot cleaner than the less expensive griddle options that are readily available in your big box stores today.
Do We Recommend the Le Griddle Electric Wee Griddle?
Absolutely. This is a fantastic griddle that will not disappoint.
But here is what I will add to that if you are not limited to electricity as your fuel source. You may soon find yourself loving it so much that you wish it was larger so you could cook more things. If you think that might be you, why not just get the 2 burner gas griddle instead?
Happy cooking, my friends!