The outdoor flat top cooking surface is bringing diner and teppanyaki cooking to the backyard, and Le Griddle has been making waves in the market for many years now. Today we put the stainless steel Le Griddle 30 inch to the test.
Note: Some of the links in this article may be affiliate links. This doesn't cost you any more than normal. Read our disclaimer for more info.
Outdoor cooking is all about bringing people together. Whether it's family, friends or neighbors, people have been gathering around the fire for thousands of years. The outdoor kitchen is just another method of gathering around the fire, and there are 4 primary cooking units that I like to see in every outdoor kitchen.
First, there's some type of high heat grill. It could be charcoal, propane, pellet, infrared or a myriad of options. Second, there's usually some type of smoker. Third, it's becoming quite popular to add a pizza oven or some type of outdoor oven, and last but not least, there's the outdoor gas griddle.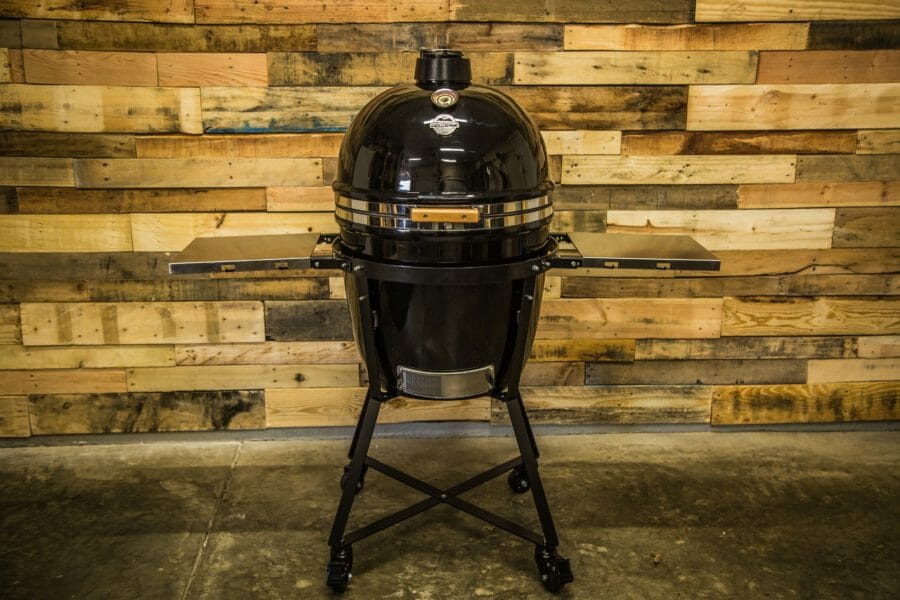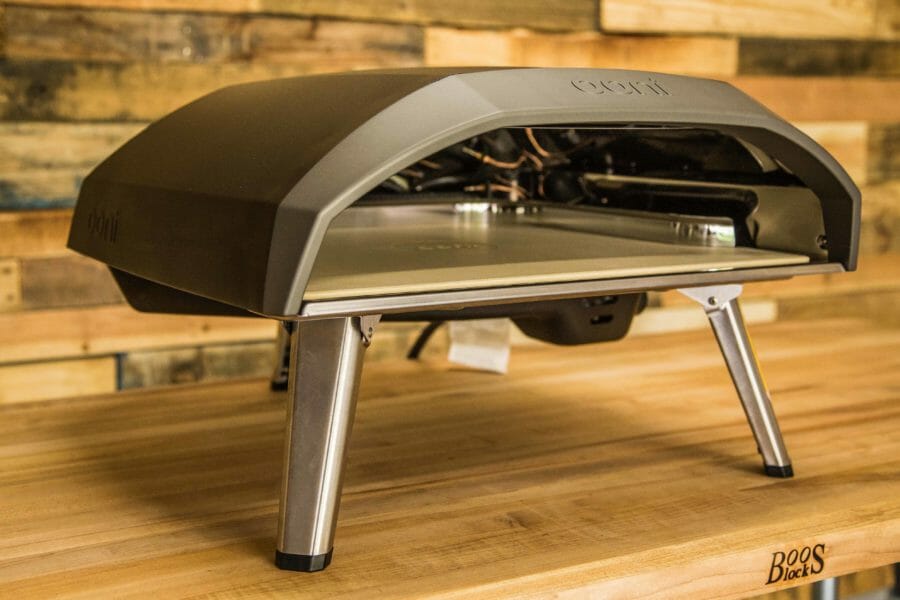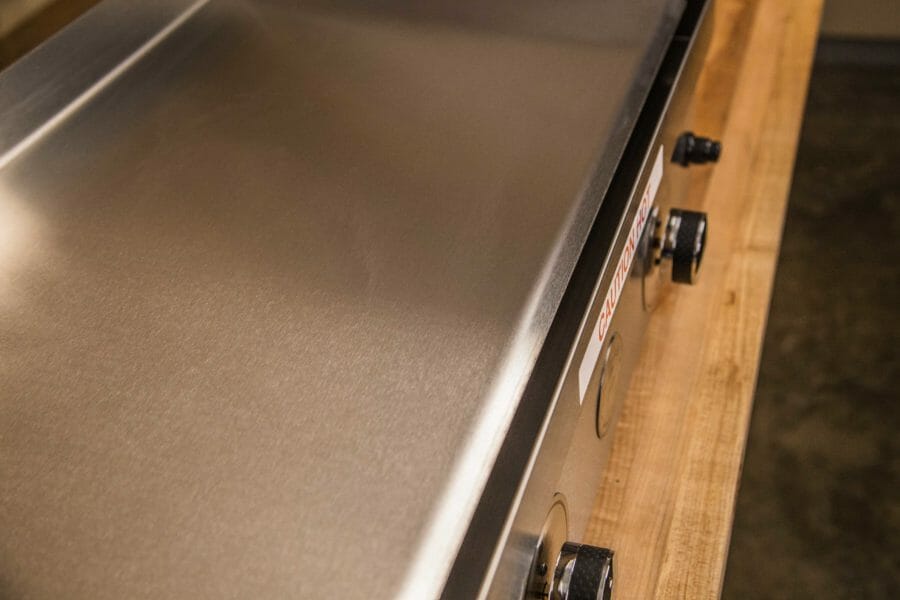 Griddles have been growing in popularity with the arrival of brands like Blackstone to the broader outdoor cooking crowd. When new types of cooking units make their way to your local Walmart, you know there's a new trend happening in outdoor cooking.
Just like the automobile or clothing industry, there are levels of quality that can be found in each model of outdoor gas griddle available. You can go out and find a Pit Boss griddle for right around $300, or you could get a top of the line Blackstone for $600. Both are good griddles for the market segment they're targeting, but today we're taking it up multiple levels to higher-end outdoor kitchen units.
What's Unique About Le Griddle?
Le Griddle takes what you might find in your local big box store and "kicks it up a notch." (to borrow a quote from our friend Emeril Lagase.)
With the Le Griddle 30 inch, you're looking at 30 inches of 304 stainless steel cooking surface to bring your recipes to life. When most of the other brands are satisfied with cold-rolled steel for their cooking surface, Le Griddle gives us stainless steel throughout their entire unit.
But, dare I say that it's not the stainless steel that makes the difference in this gas griddle. There are other griddles out there that have stainless steel griddle tops, but nobody else has taken this next step, and this is what makes it special. Each exclusive stainless steel griddle top in the Le Griddle lineup has a cast iron plate welded to the bottom of the stainless steel cooking surface.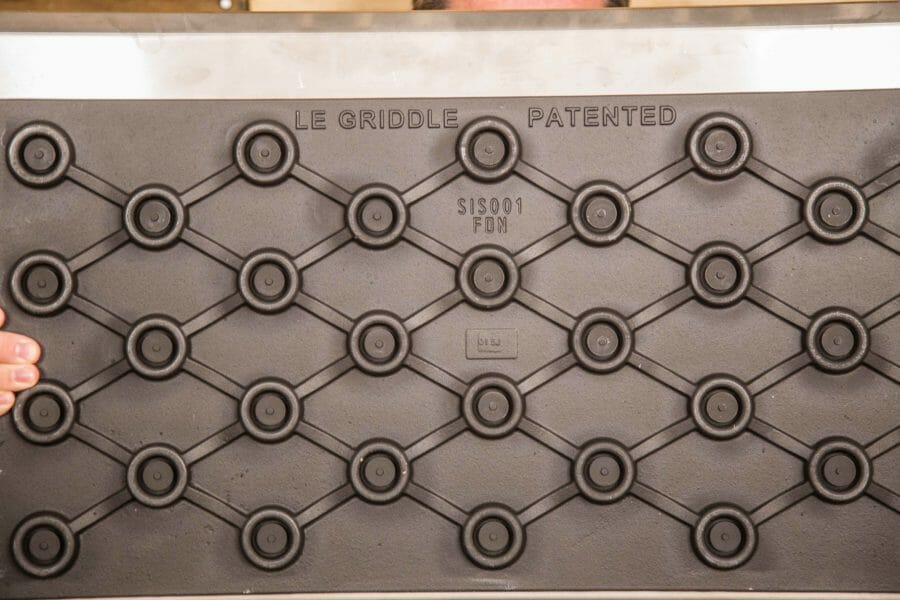 Why is that important you might ask? Stainless steel cooking surfaces across the world right now are all discolored with hot spots. They tend to heat up where fire is directly applied and in turn, cook unevenly. While stainless steel is a great cooking surface, there's a reason that cast iron is popular in the kitchen the world over.
By fusing cast iron to the bottom of the stainless cooking surface, you get the best of both worlds in all Le Griddle units.
Product Features
Dimensions
| | |
| --- | --- |
| Width | 30.5 inches |
| Depth | 18.75 inches |
| Height | 10 inches |
| Weight | 99 pounds |
| Cooking Space | 464 square inches |
Burners
There are two U-shape 304 stainless steel burners bringing a total of 18,000 BTU to the cooking surface.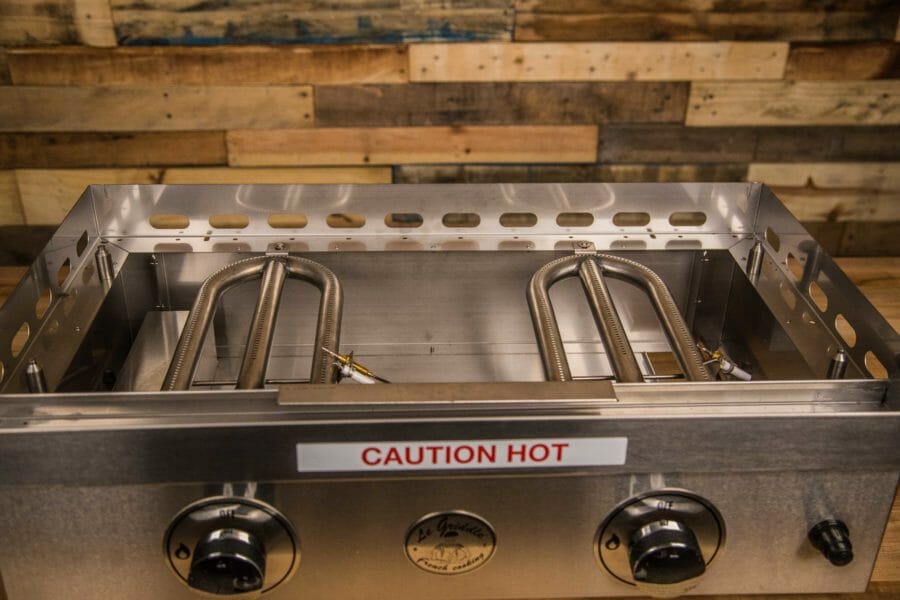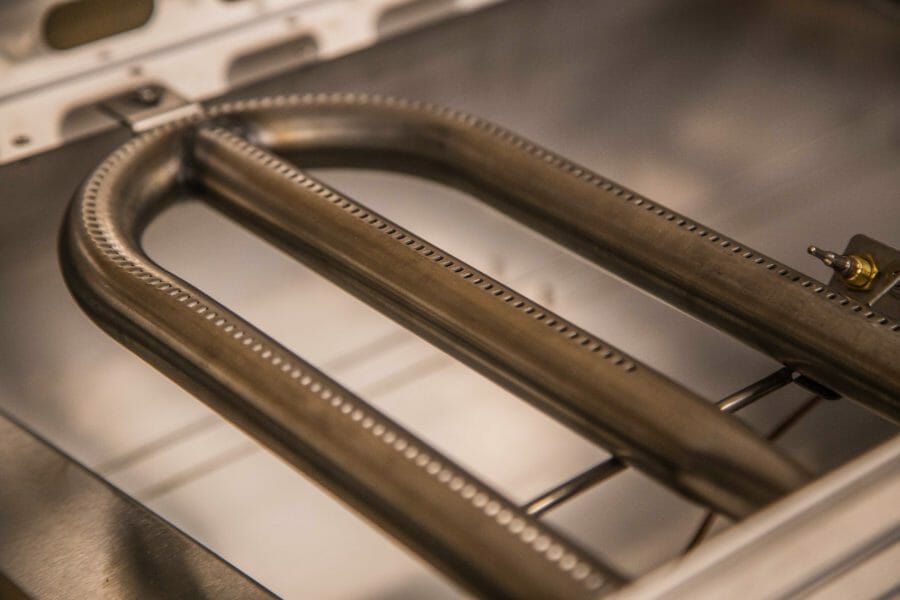 Ignitor
The ignitor is powered by a AA battery and is equipped with a safety valve and thermocouple to cut off the supply of gas in the event of a fire going out accidentally.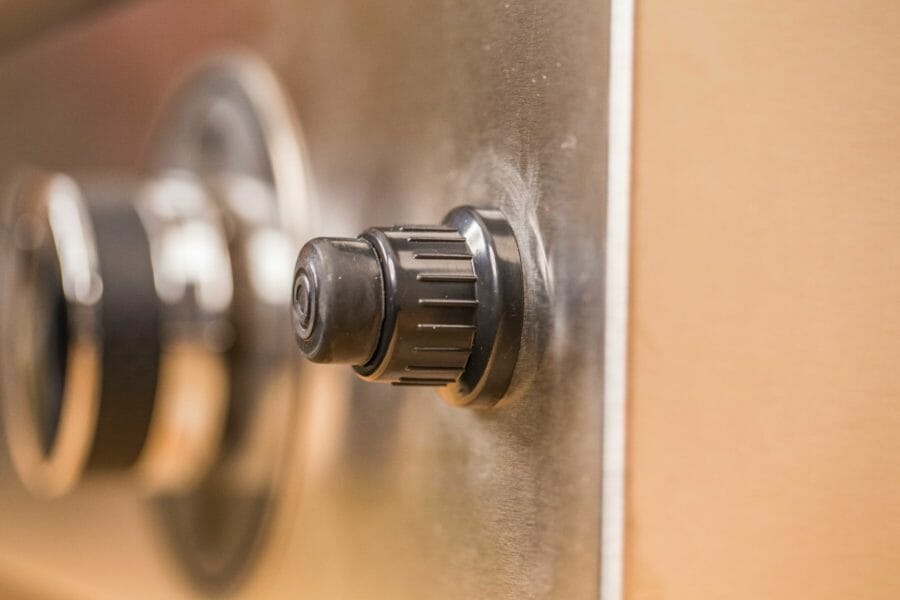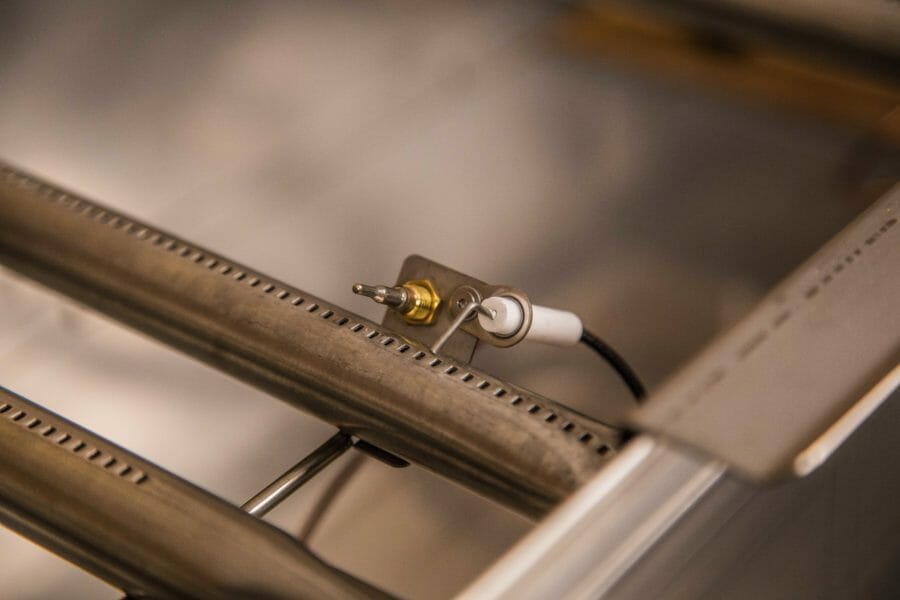 Fuel
The Le Griddle has dual-fuel capability with options for natural gas or liquid propane.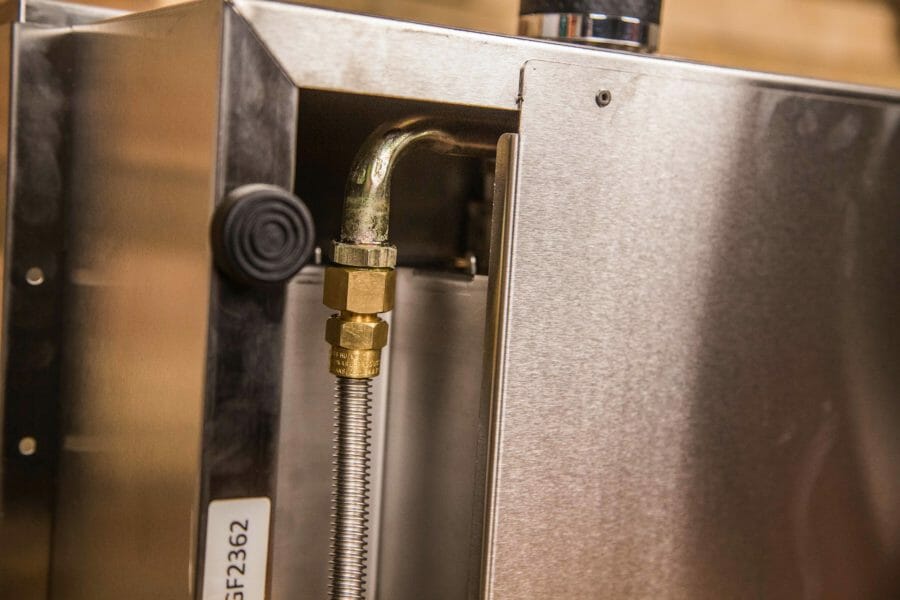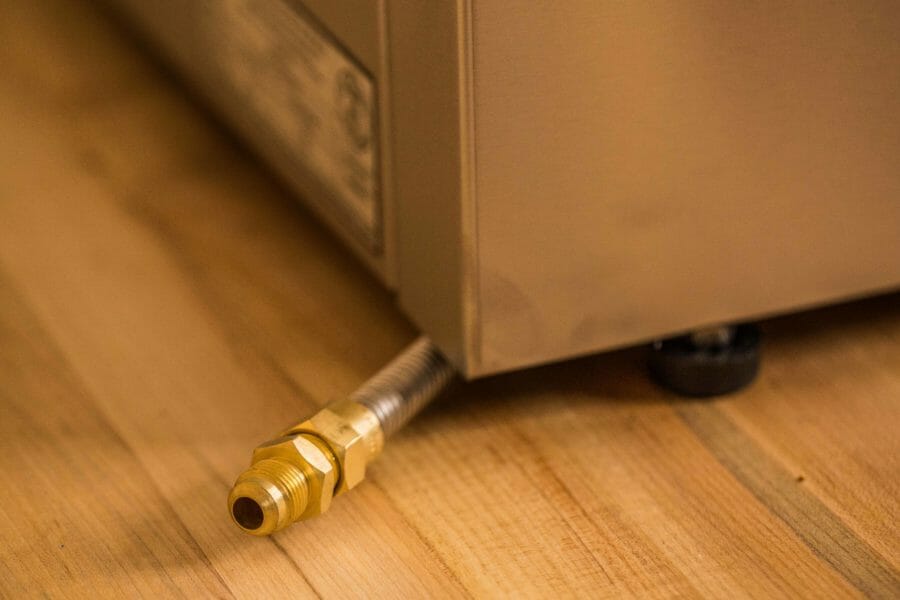 Temperature Control Knobs
There's not all that much to Le Griddle 30" when it comes to operation. There are two knobs on the front of the unit, and 90 degrees of temperature control on the knobs. The larger fire icon is how you set it to high, and the smaller fire icon is how you set it to low. Anything in between is up to you as it isn't notched or labeled for anything other than large fire and small fire.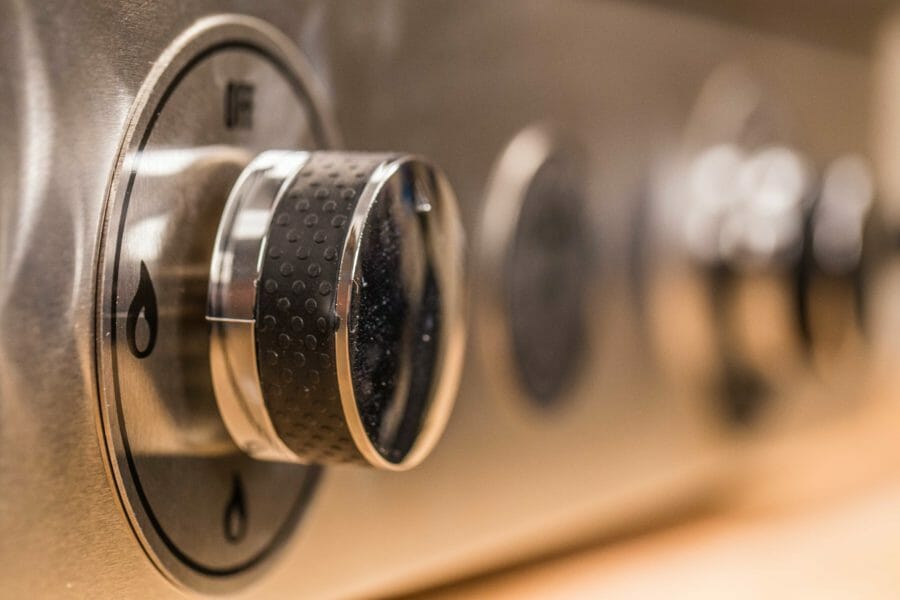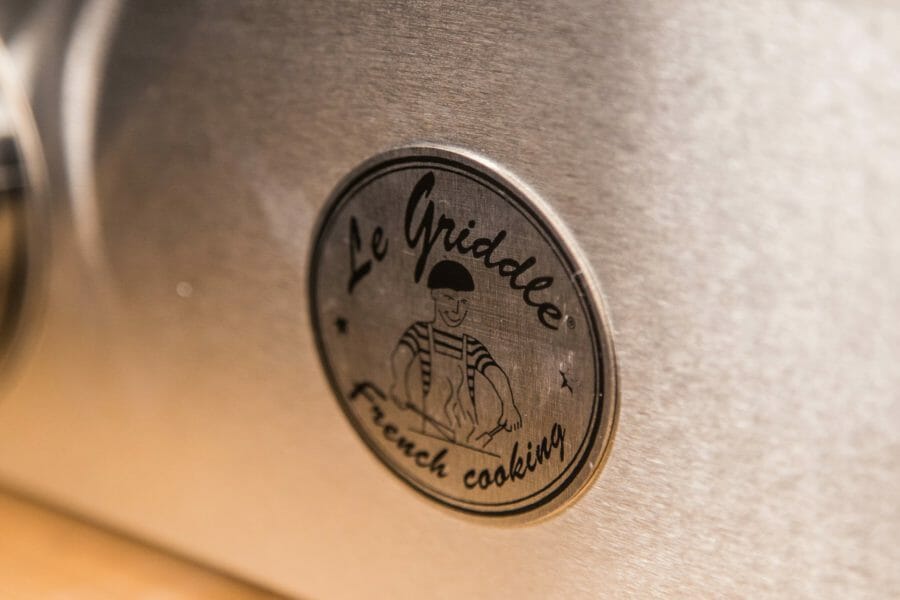 Ventilation
There are holes all around the sides and back of the gas griddle that allow for "breathability" yet protect the flame from the wind as well.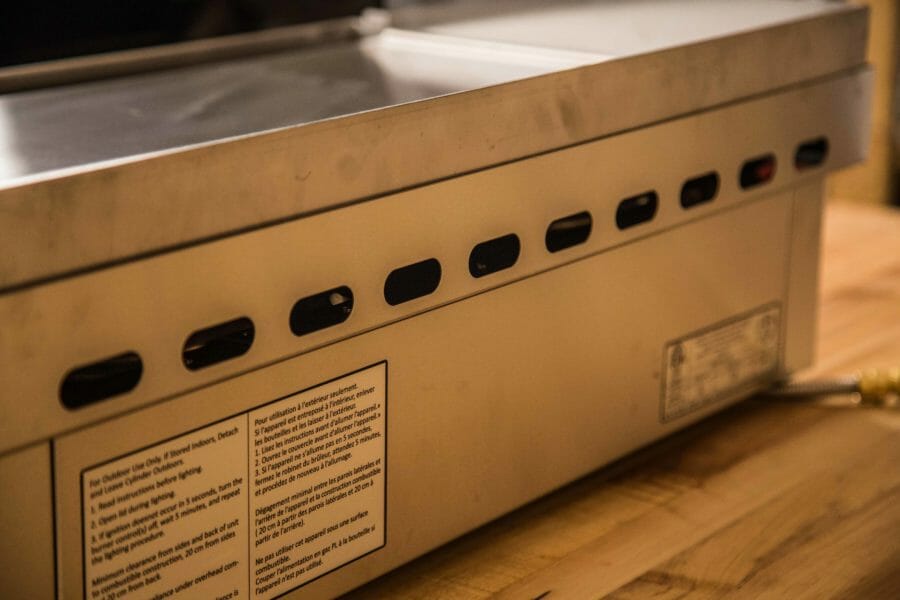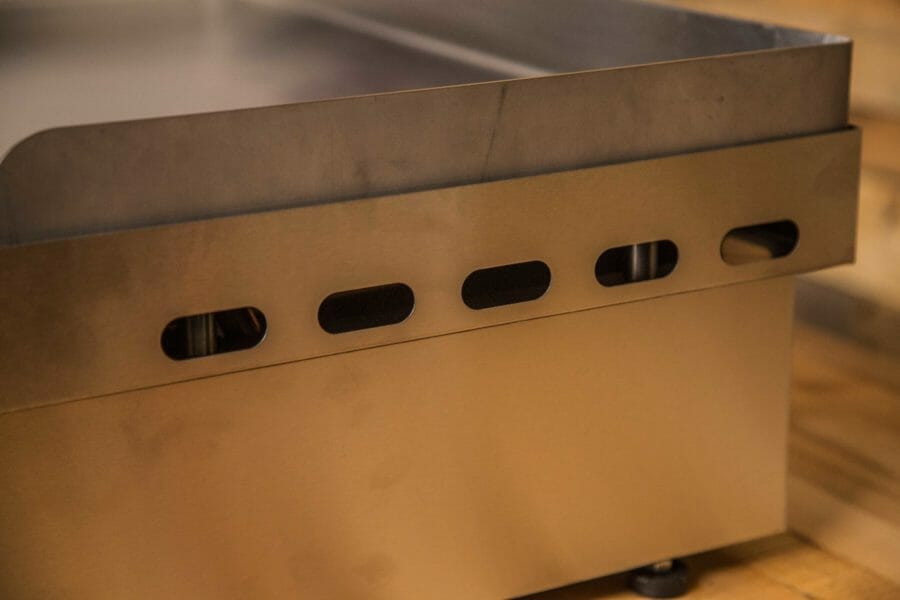 Drip Tray
There is a magnetic drip tray that extends the entire width of the front of the gas griddle, designed to collect any grease or debris from cooking. It is easy to remove to empty and clean after each cook.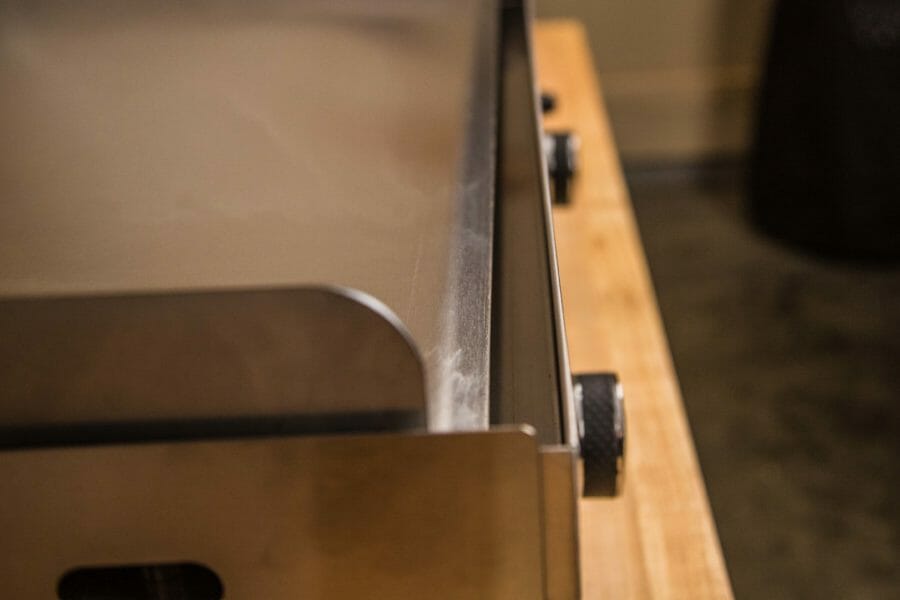 Cleanup
Cleaning the top is a breeze. We learned a hot tip from our friend Richard who also owns a Le Griddle, and he taught us that cleaning is easy with a bowl of ice and a ScotchBrite sponge. Once you're done with a cook, drop the ice on the cooktop while it's still hot, and the melting ice will release all of the stuck-on bits from the cooking surface. For anything that's left, just move the sponge around with the cleaning spatula and everything we've cooked on the unit has come up no problem.
Le Griddle Configuration Options
Le Griddle can be configured a couple of different ways. There's the way we're currently using it, which is tabletop. Now, if you're like me, you're going to wonder if you can put a unit like this on top of a table without putting something like stone or a heat deflector underneath it. We've been using this on top of a standard plastic table that we got from Sams Club, and nothing's melted or even really felt hot enough to be in the danger zone.
There are 4 feet on the unit that screw in with rubberized ends. Between the weight of this unit and the rubber feet, this gas griddle isn't going to be sliding around on whatever surface you choose to place it.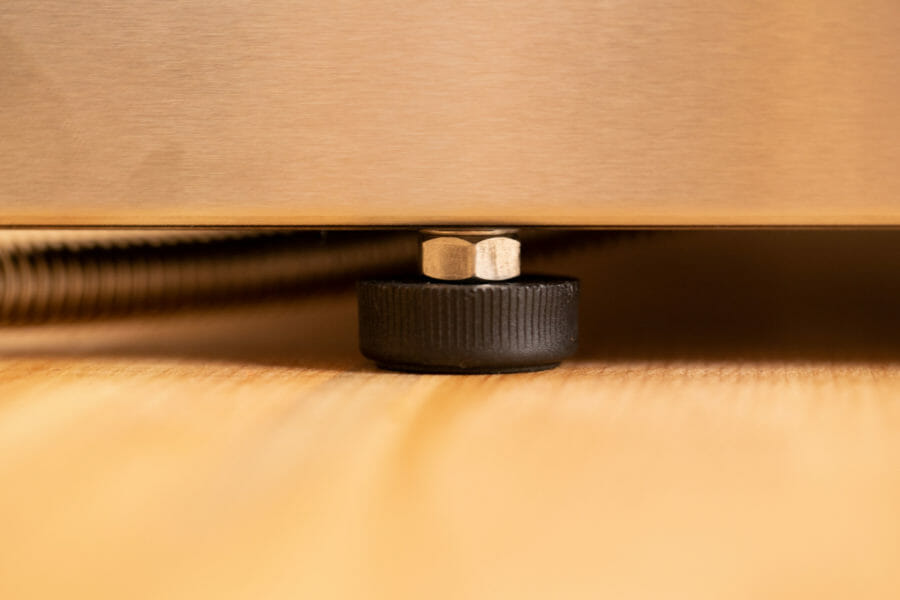 Another way to configure Le Griddle is to build it into an outdoor kitchen. When you're building a grill or a smoker into a countertop outdoor, the stainless steel Le Griddle is perfect to add to your arsenal.
The final option would be to order it with the optional stainless steel cart. This makes the unit just like any other grill that you'd wheel around the patio or the driveway, and with the weight of the top on this unit, you'll be happy you have it on wheels if you're going to be taking it in and out of the garage.
There's also an optional lid that can be added to the gas griddle, and it's all stainless steel as well, and just looks fantastic. I like not having to do another clean on the cook top when I head out to the gas griddle and it's been sitting in the garage or outside. All that dust and grime collecting on the top is caught by the lid, and I'm glad I have it here on mine.
Durability and Longevity
There's always the question of how long should we expect this unit to last, and the answer to that question differs by how you're using and storing the griddle. This gas griddle is made up of 304 stainless steel, and while stainless can last for years, it's the burners that you'll need to keep an eye on. We had a 5 burner 304 stainless steel gas grill that looked like the day I bought it after 15 years of ownership. That didn't mean that it was without maintenance. I replaced the burners in that unit 4 times over 15 years, but it still held up to the outdoors better than any grill I've ever owned.
Seeing that Le Griddle is made of the same stainless steel, I would expect the same longevity in this unit, so you're buying a gas griddle that's meant to last.
We ordered Le Griddle to build into an outdoor kitchen here at The Barbecue Lab, so we included the lid to complete our build. There's also an insulated liner that you can add to the unit that nestles it into an outdoor kitchen build that makes it flush with your countertop. That's an addition that we still need to pick up so that it melds right into our outdoor counter.
The stainless steel Le Griddle ships on a pallet because of the weight of the unit. We found ours wrapped tightly on the shipping container and it arrived in pristine condition.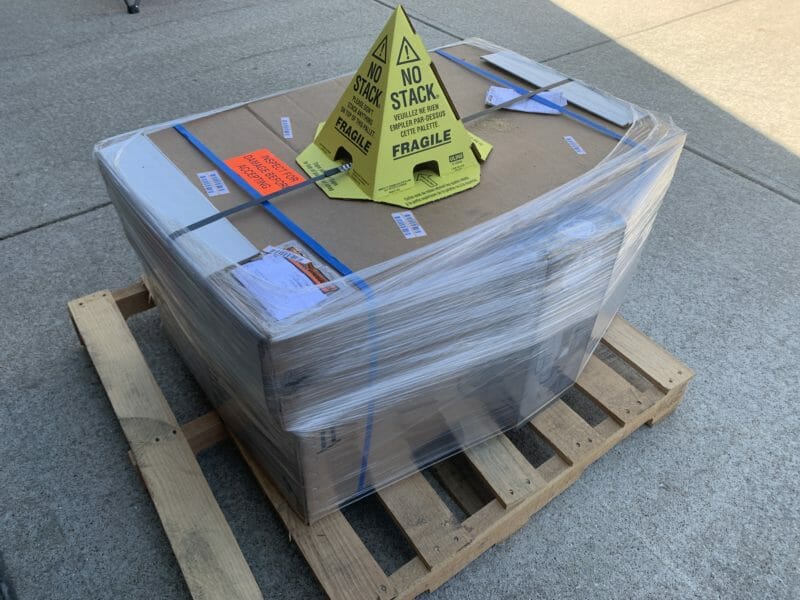 Assembly was easy. All we had to do was take the adhesive stainless steel protective coating off of the base unit all around the sides and bottom and connect the propane line. After that we placed the cook top and fired it up. We suggest having a friend help you move around the cook top as my back can tell you stories about what can happen when you decide you're fine to do it yourself.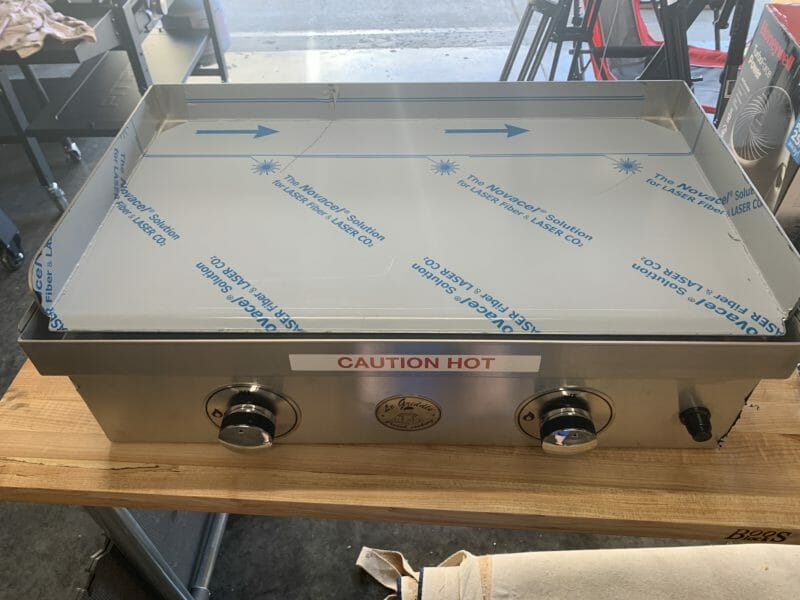 How easy is this grill to use? It's super easy. Just turn on the gas and light the burners. Give it a good 5 minutes to get the top piping hot and you're ready to bring your culinary creations to life.
At the time of this writing, the stainless steel Le Griddle 30" retails for $1,799 and can be purchased from multiple retail outlets as well as online.
So, What's the Verdict?
Now that we've gone over the unit and all the ins and outs, there's always the question of do I like this gas griddle?
We've cooked probably about 20 meals on the Le Griddle 30 inch by this point, and I just love it. I really like that the top is super dense and holds heat well. The griddle also doesn't move around, even when you're trying to use the spatula to scrape off crispy bits. There's some real heft to the unit, and that's what I want in a gas griddle that we're going to build into a countertop.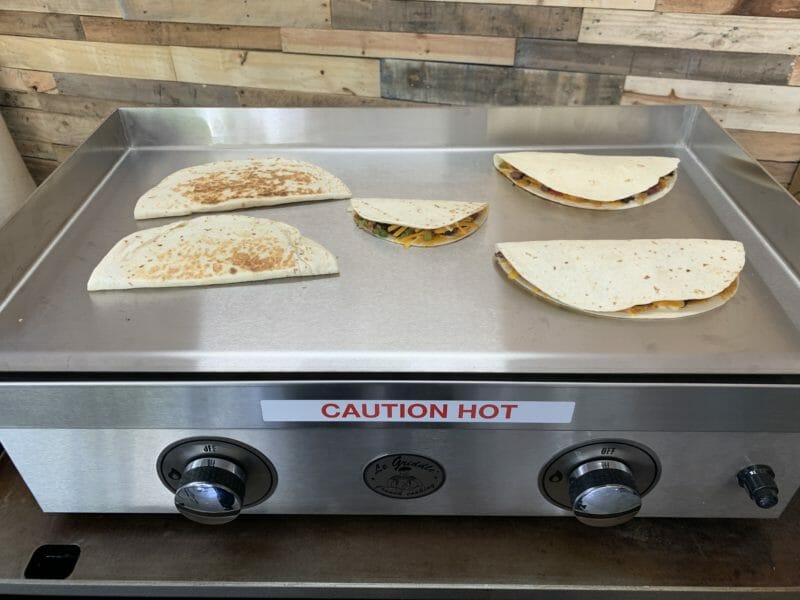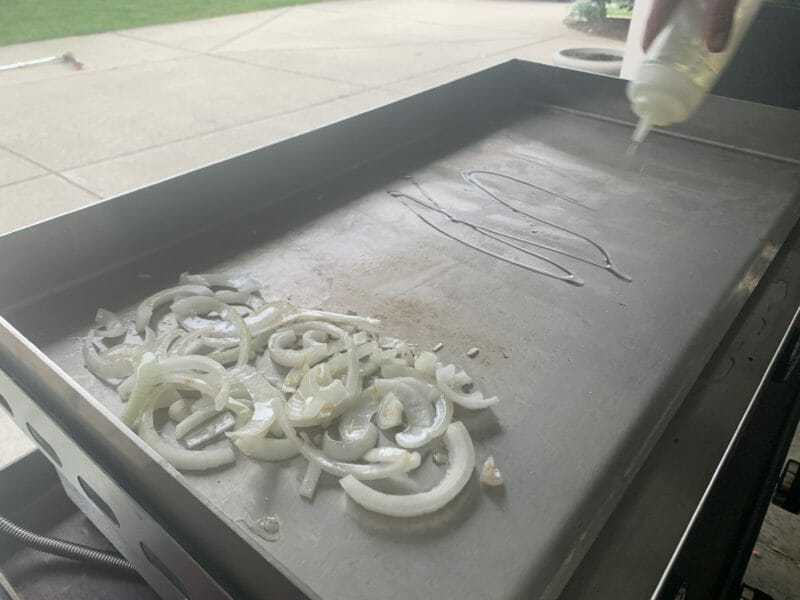 I like that there's not just one tiny 2 inch hole in the top for me to scrape food bits and water into when I'm cleaning. The magnetic drip tray that goes all the way across the front of the unit is perfect for keeping things clean.
I'm a huge fan of the thermocouple cutoff capability of the gas griddle. If for some reason the wind blows my fire out, I'm not building up gas while I don't even know it's a problem. (not me personally building up gas, the griddle…)
I think my favorite thing about this grill isn't a feature that the unit offers, but it's the result of having it here at our house. The griddle brings people together. My kids want to be a part of cooking on it, which isn't always the case when I'm breaking out charcoal or loading wood into an offset smoker.
I think the gas griddle seems more accessible to the kids and to our guests, and that's how we want it. Cooking and entertaining outside isn't just about making the best food or having the best equipment, it's about what happens when you invite people over and get them outside around fire and food. That kind of connectivity is my favorite thing about Le Griddle, and it's worth so much more than the price of entry.