This Cubano recipe is one of the greatest ways to repurpose your leftover pulled pork. It's so tangy, sweet and delicious, you simply have to give it a try.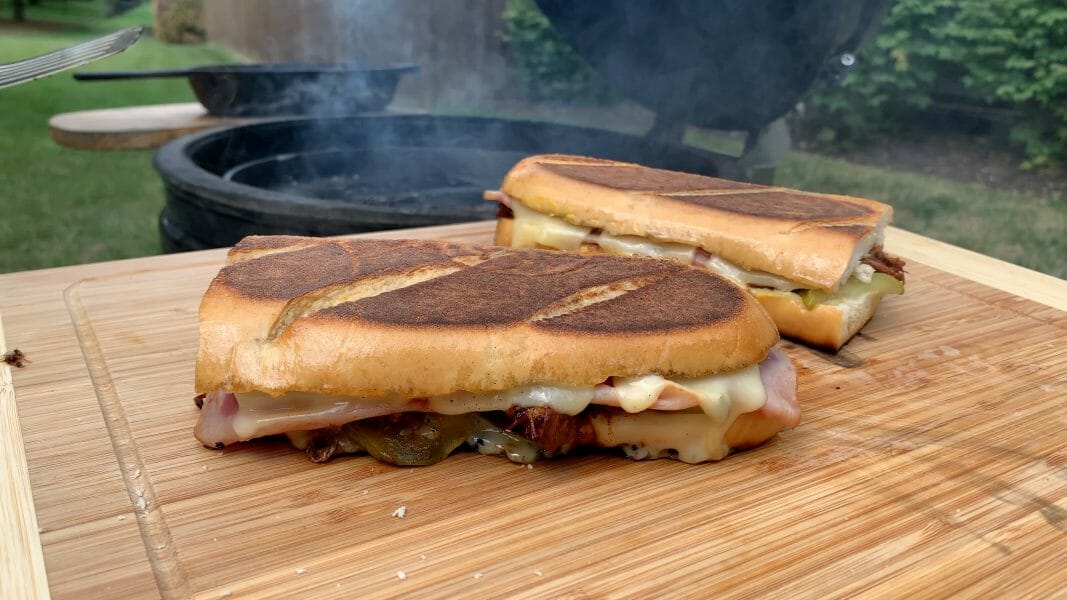 Ever since watching the movie Chef a few years back, we've been dying to try our hand at preparing our own Cubano sandwich. Jon Favreau just makes it look so delicious.
We found ourselves with some leftover pulled pork the other day and decided that this would be the perfect way to bring new life to our leftovers.
What is a Cubano Sandwich Made of?
Traditionally, a Cuban sandwich, or Cubano is made up of slow roasted pork marinated in a mojo sauce, ham, Swiss cheese, pickles, and mustard and prepared on a crusty Cuban bread.
Rather than slow roasting mojo pork specifically for this sandwich, we have prepared a mojo sauce to add to leftover pulled pork from when we previously smoked a Texas Style Pork Butt.
Mojo Sauce for Pulled Pork
To prepare our leftover pulled pork for our Cubano recipe, we first needed to make the mojo sauce to season the pork appropriately.
This is fairly simple with only 4 ingredients and can be done in about 10 minutes.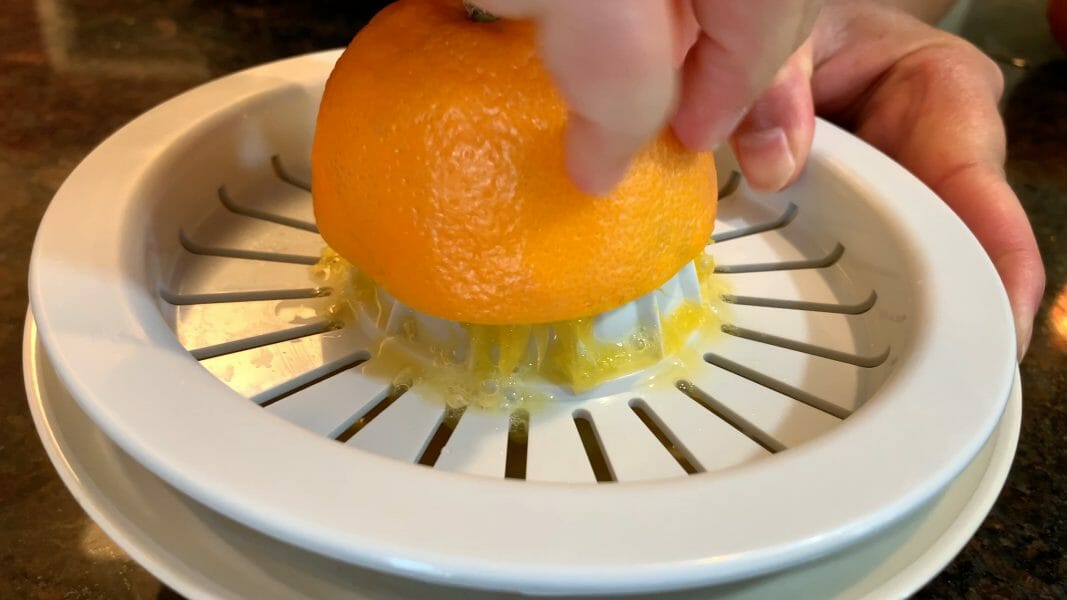 All we had to do was juice one lime and one orange. We put the citrus juice in a small sauce pan over medium heat and added 2 tablespoons of brown sugar as well as 1 tablespoon of chili powder.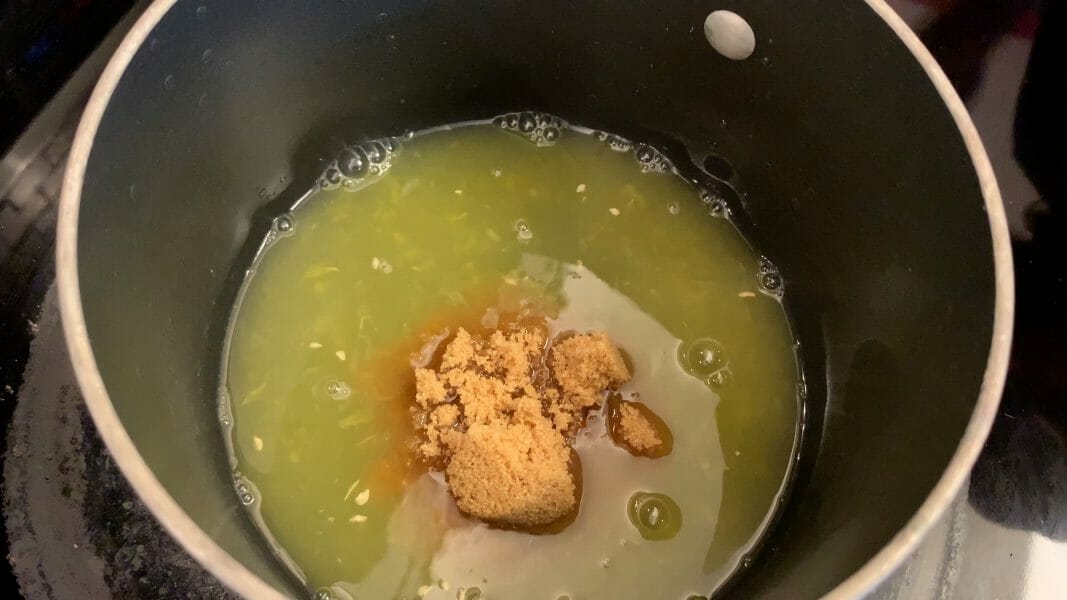 After about 10 minutes of simmering, stirring fairly regularly, the mojo sauce had slightly reduced down and started to thicken.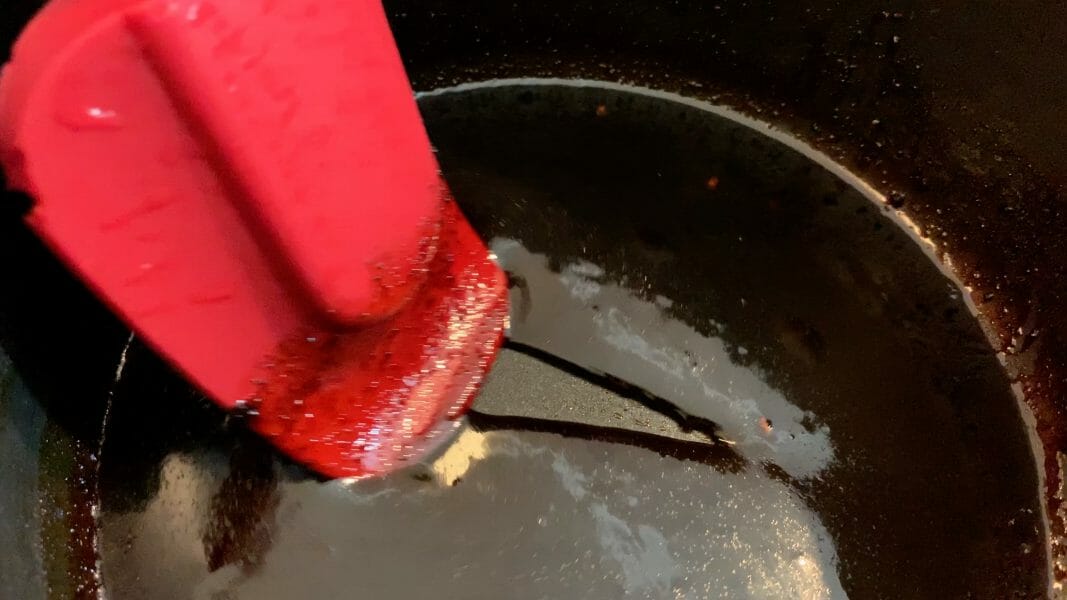 We then stirred in the 8 ounces of pulled pork until the sauce was evenly dispersed all throughout.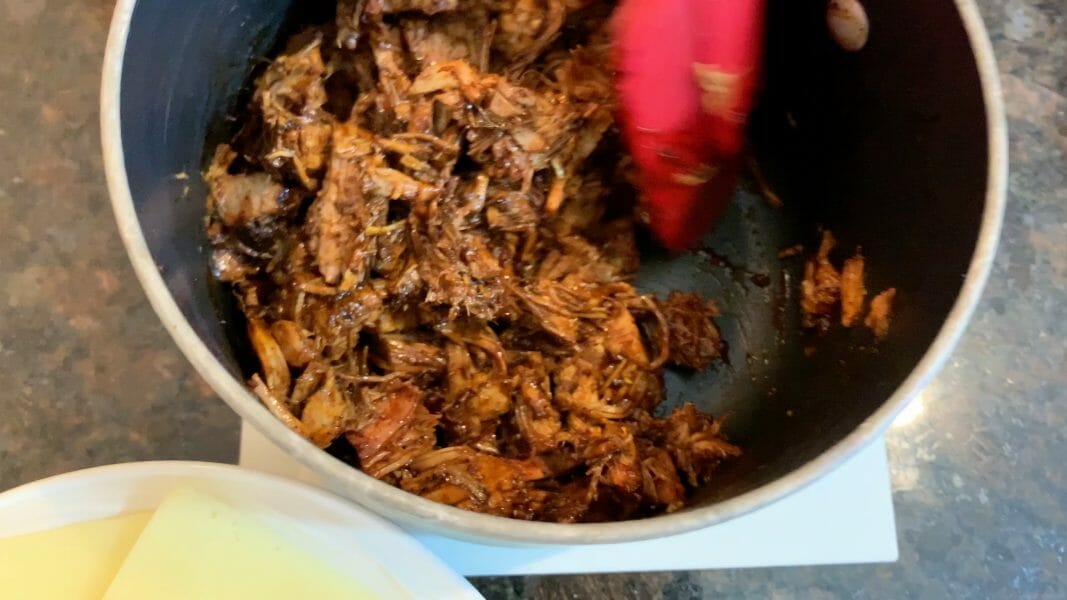 How to Build a Cuban Sandwich
Living in the heart of Indiana, we don't exactly have access to authentic Cuban bread, so we just picked out a nice loaf of Italian bread that looked crispy on the outside but soft on the inside.
Cut the loaf in half to make two long sandwiches. After cooking, those two sandwiches would get cut again to total four servings in all.
Slice open both halves of the loaf and spread a nice layer of plain yellow mustard on all four pieces of bread.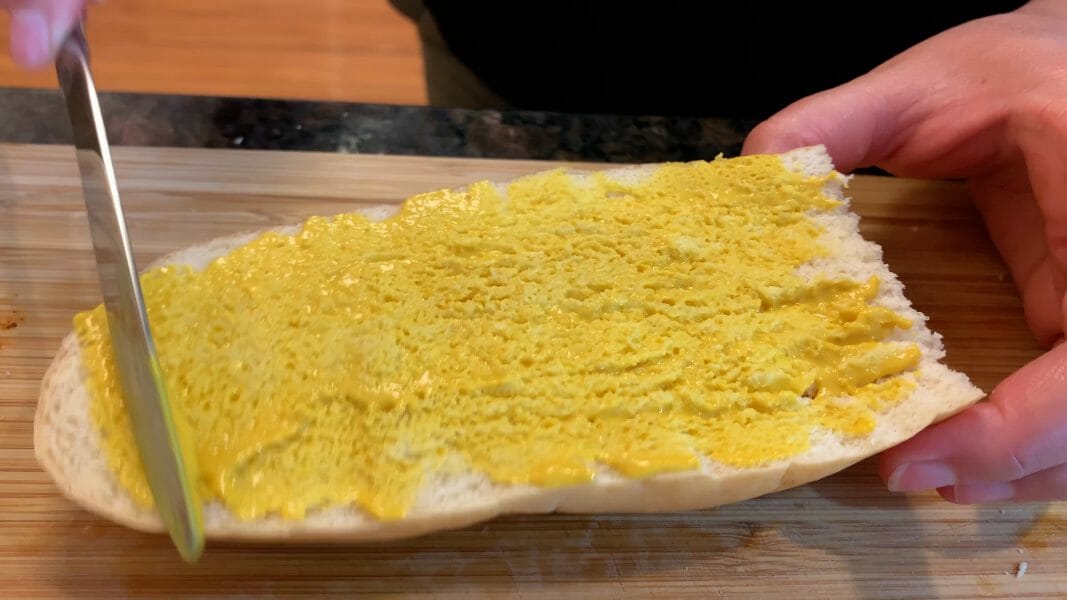 You might be questioning if this is too much mustard. The answer is no. The mustard is such a key ingredient to the flavor profile of this sandwich, you do not want to skimp out here.
On top of the mustard you will layer Swiss cheese, followed by ham, the mojo sauced pulled pork, dill pickle slices, more Swiss cheese, and the top piece of bread.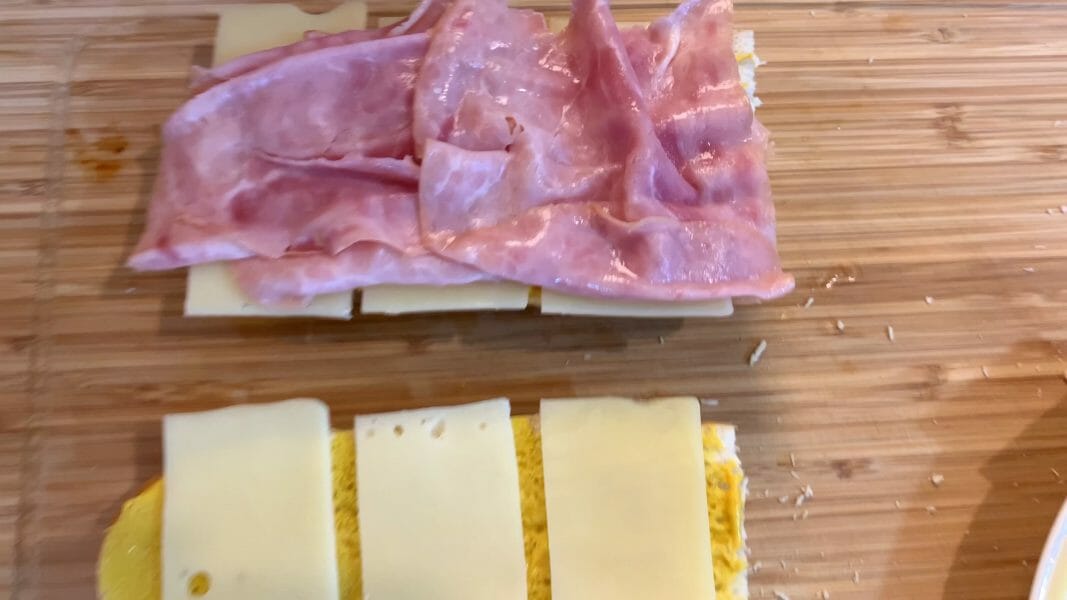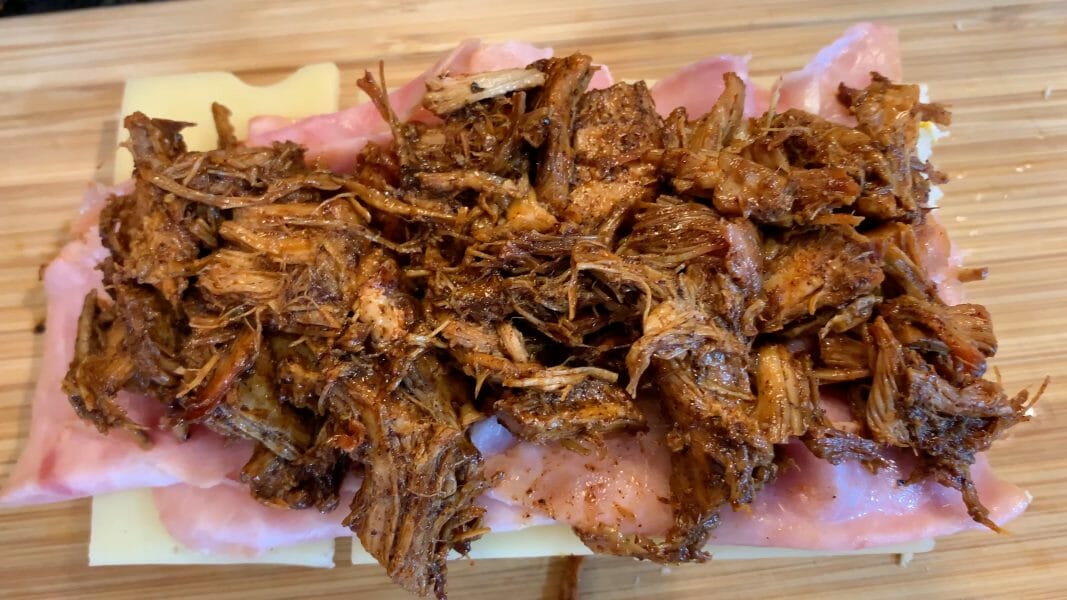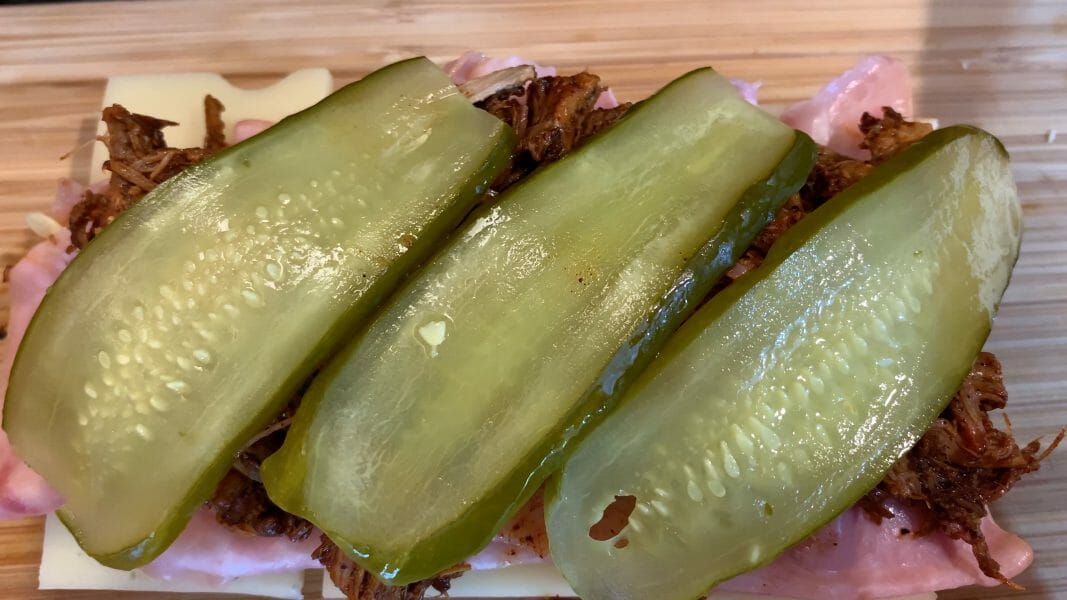 (Sometimes you can find a jar of pickles sliced the long way at the grocery store, but you could also do like we did and slice a whole pickle using a mandolin.)
The last step before grilling the sandwich is to brush melted butter on the outside, both the top and bottom bread.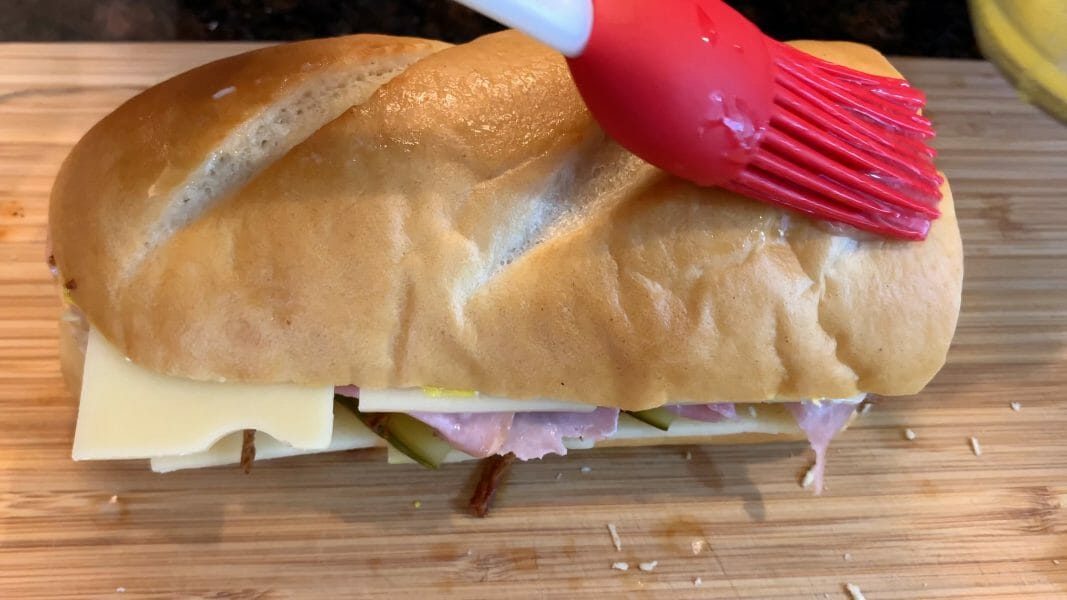 Grilling a Cuban Sandwich
We grilled our Cubano sandwiches on our Vision Kamado grill running at around 400 degrees.
Rather than using a sandwich press, we worked with what we had on hand. We preheated our cast iron pizza pan as well as a cast iron skillet as the grill came up to temperature.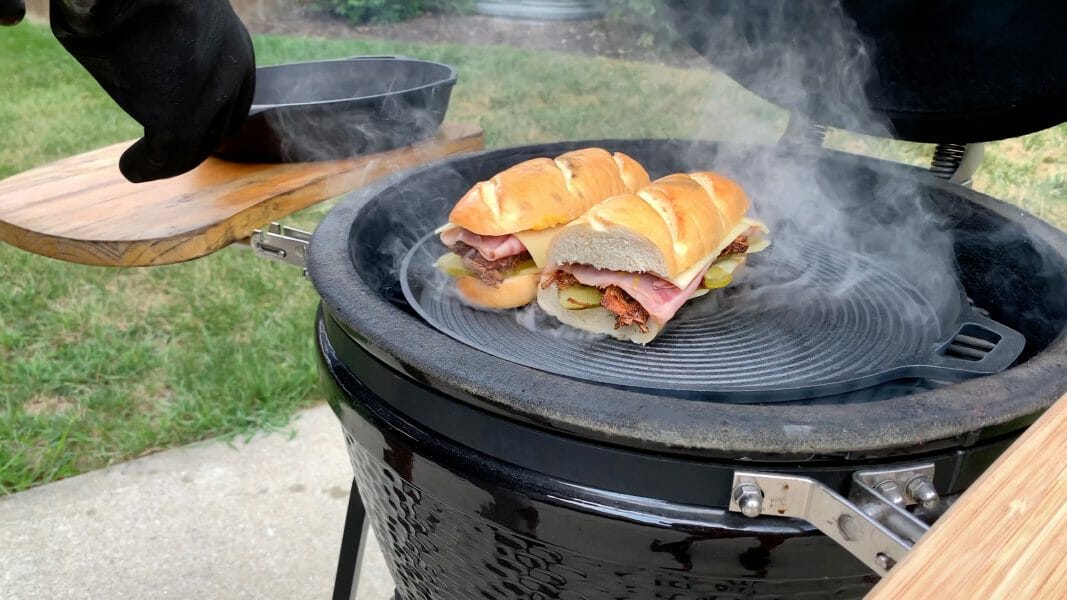 A panini press would also work beautifully if you prefer cooking these sandwiches indoors.
Grilling the Cuban sandwiches happened quickly. We simply placed the sandwich between the pizza pan and the skillet and then used our insulated pit gloves to apply pressure to the top pan in order to press the sandwich down.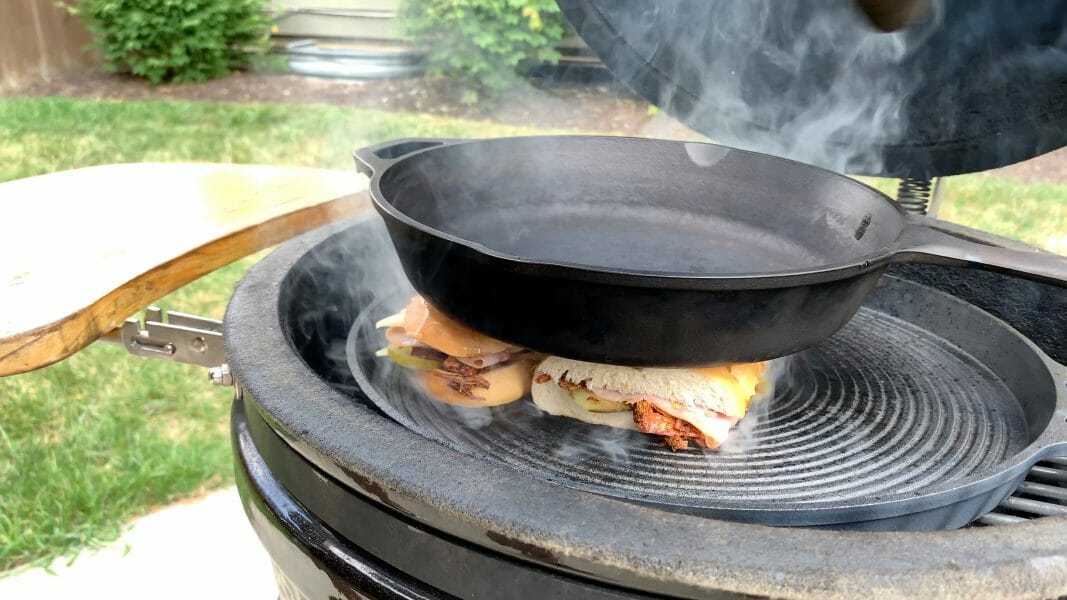 At 400 degrees, in less than 90 seconds the sandwich was nicely toasted on both the top and bottom of the sandwich.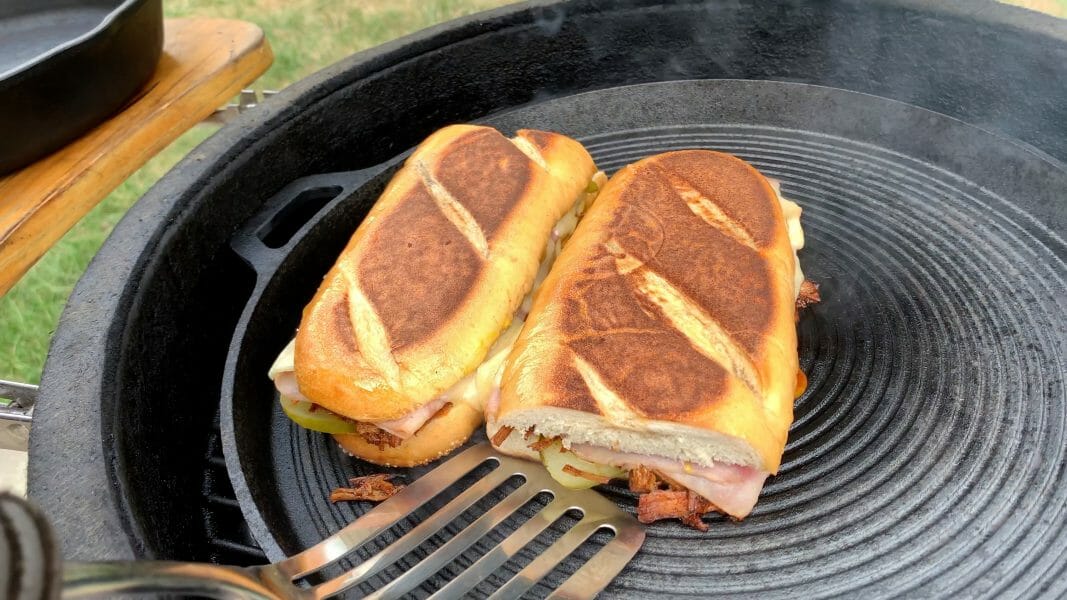 Cubano Recipe: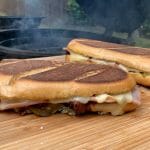 Print Recipe
Grilled Cuban Sandwich
Got leftover pulled pork? Do yourself a favor and make this Cubano recipe. You'll be so thankful you did.
Ingredients
1

orange

juiced

1

lime

juiced

2

Tb.

light brown sugar

1

Tb.

chili powder

8

oz

pulled pork

1

loaf

Italian bread

¼

c.

yellow mustard

6

slices

swiss cheese

6

slices

deli ham

2

whole

dill pickles

thinly sliced

2

Tb

butter

melted
Instructions
Combine orange juice, lime juice, brown sugar, and chili powder in a small saucepan and simmer for about 10 minutes over medium heat until it begins to reduce and thicken slightly.

Stir leftover pulled pork into the sauce to evenly coat.

Cut the loaf of bread in half (to make two long sandwiches that will later be cut in half after cooking). Then slice each in half to open up and begin building the sandwiches.

Spread mustard on the top and bottom of each sandwich. Begin with a layer of Swiss cheese slices on the bottom of the sandwich.

Add slices of ham to the bottom half of the sandwich and then pile the pork on top of that.

Layer dill pickle slices over the pork, followed by an additional layer of Swiss. Then top with the other half of the bread.

Use a pastry brush to paint melted butter on the outside (top and bottom) of each sandwich.

Place the sandwiches down between the two cast iron pans. Use heat proof gloves to push down on the top pan to press the sandwich. It will only take about 90 seconds before they'll be ready to remove from the grill.

Slice each sandwich in half and enjoy.
Video
Notes
If you want to skip the cast iron on the grill, these sandwiches could also be prepared using a panini press.
Nutrition
Calories:
1275
kcal
|
Carbohydrates:
102
g
|
Protein:
41
g
|
Fat:
80
g
|
Saturated Fat:
42
g
|
Cholesterol:
104
mg
|
Sodium:
1727
mg
|
Potassium:
638
mg
|
Fiber:
8
g
|
Sugar:
63
g
|
Vitamin A:
1778
IU
|
Vitamin C:
24
mg
|
Calcium:
409
mg
|
Iron:
5
mg
What to do with Leftover Pulled Pork?
We're always thrilled when we have leftovers from a smoked pork butt because there are so many delicious ways to repurpose the pulled pork!
In addition to this Cuban sandwich, here are some of our other favorites:
Pulled Pork Egg Rolls (recipe coming soon!)