We got the chance to test and review the Grill Dome Infinity X2 Ceramic Kamado, and boy is this thing a grill.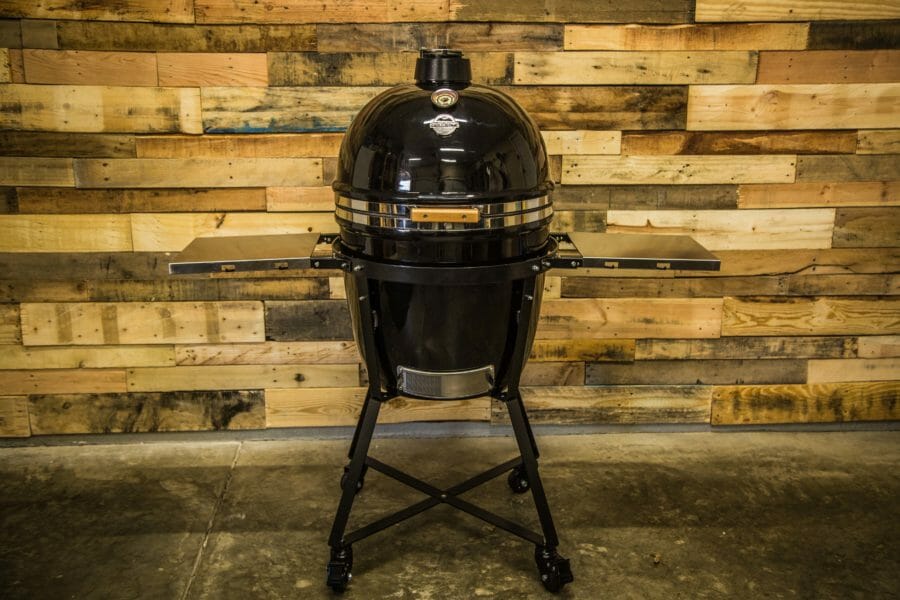 I literally can't believe how heavy this unit is for a ceramic kamado. The same size Big Green Egg weighs 100 pounds less than the Grill Dome, and costs about $500 more when similarly equipped.
So, the question is, would I rather have a Green Egg Kamado grill or an Infinity X2? We walk through the pros and cons in our video.
Note: Some of the links in this article may be affiliate links. This doesn't cost you any more than normal. Read our disclaimer for more info.
Grill Dome has been manufacturing Kamado grills since 1989. Fast forward to today and Grill Dome now produces their Infinity X2 ceramic grills in 3 sizes: small, large, and XL.
We have the large unit. This grill weighs a whopping 265 pounds, and in comparison, a large Big Green Egg is only 162 pounds. That's over a hundred-pound difference in something that's very similarly priced.
While both grills sell around the same price point, the main difference between the two manufacturers is that the Grill Dome Infinity X2 comes standard with many of the features and accessories that are add-ons for Big Green Egg.
Grill Dome Infinity X2 Complete Features
Stainless Steel
The Grill Dome is made of all 304 stainless steel whenever you find steel on this unit. The bands that go around the dome itself are stainless steel, the side cart shelves are also stainless steel. You're gonna see that throughout the whole entire unit.
304 stainless means it's going to resist the elements better than anything else that's out there.
Dialtop
The Grill Dome includes a top exhaust unit they call a Dialtop.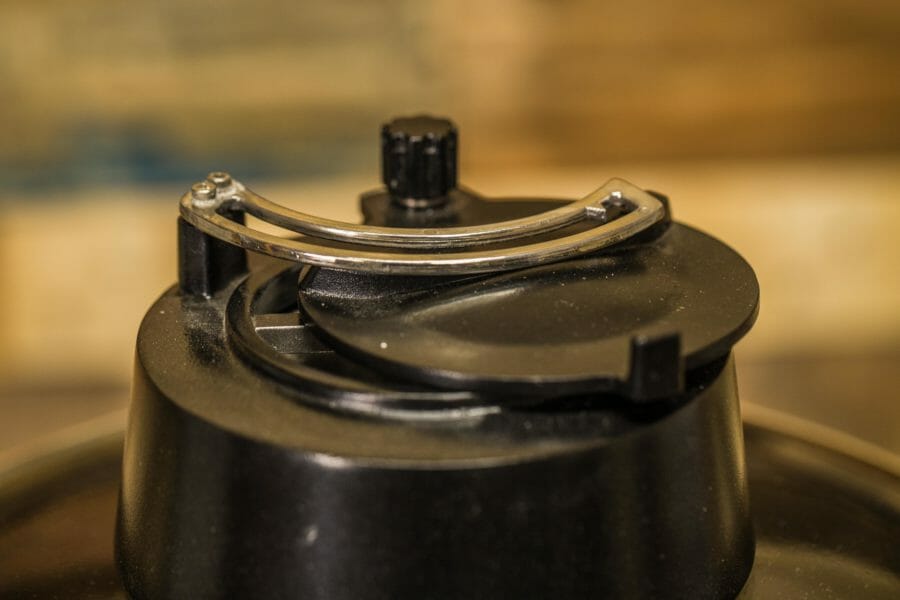 When you look closely at just the right angle you can see stamped numbers 1 through 5 visible through the slider.
Have it open only a little bit? That's a 1. And you're probably holding your temperature down on the lower end.
Have it open all the way? That's a 5. And your grill is going to be piping hot in no time.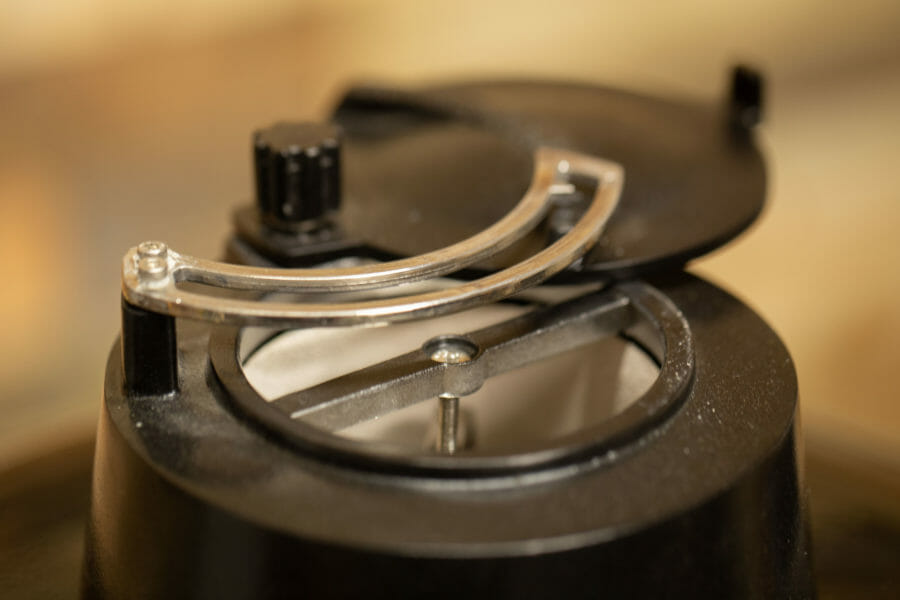 Over time you'll get to learn how your grill performs at your specific altitude and you'll know exactly where to adjust the Dialtop for whatever your target temperature may be.
Dial Door
The dial door is the input or the intake vent in the bottom of the grill and the newest current version is also numbered, much like the dial top. We opted for a dial door that allows for integration with many of the fan controllers that are on the market for our unit.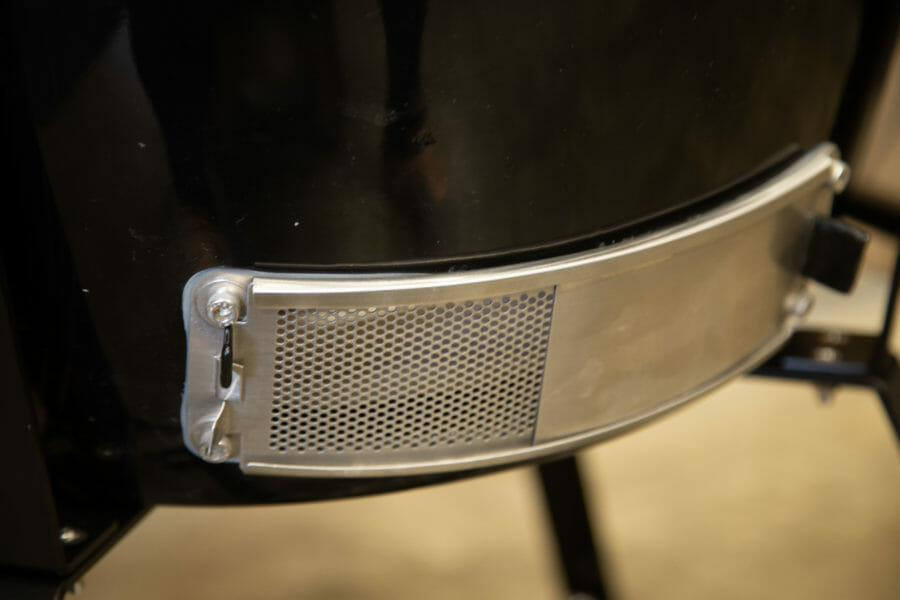 The further open the dial door is, the more air you're allowing into the fire. As you know, fire loves oxygen, so therefore opening the door will result in a hotter fire and closing it will produce lower temperatures.
So it's a balancing act of adjusting the dial top and dial door to help you achieve the temperature you desire. The nice thing about both of those features including numbers, is that once you figure out a configuration that gets you the right temp, you can make note of your settings and replicate it more easily in the future.
Fiberglass Gasket
Unlike many of its competitors, Grill Dome uses a fiberglass gasket between the lid and the bottom of the Infinity X2 kamado grill. Most of the other kamados I've owned used felt gaskets and I like this one a whole lot more.
Featherlight Hinge
For as heavy as this kamado is, the lid is unbelievably easy to lift and lower and that is due to the featherlight hinge.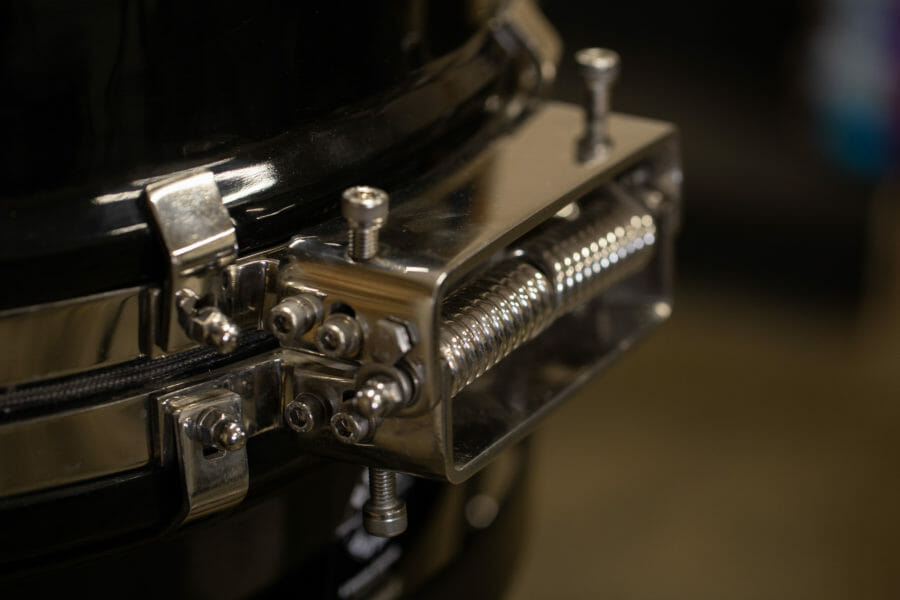 We've all probably witnessed the kamado lids that take nearly two hands to lift, right? Not the Grill Dome. I can literally lift and lower with 1 finger. That simple.
Hood Thermometer
While practically every grill comes with a hood thermometer, Grill Dome has done something pretty cool by making their version glow-in-the-dark.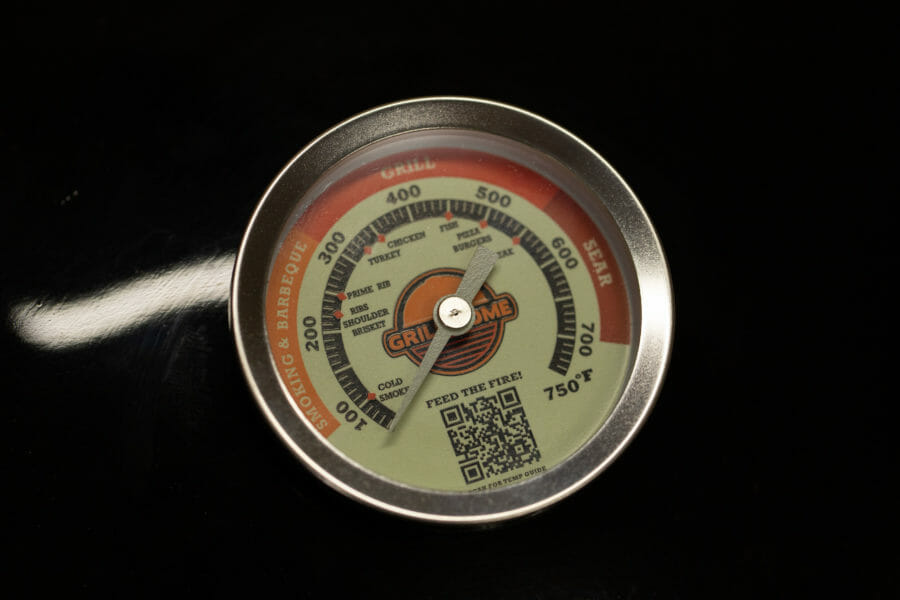 In addition to its glowing ability, they've included a nice guide to help inform users of what temperatures are appropriate for smoking and barbecue (100-300), grilling (300-550) and searing (550-750), as well as what cooking method and temperature works best for different types of meats.
If you've been at it for a while, you may not really need this extra resource, but I think we can all agree that this would have been a handy tool to have when we were first getting started.
Dome Mobile Kamado Cart
The Infinity X2 complete set comes with the Dome Mobile, to allow for some flexibility and mobility in where you can cook with this grill.
It has two lockable wheels on the front and two wheels on the back that do not lock.
In spite of the massive weight this cart can hold, it's pretty unbelievable how fluid the movement of this grill is. I honestly don't think I've ever had a grill that was as easy to move around as this one.
However, all of that is only true if you're staying on the same level plane.
We store the majority of our grills inside the garage and have a double lip to travel over to exit and enter the garage. This is no easy task with this grill and I personally prefer a second person to steady the unit while I lift from below.
Side Shelves
Also made from 304 stainless steel, the Dome Mobile comes with 2 foldable side shelves. A nice added detail and feature of the shelves are the tool hangers on the front of each shelf, allowing you to store up to 4 hanging grill tools at a time.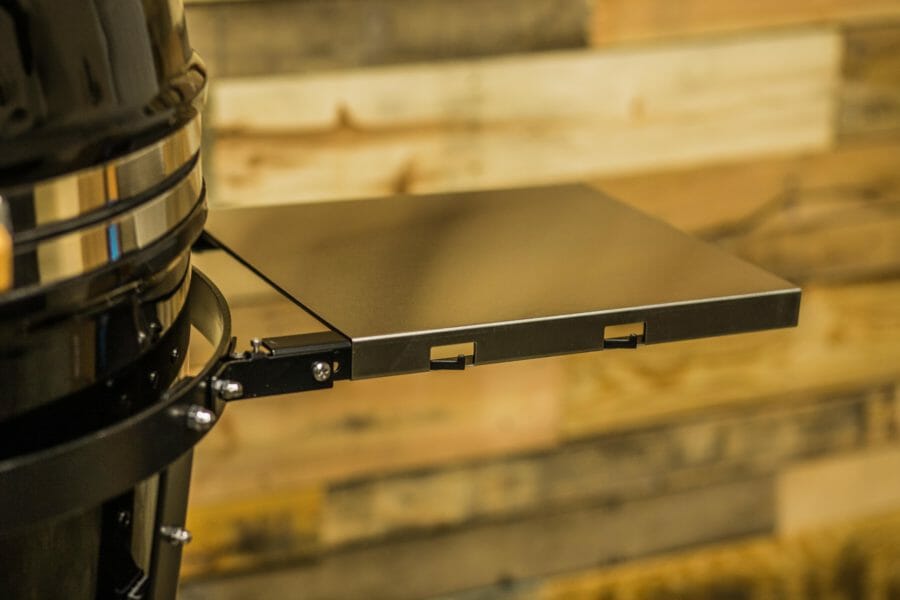 Stack and Rack System
Grill Dome prides itself in their stack and rack system that comes standard with every grill purchase.
You may have noticed that this kamado is a lot taller than other kamado grills you may be familiar with. That extra height inside is not wasted space when you're utilizing the stack and rack system.
This is a cooking system that allows for a variety of cooking scenarios to take place all at one time in the same grill. By utilizing the stacking racks and half-moon cooking surfaces and accessories, you can configure the grill to meet whatever your needs may be.
Need to cook something hot and fast while also cooking low and slow? You don't need two different grills to do this if you've got the stack and rack system. Just set up for indirect heat on one side, and direct heat on the other.
In fact, with the height that the Grill Dome has, and the purchase of additional stack and rack accessories, you can stack up to 3 levels of cooking space. There are a lot of options to explore here with the included system.
Cooking Temperatures
The Grill Dome is said to be able to achieve temperatures ranging from 175 all the way to 750 degrees. That is an incredibly wide range of temperatures and the very reason why there are so many types of food you can prepare on this one grill.
We have found that the X2 maintains temperature very easily, due to the thick walls of the ceramic and the shear weight of this unit.
In our experience, as soon as we are able to get some coals lit in the bottom (using the Looftlighter, wax cubes, or tumbleweed fire starters), it only takes about 10 minutes to reach 250 degrees.
I've owned a few different kamado-style grills so far and none of them have heated up that quickly.
We've been cooking on the Infinity X2 Large kamado for a few months now, and easily use it 2-3 times per week. The fact that it heats up as quickly as it does encourages me to use it any night of the week and not just the weekend.
Where Can I Get a Grill Dome Infinity X2?