Tomatillo salsa verde recipe
I've been a huge fan of salsa verde for many years. But for the longest time, I assumed that buying it in a jar from the grocery store was pretty much the only way to enjoy this delicious green salsa.
I grew up in Indiana, where we grow corn and soybeans. Tomatillos aren't exactly a locally-grown commodity around here.
I did eventually find them on the shelf in my local grocery store and began experimenting with using fresh tomatillos in my own recipes.
Note: Some of the links in this article may be affiliate links. This doesn't cost you any more than normal. Read our disclaimer for more info.
This past winter I got on a Chile Verde kick, week after week tweaking my recipe to get it just where I wanted it (which was always much spicier than my family's tolerance level). Tomatillos became a regular item on our weekly grocery list.
In spite of my Chile Verde usually being too spicy for her to eat, my wife Melissa decided to take a stab at growing our own tomatillo plants at home this summer.
Home-Grown Tomatillos
Melissa ordered tomatillo seeds online and germinated them indoors in March. By the middle of May they were ready to be transplanted to our garden out back. And in spite of an unexpected unseasonably late freeze when we were just sure we'd probably lost these baby plants, they were resilient and went on to provide a bountiful harvest for us throughout the summer and fall.
This being our first year growing this type of plant, we've learned a lot this summer.
Tomatillo plants get really big and take a lot of space.
We need to figure out a better way to support these heavy plants next year, to prevent them from flopping over into the lawn. The supports we had in place weren't tall enough and collapsed under the weight of the plants.
We will definitely be planting these every year from now on, because…
Fresh home-grown tomatillos are much sweeter than what we've typically bought in the grocery store.
If you happen to get brave and take a stab at growing your own tomatillos at home, it's good to know how to identify when they are ripe to pick. Once the fruit has broken through the bottom of the papery husk, it is time to harvest.
How to Make Homemade Salsa Verde
Making salsa verde does not need to be intimidating because it really is quite simple! There are several methods that can be used to cook your salsa and there are also a few ingredient options to consider depending on your heat tolerance and preference.
The basic ingredients of tomatillo salsa verde are (of course) tomatillos, raw onion, chile peppers like jalapeño peppers (less spicy) or serrano peppers (more spicy), lime juice, fresh cilantro, and salt to taste. You could also include garlic if you prefer. Typically the tomatillos, onion and peppers are cooked in some manner and then pureed in a blender or food processor until the right consistency.
Of course, the grill is our preferred heat source, but we'll try to give you some basics for the other ways to prepare this easy recipe.
Grilling
In our opinion, grilling this tomatillo salsa verde recipe is the best way to go. Something about the flavor that comes from the fire-roasted vegetables just pushes it to a new level of tastiness.
We usually use our gas grill for this recipe because it's quick and easy, but you could certainly use a different type of grill as your heat source. Cooking the vegetables over direct heat is key though, so probably an offset smoker wouldn't necessarily accomplish what we're trying to do here.
Place the tomatillos, onion, and pepper on the grill over medium-high heat. The tomatillos and jalapeño will need to be turned and rotated fairly frequently to ensure even charring on all sides. The onion will probably take longer and should be flipped over about halfway through. Grilling the lime really helps loosen it up and makes it easier to juice, so it really only needs to stay on the heat for a couple of minutes.
Just as the tomatillos begin to squirt out their juices, it's time to transfer them from the grill to your blender. Once the jalapeño is nicely charred, place it in a small paper bag to steam for a few minutes. Then it will be easier to scrape the skin off with a knife. Remove the seeds if you like your salsa mild, leave them in if you like things spicy.
Add the pepper and onion to the blender. Juice the half lime. Throw in a handful of cilantro and about a half teaspoon of salt and blend. You've just made fire-roasted tomatillo salsa.
Oven Roasting
Oven-roasted salsa verde will have a very similar flavor as grilling.
In this case, you'll spread the fruit and vegetables on a rimmed baking sheet and place them on the top rack of your oven set to broil on high.
Turn your oven light on and keep a close watch on what's happening inside. You'll frequently need to pull the pan out and turn the ingredients over and move them around to help them cook evenly.
After about 10-12 minutes, the roasted tomatillos, onions, and hot peppers should be ready to transfer to a blender or food processor along with the lime juice. Blend them until they've reached your desired consistency and no big chunks of tomatillo remain. Then add cilantro and salt to taste.
You've just made oven-roasted tomatillo salsa verde. Way to go!
Stove-top Simmering
Tomatillo salsa verde can also be prepared on your stove-top.
In this case, roughly chop up the fruit and vegetables and place them in a saucepan along with an additional cup of water. Bring it to a boil and then reduce heat to medium-low and allow it to simmer for 15-20 minutes.
After giving it an additional 5-10 minutes to begin to cool, transfer it all to your blender or food processor and blend.
Add the fresh cilantro and salt to taste and give it a quick blend to incorporate.
Since additional water gets added in order to simmer the vegetables in this version, this salsa verde recipe may be a little runnier than you might prefer. In this case, you could then return the blended salsa to the saucepan and simmer on low heat for an additional 5-10 minutes to give some of the water a chance to evaporate. Once it's reached your desired consistency, remove it from the heat and add the lime juice.
Congratulations. You've just made a salsa verde recipe on your stove-top!
Whether you're roasting your ingredients in the oven, simmering on the stovetop, or cooking them on the grill, fresh salsa verde is an absolutely delicious and easy recipe to make. I just love to eat tortilla chips and salsa verde, but we also use this recipe when we make chicken enchiladas.
If you make this delicious green salsa verde recipe, leave us a comment down below and let us know how it went!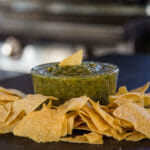 Print Recipe
Tomatillo salsa verde
Garden fresh tomatillos roasted on the grill make this tomatillo salsa verde impossible to resist.
Ingredients
8

tomatillos

1/2

yellow onion

1

jalapeño

1/2

lime

juiced

2

Tb

cilantro

1/4

tsp

sea salt
Instructions
Remove the husks from each of the tomatillos. Cut the lime in half. Cut the onion in half. Leave the jalapeño whole.

Carefully transfer the tomatillos, onion, and jalapeño to a hot grill over direct heat.

Use tongs to turn and move the ingredients around fairly frequently.

Grill the lime for about 2 minutes or just until grill marks are beginning to develop on the flesh.

Remove the tomatillos once they begin to get soft and/or start leaking juice.

Once the pepper has developed char all around, remove it from the grill and transfer it to a small paper lunchbag. Seal it up for a couple of minutes to allow it to steam. Remove from the bag and use your knife to carefully scrape the charred skin off the jalapeño. Also remove the stem. If you prefer a mild salsa, also remove the seeds. Leave the seeds in if you like it spicier.

Transfer the tomatillos, jalapeño, onion, and roasted lime juice into your blender. Blend until pretty smooth. Add salt and cilantro and do a quick light blend to work those in.

Pour finished tomatillo salsa verde into a glass jar or bowl and place into the refrigerator to cool.
Notes
I've heard you either love cilantro or you think it tastes like soap. If you're one who doesn't like it, then leave it out of the recipe! No problem.
Nutrition
Calories:
21
kcal
|
Carbohydrates:
4
g
|
Protein:
1
g
|
Fat:
1
g
|
Saturated Fat:
1
g
|
Polyunsaturated Fat:
1
g
|
Monounsaturated Fat:
1
g
|
Sodium:
98
mg
|
Potassium:
147
mg
|
Fiber:
1
g
|
Sugar:
2
g
|
Vitamin A:
89
IU
|
Vitamin C:
10
mg
|
Calcium:
8
mg
|
Iron:
1
mg