In this camp chef Woodwind review, we'll cover all the great features of this grill so that you'll have all the information you need to decide if this is the right cooking equipment for you.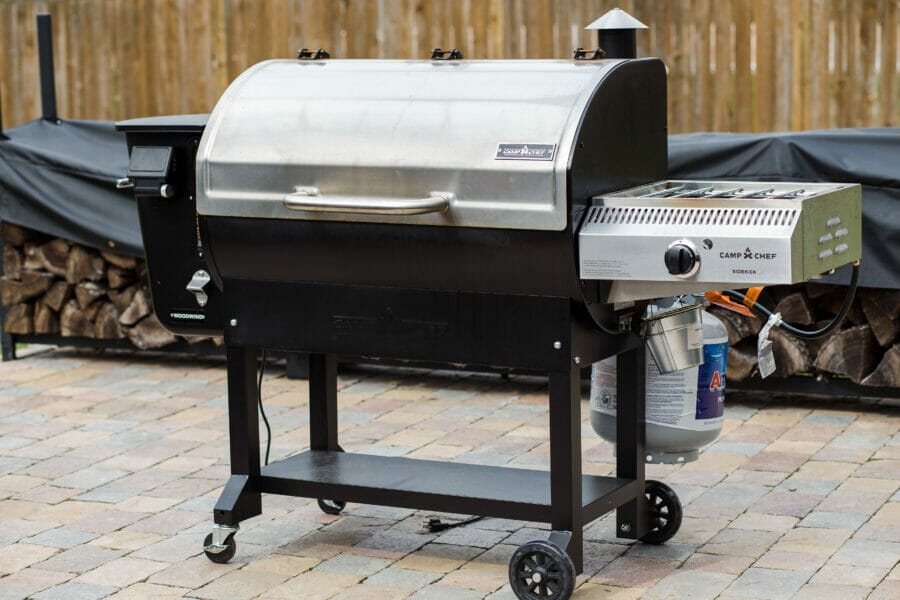 The Woodwind line of pellet grills offers both wifi Bluetooth connectivity and smart smoke technology. It's a feature-packed grill that is capable of a variety of types of cooking, from smoking low and slow to searing over open flames.
Boasting a sizable pellet hopper, this pellet grill smoker can last even the longest of cooks without needing to refuel.
Note: Some of the links in this article may be affiliate links. This doesn't cost you any more than normal but it helps support our channel. Read our disclaimer for more info.
Camp Chef Woodwind Specifications
The Woodwind comes in two sizes: 24″ and 36″. Both models come with four meat probes and include all the same key features.
Woodwind 24 Pellet Smoker
| | |
| --- | --- |
| Feature | Measurement |
| Construction | Powder-coated steel body, stainless steel lid |
| Total Cooking Space | 811 sq. in. |
| Primary Cooking Surface | 429 sq. in. |
| Top Rack | 382 sq. in. |
| Assembled Height | 42″ |
| Assembled Weight | 150 lbs |
| Temperature Range | 160° – 500° |
| Hopper Capacity | 22 lbs. |
| Direct Flame Capable | Yes, Slide and Grill Technology |
| Wifi Bluetooth connectivity | PID and WIFI enabled controller |
| Check Price at CampChef.com | Check Price at BBQ Guys |
Woodwind 36 Pellet Smoker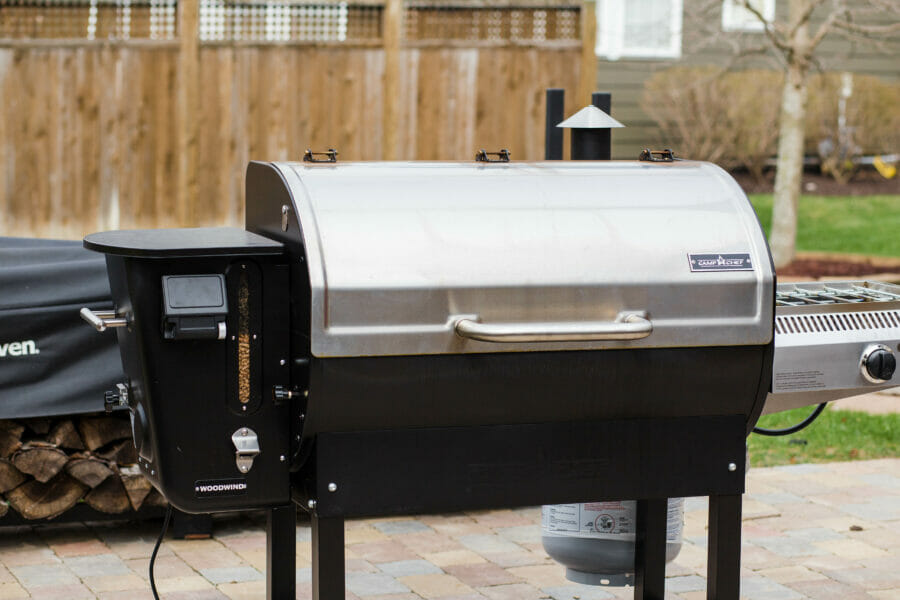 | | |
| --- | --- |
| Feature | Measurement |
| Construction | Powder-coated steel body, stainless steel lid |
| Total Cooking Area | 1236 sq. in. |
| Primary Cooking Surface | 663 sq. in. |
| Top Rack | 573 sq. in. |
| Assembled Height | 42″ |
| Assembled Weight | 177 lbs |
| Temperature Range | 160° – 500° |
| Hopper Capacity | 22 lbs. |
| Direct Flame Capable | Yes, Slide and Grill Technology |
| Wifi Bluetooth connectivity | PID and WIFI enabled controller |
| Check Price at CampChef.com | Check Price at BBQ Guys |
Unboxing and Assembly of the Woodwind
Assembling the Camp Chef Woodwind 36 took us right around 90 minutes from unboxing to ready to light a fire. With the Woodwind, you'll need a second pair of hands to help you attach the pellet hopper to the main body, but the rest is just putting on the legs, a shelf, and a series of handles. A cordless drill with a hex bit might help speed up the process some, but I usually just operate by hand.
Cooking on the Camp Chef Woodwind
Outdoor cooking on the Woodwind is a breeze. That's really the appeal of pellet grills in general, right? There's very little management that needs to take place during a cook; it's a truly "set-it-and-forget-it" grill.
And this is all the more true with the wi-fi capabilities this grill offers. From the comfort of my own recliner, I can monitor my cook and adjust the desired temperature without even having to step foot outside (a true benefit on those cold winter or rainy days).
Low and Slow Smoking
With a hopper that can hold 22 pounds of pellets, the Woodwind is ready for your lowest and slowest of cooks. We recently smoked a brisket overnight and the Woodwind didn't even come close to running out of pellets.
With Camp Chef's smart smoke technology, you can choose how much smoke you want to be incorporated into your cook by adjusting the smoke number. The higher smoke level allows the pellets to smolder and smoke rather than burn, increasing the smoky flavor infused in your food.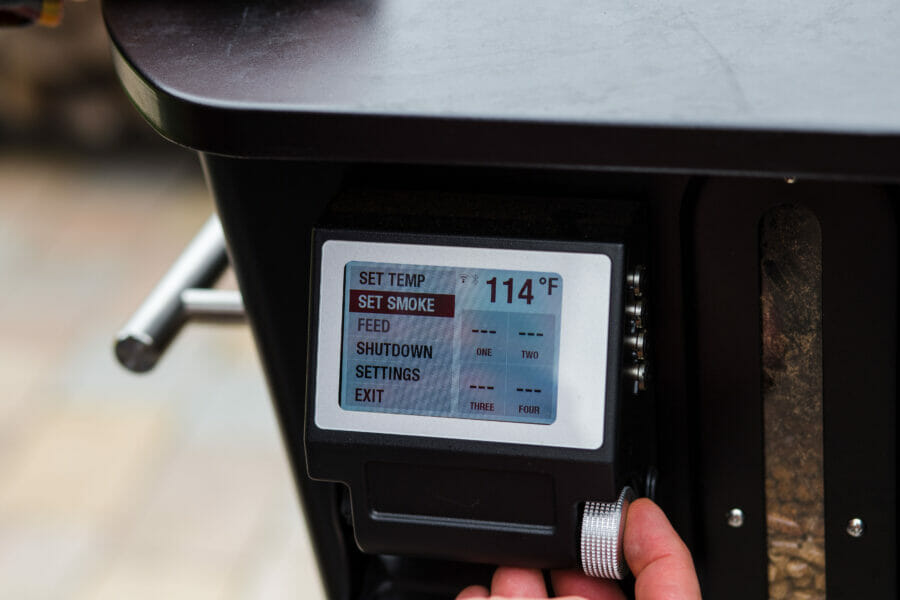 As you experiment with the adjustable smoke settings you'll notice that the higher you set the smoke level, the more your grill temperature will fluctuate. That's completely normal and expected. Once you decrease the smoke level, you'll regain temperature accuracy in your pellet smoker again.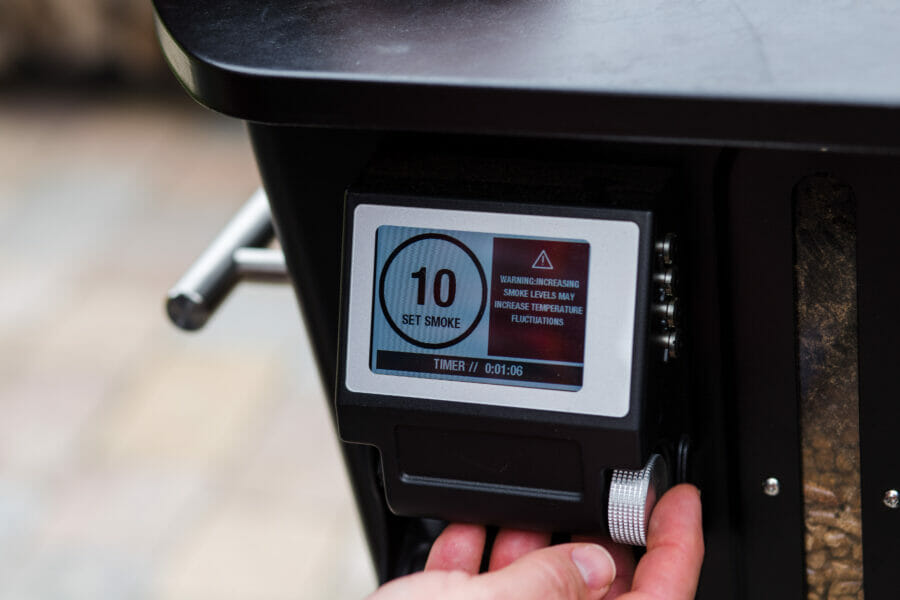 Direct Grilling with Slide and Grill Technology
Most pellet smokers aren't great for direct heat cooking. However, the Woodwind features slide and grill technology that allows you to switch from indirect flame mode to direct flame grilling with the simple pull of a lever. By sliding the deflector plate out of the way, the flames from the firepot can have direct access to the food on the grates above.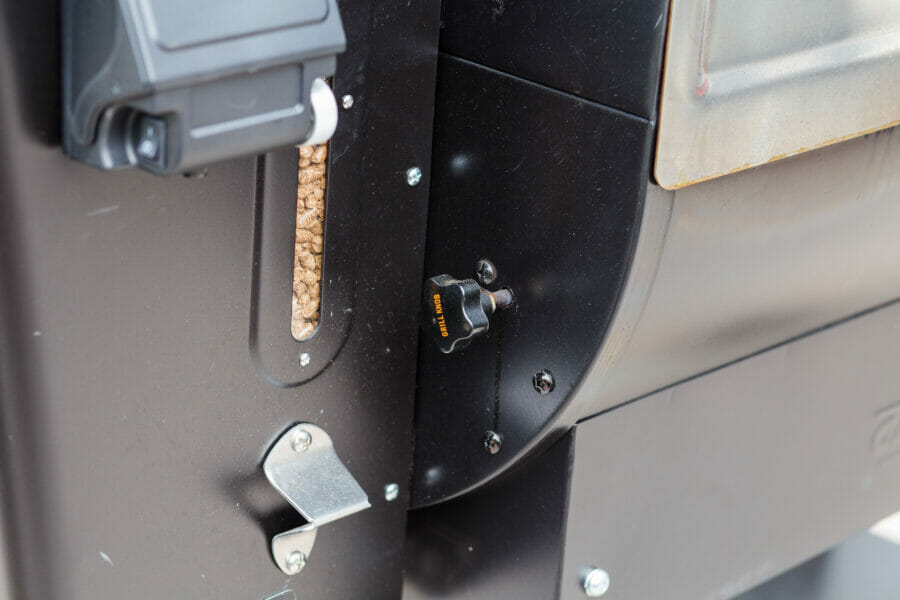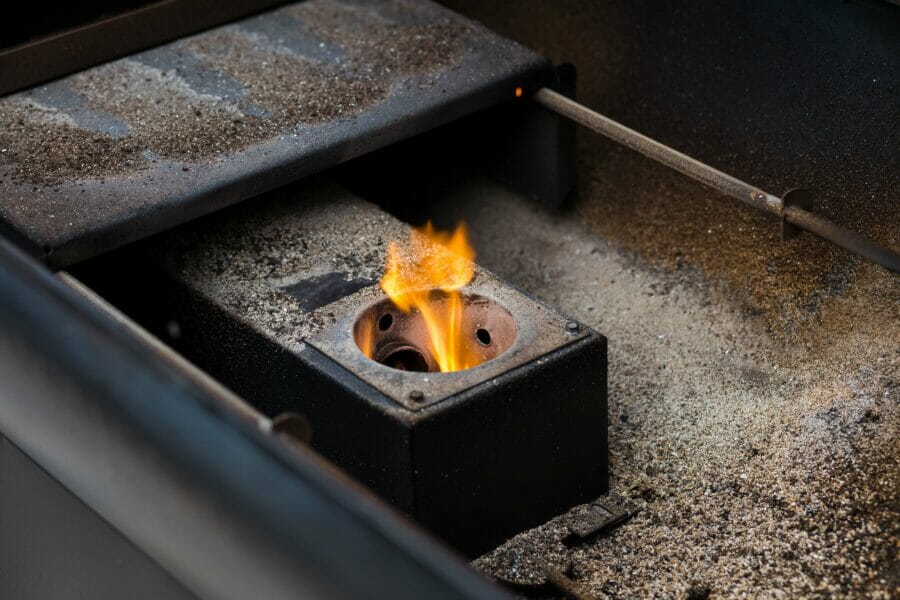 With temperatures maxing out around 500°F, it's not going to win any awards for "best seared steak" or anything, but the Woodwind's ability to direct grill does far surpass that of many of its competitors. And if it's more sear and grill marks you're looking for, the optional sear box will have you covered there for direct heat grilling.
Camp Chef App
The Camp Chef Connect App allows you to make adjustments and monitor your cook when you're away from your grill. You can change the temperature, set timers, and be notified when your grill and/or meat has reached your set temperature.
I found the app to be pretty easy to set up and connect to my grill and fairly simple to use. However, there's a specific limitation that kind of frustrated me that I'll mention a little later when we talk about opportunities for improvement.
Camp Chef Woodwind Maintenance and Cleanup
With the patented Ash Kickin Cleanout System, the Woodwind requires minimal effort to clean up.
As your hardwood pellets burn over the course of a cook, the burn cup becomes full of debris and requires being emptied. Camp Chef has made this easy. All you have to do is pull the ash cleanout knob on the side of the grill which will release all the ash and burned pellets into a removable cup resting below the ash pot. The cup is easy to remove and replace after dumping the ash.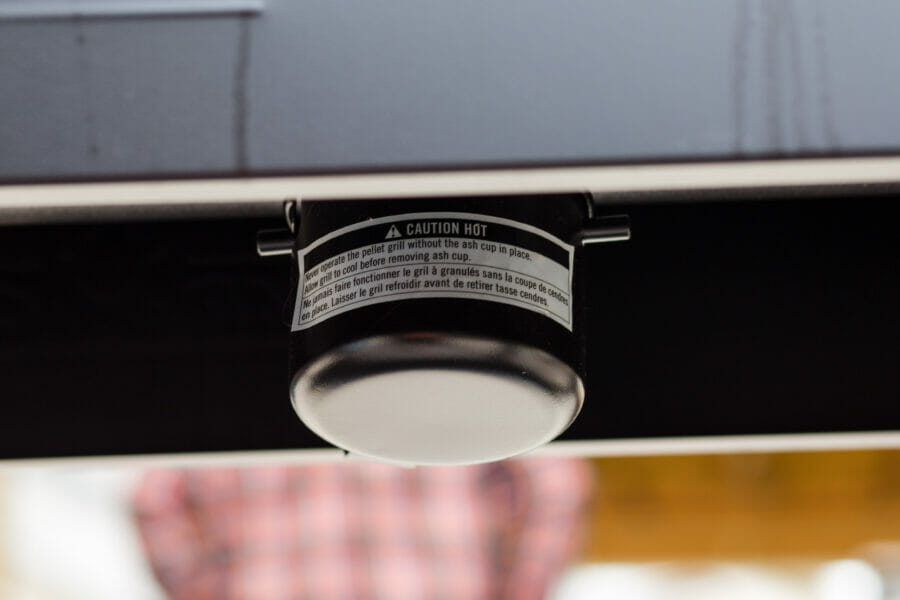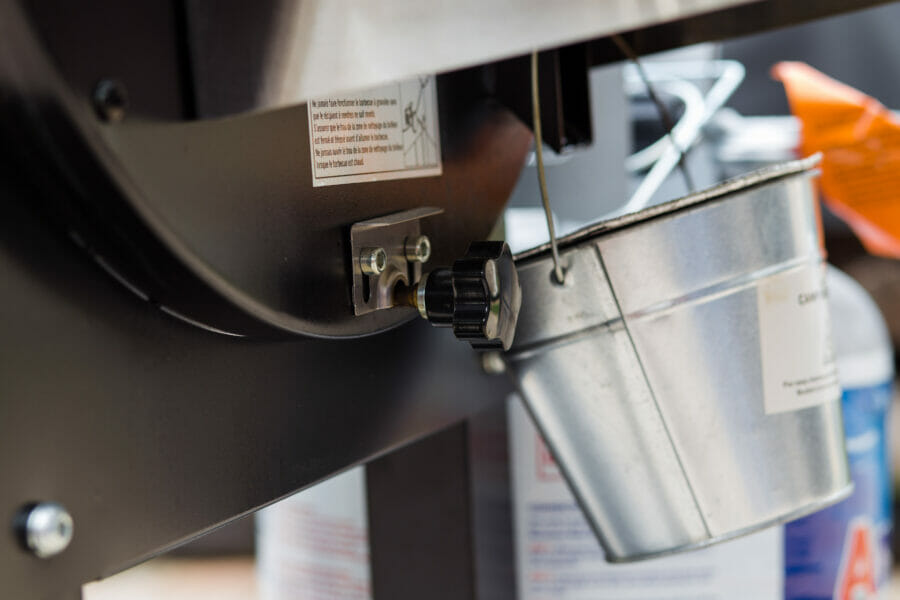 If done regularly between each cook, the ash clean-up is quick and easy and you shouldn't often have to break out the Shop-Vac to clean up the mess.
The drip pan should also be washed fairly routinely. This can be done with soapy water and a good sponge. (Speaking of which, have you tried Dawn Powerwash spray yet? That stuff is a lifesaver for this type of cleanup job!)
During a cook the drip pan will direct grease out of the grill into a bucket that hangs on the side of the grill. This will need to be dumped every so often. You can purchase disposable bucket liners to make this cleanup even easier.
The Sidekick Attachment
One of the things that is truly unique about Camp Chef pellet grills is their ability to connect to the Camp Chef sidekick system. It's a propane side burner addon (extra cost), with accessories to turn it into anything from a side burner, propane grill, griddle or a pizza oven. If you're looking for a way to bring the heat with a pellet grill, that's what the sidekick is designed for.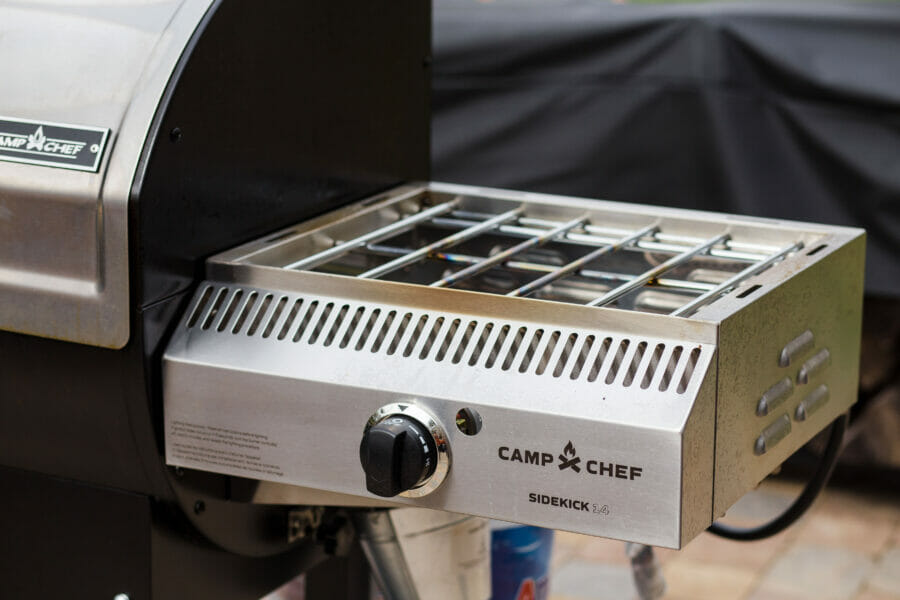 The Sidekick itself is a bolt-on propane burner that allows Camp Chef grills more flexibility. You can put a stock pot on the burner without any of the additional add-ons, so if it's a side burner you're looking for, the Sidekick gives you just that. There are also some addons for the Sidekick giving it more functionality.
Adding the sidekick to the Woodwind felt reminiscent to our days cooking on the Pit Boss KC Combo. The difference however, is that the Woodwind is a pellet grill first and it does that job really well. The grill and griddle options are added to it, not taking away from it.
BBQ Grill Box
The Sidekick Sear is a Stainless steel sear box that sits over the Sidekick burner, giving direct access to searing flame when you want that perfect crust on a steak. This is the perfect setup when you have a nice piece of meat that you're wanting to reverse sear. Smoke it low and slow in the pellet grill and then once it's hit your target temperature send it over to the sear box to give it a nice crust on the outside.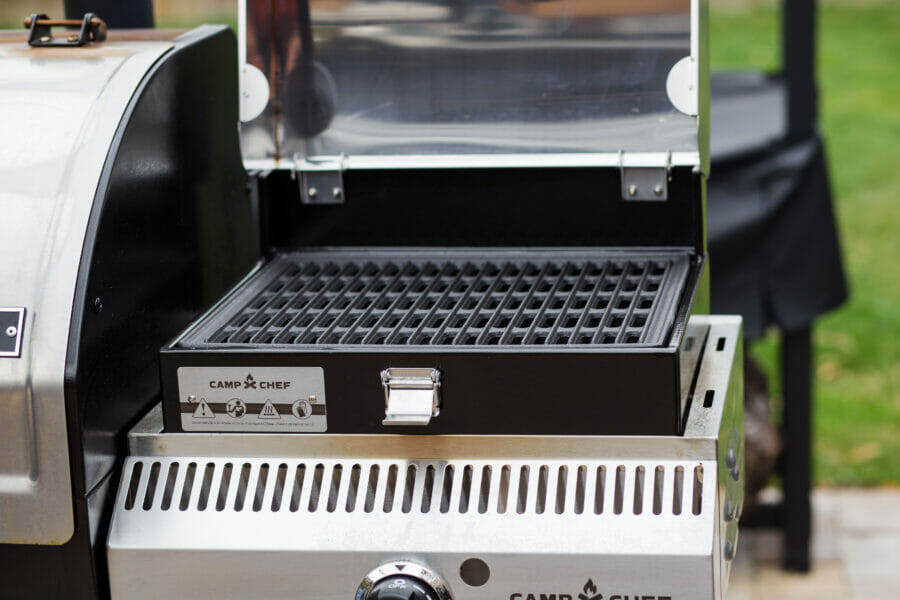 Flat top griddle
There's also a griddle attachment that gets incredibly hot using the same burner, so hot in fact that it could easily put a crust on smash burgers, which is my favorite thing to cook on an outdoor griddle.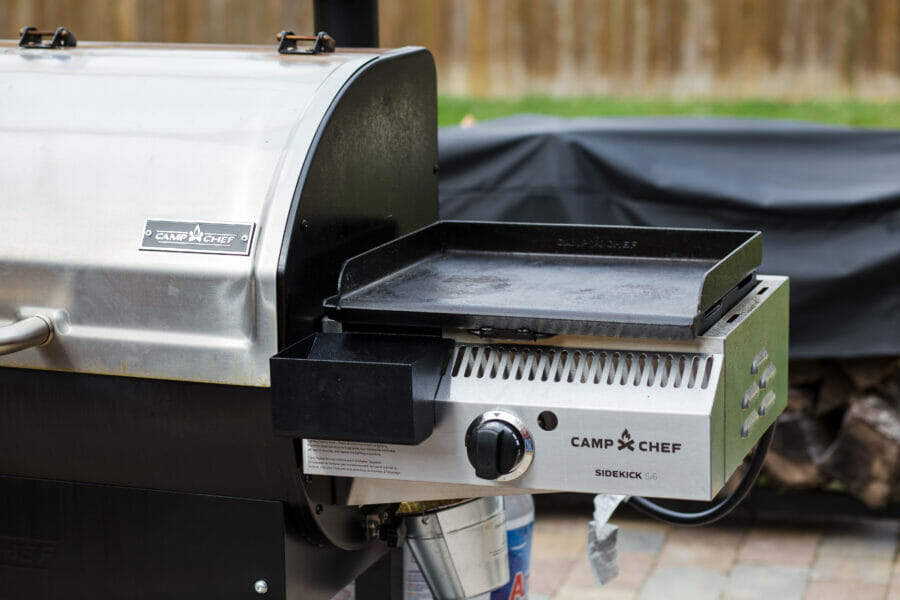 Artisan Outdoor Oven
Last but not least there's the artisan outdoor oven attachment for roasting veggies and cooking artisan pizzas.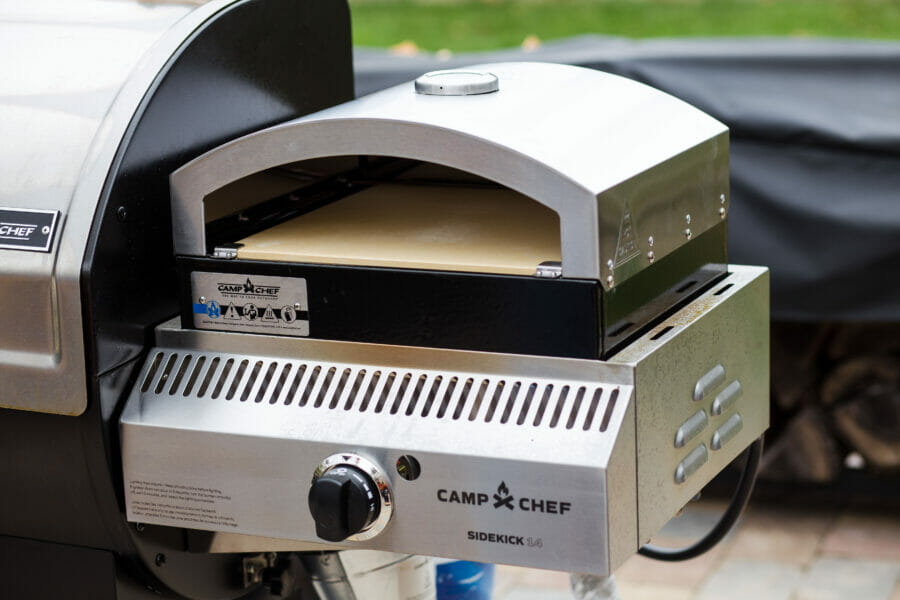 What we love about the Camp Chef Woodwind
Pellet Hopper Capacity
The Woodwind has one of the largest hoppers you'll find in similar pellet grills. Holding up to 22 pounds of pellets, an entire bag fits in this hopper without a problem. I love that. I love that during a long cook, adding more pellets halfway simply won't be necessary.
And even if I do decide to change the type of pellets I'm using before I've used up a whole bag, there is a pellet clean-out lever I can pull that will empty the hopper of all existing pellets. Just be sure to have a bucket ready and in place!
Another thing I appreciate is the "window" into the hopper so that I can assess the pellet situation without even lifting the lid. (That's the ultimate level of laziness, I recognize, but I still appreciate it.)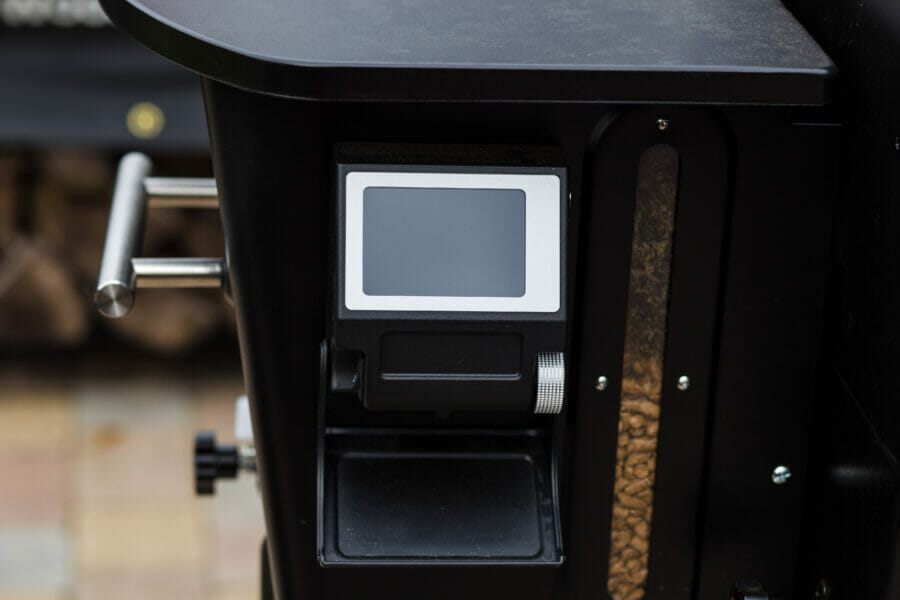 Wifi Bluetooth Connectivity
We've had a great experience with the wi-fi connectivity of the Woodwind. I work from home and my office is in the basement. I kind of like not having to hike up the stairs and outside every time I want to check on my cook. We've found it to be very accurate to what is actually happening at the grill.
Things we don't love
App Notifications
Camp Chef's app is great, don't get me wrong. There's just one simple thing that I wish it could do and I don't understand why the developers would have stopped short of this feature. I did an overnight brisket cook a while back and wanted to set up specific parameters for notifications. It was a cold night, and even using the grill blanket, I fully expected the temperature of the grill to fluctuate a bit throughout the night.
I only wanted to be notified (i.e. woken up) if the temperature reached my predetermined unacceptable parameters, but instead the app was notifying me constantly of what felt like every little ebb and flow of temperature. In the end, I had to turn off the Camp Chef app notifications and bust out my Thermoworks Signals to babysit my cook while I was sleeping.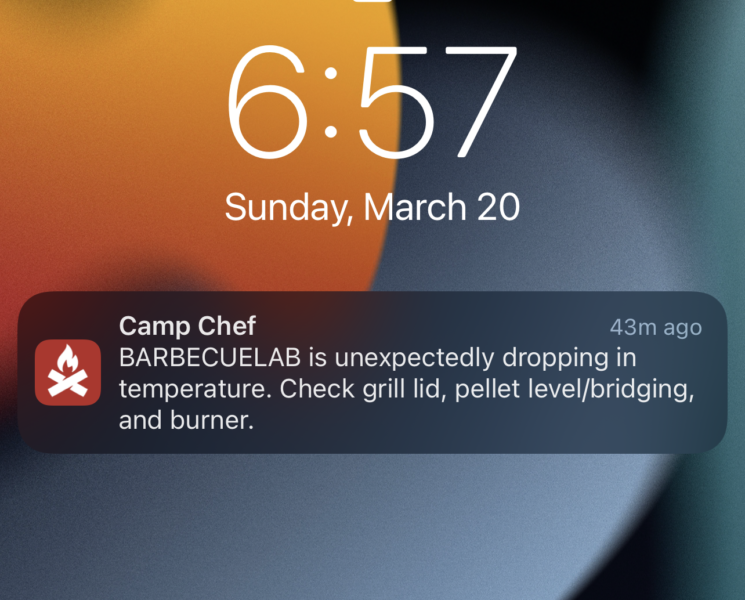 Prep Area
If you're not using the sidekick attachment, there's sufficient prep space between the side shelf and hopper lid. However, when using the sidekick, the side shelf goes bye-bye leaving the hopper lid as your only surface on which to set things down. And I don't know about you, but that's sometimes not enough.
Fortunately, a front shelf is available to purchase separately for an extra $79-$99 (depending on the size of grill). So if you're planning on going the extra mile and adding the sidekick, plan on picking up a front shelf as well or you'll be coming up short on prep space.
Camp Chef Woodwind Review Final Thoughts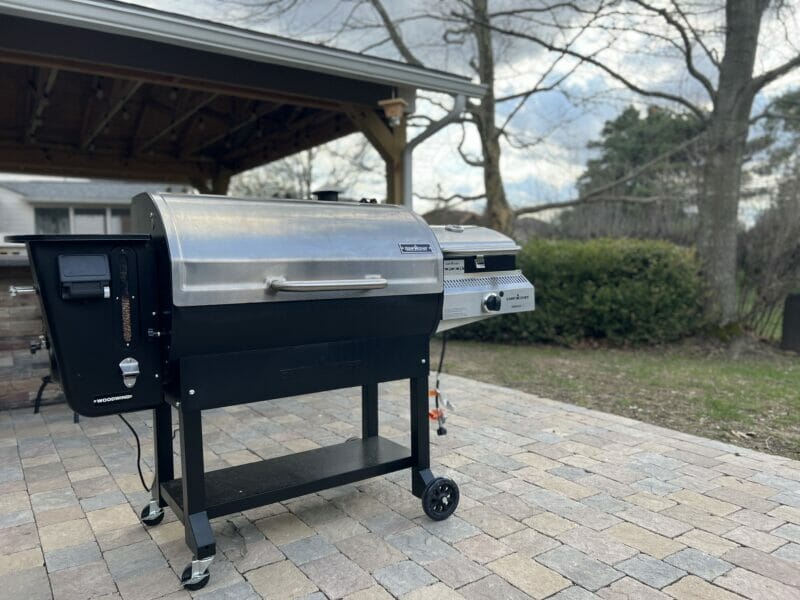 This WiFi Woodwind pellet grill is perfect for the backyard cook who primarily likes to smoke meats low and slow but would like the versatility that the sidekick attachment brings all in one grill. Not everyone has the space for a different grill for each type of outdoor cooking, and that's where this grill rises above most pellet grills. With a minimal add-on you can have all the great features from 4 different cooking units all on one grill.