Fall is upon us and that means that football is back. With the start of football season, we're always looking for delicious recipes to share with friends on game day.
These bacon tater tot skewers are super simple, but they're a fun finger food that always get snatched up quickly whenever we serve them up.
Note: Some of the links in this article may be affiliate links. This doesn't cost you any more than normal. Read our disclaimer for more info.
How to make bacon tater tot skewers on the grill
Can I tell you a secret? This recipe could be cooked just as easily in the oven. However, we are the Barbecue Lab and we like to cook all our recipes outdoors, so we're going to focus on that method for today.
Looking for gift ideas for yourself or someone special in your life? We've got you covered.
So whether you have a gas grill, a pellet grill, a charcoal grill, or a smoker, you could fix this recipe outside like us. In fact, for this video, we cooked this batch of skewers on our ASMOKE portable pellet grill to see what it would be like taking this recipe tailgating. And you know what? It worked!
In order to be able to reach optimal bacon and tater tot crispiness, you need to be able to achieve about 400° in heat, so as long as your grill or smoker can do that, you're golden.
Just keep in mind that even though you may be used to turning foods over or moving them around while cooking on your grill, a tater tot on a skewer is a delicate thing that doesn't like being messed with. So put the skewer down and leave it be for the duration of the cook.
Bacon Tater Tot Skewers Basics
It's best to allow the frozen tater tots to thaw for about 20 minutes before attempting to skewer them. Even so, it can be challenging to skewer tater tots without them falling apart. Just be patient and try some different strategies until you figure out what works. Keep that in mind though, and maybe thaw a few more tater tots than you think you'll need, just in case.
Wood skewers tend to burn on the grill, so it's recommended to soak them in water for a bit before using them. We just had ours soak in water while the frozen tater tots were thawing.
The ratio of bacon to tater tots will probably depend on the length of your skewers. Ours perfectly fit 8 tater tots and 1 slice of bacon.
Once all the tater tot skewers are prepared, season them with some of your favorite BBQ rub on all sides before transferring them to your 400° grill.
I know I've already mentioned this, but it bears repeating; once they're on the grill, LEAVE THEM ALONE. Remember, it was hard enough getting the tater tots on the skewer without them falling apart. Being slightly stuck to grill grates will not help that situation out at all. Just put them down where you want them to be and let them cook until they're golden brown and delicious.
Feel Free to Customize!
This simple recipe is pretty basic and does provide a nice palette for customization, should you choose to do so.
Are you a sucker for cheesy goodness? Throw some freshly shredded cheddar cheese on top! But I would recommend waiting until the end and maybe transferring the skewers to a baking sheet with parchment paper to help contain the cheddar cheese. Just pop the pan back into the grill for a few minutes until the cheese is melted.
Do you like to dip? We like to mix up some sour cream with sliced green onion and chives, but this would also taste great with some ranch dressing. Barbecue sauce would also be perfect drizzled on top.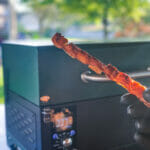 Print Recipe
Bacon Tater Tot Skewers
Game day food doesn't get any simpler than these Bacon Tater Tot Skewers.
Ingredients
8

slices

bacon

64

frozen tater tots

1

tsp.

BBQ seasoning
Instructions
Place wooden skewers in a bath of water to soak. This helps prevent them from burning on the grill later.

Remove the tater tots from the freezer and spread in a single layer on a plate to begin thawing for about 20 minutes.

Start your grill and set it for about 400°

Once the tater tots have thawed just enough, begin threading your skewers. Weave 1 piece of bacon and 8 tater tots, alternating layers, for each skewer.

Sprinkle your favorite BBQ rub or seasoning on all sides of the skewers.

Transfer the skewers to your hot grill and leave them be for about 20 minutes. Do not turn them (the tater tots may fall apart) during the cook.

Once the bacon and tater tots have crisped up to your liking, remove them from the grill and serve.
Video
Notes
When placing the skewers on your grill, try to leave space in between and avoid overcrowding or the tops will take longer to cook than the bottom.
Nutrition
Calories:
222
kcal
|
Carbohydrates:
19
g
|
Protein:
4
g
|
Fat:
15
g
|
Saturated Fat:
4
g
|
Polyunsaturated Fat:
3
g
|
Monounsaturated Fat:
7
g
|
Trans Fat:
1
g
|
Cholesterol:
15
mg
|
Sodium:
457
mg
|
Potassium:
241
mg
|
Fiber:
1
g
|
Sugar:
1
g
|
Vitamin A:
27
IU
|
Vitamin C:
6
mg
|
Calcium:
17
mg
|
Iron:
1
mg