Our achiote chicken tacos with grilled pineapple salsa is the perfect dinner to brighten up your day!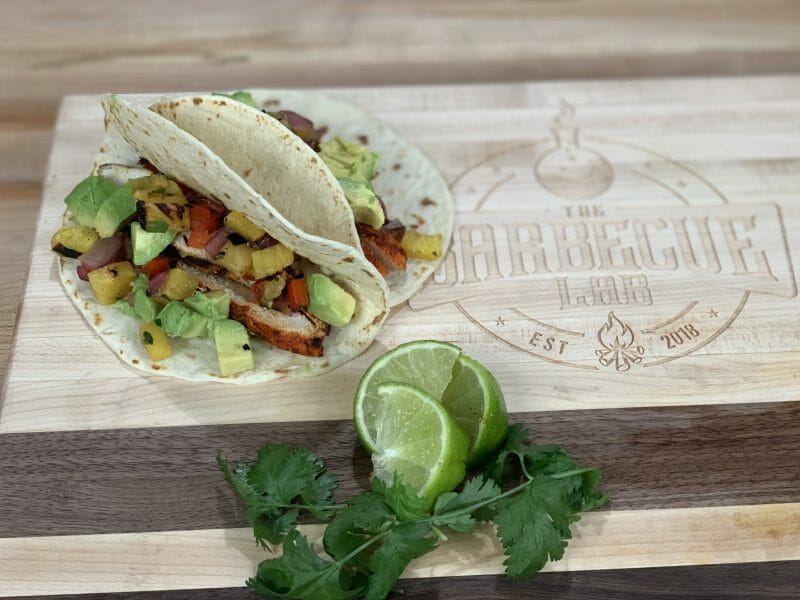 Note: Some of the links in this article may be affiliate links. This doesn't cost you any more than normal. Read our disclaimer for more info.
Perhaps it's because we've been quarantined to our house for a few weeks now, but blue skies and green grass have never looked so good to me. It seems as though spring might finally be here.
The beautiful weather coupled with the fact that we're home all the livelong day means that we're breaking out one of our grills for dinner on the daily. Sometimes twice a day, if I'm honest.
Looking for gift ideas for yourself or someone special in your life? We've got you covered.
My wife did a major grocery haul a few days ago so we happened to be well supplied on fresh produce in addition to the fully stocked meat freezer in the garage, so we were thrilled to discover that we already had all the ingredients we needed for this recipe when the mood struck.
And I'm not exaggerating when I say that this meal is so packed full of color and flavor that it literally brightens your day when you take a bite.
Achiote Chicken Tacos Marinade
We always prepare this marinade the night before grilling. Most of the ingredients are ones we typically have on hand, but admittedly that's because we always want to be ready for this recipe.
The number 1 ingredient I doubt you have on hand is achiote paste. I don't think I've ever seen it in a regular grocery store. We typically get it at a Mexican market in town, but you can also pick it up on Amazon here.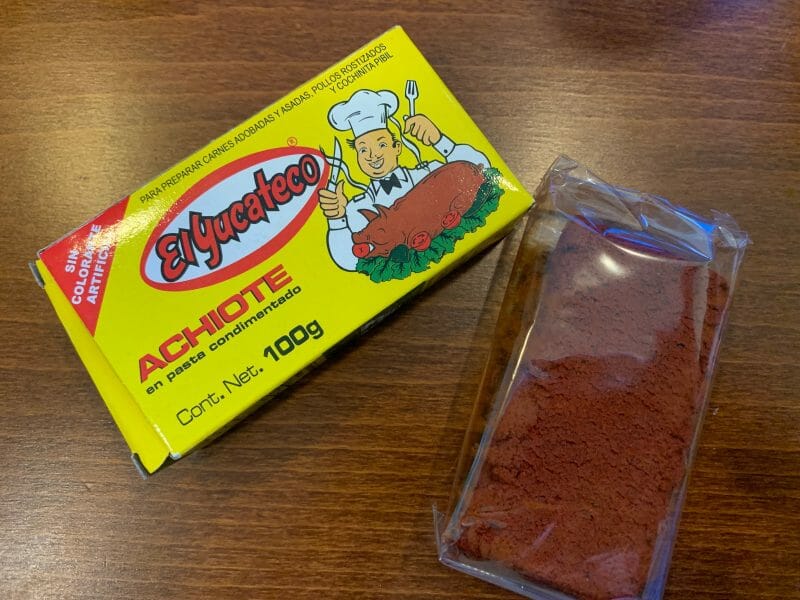 It comes in a little brick, half of which you will use for this recipe. (We usually have 2-3 of these in our pantry at any given time).
The second ingredient that you may or may not already have on hand is pineapple juice. I often have some type of canned pineapple product in the pantry and have been known to crack open a can just to drain out the liquid. But lately I've been more purposeful about trying to keep a 6 pack of these little 6 oz. cans in the pantry, ready to grab at any time.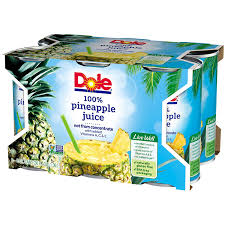 The only oranges we had in the house this week were cuties, and those aren't exactly juicing oranges. But we did have frozen orange juice concentrate, so we whipped up a pitcher of that and it worked perfectly.
(As an added bonus, I dumped the remaining pineapple juice in with the remaining orange juice and that was a tasty treat for breakfast the next day.)
Most likely, you have all the other ingredients on hand. Honestly, it doesn't have to be avocado oil. You could totally use olive oil or even vegetable oil for this recipe instead.
When preparing the onions and fresh garlic, keep in mind that it's all going in the blender, so you don't need to do much. Just a rough chop ahead of time and let the blender do the rest of the work.
I usually break the 1/2 brick of achiote paste up a little (maybe into 8 chunks) and then throw that along with the white wine vinegar, pineapple juice, orange juice, oil, onions, garlic, salt, and pepper into our Magic Bullet blender or food processor.
Puree that for 20 seconds or so until the chunks are gone and then dump it over your chicken breasts in a zip top bag. Put it in your fridge until you're ready to grill it tomorrow.
When it is time to grill, you'll want to cook these chicken breasts over direct high heat. We had our Grill Dome kamado running about 500 degrees by the time we put the chicken on.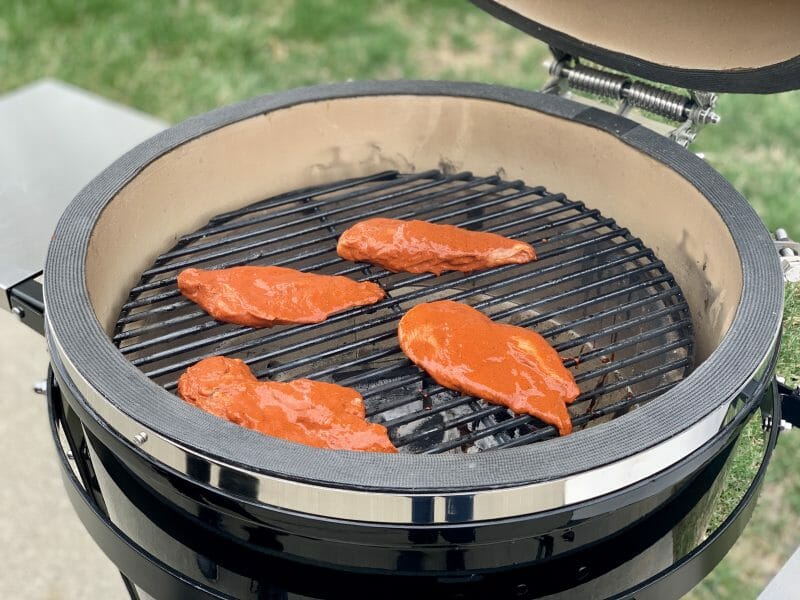 The time it takes to cook your chicken will entirely depend on the thickness of the breast. Mine probably cooked for about 8 minutes on each side, but I didn't take them off the grill until the instant read thermometer hit 165 degrees.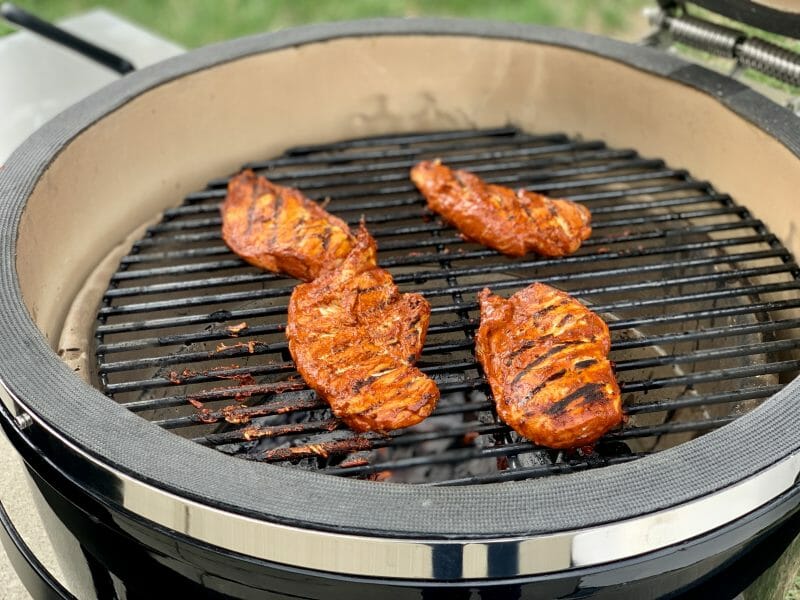 Are Achiote Chicken Tacos spicy?
Nope. Not even remotely. It sure looks like it would be with that blazing red color, but achiote chicken tacos are in no way spicy. I fed it to my kids when they were just gumming solids for the first time.
Grilled Pineapple Salsa
This salsa has three phases of preparation.
Phase 1: Trim the top, bottom, and outer skin off of the pineapple and cut it into slices 1/2 to 1 inch thick. (Don't even worry about the pineapple core right now unless you have one of these handy do-dads.) Cut the peppers (red and jalapeno) in 1/2 and remove the seeds and pulp. The red pepper should get cut again in fourths, but the jalapeno can stay in half. Lastly, cut a few 1/2 inch slices of red onion. (You can also prepare the cilantro and lime now, but you won't be needing those yet)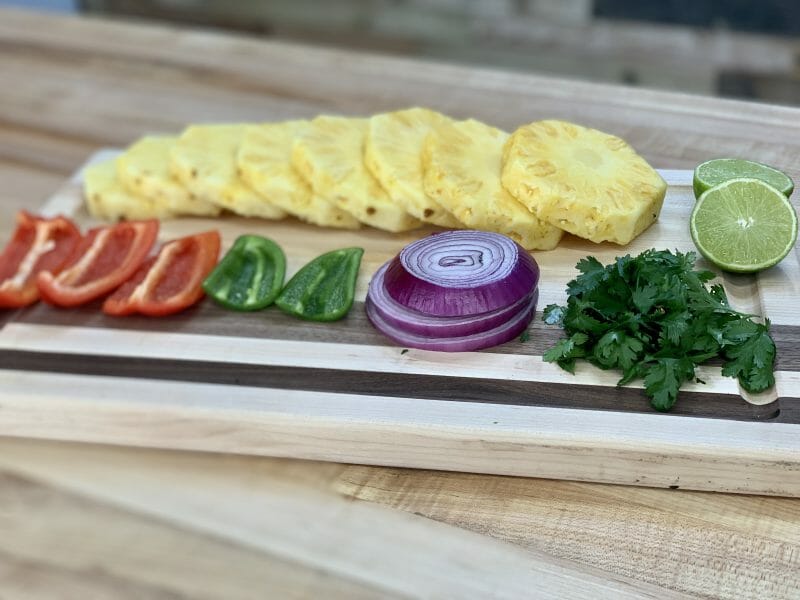 Phase 2: Spray the fruit and veggies lightly with cooking spray and place them carefully on a hot grill over direct heat.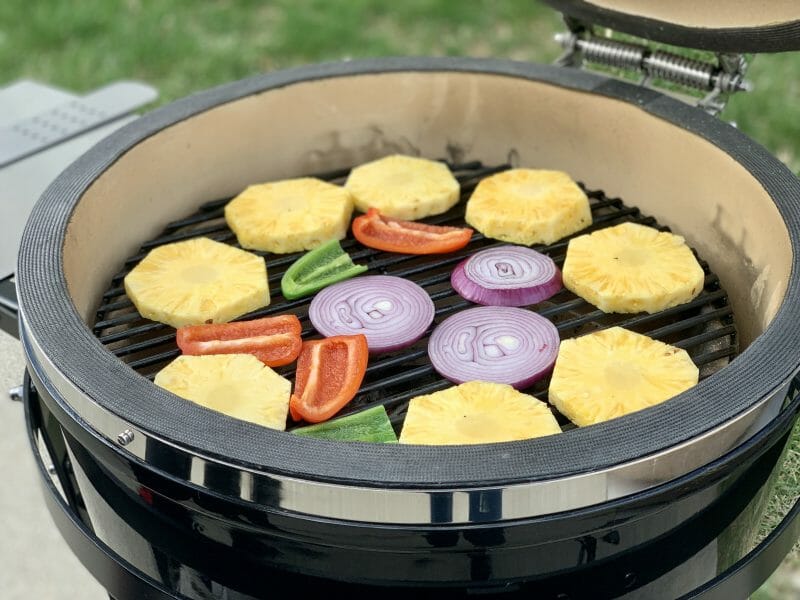 The fruit and vegetables should be grilled for about 3-4 minutes per side.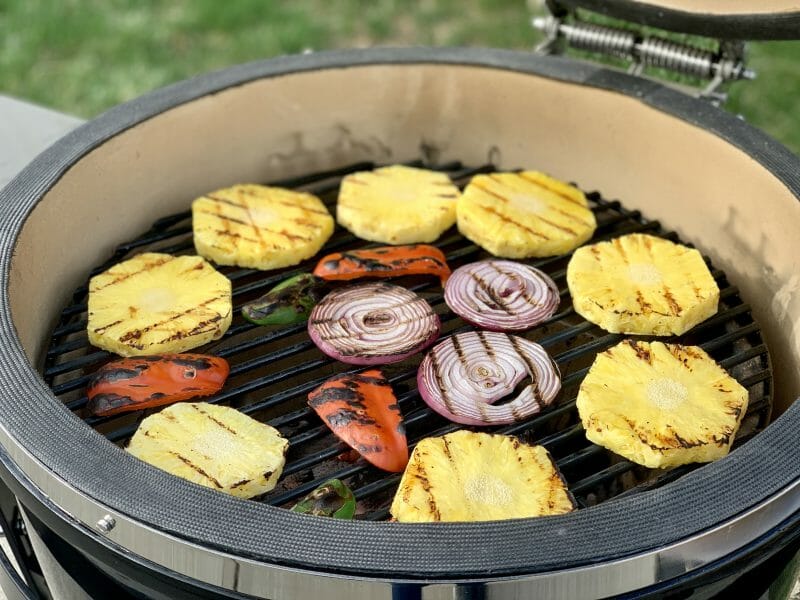 Phase 3: Once they've cooled enough to handle, chop the pineapple and vegetables up into salsa-sized chunks and combine together in a bowl. (Remember to remove the core of the pineapple slices as you're cutting). Sprinkle in your cilantro and squeeze in the lime juice and you should be good to go!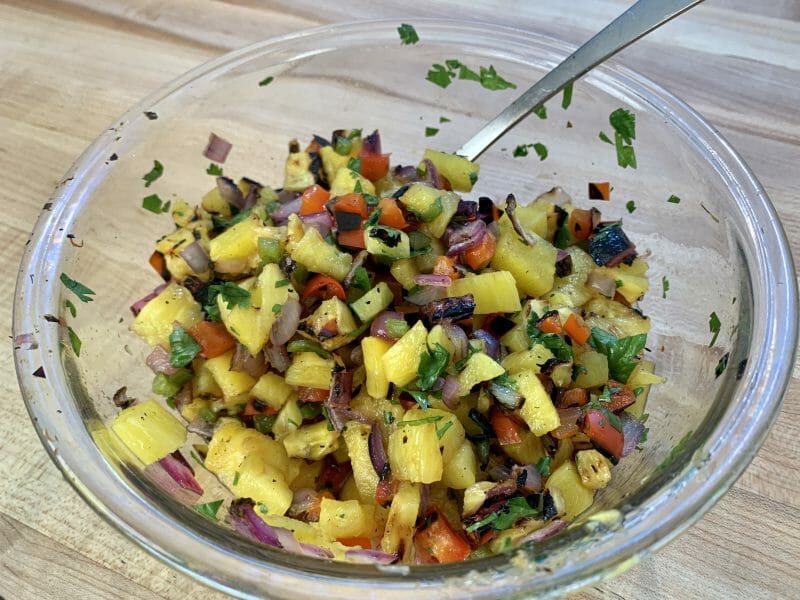 Time for Tacos!
We like to lightly toast our tortillas on the grill while it's still hot. We just put them on the grill for about 20 seconds on each side before building our achiote chicken tacos.
Slice the chicken up after allowing it to rest for a few minutes.
Fill your tortilla with slices of achiote chicken, spoon on some of your fresh grilled pineapple salsa, and dice up some ripe avocado to garnish.
Little tip: We never eat achiote chicken tacos without these awesome little taco holders we got from Amazon.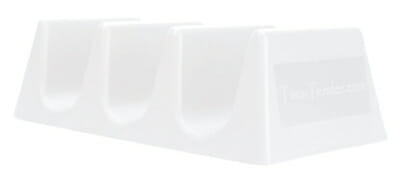 Now we understand that it may be some work right now to collect the ingredients needed to fix this recipe, but I guarantee you it will be worth the effort when you take your first bite!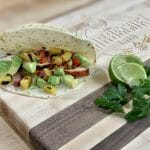 Print Recipe
Achiote Chicken Tacos with Grilled Pineapple Salsa
This chicken marinade paired with our grilled pineapple salsa bring such a fresh and delicious tasting combination to your dinner table.
Equipment
grill

sharp knife

zip-top bag
Ingredients
50

g

Achiote paste

(1/2 brick)

¼

c

white wine vinegar

¼

c

avocado oil

¼

c

orange juice

¼

c

pineapple juice

¼

c

yellow onion

chopped

2

tsp

fresh garlic

minced

2

tsp

salt

½

tsp

pepper

4

chicken breasts

½

fresh pineapple

1

red pepper

½

red onion

1

jalapeno

½

lime

juiced

½

c

cilantro

chopped

8

medium flour tortillas

1

avocado
Instructions
To prepare the marinade, combine the achiote paste, vinegar, oil, orange juice, pineapple juice, onion, garlic, salt, and pepper in a blender and puree until smooth. Trim the chicken breasts and place them in a zip-top bag with the marinade overnight in the refrigerator.

Prepare your grill for high direct heat. We lit our Grill Dome kamado to about 500° to cook the fruit and 600° for the chicken.

To prepare the fruit for the grill, trim off the top, bottom, and outer skin of the pineapple and then cut across the fruit to make slices. We only used 1/2 of the pineapple for this recipe. The jalapeno and red pepper should be cut open and remove the seeds. They will be grilled in halves or quarters now and diced up after being grilled. Lastly, cut the red onion in ½" slices. Spray the fruit and veggies with non-stick cooking spray before placing on the hot grill.

Grill the pineapple, peppers, and onions for 3-4 minutes on each side and then remove to a cutting board.

Remove the chicken breasts from the marinade and grill on a high heat until they have reached an internal temperature of 165°. (Time will depend on the thickness of your chicken).

While the chicken is grilling, and once the salsa ingredients have cooled enough to touch, chop up the pineapple (removing the core from the middle of each slice), dice the peppers and onions, and add the additional non-grilled ingredients of lime juice and cilantro to a medium-sized bowl. Salt and pepper if desired.

Remove the cooked chicken from the grill and allow to rest on a cutting board for about 5 minutes. While the chicken is resting, heat the tortillas up on the grill for about 20 seconds on each side.

To prepare the tacos, add strips of achiote marinated chicken to a tortilla and top with the grilled pineapple salsa and some fresh avocado.
Video
Notes
We found that our Magic Bullet was the perfect size blender to prepare this marinade.
Nutrition
Calories:
739
kcal
|
Carbohydrates:
59
g
|
Protein:
55
g
|
Fat:
31
g
|
Saturated Fat:
5
g
|
Cholesterol:
145
mg
|
Sodium:
1846
mg
|
Potassium:
1453
mg
|
Fiber:
8
g
|
Sugar:
19
g
|
Vitamin A:
1342
IU
|
Vitamin C:
118
mg
|
Calcium:
104
mg
|
Iron:
4
mg